Kawasaki/Racer X Race Report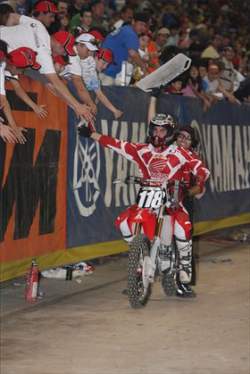 Millsaps rode his mechanic around the stadium to celebrate his first professional championship.
There was a championship on the line tonight as the Amp'd Mobile SX series came to the Lonestar State for the first time in 2006, but it was going to take something drastic for Team Honda's
Davi Millsaps
to relinquish his 22-point lead that he held over Sobe/Samsung Mobile's
Josh Grant
for the eastern region title. But we have seen crazier things, right? And there were 47,389 people here to see it all go down.
But it wasn't meant to be, as the race for the championship ended prematurely when Josh Grant collided with another rider on the first lap resulting in both riders going down. Grant frantically tried kicking his CRF250 back to life. He kicked, and kicked, and kicked. Meawhile, Millsaps methodically worked his way to the front after a mediocre start. Grant then pushed his bike to the mechanics area where his title hopes would diminish as they discovered a hole in his engine case, ending his fairy tale run for the title. It was a valiant effort for the Sobe/Samsung Mobile pilot, who started out the season 25-points in the hole.
But it was a much-awaited first championship for Team Honda's Millsaps. The endless hours of riding at the well-renowned Millsaps Training Facility finally paid off as he rode a flawless main event taking his fourth win of the seven-race series, winning the championship by a comfortable 32 points over Monster Energy/Pro Circuit Kawasaki rider
Chris Gosselaar
, whose strong third place tonight (along with Grant's DNF) put him into second overall in the series. Not bad for a rider who was out of everyone's mind prior to the season.
"I came out this season feeling really good on my new bike," said Millsaps on the podium, regarding his switch from Suzuki to Honda. "I just want to thank all of my sponsors, especially Team Honda, my mom, my mechanic Carlos and all the fans that came out tonight. I'm looking forward to riding the 450 in the next two races. It's going to be tough, but it's going to be good." Congratulations, Davi.
Millsaps is moving to the 450 class for now, but we might not have seen his last race on a 250F, as he was non-commital on what bike he will be riding in Las Vegas. On the podium he said he'd be on a 250F, but then in the press conference he said he might be on a 450. It's up to Honda now, as Millsaps' job is done.

In the 450 class we now have a tie in the points. No, not the AMA points, but rather the Amp'd Mobile World Supercross Grand Prix points. Team Kawasaki's
James Stewart
put his KX450F on top of the podium for the third consecutive race tonight, putting himself in to a tie with Makita Suzuki's
Ricky Carmichael
for World Supercross supremacy.
Bubba
passed his teammate and Progressive Direct Holeshot recipient Michael Byrne, on lap one and never looked back. By lap two he already had a six-second lead on Carmichael, a margin he managed to maintain throughout the 20-lap main event. Carmichael also managed to maintain a comfortable cushion on Yamaha's
Chad Reed
, who finished third. Rounding out the top five was Sobe/Samsung Mobile's
Kevin Windham
, who is showing rapid improvement each week, and Byrne.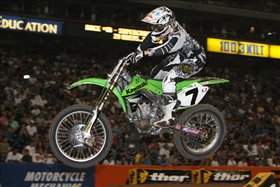 James Stewart has dominated each of the last three races, leading ever lap.
"I'm feeling good,"
Bubba
said, calmly sipping his Red Bull on the podium. As for the rest of the season, he said, "I'm just getting ready for outdoors and I want to finish out the season strong."
As for the current AMA series points leader, Carmichael said in the post-race press conference that he is "just super-pumped about everything." RC now leads Chad Reed by 12-points in the AMA Supercross Series.
For complete results, check out www.supercross.cc.com. Make sure to tune into SPEED tomorrow at 6 p.m.