Between the Motos: AMA Supermoto Series Manager Todd Eagan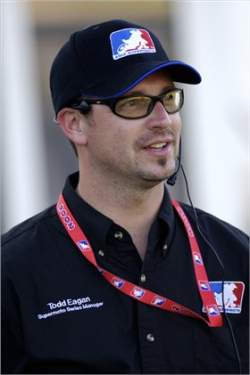 AMA Supermoto series manager Todd Eagan

photo: John Hanson

This week, we decided to talk Supermoto with AMA Pro Racing's Supermoto point man Todd Eagan. He's helping get the new series ramped up, and with everyone from Doug Henry to David Pingree getting ready for this born-again motorcycle racing hybrid, we thought we would get the straight scoop from Eagan for this week's Suzuki Between the Supermotos (sorry, pun intended)…
Racer X: First of all, it's been a pleasure getting to know you here and there at the races as the new series manager for AMA Supermoto. Tell us a little about your background in motorcycling first.
Todd Eagan: It's pretty diverse. I've been riding since I was four-years-old and started racing dirt track at eight-years-old throughout my early teens. I took a couple year hiatus and did a ton of street riding. I then got into road racing for about 12 years, which brought me out to Southern California doing contributions and testing with Cycle World magazine. And doing that I got to meet Don Canet, and Don kind of brought me on board and suckered me in by saying I could try his Supermoto bike if I helped him out at some of these races he ran. So I did that for a couple and quickly found out that we were both needed more on the operations side than actually trying to do it. So that's kind of in a nutshell how I got to the first part of that.
If you're going to look at one person who got this latest, best wave of Supermoto going, he's been a long-time benefactor for the Supermoto guys, hasn't he?
Yes he has. I would say he has to be credited as one of the pioneers in the rebirth of the sport.
AMA Supermoto is probably three year old now, right?
We're going into our fourth season.
There has been some really cool things that we've seen, but there have been some misses on a few fronts. Sometimes you have bad weather, but going into 2006, this is going to be a critical year for you guys, but from what I'm hearing and seeing it looks like you got a lot of interesting and fun things coming up.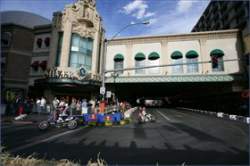 AMA Supermoto has been a hit Reno with its downtown street racing
photo: Simon Cudby
We do. And I guess a great point to make is that yes, it is a very young sport still. I think the public needs to know that we've made progress in leaps and bounds in the past three years and I think it's one of the fastest growing sports in the history of AMA Pro Racing. The beauty of it is, for those who don't know, is that we can drop it in anywhere. You made a comment on the weather, but we are one of the only series' that successfully raced in the rain – we did two or three times last year. So, I think as a future for us, I know there's a lot of people and corporations on every level anxious to jump into this thing. And I've had a ton of challenges in putting a calendar together for this year, and I'm working on 2007 right now, so we're looking even stronger and better for '07.
I have to admit that I have not ridden a Supermoto race yet, but I know between David Pingree and one of our designers, Jason Hooper; along with guys like Doug Henry, Jeremy McGrath and Troy Lee, once they ride they're hooked. What is it about Supermoto that's so damn fun?
[Laughs] Well, there are many levels to that. I guess the first factor is that if you're a two-wheel person at all, with us combining dirt elements and street elements, that's what is probably the biggest excitement factor. The speeds are generally under 100 mph, and I think the two most addicting aspects of this sport are the fact that the bikes are so light, the injuries are minimal and then when you hit the ground on one of these things, you pick it up, fire it up and take off again, as opposed to several thousand dollars of body work damage, so on and so forth. That's kind of part of it, along with the closeness. Unlike Superbike and more toward the motocross side of things, it's tight, competitive racing. And with our rule structure, it basically limits everything to stock machines in all classes, with exception to the Unlimited class, so it really keeps the racing close.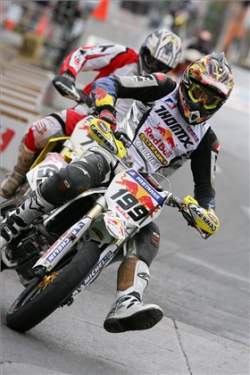 Look for stars like Travis Pastrana at an AMA Supermoto near you in 2006

photo: Simon Cudby

And you don't have to do a triple, hammer whoops or go up on the banking of Daytona….
That's all very valid!
… But it sure would be fun to ride around in downtown Reno or maybe out by the Queen Mary. You have some really unique events in that series don't you?
Yes we do. And kind of the focus for the future is to bring the racing to the people. Most racing formats rely on getting people to facilities, and that's kind of the beauty of this sport. We hope that in the very near future we can bring many, many more uban-type races to where we can drop this amongst a ton of people or a crowd or a city. Again, we can race in areas where people are that pretty much no other form of motorsports can easily do.
With this kind of racing you don't have to haul in thousands of tons of dirt and you don't have to be inside the Indianapolis Motor Speedway. You can just find a few city streets and a plot of dirt and make it happen.
That's pretty much it. To touch on some of the complications of the urban-type event is that the cities have to be really cooperative and Reno has been fantastic in the past. We also need a promoter willing to step up and swallow all of the expenses that it takes to do that, which includes well over a year in planning and a staff of anywhere from 20 to 40 people. So there are tremendous challenges in getting these events off. But from the beginning that was the focus of this and while we're still getting our feet wet in a couple areas, we're also dabbling in the other areas as well to combine with Superbike and we're just trying to put our feelers out to see what works and what doesn't.
Were you on the crew last year building that track in Reno?
I was.
Now, take us through that, because I understand that the city said you had 12 hours to build it and three hours to tear it down.
And we did. Since we were racing pretty much on the main drag of Reno, we had to keep all the main streets open till Friday night at 7 p.m. And design-wise, Don came up conceptually with a brilliant idea of running through a back parking lot on to a side access street, and that dirt happened around 48 hours out. And then we had to stage all the other elements, like water barriers and haybales, and we had to keep that stuff staged until the 11th hour on Friday night. I know that most of the crew and staff worked throughout the night and into the morning to make that happen.
It sounds like you guys were working on the Superbowl halftime show where they have everything lined up in the warehouse outside the stadium and they have 20 minutes to get The Rolling Stones on and off the stage, and you have to build the stage!
That's a perfect analogy and that's pretty much what it was.
What's the hardest about your job? Is it selling the supermoto gospel or is it trying to find traction in a crowded market with supercross and superbike and all of these things? Or is it just finding a place to have amateur supermoto tracks?
The hardest part, because we're still so new, is finding promoters. Those who are in the sport and have been are devoted to it, but there is still a vast majority of people (as I noticed in Anaheim while people looked at the supermoto display) that people were kind of scratching their heads wondering why this motocross bike had slick tires on it. So, I think just getting out what the sport is about, and I think the more people that are exposed to it, the better. It's highly addictive and only takes once to ride or watch it. I've invited people who aren't big fans of motorcycle racing to come watch these things, and the beauty of it is that you can run it in an area, for the most part, where you can sit in one spot and watch the entire race. But again, since it's not as big as motocross now, it's hard to find promoters willing to step up because there are no "supermoto" facilites or areas, which is one of the beauties of the sport.
Okay, last week, Ping may have jumped the gun in Racerhead with a report that there might be a collaberation with the Champ Car folks. What is the status of that relationship?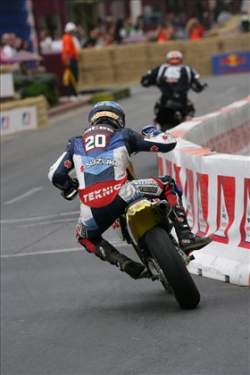 Hey, that's Suzuki factory road racer Aaron Yates!
photo: Simon Cudby
We are currently working to run in conjunction with Champ Car at one round this year, and everything is looking very promising. There are also current conversations for more of these collaborative events in 2007.
Finally, as someone who has spent some time in the industry at several levels, what advice would you give to someone who not necessarily wants to be the next Doug Henry, but maybe they want to work for Doug Henry or work at the races or in the industry?
The best place to start, even as an enthusiast or a racer regardless of your experience level, is to go and seek out whatever discipline it is that you like and volunteer your time. There are several committees and clubs that run corner working events and staffing of all sorts. If you get your foot in the door there, that will open up tremendous amounts of opportunities for networking on all levels. That's how I started.
2006 AMA Supermoto Championship*
Schedule & Contacts
Date, Location
April 29, California Speedway - Fontana, CA
June 3, Road America - Elkhart Lake, WI
June 10, USA International Raceway - Shawano, WI
June 17, Miller Motorsports Park - Tooele, UT
July 8, The Palace of Auburn Hills, Detroit, MI
August 26-27, TBA - Denver, CO (double-header)
October 14, Music City Motorplex - Nashville, TN
November 4, Queen Mary, Long Beach, CA

*Schedule and locations subject to change.
(For more, check out www.amasupermoto.com)