Another week has gone by, and just about every person I know is still stunned by the injury to Ernesto Fonseca. It cast a dark shadow over Daytona, as everyone certainly had him in the back of their mind, and seeing the incredible crash of James Stewart (and the poorly timed backflip of Travis Pastrana) was a harsh reminder of how lucky—or unlucky—one can be in a dirt bike crash. Fonseca's bike and helmet were also on display under the American Honda tent, and every rider from Davi Millsaps to Ricky Carmichael offered words of hope and support to their fallen friend.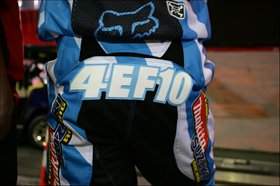 RC's message to his friend
photo: Simon Cudby
There have been no real developments in Ernesto's situation, either. The doctors are doing their best, and he underwent a long surgery earlier in the week on the broken vertebrae. They are hopeful.
If you want to see a card or letter to Ernesto, here's the address:
Next Level Sports Management
c/o Ernesto Fonseca
28202 Cabot Road
Suite 300
Laguna Niguel, CA 92677
I also want to thank everyone who has been sending in their suggestions for making the racers (and racing in general) safer. I will begin posting some of the feedback, which I really appreciate. I also want to let everyone know that Don Emde, who is a key member of the AMA's new safety committee, asked to see the entire file so that he could pore over the information. If you have some suggestions you would like to share, please send them to: Letters@racerxill.com
Also, check out what the Women's Motocross Foundation is doing for Ernesto.
I also want to give it up here for David Vuillemin - who had a horrible Daytona - who gathered up some of his gear and started an eBay auction for James Marshall. "I don't know him personally, but he needs our help!" said DV12. "All the profit will go to him and I will be giving money myself, too, at the end of the auction in 10 days!"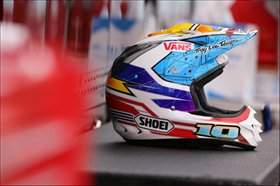 photo: Simon Cudby
That's just well done, David—and so are those five-years-ago photos you posted on Mototalk.
As for Stewart, you no doubt saw that crash on Speed Channel last Friday night (and excellent coverage of the whole event, by the way). Personally, I couldn't believe that he got up, and the fight he put in to salvage sixth when he should have been last was downright impressive—I even sent him an e-mail to say how much I respected that effort. He may have lost the race and gotten lapped for maybe the second time in his life (Anaheim '04 mudder?), but it was still one of the most impressive things I have seen out of James.
And didn't that crash remind you of his Las Vegas '03 endo at the East-West Shootout? Wow.
According to TFS, who was down at press day yesterday, Stewart was back on the bike Sunday afternoon and has ridden every day since. That meant that Team Kawasaki didn't need to reschedule its outdoor testing, which was set for this week. James insisted on staying on it and was even tossing the football around yesterday outside the Citrus Bowl.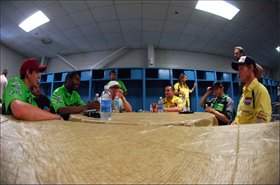 James and RC were hanging out in the locker room yesterday
photo: Steve "TFS" Bruhn
Also, TFS reported that
Ricky Carmichael
may be on a three-race winning streak, but he's been quietly doing it with an injured wrist from that big St. Louis crash (which, in hindsight, could have been as catastrophic as what happened to Ernesto and James Marshall). He didn't want to say anything about it, so no one knew he had a wounded wing.
RC's charge back into the points lead after his St. Louis DNF and the topsy-turvy situation with the fuel penalty has been powerful. Every time that guy wins a race, he stretches out his all-time wins record, and often sets some kind of individual event record. For instance, at Daytona he became the first rider to win that race five times, as well as the only man ever to win it on three different brands of bike.
However, the one place where RC has never won a 250/450 main event is Orlando, strangely enough. He got beat here last year by Chad Reed—the year the event returned to the schedule since 1997. RC did win it that year on the #70 Pro Circuit Kawasaki. But here's some quick trivia: Who won the 250 class that night at Orlando '97 and what was he riding?
Ricky lays one out yesterday at the Citrus Bowl
photo: Steve "TFS" Bruhn
TFS is also reporting that
Mike LaRocco
's wrist surgery went well. "An unexpected result is that they got behind a plate in his wrist that has been in there since 'the big one' years ago and cleaned things up in there," Bruhn says.
Reed also deserves some HUGE props for his gutsy ride to second at Daytona last week. He had separated his shoulder just the day before, and in Grant Langston-at-Southwick-'01 fashion, he taped it up and gutted it out. He may have finished second and lost the points lead, but he's still got a chance. Having said that, I believe this week will be even tougher, because that kind of injury hurts more next week than it does the next day—I've separated both of my shoulders, so I speak from experience.
Don't forget to listen to tomorrow night's live webcast of the Orlando Supercross on www.supercross.cc.com beginning at 7 p.m. EST and 4 out west. You can also watch the laps click off all afternoon long on www.amamotocross.com.
And speaking of the Citrus Bowl, you've got to check out Eric Johnson's new Racer X Online Feature, Great Races. The first installment is all about the '83 Orlando SX, which was won by Ronnie Lechien on the #224 Yamaha. EJ is the best at bringing back the old school, so keep an eye on the site each week for his trips down moto-memory lane.
Orlando, like Daytona, is outdoors, so rain is always a possibility. Fortunately, tomorrow looks good on the radar.
TRIVIA ANSWER: Ezra Lusk was on a Yamaha YZ250 when he won the '97 Orlando SX.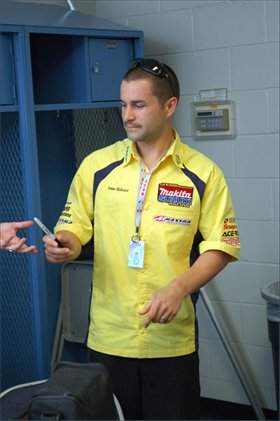 Tedesco is running the '70s porn mustache now
photo: Steve "TFS" Bruhn
Makita Suzuki's
Ivan Tedesco
has some kind of grow-a-mustache bet going on with RC. They won't say what exactly it's about, but it's some performance goal (here's a guess that it's beating Reed and getting some ground between him and RC in the points). I can't help but think Hot Sauce looks like
Adam Morrison
, the
Larry Bird
-like shooter from Gonzaga who poured in 35 last night in the NCAA tournament.
By the way, our West Virginia University Mountaineers are playing today against the Southern Illinois Salukis, so I may be cutting this short…. A WVU game on St. Patrick's Day? Sounds like a recipe for disaster—if you're a couch. By the way, my two NCAA brackets have me in last and third-to-last in a big NCAA Tournament pool here in Morgantown. I guess I shouldn't have had Pacific vs. UNC-Wilmington in championship game.
Thanks to John Rogers and Brandon Mizar for sponsoring this week's Racer X Gas Card. Mizar, by the way, is the man who shot our fairly famous Carmichael comeback cover from Hangtown '04.
Travis Pastrana will not be racing Orlando this week. Sadly, I don't know if we'll see him ride a supercross again anytime soon. Pastrana's absolutely crazy week in Daytona left him battered and bruised—and his backflip miss could have left him much, much worse off.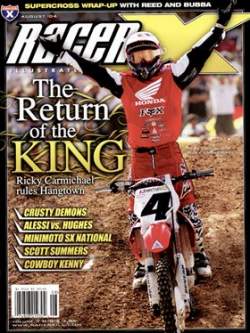 Brandon Mizar's memorable shot
I have been a pretty strong critic of Travis' antics over the years—especially some of the freestyle stuff. What he did at Daytona earned him a stern warning from the AMA, and rightly so. A racetrack is no place for a backflip, no matter who the rider is or what he's doing. While things like Brian Deegan ghosting his bike when he won at the Los Angeles Coliseum were punk and memorable, Pastrana's flip after a heat race could have really hurt someone. His bike was lying in the middle of the track, which could have caused problems for the guys behind him who saw officials waving checkered and yellow flags. It will surely be on his next video, but I just think that in light of what happened to Ernesto last week, it was really bad timing for something so dangerous and unnecessary.
Having said that, I can't believe just how good Pastrana can still go through the whoops. I don't know how it looked on TV, but it was absolutely incredible to see his banzai runs down through those treacherous Daytona whoops. Holy smokes was he going fast! The whoops did finally jump up and tackle him, causing the most spectacular crash I have seen Travis ever suffer (and he's suffered a lot). He knocked himself silly, and even though he rode the semi, I'm proud of him and his team for pulling out of the final instead of riding concussed (and his move allowed Jason Thomas a chance to ride the main as the third-place finisher in the LCQ).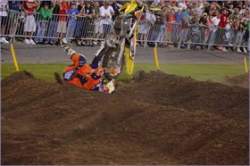 That's going to leave a mark….
photo: Tom Ferriter
Travis may be departing the series, but the star wattage will stay high with the return of
Kevin Windham
. K-Dub
spoke to EJ this week
and let him know how he was doing, how stoked he is to come back, and how he's just overcoming a pretty serious cold. Windham will be using these remaining races to get back into race shape and the right mindset before his outdoor title run against the incumbent champion RC, Speedy
Reedy
, and future king
James Stewart
.
TFS also just hit me with a note that says Stewart starts his six-week program to get his endurance ready for the outdoors here real soon. I can't wait to see James on a 450 outdoors.
Hey, keep an eye on Europe here in the next few weeks. There are rumors out there that Sebastien Tortelli may not be happy with the progress of the KTM prototype he's to ride alongside Mickael Pichon as they pursue Stefan Everts in the MX1 World Championships. If that deal comes apart, wouldn't Tortelli look good on, say, a Honda under the Factory Connection tent?
And speaking of Honda, silly-season rumor of the week has Honda looking hard at both Reed and Grant Langston for next year. Again, that's just a rumor.…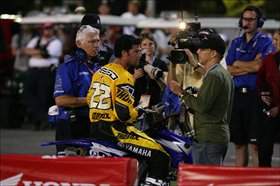 Chad' shoulder was a big concern; his runner-up finish was a big accomplishment.
photo: Simon Cudby
Now a few notes from
Ping
:
Happy St. Patrick's Day! If you're Irish, then you are probably putting the finishing touches on your plans for drunken debauchery tonight. If you are an Irish motocross fan, then you are probably laying down money on James Stewart, Michael Byrne, and Chris Gosselaar this weekend in Orlando. And drinking beer. Should be a good one in the Citrus Bowl this weekend.
Travis Pastrana should have his own reality show. Wait, actually, he does have his own show and it premieres this weekend on CMT. The Suzuki rider is nonstop entertainment when he's on a motorcycle. His backflip during a daytime qualifier, while dangerous and inappropriate, was one of the strangest things I've ever seen. Even his freestyle buddies are amazed at his antics.
Nate Adams said of the crash, "Oh, man, he got lucky. If that was me, I would have broken all kinds of bones. He stayed clamped onto the bike and it flipped him back over. He almost popped back up on his feet before the bike came to a stop!"
His heat race was the most exciting part of the race for me. I was standing in front of my television with my arms up in the air, screaming. And that was during the commercials. The penalty for trying to be a hero can be steep, and in this case it was. TP stumbled back to the pits, got second in his qualifier to Reed, and then didn't show up for the main event. Why? I heard that he didn't remember going out in the semi, and when he made a comment about it to his crew, they threw in the flag for him. I have a mental cartoon image of Pastrana's brain in my head, and it has little Band-Aids, stitches, and bruises all over it.
Josh Hansen had another bad weekend in Daytona. The Red Bull KTM rider is struggling through a herniated disk in his back, but it looks like the struggle is over. It looks like Josh may sit out the rest of the SX season so that he can be healthy for the outdoor nationals. Yes, he is racing them this year.
If you happened to hear Denny Stephenson work a jab at me into his live broadcast of the Daytona Supercross, well, you heard correctly. Denny and I have been playing a little game of cat and mouse lately. Actually, it's more like going punch for punch. Actually, it more like taking turns kicking each other in the nuts. Verbally. I'm not sure where it's headed, but in response to Denny's uppercut on Friday night, I would just like to say ... touché. good play, old man. I did not specify. And in honor of your success, I would like to offer up these photographs, pieces of memorabilia for the masses to see what a quality gentleman you really are. Well done, sir. You play like a champion. I hate you; but dang it, I respect you.
The rumor mill grabbed a gear this week in California. These are just rumors, but I've heard them from more than one person. Here goes:
Ricky Carmichael
will pick up his third year option with Suzuki and then sign up to race NASCAR in 2008. (I don't believe that one, personally. I think he's done this September.)
James Stewart
will sign with Team Honda for two years and then follow RC into NASCAR as well.
Chad Reed
will ride red bikes, but it will be for his own team.
Grant Langston
has been linked to team Kawasaki or KTM for next year.
Nick Wey
is also on the short list for a spot at Kawasaki, and he deserves it.
Davi Millsaps
will move up to the 450 class for Honda.
Travis Preston
will leave Honda and
Andrew Short
will ride the 250F class again.
Sebastien Tortelli
is scheduled to be back in the States on a KTM next year and KTM needs riders for their new team. They have Langston and Reed on their list of riders to talk to.
If you live in Southern California, don't forget to come out to the Outlaw Ride Day at Glen Helen Raceway next Tuesday the 21st. It is a benefit ride day for James Marshall with all proceeds going directly to offset his medical expenses. The event begins at 9:00am and there is a $20 minimum donation.
If you live in the Orlando area, check out the Cause 2 Ride charity event going on this Sunday. This event is also for a great cause. Their web site is cause2ride.com.
Thanks, Ping. Okay, tip-off is in an hour, so let me pick up the pace here…
Over on "Farber Asks" at supercross.cc.com, he asks a bunch of industry folks who will win the 2006 Amp'd Mobile AMA SX series. Check it out—it's good reading.
Also don't forget to check out some of the new Racer X casualwear at www.racerxwear.com. Fubar has all of the new 2006 gear in, and there's some good stuff to choose from (and if you order now, we throw in a Racer X cover poster).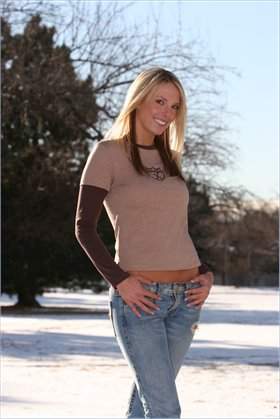 That's Miss Arenacross (AMA Toyota version)
photo: Jason Hooper
Several folks
linked me to an ad
for this 1965 BBC-filmed "scrambles" race from England. It's really cool stuff!
Bad news for motorcycles from Riverside, California, as Action Sports Journal reported yesterday: "The Riverside County Board of Supervisors in California has given preliminary approval to a new noise law that makes it virtually impossible to ride off-highway motorcycles or ATVs on parcels of less than 15 acres. The board also is considering an off-highway vehicle proposal that would severely restrict riding on private property in the county, which is a mecca for off-road riders. There are 47,000 off-highway vehicles registered in Riverside County. By a 5-0 vote on Wednesday, March 15, with two members absent, the board gave preliminary approval to a noise ordinance that sets maximum allowable sound levels at the property line at 45, 55 or 75 decibels, depending on the zoning of the parcel. That means that a property owner would probably need at least 15 acres to be able to ride off-highway motorcycles and not violate the law.
The full Board of Supervisors will consider the noise legislation for final approval on March 28. The AMA and the Off-Road Business Association are working with Supercross legend Jeremy McGrath and his father, Jack, to organize public support for off-road riders at the March 28 meeting of the Board of Supervisors. That meeting is at 4080 Lemon Street in Riverside."
And speaking of loud bikes—which this ban is all about—check out this very funny public service announcement.
The big Lake Whitney National went off last weekend. You can find complete coverage of that event, plus updates from this weekend's Oak Hill race, at Chris Hultner's www.amateurmx.com.
And if you missed any of the Reality of Speed show this season, Michael Holigan let us know that everything is online.

Motocross in high school? It might be happening at DePere High School near Green Bay, Wisconsin.
And in more programming tips, Pete Fox dropped us a line suggesting we catch the amazing show "I Shouldn't Be Alive!" on the Discovery Channel:
San news from Texas: On March 9 at Lake Whitney MX Park, #339 Jon Taylor, an Intermediate rider from Asheboro N.C., was injured in a first-turn pileup and broke his neck. Jon had surgery yesterday, and like Ernesto, could probably use your thoughts and prayers, and maybe a few words of support. Please write him at:
Parkland Health & Hospital Systems
ATTN: ICU B5 (Jon Taylor)
5201 Harry Hines Blvd.
Dallas TX 75235
For further updates go to www.d29mx.com and click on Forums.
On that very sad note, I'm going to end this. Thanks for reading Racerhead. See you at the races—or maybe Brad and Angelina's wedding tomorrow at Lake Como in Italy. Just kidding.
Oh, and Happy St. Patrick's Day, everyone. I wonder if Ricky will wear some special green Fox gear to mark the occasion....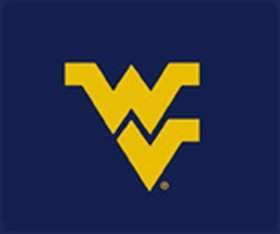 Let's go Mountaineers!