Flash Trivia Answer and Winners
Earlier today we had a Racer X Wear Flash Trivia contest and asked:
In 1973, there was a Trans-AMA race held in Washington, Indiana. Name the winner and the brand of motorcycle he was on.
Answer: The winner of the October 14, 1973 Trans-AMA in Washington, Indiana, was Maico factory rider Willi Bauer of Germany.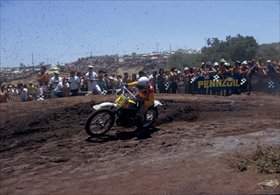 Willi Bauer, but not in Indiana. This is Carlsbad in '73
photo: Dick Miller archives

Congratulations to the following readers for submitting the correct answer. Your One Industries Mike LaRocco poster is in the mail!

Broc Edwards
Winnemucca, NV
Michael Hayes
Melbourne, FL
Geno Marchizza
Springfield, IL
Dustin Braaten
Great Falls, MT
Lisa Yung
Lake Elsinore, CA