Thursday Rev-Up: Melancholy and the Infinite Madness
Recognize the title? If you're a Smashing Pumpkins fan, you might. But now it's more like smashing gas cans and science labs and points tables…. Hello, everyone, and welcome to the Rev-Up. What a season so far! Just when it appeared the action could not get any crazier or dramatic, guys start crashing three times in two laps, guys are going ass-over-teakettle in 18-inch whoops, guys are suffering DNFs, title contenders crash and cannot restart … and all of a sudden, a different guy wins his first race of the year and immediately has a 19-point lead. What?


The 2006 Amp'd Mobile AMA Supercross Series just kept getting hotter and hotter. As the season reaches the halfway mark, it went nuclear. As we all know,
Ricky Carmichael
has temporarily been removed from the battle for points supremacy on the heels of his 25-point penalty for bad gas. No, not his old chronic Irritable Bowel Syndrome, but the fuel pumping power to his yellow horse of steel. The events of this tragedy (or better yet, "tragicomedy") have thrown a lot of folks in our industry into a state of melancholy not seen since, well ... in more than 20 years of being involved, I have never seen our sport in such a pickle. Maybe when David Bailey got hurt.
We finally had the Perfect Storm, we have the television package rolling on CBS and Speed, and new a title sponsor. But last Saturday night there were 70,000-some supercross fanatics that left the Georgia Dome looking for an AMA official to beat on. Supercross was firing on all eight cylinders, then it just threw a rod through the bottom of the oil pan. All this bad noise put me in a brief state of melancholy, and after reading the message boards this week, I know I wasn't alone.
With the variables in this morbid equation still up in the air, I want to remind all of you of one simple fact: There will be a racing going on in the RCA Dome in Indianapolis this Saturday night, and the infinite madness of 2006 will go on. And folks, this weekend is going to smolder! Let's push past all of this fuel-driven political fecal matter and get Revved Up for what I am predicting to be one of the wildest night of racing we have seen thus far.
250F Class
Davi Millsps has made it through two events shining like a diamond with a ditch digger's smile. While the rest of his competition has been scattering themselves all over the track posting inconsistent finishes, "Maverick" has gone first and second to immediately put his comp behind the eight ball.… Okay, nine ball, because he has an early nine-point lead. He is showing incredible speed, and while he had to come from dead last weekend, he did so in convincing fashion and damn near won the thing.
Josh Grant
deserves an "atta boy" for his winning performance last weekend, but what the hell is up with him and
Josh Hansen
? Play nice with each other, boys, because this Tom and Jerry routine is going to get one of you hurt one day. As it turns out,
Steve Boniface
was the one that got hurt, but I digress. This Grant kid has been through a lot in his short career and I was glad to see him garner his first main-event victory. I have to say, though, that I'd rather see a flat whip on his next victory lap as opposed to that mid-'90s Metzger-like heel-clicker that he threw us. Ha ha! Oh well, the fans loved it.
And how about that "Marteen" Davalos? Heads were screaming about his speed at St. Louis and in Atlanta he made good on the hype. The young man has only been in the States for three years, and just a few months ago he was racing the amateur nationals. "The Matador from Ecuador" made the steps in his second professional supercross, and here's wishing him a successful remainder to his 2006 supercross season. And that
Matt Goerke
kid didn't look bad either!
And Thomas Hahn, were are you? Come on, brother, pull together a Cinderella story for us this weekend, grab yourself a holeshot, and make this Saturday night a remake of the movie
Hoosiers
!
450F Class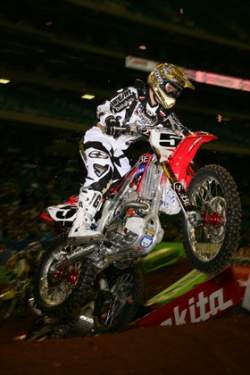 Mike LaRocco announced his retirement at today's press conference

photo: Simon Cudby
At the cross flags of the series we have arrived at a points display that no one could have possibly fathomed. A clerk at a Russian thrift shop could do a better job of describing what is really going on and who has done the most ass-kicking among these boys in supercross 2006. And therein lies the problem. Bill France said, "Our biggest goal is that at the end of the race, the fans will know who the winner was." Well, all we can hope for now is that cooler heads will prevail and when the final flag flies in Vegas, the packed house at Sam Boyd Stadium will know that the 2006 champion is the man who earned it, not the one who won it on a fuel test. Because if
Chad Reed
rides as well here in the last eight rounds as he always does in the last eight rounds, he doesn't need the help—he would rather win it on the racetrack!
Moving right along, there is a force that has been gaining strength since this debacle took place. At the nucleus of this atomic bomb is one pissed-off
Ricky Carmichael
. It isn't safe to run a race car in the red, and RC has been bouncing off the rev limiter since he received the points deduction. That mountain of determination adorned with the #4 will be training a little harder, practicing a little faster, and gritting his teeth tighter than we have ever seen. Being cloaked in shame and uncertainty will either make a person cower in defeat or rage like a pit bull on amphetamines. Which state of being do you think Ricky is in?
What's cool is that Reed and
James Stewart
have to be in similar states. In Reed's case, he has a 31-point lead he didn't completely earn, and being the champion that he is, he wants to prove a point that he is deserving, not inheriting. A heads-up, toe-to-toe win for him will cement his status. As for young James, man, he just keeps missing the mark in the main events. He has shown flashes of smooth domination at times, but sadly, they're sandwiched between first-turn crashes and bad luck. Be that as it may, there has never been more fuel on the fire between these three warriors. Remember this: James has yet to lose a 450 main event (or 250 last year) in which he did not crash. He stays up, history shows, he wins.
I'd like to open up a can of verbal abuse and go on a scorching rant about this monument of misfortune our sport has been slapped with. But to be perfectly honest with you, there are very, very few people who know enough about the situation to be saying much about it, and I'm not one of them. I will offer my opinion on one thing and say that what Team RC allegedly did—and what Team Yamaha did in '04 and Team Kawasaki last summer—might have deserved a slap on the wrist, but certainly not a 25-gun firing squad. That's all I have to say about that.
As we draw close to what I am predicting will be the supercross of the season, I will leave you with a little ditty from the Man in Black (with a moto twist):
I hear a train a comin', its rollin around the bend,
And I've never seen more drama since I don't know when.
Far from points deductions, that's where I want to be.
But that train keep a rollin', and that's what comforts me.
When I was just a baby, my momma told me, Son,
Always race your hardest, don't ever hurt no one.
But we killed a man in Atlanta, just to watch him die.
But when he hears that whistle blowin', he knows its time to fly!
Okay, I hope you got stoked or at least chuckled over that. Let's all remember we're just racing dirt bikes here. But damn it, let's make it right.
Thanks for reading, see you next week!