Racerhead is coming at you from the 19th floor of some big hotel in the Buckhead area of Atlanta, which is like the casino area of Las Vegas. Tomorrow night, the eighth round of the 2006 Amp'd Mobile AMA Supercross Series goes off at the Georgia Dome, but it honestly feels like we're all starting over again. That's because last weekend's race at St. Louis is already the stuff of legend. In one of the most unexpected turns of events since the '91 Hangtown National, title rivals Ricky Carmichael and James Stewart scored a combined total of just five points, effectively wiping out the lead each had built over the course of the first six weeks.
The irony is, both Carmichael and Stewart mentioned being ready to get out of California and back to the East Coast, yet both of the Floridians faltered in St. Louis. As a result of RC's unlikely DNF due to a broken shock something (more on that below) and Stewart's tumble and then fumble trying to restart the Kawasaki KX450F, Chad Reed is suddenly in the driver's seat in the 450 class. And full credit to him and his Yamaha team: They were patient, they worked hard, and they didn't hit the panic button. Now Carmichael and Stewart will have to be just as calm coming back as Chad's been. Like I said, it's a whole new series!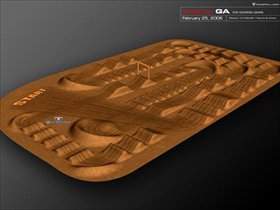 Here's some 3-D Wallpaper from Mike Fisher of the Atlanta track
You can listen to tomorrow's Atlanta Supercross on the Supercross Live! webcast over at
supercross.cc.com
, beginning at seven p.m. EST and four in the afternoon out West. Also watch the laps on
amamotocross.com
, and check out the next-day TV coverage on Speed Channel at 4:30 p.m. Sunday (EST).
By the way, Carmichael has a pretty good record in Atlanta - he's won there the last four times he's raced. As for Stewart, he's only raced there once, winning the 125 class in 2004. He missed last year with an injury, but the red clay in the home of the Atlanta Falcons sure looks close to the red clay on James' backyard track.
In the 250F class, Davi Millsaps rode a solid race to get his first AMA win on a Honda. People are already talking about Davi possibly moving up to the 450 after the East rounds are done, and maybe even the whole outdoor nationals. After all, he is right around 190 lbs.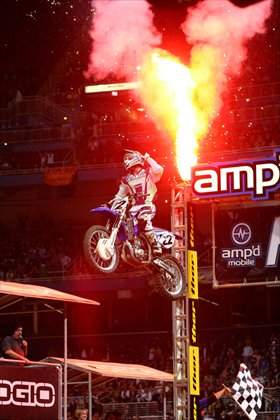 Chad Reed is the unlikely new points leader
photo: Matt Ware
That brings to mind
Mike Alessi
and the talk that he might ride the KTM 450 in the Eastern rounds. Well, he didn't show up in St. Louis, and he explained why in the latest "800 Words" column he sent in for
Racer X
magazine:
"I was going to race 450 on the East Coast, but KTM management thought not!" wrote Alessi. Smart move. Mike's getting better and better in the stadiums, but he has no chance of making the podium in the premier class right now. Better to have him hang back and prepare for the outdoor nationals, where he will be a title contender on the 250F.
On another note, Travis Pastrana is still looking forward to doing as many races as he can come Daytona Bike Week, but he's also focusing on his budding career in rally car racing. Last weekend, longtime industry friend Tim Mueller, who's now working with Wasserman Media Group on Rally America, took a ride with Pastrana in his Vermont Sports Car factory-backed Subaru at the 100 Acre Wood event in Salem, MO.
"It's an absolutely amazing experience!" Mueller wrote. "Travis plays the clutch, brake and steering like a fine violin, dancing the car around turns and down very fast straightaways. I was having the ride of my life, though many times thought the car was absolutely washed out, and Travis would throw it back in line every time... and of course he was talking me through the ride and explaining every move."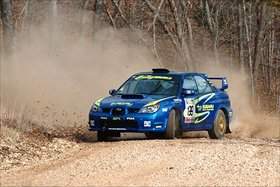 Would you take a ride with this man?
photo courtesy of rally.subaru.com
As for Travis' coming dirt track race in Florida,
Road Racer X
contributor
Miriam Deitcher
ran into living legend
Chris Carr
to get his reaction to Pastrana racing the Daytona Short Track: "I think it's great. Bring him on. It'll be fun for everybody," said Carr. How does the seven-time AMA Flat Track champ think TP will fare? "If he qualifies (makes the 60-rider show), it wouldn't surprise me. Other than that, I don't know. Who knows? He's
Travis Pastrana
. He could do something really cool, or he could suck. You never know."
Let me turn this over to Pingree on the West Coast....
While most of us are still scratching our heads trying to figure out what happened in the 450 class in St. Louis, the 250F class wasn't as much of a surprise. Davi Millsaps was a heavy favorite going in and he delivered. Goose and Jesseman were big surprises, but the big question was, what the heck happened to Hanny? Josh Hansen shot out to an early lead, running lap times just as quick as Millsaps, then faded and slowed considerably to finish fourth. "Out of shape" was the first thing that popped into most people's minds, but I called Josh to get his side of the story.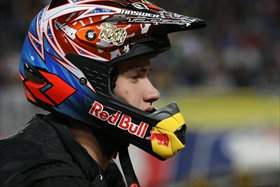 Something seems to be wrong with Josh Hansen
photo: Matt Ware
"Man, I'm just going through some hard times right now," Hansen explained. "I have a pinched nerve in my back and it is affecting my right shoulder and arm. It started a couple weeks before the opener and I've been working on it with my doctor every day. It just sucks because I've been feeling good about my fitness and my riding. I've been riding really well. Now I'm spending all week doing therapy and trying to heal my back. I could barely get out of bed for two days after St. Louis. I got an epidural shot in my back yesterday, and I have to get another one right before I leave for Atlanta. Do you have any idea how big those needles are? Dude, that's what they give chicks when they have babies! Then, to top it all off, I got a cold at the first round. I'm just struggling right now."
Hansen will have to tough it out as the East Region series goes straight though with no breaks.
Hansen's Red Bull KTM teammate Jay Marmont is hoping to make his return to racing this weekend. The Australian rider broke his femur early in the off-season and has been fighting to get healed up in time for his series. While he didn't make the opener, he is telling team boss Larry Brooks that he is good to go.
Unlike his competitors Grant Langston and Andrew Short or even Alessi, Billy Laninovich will be riding a 450 in the Supercross class on the East Coast. The SoBe/No Fear/Samsung Mobile Honda rider has been riding the big thumper and will join the series when he feels he's ready. Billy is hoping to be ready for this weekend.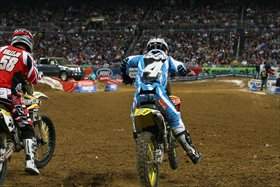 Check out RC's deep-outside semi starting position
photo: Matt Ware
There was a lot of guessing about exactly what happened to
Ricky Carmichael
's Suzuki in last weekend's main event in St. Louis. The television broadcast showed RC's crash in the whoops and his first-turn fall, but they missed Ricky casing a triple on the opening lap of the main event - maybe the real culprit in his DNF. Let's just say he needs to thank God and whoever built those Berik boots that he didn't break both ankles.
There's no way of telling exactly where the problem started, but it materialized on that triple jump when his shock spring snapped in half. As he rode off the track (in disgust, I'm sure), he looked down and saw his shock collars bouncing around and told CBS pit reporter Krista Voda that it was his shock collars that broke. The team later determined that it was, in fact, the spring. And that titanium spring was manufactured by a company that supplies springs for all of the factory teams. The incident was enough to force Pro Circuit to look for different suppliers. Jim "Bones" Bacon, Pro Circuit's suspension engineer, tested springs this week from a different manufacturer.
"You have to figure that Ricky's DNF cost him at least 20 points," Bones said. "I'm pretty sure he would have made it back to at least third place by the end of the race. If Ricky ends up losing the title by less than 20 points, then that DNF becomes very costly. Mechanical failures like that just don't happen anymore. They shouldn't, at least."
With an eight-week break in the West Region 250F series, many riders have been preparing for the outdoor nationals already. This week Mike Alessi began his testing with KTM. Alessi has made it clear that he just wants to get through his first SX season alive so he can make a solid run at the outdoor title. In fact, after his first podium in San Francisco, Mike said that he would be happy with top-fives and a possible podium now and then. He told me that he just wanted to learn as much as possible while riding in his comfort zone. Mike scored a third and a fourth in the two following weekends. Little Mikey is going to be tough this summer.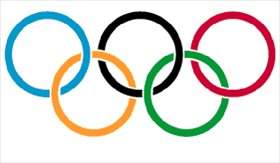 Shaun Palmer now has nightmares about these rings
If you've been keeping up with
Shaun Palmer
lately, you are well aware of the drama he's endured. After a failed attempt to compete in last year's outdoor national series, Palmer had a meltdown involving drugs and alcohol at his Lake Tahoe home. Shaun came close to death in that incident and refocused himself on his career. Palm was determined to qualify for the Olympic snowboard-cross team so he could compete in the winter games in Turin, or Torino, depending on what station you watch. The stubbornly persistent snowboard legend did just that: qualifying at a world cup round in Italy. One week after making the cut to the team, Shaun was competing in another race to get some track time. In a hard, fast, icy G-out turn, he hit a hole and tore his Achilles tendon in half. His dream of Olympic gold was over, or at least put on hold for another four years. Shaun's teammate
Seth Wescott
ended up winning the boardcross event but Shaun still found his way to Torino.
"The president of NBC heard my story, I guess," Palm said as he was waiting for a flight in New York's JFK airport. "They want to do a story on everything that happened, so they are flying me to Torino in a private jet." Such is the life of Shaun Palmer; amazing highs followed by unbelievable lows repeated over and over.
Palm isn't the only motocross fanatic that had a stake in the Olympic Games. Alpine skier Dahron Rhalves spends most of his time in the off-season on a motocross bike. NBC even had a small segment about his hobby and passion. Rhalves didn't win any medals in Torino, but he skied great to my untrained eye. I'm saying his wax tech went with the wrong setup and it cost him. I was pulling for ya, Rhalvesey! See you in Sacramento.
That's it from Ping, who is also in Atlanta this weekend to help Toyota and Godfrey Films out with some PR work.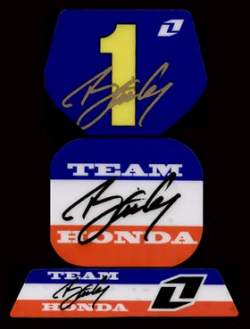 Want one of these for your toolbox?
With
David Bailey
in the news so much recently - his motorcycle ride was incredibly uplifting, though he's paying a price this week with a very sore body - we were stoked to get a huge box of super-sano decals from One Industries (Eighties Industries?) for us to give away to our Racerhead readers. We will throw a couple in each envelope we get, so send a self-addressed stamped to:
Racer X
Dept: David Bailey #1
122 Vista Del Rio Drive
Morgantown, WV 26508
Hey, have you seen those Mobile ESPN phone commercials with MX and every other sport involved? The commercial is called "Welcome to Sports Heaven" and basically implies that they will offer motorcycling programming on their phone. Now, I haven't gotten an Amp'd Mobile phone yet - I can't wait, by the way - and all the supercross content on there. I wonder where ESPN will get its moto content from, since supercross and Amp'd Mobile are in it for the long haul, and there's no word yet on where the nationals will air.
In other ESPN news, I got a call from ABC/ESPN sideline reporter and former SX announcer Todd Harris today. Todd was sitting in on a radio show out near Salt Lake City and wanted to talk supercross. Harris is still a huge fan, and all four of his sons are riders (as is Todd). He's a major network talent now, but it's really cool to know how much he still enjoys and appreciates motocross.
He also wanted to know if and when supercross would ever return to SLC, as there are a lot of fans out there (including Utah Governor John Huntsman) who wish the series would return. Here's a vote for going back to Utah - even McGrath has a place there now!
And speaking of Utah, congrats to Kevin the Bench Racing Ammo reader for answering Bill Ursic's question: When was that the last time the 125 class podium was full of three-digit riders? It was Salt Lake City in 2003:
1. Stewart #259
2. Laninovich #132
3. Sorby #917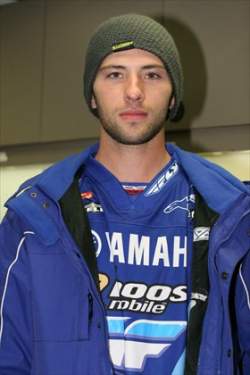 Branden's #121 made it a three-digit podium sweep in STL
photo: Matt Ware
QUICK TRIVIA: One other note along the ESPN lines. In last week's Racerhead, I mentioned the batter who charged the mound when
Nolan Ryan
hit him with a pitch. Do you remember who the batter was?
Jason Reed
did; you'll find the answer further on down.
Hey, check out "Farber Asks" over on supercross.cc.com, where he asks folks in the industry about their worst road-trip experiences ever - it's pretty funny.
Road Racer X editor Chris Jonnum spent last night at Joe's Garage (a cool private classic-car collection in Tustin, California), at a retirement party for Gary Christopher. Gary first started working with Honda in 1971, most recently as the Senior Manager of Press Communications. Wrote Chris, "These things are usually roasts, but Gary is so squeaky-clean (or has his skeletons buried so deep in his closet) that most of the evening's speakers (which included Jon Row, Lee Edmunds, Charlie Keller, Larry Little, Ken Vreeke, Danny Walker, Eric Anderson, Paul Golde, Bob Weber, Fred Rowe, and Beverly St. Claire) mainly just heaped praise on the native Texan. Attendees traveled from as far away as Florida, Ohio, and Colorado to say goodbye to Gary and his wife Peg, and the guys from Cycle World even presented Gary with a very cool Rick Doughty-modified Felt bicycle fixed up to look like a Honda Elsinore."
"This industry has become big business, but it's still a pretty small community," Christopher said. "Other industries would kill to have the kind of character we have in the motorcycle industry.... It's an easy industry to love."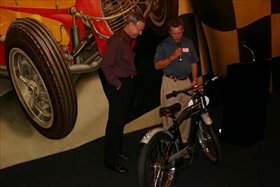 A fond farewell and happy retirement to Gary Christopher
photo: Chris Jonnum
Wrote Jonnum, "Just about every one of the many, many people to have worked with Gary over the years will miss him greatly, and the industry will be a lesser place now that he's retired (although we still expect to see him at the races from time to time). Christopher has always realized that the best way to grow one's company is to grow one's industry, and our best bet is to try and emulate that. Happy trails, pardner."
Someone asked me how much quicker Stewart would have been able to his bike started had he been on a KX250. I'm really not sure, but as you can see here, he was kicking and throttling at one point - that's a no-no in Thumper Land, where they say put your hand on the crossbar to keep from twisting the throttle and flooding the bike - but he did get it started here, only to stall because his clutch was all jacked up.
Either way, James' newsletter this week is really funny, and I have to give him credit for making light of the situation - his explanation that he crashed while trying to read the number on the Progressive Insurance Tuff Block is pretty damn funny. This weekend should be an amazing race for everyone.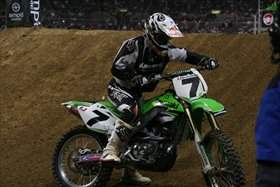 James' throttle hand might not be in the right place here, but it did start - briefly
photo: Matt Ware
And what about
Clint Bowyer
?! Andy's little brother came through at Daytona with a rock-solid sixth in his first 500. To read more on the former LL competitor, check out
this NASCAR link
.
Okay, maybe the two-strokes aren't completely dead yet. Mike Brown put in his best 250-class supercross ride in years with a solid seventh last week on his RM250. Ever a 125 rider, Brownie just didn't like that 450 at all for supercross and dropped back time to the two-stroke with decent success. Two-Stroke Nation thanks you, Mike.
Last weekend's Indy Trade Show was so big and epic that I can't really get into it again, so check out Bad Billy's photo reports from the show. As for all of the AMA stuff that went down, well, while I hated seeing Ray Blank leave the AMA Board, I think the other developments with AMA Pro Racing will ultimately be good for the sport, and I think there are interesting times ahead that will see more people with various specialized skills able to get involved and help the advancement of our sport.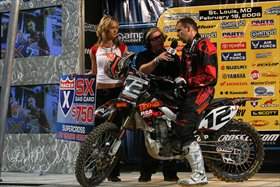 Not the night Vuillemin wanted in St. Louis
photo: Matt Ware
One person I saw at the show that I do want to mention is
David Vuillemin
, who had a less-than-stellar night on the BooKoo Honda and ended up winning the Racer X Gas Card. But rather than stomp off like an angry superstar, he went to the podium, took off his helmet, accepted the check, and thanked his sponsors. That was a class act, DV12. Your karma says top five this weekend.
And speaking of BooKoo Honda, the leading-edge team pulled off another marketing coup, this time forming a partnership with Thomson's RCA brand for the 2006 AMA Supercross Season. As an Associate Sponsor of Holigan Racing's Team BooKoo, the RCA brand, along with RCA mp3 players and LYRA Personal Multimedia Recorders, are prominently featured in Supercross racing promotions. Those BooKoo guys get things done....
Having a worse night than Vuillemin, by the way, were fellow former factory riders Brock Sellards and Stephane Roncada. Sellards didn't make the 450 main event, and Roncada didn't even make the night program. Here's to better weekends in Georgia, guys.
Other former factory-affiliated riders not to make the main included Robbie Reynard, Greg Schnell, Justin Buckelew, Josh Woods and Matt Goerke.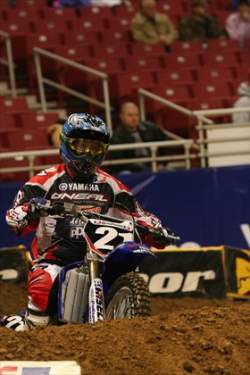 Things didn't work out for Ronron in his comeback supercross ride
photo: Matt Ware
If you're coming to Atlanta, don't forget about Sunday's Ride-4-AT over at Bremen Raceway. For more info, check out
www.Ride4AT.com
.
If you've missed them, make sure you check out our new weekly "Where Are They Now" feature, which we post every Thursday. Yesterday's subject was Steve Stackable, and last week we wrote about Sweden's Ake Jonnson. If you have somebody you'd like us to find, let us know at letters@racerxill.com. And if you know the whereabouts of some of our sport's stars from yesteryear, be sure to let us know that at letters@racerxill.com, too. We've already received dozens of requests for this column, so we can use all the help we can get tracking some of these guys down.
We recently saw that snowboarder Tricia Byrnes, BMXer Mat Hoffman, and our own Kenny Bartram will serve as spokespeople for the V Foundation for Cancer Research (jimmyv.org), a charitable organization created by ESPN and the late Jim Valvano, the legendary NC State basketball coach who led the Wolfpack to an underdog NCAA Championship in 1983. Since 1993, The V Foundation has raised more than $50 million and awarded research grants in 36 states and the District of Columbia. Hopefully, Kenny and friends can help them raise even more money.
A note from Kristin Oehlhof: "Competitive Edge Motocross Park located in Hesperia, California is having their own motocross series. The Winter Series runs: Feb. 12, Mar. 5, Apr. 9, 23, 30 and May 14. The Summer Series runs: Jun 11, 25, Jul 9, 23, Aug 12, 27.

Come check out the newest riding area in Southern California! All classes offered for all ages. Great prizes given away at each race by all our sponsors! Check out www.ridecemx.com for the race flyer and more information on the facility.

Finally, a shout-out to Larry Hughes of Parts Unlimited, who is helping to organize a benefit race for James Marshall in Houston on March 19. The event will be a motocross race and auction at 290 Cycle World in Waller, Texas, just outside of Houston. For more information you can log on to www.houstonmotocross.com.
TRIVIA ANSWER: The batter who took all of those knuckle punches in the head from the great Nolan Ryan was Robin Ventura.
That's it from Atlanta. I have to go to the DMXS Kickoff Party. Thanks for reading Racerhead.