Bench Racing Ammo: St. Louis Edition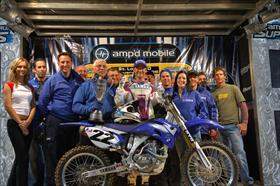 The Chad Reed camp was stoked on his St. Louis victory
Not only were fans of Amp'd Mobile Supercross guaranteed to see some new action in the 250F class in St. Louis this past weekend, but the biggest surprise came in the 450 class, where we had a new winner and a huge shake-up in the points standings. Seriously—if someone had told you Saturday morning that Reed be the new points leader, would you have believed them?
By now I'm sure all of you are well aware of what happened in St. Louis, but do you realize that Team Yamaha's Reed is leading a series for the first time since he led the series going into Las Vegas Supercross on May 1, 2004, when he won the championship?
Reed's St. Louis victory may have been the 24th of his career (all of which were with Yamaha), but it was only the second for Yamaha's premier-class thumper. The first, if you remember, was way back in 1997 when Doug Henry won the season finale in Las Vegas on the YZ400F. Doesn't it seem odd that there are over eight years in between Yamaha's first and second AMA "450" Supercross victories with their four-stroke?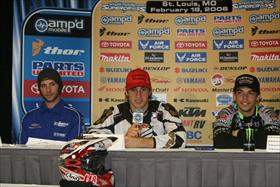 The 250F podium was all three-digit riders
How quickly the tide can turn in professional motorsports.
Ricky Carmichael
's streak of 36 consecutive podium finishes came to a screeching halt Saturday night after a first-turn pileup and a broken rear shock on his Team Makita Suzuki RM-Z450 forced the defending champion back to the pits before the checkered flag flew. The DNF (Did Not Finish) was his first since his debut with factory Honda in Anaheim 1 of 2002, when he took a digger in the whoops.
RC's drop to second in the AMA points standings behind Reed is the first time in his career that he ever lost a lead in SUPERCROSS. I'm stressing "supercross" because RC has lost a lead in the outdoor nationals before, but never indoors. (We didn't mention that last time; sorry,
John Dowd
fans!)
Now, on to the Eastern Region 250F class, which saw all the podium finishers sporting three-digit numbers: 1.)
Davi Millsaps
#118; 2.)
Chris Gosselaar
#102; 3.) Branden Jesseman #121. Although none of them are full-on privateers, we're curious if that has ever happened before. If you know, drop us a line at letters@racerxill.com.