Between the Motos: MX Sponsor.com's Rich Maychrich
February 15, 2006 10:20am
MXSponsor.com is a new privateer outfit started by some moto-loving guys, including Rich Maychrich of New Jersey. He was on hand last weekend at the San Diego SX when one of the top riders in the program, James Marshall, crashed and suffered a spinal injury. Maychrich and friends went right to work, doing their best to assist this privateer in the time of his deepest need. We caught up with Rich yesterday to see how things were going with James.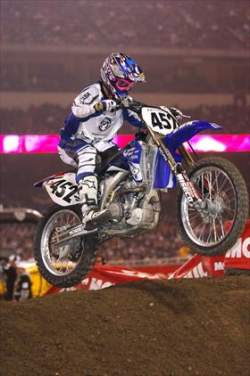 James Marshall
photo: Steve "TFS" Bruhn

Racer X: First of all, let's start with the heavy news. You've been doing MXSponsor.com for less than a year now, but unfortunately, one of your riders is on everyone's mind this week, and that is James Marshall.
Rich Maychrich: Yes, he is. What we had decided to do about a month before supercross is help guys like James. There are a lot of riders driving their own vans around—the really hard-core privateers—and we tried to get as many as possible together in one truck and drive them around to the supercross races. James was one of the guys we picked right away, just because of his outgoing personality and the manners he had on the phone. He just seemed like a good, hardworking kid. The first time I met him it was exactly true.

I can remember the first time I met James; it was under the Honda of Houston tent at Loretta Lynn's tent a couple years back. And he was sitting there and came over and introduced himself and seemed like a really great kid, and from that moment on, I kept an eye on him. So, were you in San Diego this weekend?
Yeah, I've been staying out there and been seeing James for the past month and a half. We've been traveling together, and although we didn't get our shuttle truck yet, we've been helping him out with gas bills and just supporting him as much as possible. He's definitely one that deserves it. We just wanted to associate MXSponsor.com with helping out riders like James.

You've really jumped right out to tried and launch a site to help with James' recovery and all. I think that's a really commendable thing that you're doing, but I'm sure this isn't what you had planned when you arrived at Qualcomm last Saturday morning.
No. I mean, he's been getting faster each week, and him and his mechanic, Dave, instead of going surfing one day or doing this, James would train and he would work on the bike. James lives motocross. He's the guy who'll take the time in between practice to sign autographs for little kids. He doesn't have the factory deal where he has eight sets of gear, yet he manages to give away that one jersey he was wearing to a little kid. He's just a good kid. And going into Qualcomm, he had one of the fastest practice laps out of unseeded riders, and all year it's been him and Tim Ferry in that practice with the fastest lap times. Everyone wants to help him because he's just a nice kid. That's why so many people are supporting him right now.

So people can go to .HelpJames.org, right?
Yes, and instead of people going to different message boards, we're trying to put all the facts there and keep all of the different message boards and donations. Road 2 Recovery is doing an awesome job.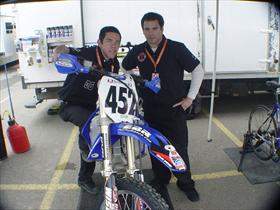 James' mechanic, Dave Galer (left), and Rich Maychrich
photo courtesy of Maychrich

Yeah, I got that e-mail from Jenny Coombs, and we also heard from Kristin Oehlhof from the Women's Motocross Foundation – they're also doing what they can. And I saw that Mark Kwame from MDK Motorsports laid down $5,000 to match any funds raised.
Yeah, Mark put down $5,000 and Fox Racing donated $1,000. Ryan Clark and Team Solitaire donated $500 ... the list just goes on. It just goes to show how good of a kid he is.

When Eric Johnson interviewed Josh Grant on Monday, he was just coming back from the hospital down there and visiting James. Have you heard any updates from the family today?
The surgery was all day yesterday and I was on a flight all day. But it was like an eight or ten-hour surgery, but I haven't heard any updates today or anything like that. His family is there with him and the people he's staying with are there.

I wasn't at the event either, but I heard that the whole Asterisk Medic's crew and Live Nation track crew really did a commendable job of doing everything the could to immediately assist James. San Diego is maybe the single biggest race of the year now, but it has a really unlucky streak going back to Jimmy Button and, of course, Jason Ciarletta. In all three cases, things just happen sometimes in this sport.
Yeah, and that's the sport we're in. I think they did an awesome job not wasting any time red-flagging the race. They were out there on the track right away and the ambulance was in the tunnel waiting already. I'd really like to thank Asterisk for being out there. They do an unbelievable job out there.

As bad as it is, it could've been worse.
Yeah, and that's why James is in good spirits. His personality is just great—Dave told me he was flirting with the nurses in the hospital, and that's a good thing to hear.

The crash itself was hard to watch on TV, and it looked like he was out, but he wasn't, was he?
No. Me and his mechanic got to him, and like you've heard, he never lost consciousness. He was running in fourth and then Ernie had no place to go. It's just something that happens out there.

Well, he's a fighter, that's for sure. Getting back to the website, I see everything from an RC jersey to something from Denny Stephenson, Moto XXX, and a SoBe guitar.
The auctions are actually from Road 2 Recovery, but we're just trying to get everything together. Last night I got in really late from my flight, but that's the first thing I sat down and saw, which was the eBay auction with a guy sitting down with his three kids and an autographed James and RC jersey. It was hard to hold tears back, seeing that a guy will give up an autographed RC jersey for James Marshall. People would kill to have an RC jersey like that and this guy is giving it away to help James. I'm sure there's going to be a lot more stuff going on, but we want to thank everyone for all of their contributions.

Well, for what it's worth, we all thank you for helping to get the word out for not only what you're doing, but also for Road 2 Recovery, the WMXF, and Wonder Warthog. As far as Mxsponsor goes, I see a photo of Josh Woods on the site. Who are some of the other guys you work with?
Scotty Metz, Willy Browning, Greg Crater, and Ty Morrow – and that's just on the West Coast. I'm still looking at a couple more guys on the East. It's tough for a new company because we've only been out there for about eight months, but we're up around 2,500 riders already on our site. But hopefully, we'll pick up some more support for the outdoors. We're going to keep growing. We don't charge our riders up front for sponsorship. They have a list of 10 sponsors there and still don't pay until they really think they got the deal they deserve. I think people are liking it and seeing that we're there to help privateers. I'm a rider myself in New Jersey, and I traveled with a lot of different people and saw the struggles firsthand. That's why we started MX Sponsor, and I think we're going to keep growing and moving forward. I know James will want us to keep going this year.

Well, we're real impressed by the program, Rich, and how you guys stepped up so fast. Keep doing what you're doing!
Thank you, DC. And thanks to everyone for helping James.