Privateer Profile: Tim Ferry
Florida's Tim Ferry would probably like to forget the past two years. Injury after painful injury relegated Tim to the sidelines, resulting in him losing his factory Yamaha ride. Finally healthy, the 29-year-old is now a member of the Moto XXX/Unbound Energy Honda team and is looking to get his career back on track. A former 125cc East Region supercross champion and member of Team USA, it's definitely nice to see #15 back out on the track. Be sure to show Tim and his sponsors some support by clicking on the links at the bottom of the page.
Racer X: Tim, how are you doing?
Tim Ferry: I'm just trying to get back into the swing of things. I've been out for a while, obviously, with a lot of injuries, and I've had a little ups and downs so far, but I feel like I'm starting to get comfortable on the bike finally.
Angel Stadium hasn't been to kind to you this season, as you haven't been able to make it into the Supercross main event at A1 and A2.
[Laughs] It's never been! That's where my string of injuries started. Obviously it's a different track every year and that's not the reason why. It just happens that way, I guess.
What injury started all this?
I've never really been good since I hurt my thumb at the des Nations in 2003. After that, my finger felt pretty decent from there and I had taken some time off to get ready and then had a podium at the first race in 2004 and got a fifth at the second race – and then back to Anaheim and I got hurt. That's when I hurt my wrist, and that's what I've had about three surgeries on. So that's what's been plaguing me my last two years at Yamaha.
Does your wrist still bother you?
No, they've finally corrected the problem. There were some torn ligaments and I finally got it figured out. I got a surgery back in August. I'm still doing rehab on it right now, so I'm still getting it stronger, but I finally got rid of the pain – the pain was really bothering me before.
Which wrist is it, Tim?
It's my left wrist.
Do you think it would've been worse if you'd injured your right wrist?
Yeah, it would be a lot worse, because I lost my range of motion, which is pretty typical with the type of surgery that I had. But there are riders who could barely move their right wrist, like Ryan Hughes and Ryan Villopoto. You can do it, but you just have to adjust. That's just kind of what I've been trying to do the last few months on the bike. I'm just trying to adjust, and I think every rider kind of does that in their own way.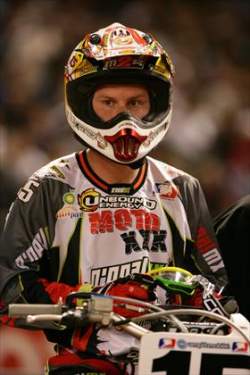 A longtime Yamaha factory rider, Tim is now a member of Moto XXX Honda

What happened in 2005?
Well, I raced a good bit of supercross – I only think I missed four races. But I only race four nationals. At the third national I hurt my knee, and at that point my wrist had still been bothering me some, so I got knee and wrist surgery at the end of the summer.
At what point did Yamaha tell you that they weren't renewing your contract?
It was probably towards the end of the nationals. The team had decided to go in a different direction. They had Chad as their star rider to win races, and they already had Heath [Voss], who was riding really good in supercross, so with me and all of my injuries, from their point of view, it was the right thing to do to get rid of me. And I understood, because the last few years they paid me to race for them and I was injured the whole time. So there were no hard feelings when I left and they wished me the best. It just wasn't good timing for them, and with my injuries, it wasn't good timing for me.
At that point did you start looking for a ride or did teams get in touch with you?
I started looking. I had a really tough time getting a ride this year. I talked to MDK, the team that Nick Wey rides for, and I talked to Motoworld, who was going to be back on Yamaha, and Yamaha was willing to give me quite a bit of support to ride over there. But both of those deals kind of fell apart. But all along I was talking to Allan at Moto XXX and they didn't know what they were doing and nothing really came together until late November, right around Thanksgiving. And that was roughly about the time I got back on a motorcycle and started riding again.
Were you on a Honda at that point?
Yeah, I went straight to the 450. I had no Yamahas left. They had come and picked them up once I was going to have surgery and stuff. So I started off on the 450 Honda, just a bone-stock bike, riding some outdoor stuff. I just slowly progressed and the first few weeks was just getting on the bike and riding around.
Was it a hard switch from the Yamaha to the Honda?
Not really that hard, it's more getting the Honda set up the way that I like it. The bike is really good to start off with, but to set a bike up for supercross it takes a little bit of time, and every rider is a little different. Outdoors is pretty easy to set up for because the suspension is real loose and soft, but for supercross it takes a lot more, so I'm still in that process now. I'm actually going to be staying in California next week to do some testing, which will be my first testing of the year. So I'm hoping that after next week I'll feel even more comfortable on the bike.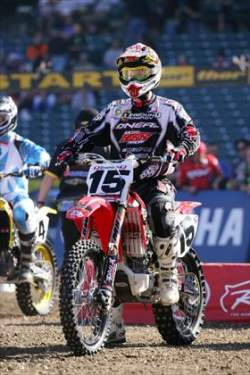 Ferry is back on Hondas for the first time since 1994

So what happened this year at the two Anaheim races that you didn't qualify?
The first race, I came out in the heat race and they had a really gnarly set of whoops there, and in the heat race Kyle Lewis got the holeshot and I came out second and I went into the whoops a little too hot. I ended up going over the bars and just took a pretty good shot and decided to call it a night. At that point I really had nothing to gain by going out there. And then I got to come home and do one day of riding, and I went to Phoenix and felt pretty good. But then going into the second Anaheim, I had a crash in my semi that put me in last, and in the LCQ I didn't get a good start and couldn't pass enough guys to qualify. That's pretty much the story. In practice I was 12th fastest both times, but I wasn't able to translate that over into the qualifiers to give me a shot in the main event.
Well, you're back to being on a privateer team. Do you remember the last time you were a privateer?
Last time I was a privateer was in '99, when I rode for Noleen. And it was on a YZ250.
How about the last time you rode a Honda?
In 1994 with RRP.
So now you're with Moto XXX , which has been around for quite a while. You and Kyle Lewis bring a lot of experience to that team.
Yeah, things are going good. The results haven't really shown what we have yet. Kyle has had some rough luck, and last weekend he was in the same predicament as me and we both got into a pileup. I think once the year progresses, we can definitely help out Josh Summey, who is going to be riding the Lites class, and also Juss Laansoo, who doesn't have a lot of supercross experience. So they can definitely benefit from Kyle or me, and Kyle has been around longer than me.
What's up with those motors? Kyle is always pulling holeshots.
Yeah, the bike is plenty fast. Allan does the motors, and he definitely has it dialed in. At the first race, in the heat, it was Kyle and me right off the get-go. I really hadn't done any starts except on that race day because I had no starting device, but the bike is definitely fast enough to get the holeshots.
What's your goal for supercross this season?
Realistically, my ultimate goal is to stay healthy. By not coming back out and racing that semi at A1, it shows that I'm looking at having a long year, and that's my main goal in supercross and outdoors. Obviously, not qualifying at the first race shows I have a lot of improvement to do, but from here I just want to get into the top ten and ride that consistently.
Will we see you racing the nationals this year?
Oh yeah. I'm definitely a better outdoor rider and that's where I'm going to shine. I'll be 100 percent healthy by then. I mean, I had four surgeries last year and you definitely don't just bounce back from that. My long-term goal is to be healthy and strong for the outdoors.
On a personal level, how is everything at home?
Everything is going really good, actually. My little boy, Evan, he's 15 months old now. My wife is doing well. My injuries were really unfortunate in the sense that I didn't get to race and do what I was getting paid to do, but I got to spend a lot of time at home with my family and my little boy. I would've liked to have been doing my job and racing, but he came along at the right time when I was home a lot. It's been a change, one definitely for the better, but I'm looking forward to seeing him grow up. He's already all about the motorcycles, so it's pretty neat.
Who would you like to thank, Tim?
I definitely want to thank my wife for sticking behind me. I'd like to thank Moto XXX, Unbound, O'Neal, and all the team sponsors for sticking behind me this year. They were the only ones who were willing to step up to the plate and do that and my goal is to show that it was a good decision.

Tim Ferry's sponsors:
Honda Genuine Parts
Ti-Lube