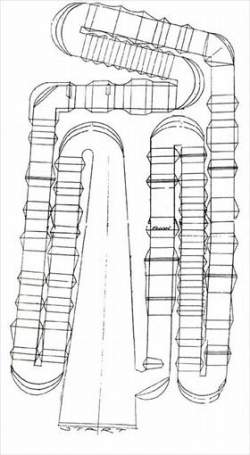 The Toronto Supercross track
We are 24 hours away from the start of what promises to be a whole new era in supercross. The pre-mixers are essentially parked, most of the best riders in the world are committed to Canada, and the Amp'd Mobile World Supercross GP Series is about to blast us into the future.
Before we go any further, do not forget that you can listen to tomorrow night's live webcast on www.supercross.cc.com beginning right around 6:30 p.m. Jim "Hollywood" Holley and Jason Weigandt will be making the call as Ricky Carmichael, Chad Reed and #7 James Stewart blast off the Rogers Centre starting gate on their 450Fs. The race will also be featured on Speed Channel with next-day coverage—6 p.m. Sunday EST, 3 p.m. out West—featuring Ralph Sheheen and none other than Denny Stephenson, the charismatic former Suzuki factory rider, lifetime Cornhuskers fan, and lucky s.o.b. who got to marry Michelle Falls. Stephenson brings some real credentials to the booth, and he should be very fun and informative to listen to.
Speaking of Weigandt, did you check out Weege's report following yesterday's press conference? If you missed it, here's a link to both "Blogandt" and CCE's transcribed notes of yesterday's get-together, which featured RC and Reed, plus their respective teammates Ivan Tedesco and Heath Voss.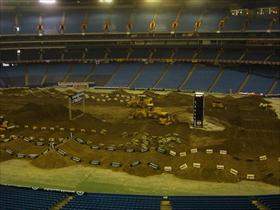 If this track looks familiar, then you must have been at Chad's house
photo: Jason Weigandt
And if you're anywhere near Toronto tonight, come on over to the
Racer X Canada
pre-party, which will be held at the Hard Rock next to the stadium and feature the Canadian premier of
Travis Pastrana
's
Nitro Circus 3
and lots of Molson-brewed bench racing. Everyone's invited, because it just ain't a party if everyone isn't.
How stoked is Racer X Canada about this race being in their backyard? Check out their sign-making contest.
How seriously are these guys taking this race? The word is that Reed has identical replicas of the Toronto and Vancouver tracks built at his Florida property. Simon Cudby was there to visit Chad recently, and when he saw Weigandt's photo of the SkyDome track last night, he knew he'd seen it before—at Reed's place!
Stewart has mostly been quiet going into the new season. As Bob Hannah told Eric Johnson yesterday in another provocative edition of "What About Bob?" Hannah spoke about Stewart's "crap year" in these terms:
"Distractions are his problem. You make your own distractions. RC doesn't have any distractions. If he does, he tells them to get the hell out. If James has distractions, that's his own stupidity. If he has a big entourage — like some riders do — get rid of them! Be a professional. Ricky Carmichael is. Chad Reed is. James Stewart needs to go pro. He needs to quit being a kid and playing around. He needs to put blinders on. RC put blinders on; I put them on when I was racing."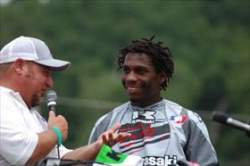 Tomorrow night will mark Bubba's first race as a professional outside the U.S.
photo: TFS
As for Reed, EJ spoke to him recently about the journey north. The 2004 AMA Supercross Champ, who's been on the sidelines since the X Games in early August, said,:"After the time I had off, I feel really good while everyone else is like, 'We just finished the last season!' I had all that time off and I'm really motivated and ready to race. I'm over all the free weekends!"
And then there's Carmichael, who was spotted on the Fox Racing website hanging Christmas lights on his house last weekend. But everyone knows RC has been doing all of the prerequisite work. In fact, his trainer, Aldon Baker, gave Racer X's Virtual Trainer Tim Crytser a lot of insight into their program. Check it out. It's a really good read, whether you're into training or just want to know what Carmichael's life is like.
Which brings me to this not-so-surprising item: It looks like this is going to be it for the King of Motocross. The nine-time champion—I think of him as an almost constant champion—is quietly letting it be known that 2006 is his last season. His legacy will be that of a prodigal son who came through time after time, basically racing the level of everyone else he raced against and leaving the framework for what it takes to get to the top and stay there. He will be missed, of course, but really, what does he have left to prove? Nine titles, 87 overall wins, and several star turns in leading his team to victory in the Motocross des Nations—there's really nothing left to prove as he begins his last season….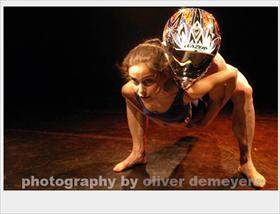 That's about as Belgian as it gets
courtesy of S72.com
I could very well be talking about
Ricky Carmichael
, but I'm not. It's
Stefan Everts
who has let the word out that 2006 will be his last campaign. Everts means as much to motocross in Europe as RC does here—probably even more, especially in Belgium. How big is Everts in Belgium? He recently did something with a big ballet star there named
Chato Coppello
. Check it out
www.s72.com
.
Back here in the States, the most unexpected news of the week was the fact that James Stewart changed his racing digit from his familiar #259 to #7.
"I have run the 259 my entire amateur and pro career to honor my injured friend, Tony Haynes," wrote James on his website. "When Tony got hurt, I asked him if I could race with his number, and promised him I would take the 259 to the top. I stayed true to my promise and broke all of the 125 class records, won 4 national titles, and 3 250 Supercross main events with 259. I still value my friendship with Tony Haynes as much as ever, and I talked to him about me taking my own number from here on out.
"I want to thank Kawasaki, Fox Racing, and Factory Effex for pulling together and helping me with my new look," he added. "I enjoyed a lot of success with 259, and look forward to taking number 7 to the podium this year. My goal is to win this championship, and if I do, I will run the number 1 next year. As always, I want to thank my family, the fans, and my sponsors. See you in Canada."
Wonder how many pre-printed STEWART #259 jerseys they have packed away at Fox….
Here's a note from a Racer X reader with the handle The original LDB: "James changing from 259 to 7 must be 'ALL GOOD,' 'the right thing to do,' 'makes good sense,' 'it just ADDS up.' Think of it this way: 2+5+9 = 16, and 1+6 = 7. If you [or anyone else] is into that kinda thing...
...WORD to the NUMBERS – LATE."
Wonder who The UN-Original LDB is?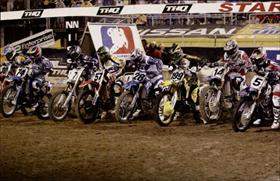 Is that KC Carlisle or Rowdy Sparks running #7?
On Tuesday, me and
Bad Billy Ursic
put together a supercross salute to the #7, listing such past luminaries to wear
Bubba
's new number as
Jeff Stanton
,
The Chicken
,
The Jammer
,
Albee
and
KC
in our
Bench Racing Ammo
. But we made a big mistake: KC, the erstwhile star of the flat-wheeled clunker known as
Supercross: The Movie
, did not wear #7. We didn't realize until we got the following note from
Rich Taylor
:
"It was actually me, playing 'Rowdy Sparks' in the blockbuster hit, soon-to-be Academy Award-winning Supercross: The Movie who last wore the bold #7. KC Carlisle was #78, I think! You know these facts are very important to the motocross community!"
The fact that Rich only thinks that Carlisle was #78 proves that he didn't see the movie either, and he was in it!
KC Carlisle isn't the only rider who won't be in Toronto. David Vuillemin and the Alessi boys are among those at this weekend's Geneva SX. If you don't get Alessi Weekly – and you really should – keep up with the race with BooKoo's best, Le Cobra. Here's his first report.
The second-strangest news of the week came in the body of e-mails written to us and David Pingree from the Sky Team. In case you missed the January '06 issue of Racer X (and it was late to a lot of readers due to the huge catalog volume the post office must endure this time of year), Pingree wrote a story about trying to become the first pro rider in America to be sponsored by a Chinese factory team. It's a hilarious take on Pingree and very cheap and suspect racing equipment. It was also satire, meant to be taken humorously and not for real. We apologize to anyone who may have been confused, as well as those of who you busted a gut laughing.
One person who is taking the Tornado "ST 250" very seriously is world-renowned works-bike collector Gregg Primm. In fact, Primm called the unemployed-by-any-teams-right-now Pingree and told him that several of his friends have been trying to find a Tornado model and they can't seem to locate one. He asked what we were doing with the Pro Circuit-modified original race bike, to which Ping replied, "As of right now, it's slowly pressing a bike stand into the concrete in my garage." Well, guess what bike is next for the Primm Collection in Las Vegas? If you guessed Stewart's #259 Kwacker 250, you're waaaaay off.
Not sure what's going on with J-Law, but there are reports (nothing confirmed) and posts all over the net that he's out at Rockstar Suzuki. I called Scott Sepkovic from Crown Management to find out, but he's apparently on a plane headed to Canada, so I'm going to guess it's not true….
Okay, Fubar just called from the first practice—I am at the airport—and said that the Big Three all looked great: RC, CR, JBS. No lap times are official though, as there does not appear to be transponder scoring at this one.
Fubar also says that Dusty Klatt went down hard in the 250F practice. Here's a link to some press-day pics from Mario Marini.
Kristen Oehlhof of the soon-to-open, we-can't-wait! Competitive Edge MX Park in California had a very fun-filled Thanksgiving holiday with her husband, Joe, and some other motocross couples. Check it out:
"Thanksgiving weekend was pretty entertaining for some local High Desert residents. In the middle of the desert, a friendly husband-and-wife/partner race began on a mini track. The teams consisted of: Shane/Natalie Weslathorn, Jim Zumwalt/Dustin Dailey, Travis/ Hannah Preston, Gerald/Alicia Leighton, Breta & Willum, and Joe and myself.

"After the guys made a run for their 110s and smaller bikes, the ladies waited patiently for a lap to commence. The race would consist of each group taking 10 laps each. The 20 lap main ended on a pretty entertaining note with Oehlhof and Preston going at it, but the Oehlhof's ended up a wheel ahead at the finish line.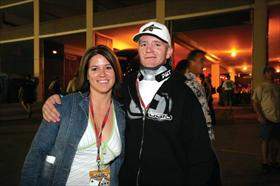 Mrs. Oehlhof has some motor skills too!
photo: Simon Cudby
"Following that race was another team race with adults and kids. Same procedure as before, adults started and the kids waited for their turns. Twenty laps later, the adults were sweating and the kids were bent over laughing. After and intense battle, the winning team was
Travis Preston
and Jayven Ashley.
"Everyone had a great time and we know that next year will be even more entertaining for sure! We all had a blast and can't wait to do it again!"
Must see video: Travis Pastrana's big crash at the Colorado Cog Rally. There's even some good written commentary from Travis, his co-driver, Christian, and the photographer that was there shooting (and almost got hit by the flipping car). Check it out.
Some sad news: Kenworthys MX Park is no longer. The old national track in Ohio locked its gates for good at the end of the 2005 racing season. Don Kenworthy, a very good promoter with some very bad luck, lost his national after floods caused his '03 AMA Motocross National to be postponed and then ultimately canceled, costing Ryan Hughes his last chance to out-point Grant Langston for the 125cc National MX Championship. Ohio, the home of the American Motorcyclist Association, no longer has an AMA Motocross or AMA Supercross race. Here's hoping that changes someday in the future.
How big was Ohio? The Buckeye State used to host Trans-AMAs at Honda Hills and Delta, Inter-Ams and USGPs (and a few Trans-AMAs) at Mid-Ohio's old motocross track, and even the long-forgotten East-West Challenge at Badlands right outside of Belpre. There were also several old national tracks scattered around the state.
Can't make it to Toronto but still want to race this weekend? Check this out from etnies:
"After the huge success of etnies' first ever online game, the Downhill Jam, etnies now takes you from the street to the track in the exclusive new online motocross game, Braap Braap. You can race against the clock and four other virtual racers on the track while collecting bonus points for tricks, big air, and fast times. It's perfect for those days at work or school when you wish you could be out riding at the track or in the desert, but your mom or boss is keeping you on lockdown. If you have the skills to make it on the High Scores Board you can win prizes and discounts from the etnies online store. There's nothing on the web even close to this game! Check it out and get your Braap Braap on!"
Michelin North America is currently accepting rider resumes for the 2006 motocross and off-road season. Resumes will be accepted until January 31, 2006. Resumes can be sent to: Michelin North America, 2 Wheel Dept. P.O. Box 19001, Greenville, SC 29602. No resumes via fax or e-mail, please.
You've got to check out this always-wear-a-helmet video from Portugal.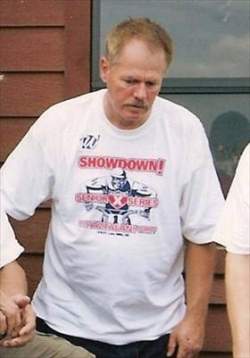 Motocross lost a good man in Mike Gaborsky
From our publisher
Scott Wallenberg
: "
Mike Gaborsky
, one of the all time pillars of the Wisconsin motocross scene, passed away on Nov.17th.
Mike and his wife Gayle started in the motocross scene back in 1971 selling numbers, oil, and spark plugs from the trunk of their car at Aztalan Cycle Park. This trackside business grew to one of the Midwest's first all motocross retail and mail order store. Torque Center USA in New Berlin, Wisconsin. Mike also was a pioneer in starting the Old Time Blasters Seniors event at Aztalan which has now evolved into the Racer X Vet Series.
"Mike had been suffering from Parkinson's disease these past few years and in lieu of flowers a donation in Mike's name to the Wisconsin Parkinson's Association Research Fund 945 N. 12th St. Suite 4602 Milwaukee, WI 53201."
Now something from Sky Team non-captain David Pingree, a man of few words:
Alloy signed Broc Hepler for 2006. Also, Grant Langston and Ryan Villopoto will be riding the West Coast SX series for the PC team. With Troy Adams out with a broken leg and Ben Townley still getting adjusted, GL and Villopoto are the only riders healthy. There's also a rumor running around that Chris Gosselaar may be doing a SX-only gig with PC until Troy's back, but we couldn't find out for sure.
We also just got word from Sharon Richards of OMS that Tim Ferry, who has hooked up with Moto XXX Honda, will be running O'Neal beginning at Anaheim 1.
We just got a note from Brian McCartney from Desert Vipers Motorcycle Club in Southern California. The club puts on the biggest two-day event in the country—the Adelanto Grand Prix—with last year's entries being just under 3000! Check out this link for the first video someone has produced of the race, based on the 25th running.
Traction Enterprises' Denise Conroy-Galley posted this on Mototalk: "Sports Business Journal's Motorsports Marketing Forum is in NYC this week, and Michael Holigan is a featured panelist. He will be on the breakout session panel on Value Series: The NHRA, American Le Mans Series, Grand AM Road Racing and AMA Professional Motorcycle Racing. Other panelists include Don Schumacher, Roger Edmondson (Grand American Road Racing Assoc.) and Scott Atherton (American LeMans Series).

"There should be a lot of sponsorship heavy hitters there, so this should be good for the sport." Also scheduled to be there is Scott Hollingsworth, the AMA Pro Racing boss.
Okay, I have more, but I have to head over to practice at the SkyDome. In closing, I want to say one thing: See you at Anaheim 1, Simon Cragg—I'm betting on you.
As for the rest of you, thanks for reading Racerhead, and I will see you at the races.