Bench Racing Ammo: Lucky Seven
November 29, 2005 12:51pm
Wow, the big news today (if you haven't already heard or read about it on our breaking news) is that Team Kawasaki's James "Bubba" Stewart will be using #7 in the 2006 season and beyond. Stewart is said to be excited about the change, and so are we. Will the lucky #7 change Bubba's luck? We'll see. So in honor of the switch, let's take a look at some of the riders who wore #7 in the past.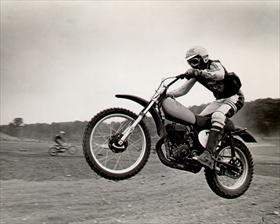 photo: Racer X Archives
Going way, way back to 1973, Barry Higgins wore #7 when he rode a Kawasaki in the 500cc Nationals. Higgins, the first man to ever win an AMA National—he won the first two of 1972, the first year for an official AMA National Motocross Championship—is still an active racer, as well as a longtime staffer for KTM.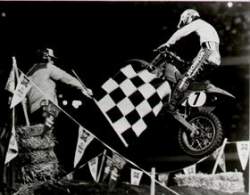 photo courtesy of Team Honda
Donnie Hansen is one of the few men to win an AMA Supercross title wearing #7. The father of Josh Hansen, "Holeshot" won the '82 AMA Supercross Championship as well as the outdoor title, but he never really got to use his new #1 the following year, as a career-ending head injury suffered in Germany right before the Motocross des Nations robbed him of his racing future.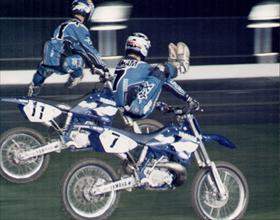 photo: TFS
Probably the last rider to win an AMA Supercross main event wearing #7 was Kevin Windham. He did it at the 1997 Charlotte SX when he was actually a 125 West rider! The moment was immortalized by a young (and no doubt slimmer) photographer named Steve Bruhn, who shot Windham and his then-teammate Ezra Lusk doing tricks on the victory lap!
Jeff "Chicken" Matiasevich wore #7 on his '91 Hi-Flyer card, but he didn't win any SX races. What the Kawasaki factory rider did win was a very muddy Kenworthys 250 National in Ohio.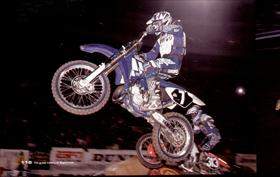 photo: The Great History of Supercross
John Dowd wore lucky #7 in '96. That's the year he finished second to Mickael Pichon in the 125 East Region SX Series while riding for Team Yamaha, winning main events in Atlanta and Pontiac along the way.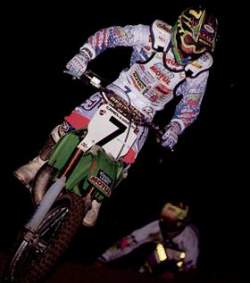 photo: Racer X Archives
Mike LaRocco was an unlucky #7 in 1992, at least outdoors. He rode a 250 indoors and won the Orlando SX, but he also blew a late, massive 125 MX National Series points lead to Jeff Emig when his bike broke in both motos at Steel City. He lost the title in the last race of the series at Budds Creek.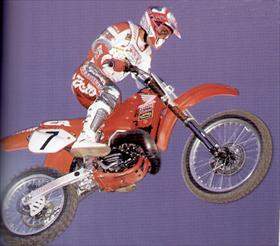 photo: The Great History of Supercross
Jeff Stanton was the last rider to have any great success in America wearing #7. He took advantage of the broken wrist suffered by his then-dominant Honda teammate Rick Johnson to win both the AMA Supercross and 250 National Motocross Championships in 1989.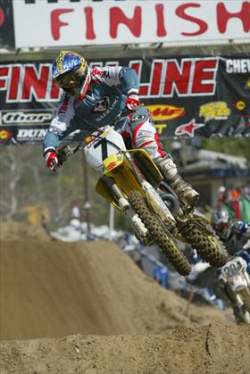 photo: TFS
As far as #7 being a permanent number goes, the last man to wear it was Greg Albertyn at Glen Helen in 2003. The charismatic South African earned the single digit with his 1999 AMA 250cc National Motocross Championship, but by the time he started wearing it, he was on the downside of his career. He came out of retirement at Glen Helen for fun, keeping the number just a little longer.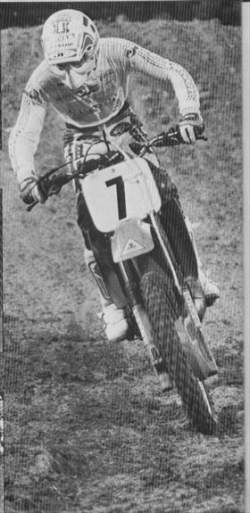 photo: Racer X Archives
The Dogger himself, Ron Lechien, wore #7 as "the future" for Team Honda. Ronnie did all right in '84,winning the Oakland Supercross and four outdoor nationals, but he never made it to the top of the standings in supercross, as many expected he would.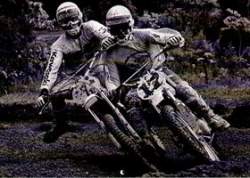 photo: Charlie Morey
Arguably the greatest photo ever taken in AMA Motocross history: Charlie Morey snapped this shot of "Jammin'" Jimmy Weinert on the #7 Kawasaki as he collided with CZ-mounted Tony DiStefano at a 500cc National in Hillsboro, Ohio.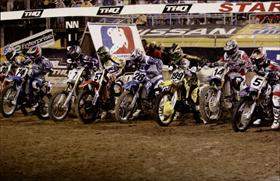 photo: TFS
And most recently, KC Carlyle wore #7 in the 2004 SX Series.