One arenacross series has started, the other ramps up tonight, and everyone is getting ready for the 2006 Amp'd AMA Supercross Series, or maybe the Amp'd World Supercross GP races in Canada, or even closer, the Paris-Bercy SX next weekend in France. Some of the top guys are still trying to decide between 250cc two-strokes and 450 thumpers (or just splitting the baby and using both). And worst of all, a little doggy named Coconut was devoured by a coyote.…
First, best wishes go out to Brad Hagseth, who broke his leg on press day yesterday down in Fort Worth as he was getting ready for the first BooKoo Arenacross Series round yesterday. The likable Suzuki rider had to scratch from the series, leaving team manager Buddy Antunez and Suzuki's Cole Gress scrambling to fill his spot in the lineup.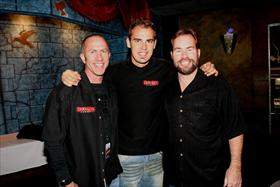 BooKoo boss John Polk, BooKoo/Holigan Honda rider David Vuillemin, and Holigan himself
photo: Matt Ware
The BooKoo series marks
Mike Kidd
's return to the promotion business. He's planning on putting all of his years of small-market-but-big-time racing to work as he starts all over. There was a big pre-party last night that brought out all of the local racing personalities, including Texas' own
David Vuillemin
, the new BooKoo Honda team captain (who is not racing in the AX Series), a bunch of NASCAR folks in town for the Nextel Cup races this weekend at nearby Texas Motor Speedway, and the rest of the arenacross crowd.
We sent Andy "Rev-Up" Bowyer and junior photographer Matt Ware down to the Lone Star State to check in on all of the goings-on down there, and Bowyer reports back that it all looks good. (We will try to get you a track photo before long.)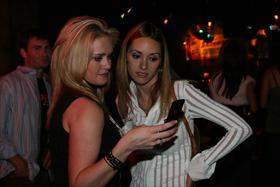 Erica Vuillemin checks out a Dallas Cowboy chearleader's baby pictures
photo: Matt Ware
Last weekend, the AMA Series went off in Albany, NY, with Yamaha-backed
Chad Johnson
taking both wins from some fairly well-known racers, including
John Dowd
,
Brock Sellards
,
Greg Schnell
,
Damien
Plotts
and
Barry Carsten
. This weekend, the AMA tour returns to Des Moines, Iowa, which is always a big stop.
Farber was in Albany, and Greg Schnell told him that he's going to race in 125 East, er, Supercross Lites East for the Rockstar Suzuki team (joining Mike Brown, Jason Lawrence, et al.)
And Chad Johnson will be riding for Motoworld in the 125 East and outdoor nationals when the AMA AX Series is over. By the way, Johnson was the subject of this week's Alpinestars Monday Conversation by TFS. Check it out.
Also, Damien Plotts was going from the Albany AX to the BooKoo Series for Crossroads and RRP. He told Farber that this is the first time in his career that he actually had a full ride in a series! A frequent flier, Plotts won't be racing any European rounds this year.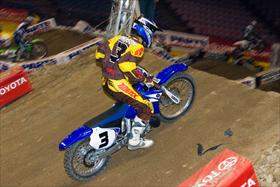 The Albany hero will be riding SX Lites East
photo: Ray Gundy
Looking at what each AX series has to offer, it must have been hard for the riders to choose between which one to contend—
Josh Demuth
,
Jeff Willoh
and
Tom Hofmaster
are the better-known AX riders in the BooKoo Series—but as long as guys are getting rides and making money, and fans are coming out to see the racing in each town, the series should be able to coexist. The one who got out of a difficult decision easiest was
Darcy Lange
, the two-time U.S. National AX Champion. He and his
Billy Whitley
-managed Kawasaki team chose to race AMA Supercross, which meant he didn't have to choose between a promoter he knew and a well-established series he was champion of. But now the Canadian hero has to deliver on the biggest stage of all….)
And speaking of supercross, let me turn this over to Ping for a minute for some notes from what's going on out in California:
I made a trip by the test tracks this week. At Yamaha I found nothing but a pair of muddy Etnies. I found out later that Chad Reed has headed back to his Florida home to do some riding and training.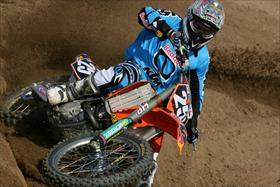 Nate Dawg in his new MSR threads

photo courtesy of MSR
Honda and Suzuki were ghost towns as well, but the KTM track was busy.
Nathan Ramsey
and
Sebastien Tortelli
were out laying down laps. Tortelli is testing on a 250F for the
Bercy Supercross
in Paris next weekend, and he looks good. Our boys are going have to bring their A-game if they want to take down Seb at his homecoming race.
Who do you think will be the individual overall winner next weekend at the Paris-Bercy classic? That's this week's Troy Lee Designs poll question. Did you vote yet?
According to the KTM mechanics, Seb's 450 race bike that he will ride in the GP's next year is amazing. It is basically a 2007 prototype. It will be interesting to see how Seb fares back in Europe when he renews his rivalry with Stefan Everts, the King of Motocross over there, and old Honda teammate Mickael Pichon, who is actually also on a KTM now.
While Tortelli continued to work with the KTM technicians, Ramsey was busy practicing. Nate took some time off at the end of the summer to fix a torn ligament in his wrist. The former 125 SX champion looked rested and ready to go after another championship.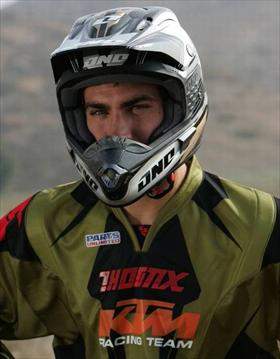 Sebastien is going back to Europe in '06 to chase after his third world title
photo courtesy of One Industries
Another race happening this weekend is the
Genoa SX
in Italy. There is an impressive lineup of U.S. riders at this year's race, including
Ernesto Fonseca,
who is rumored to be riding a 250F in the 125 class. I spoke with
Billy Laninovich
briefly as he was boarding his plane, and the Factory Connection Honda rider is going straight from Italy to France for the Bercy race and will be gone for almost two weeks.
Ritchie Owens has signed up with the Maestro Suzuki team for 2006. The tall Californian fits a 450 better than a smaller bike and will compete in the Supercross and Motocross classes this year.
Tucker Hibbert is currently forming his own race team for the new year. After negotiating for a ride with the Home Depot team (that never materialized), Tucker is pulling things together on his own. Hibbert will be staying in Mississippi to ride and train with Kevin Windham and is currently looking for a mechanic. Any mechanics interested please send your information to letters@racerxill.com and we will get them to him.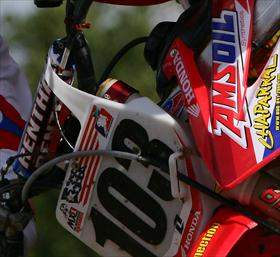 Yes, that's a South Africa sticker on Windham's plate
photo: Simon Cudby
And speaking of Windham, this month's cover boy checked into the
Racer X
East office to let us know that he's feeling great, he's fully recovered from his hernia surgery, and ready to get back on the bike, and he's headed to California next week. Windham said he's really enjoyed the downtime, but he's itching to go. "I've been taking it so easy and just relaxing here at the home that I'm honestly looking forward to getting some work done," he said.
Funny thing: We sent Factory Connection mechanic Brent Myron a cover banner because the bike K-Dub was riding at the Motocross des Nations was built by the friendly South African. When he got it, he was stoked to see how big the picture was, because you can spot the tiny South African flag he stuck on the Team USA rider's front number plate! Pull out your mag and look – it's right above the AMA Pro Racing sticker above the #3…
The Vet World Championships are this weekend at Glen Helen, which means every geezer with a bike is in San Bernardino this week. That's just a joke. Actually, if I had a bike I would race myself, since I am now eligible. Maybe next year. Ryan Hughes, Doug Dubach, Terry Fowler and every other competitive 30-year-old-plus rider was at Glen Helen on Thursday getting the new track layout dialed in.
And speaking of Ryno, here's the saddest news of the week out of California: It seems that his wife Jennifer's little pet pooch Coconut was snatched up by a coyote, which had jumped the backyard fence, and then the fluffy pup was dragged off to certain death on Wednesday night.… God, I hope she's not reading this.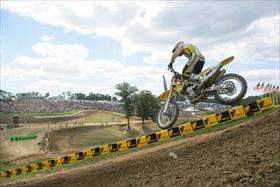 Hughes is getting ready to go after another Vet World title (and a new dog)
photo: Simon Cudby
Looking for something fun to do with the whole family during the 2006 Supercross season? Here's a
website
for the board game I mentioned last week.
Wait, more Windham news: We featured some very cool old-school wallpaper pics from the 1992 Loretta Lynn's AMA Amateur Nationals two weeks ago that showed KW on the #11 Kawasaki KX80. This week, we got this note:
"I just saw the archive pics from Loretta's. They certainly bring back memories. I didn't know if anyone was interested or not but the pic of Windham, I have that bike in my possession, still is in tact. I purchased the bike from Windham's friend Michael McNalley, I think. The bike changed hands several times and the dealership where I work owns it now. The dealership name is Got Gear Motorsports…. We have watched Kevin since he was on 60cc bikes when he used to race in this area.
Thanks
John Moore
If someone would like to see about purchasing this Windham artifact, they can e-mail Moore at: jmoore3467@aol.com.
The guys up at Racer X Canada are already hitting another gear as they get ready for the World Supercross tour to come to Toronto and Vancouver. They have started the countdown of their "Thirty facts about the World Supercross" starting yesterday. They also have track diagrams from both stadiums and have a few more surprises coming up. Keep an eye on RacerXCanada.com as the big races get closer.

Meanwhile, a large group of U.S.-based riders are headed over to Italy this weekend for the Genoa Supercross:
Ernesto Fonseca
,
Grant Langston
,
Billy Laninovich
,
Mike and Jeff Alessi
,
Josh Hansen
,
Sebastien Tortelli
, and
Steve Boniface
are all on the sign-up sheets, according to
Mario Marini
.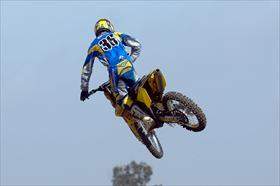 Ryan Sipes shakes down his new 'Zook for WBR
photo: Sean Thomas
Have you heard that Yoshimura has the exhaust business for factory Honda for next year?
Andrew Short
,
Davi Millsaps
,
Ernesto Fonseca
,
Travis Preston
, and
Kevin Windham
will all be running Yoshimura, according to the reports we've heard. And if
Mike LaRocco
runs a 450 or
Jeremy McGrath
does, they will probably be running Yosh too.
As for the Lites guys over at Factory Connection, they will still be working with Pro-Circuit in 2006, as previously contracted.
Oops, missed this earlier: The Racer X Canada guys also have a short interview up on their site with Ricky Carmichael. Check it out.
Also, congrats to Juss Laansoo, the very fast and friendly Estonian who was named the AMA Motocross Rookie of the Year. Laansoo, who rides for Motosport Outlet Honda, rides in the premier class, which means he earned his award the hard way.
Of course, the award was destined to go to Mike Alessi, but as part of the stiff punishment he received for his actions at the Glen Helen National, he was disqualified from consideration. Regardless, Laansoo is a worthy recipient, and will be honored at the AMA Pro Racing Banquet in Las Vegas later this month.
Racer X
reader
Pete Wright
hit us with this good news: "I'd like to report a welcome site witnessed by all who attended the SMUSA Supermoto race at Englishtown this weekend past, Doug back on his bike. He looks just as fast as ever!" And speaking of Supermoto,
Eric Johnson
just delivered a very intriguing interview with
Chris Stiepock
, General Manager for the ABC/ESPN-produced X Games, about a 2006 Supermoto Series that the big networks were thought to considering. Check out EJ's exclusive interview
right here
.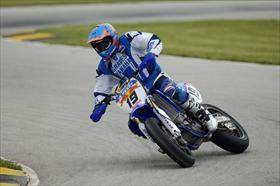 Will Doug Henry and his Supermoto friends be racing live and in primetime soon?
photo: John Hanson

Racer X contributor Joe Colombero pointed out a pretty cool site for motocross friends and families: mymxposter.com. It offers riders a chance to design and print their own posters for keepsakes, giveaways, or even just for fun.
Ebay Sales of the Week: Rob Kinsey is selling Dave Thorpe's world championship-winning MDS open-face helmet, eBay item no: 4587200054, and also Rob Herring's '85 MX des Nations' Bieffe lid, item no: 4587194402.
I was having a friendly discussion with MXGeoff Meyer about Grand Prix riders coming in from Europe or afar and ending up getting hurt in supercross, and then being unable to excel outdoors where they would be more at ease. I agreed that there is no doubt that supercross in America is difficult and different for newcomers, especially GP riders. But I am sure both McFarlane and Townley will take their time, which is a luxury that wasn't really afforded to Sebastien Tortelli when he first came here. The same could be said for Greg Albertyn.
Sebastien and Greg were the two guys who jumped right into the 250 class without first ramping up their SX skills and confidence in the 125 class. As incoming world champs, expectations and pressure were very high on both of them, as they had no choice but to ride the premier class, while every other rider from abroad who's made it here -- Villy, Roncada, Pichon, Reed, Byrne, etc. -- had the luxury of starting out in 125 SX.
And if you're thinking about JMB, that was a different era. But don't forget that Jean-Michel Bayle's first Anaheim SX ended when he landed on a hay bale on the first lap of the 250 main event. He's lucky that it didn't all end right there! He learned the game very quickly after that, but he's the exception, not the rule.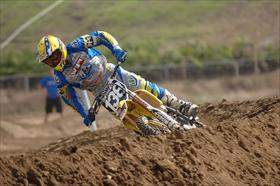 #138 Michael LaPaglia is preparing for his rookie season
photo: Sean Thomas

Mike "Windshields" Loran just called and to let us know that he's stepping down from his mechanic duties at Moto XXX. Mike's going to be a Fox rep in Eastern Pennsylvania. Here's wishing Windshields the best of luck!
A note from Oz: "I'm Brad and I'm in Queensland, Australia. I was just looking at your old school photos/wallpaper section on the web site. Some trivia: Where could i get a photo of the supercross finish, think it was mid '90s of Brian Deegan (or was it Swink?) ghost-riding his bike over the finish for his first ever (and last, I believe) supercross win? I had seen the picture when I was a kid and would love to see it again. Take it easy over there…"
Dear Brad,I think one of the
MXA
guys (maybe
John Kerr
?) took the only photo I know to have existed of Deegan's ghost ride, and I've seen it used in a few ads and stuff, but not really sure where the original image is now. Anyone out there know or remember?
The Washington Post did a story on a rider and stated: "He is considered perhaps the greatest motorcycle rider ever." Talking about RC? Valentino Rossi? Maybe DeCoster or even Kenny Roberts?
Actually, it was about Travis Pastrana. The reporter discussed Travis' triumphs and crashes, which led one of Travis' sponsors to joke, "Creative sensationalism of a crazy person. Funny how they really don't have to exaggerate much to make a sensational story about him!"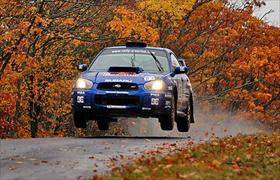 Travis is really into rally now
photo courtesy of Ken Block/DC Shoes
Of course, Pastrana hasn't been doing much motorcycle racing lately, and the last time he won a race was back in 2001. But the oft-injured but ever-smiling action-sports superstar is racing cars now, and doing pretty good. Pastrana made the podium in Group N at the 2005 Lake Superior Rally, the final round of the Rally America Championship, finishing just ahead of his Vermont SportsCar teammate
Ken Block
(of DC Shoes fame). It was Pastrana's best finish of the season, but another strong race for Block meant that he ended the year third in the Group N standings as well as achieving Rookie of the Year honors. And now that it's in Racerhead, he gets to rub it in forever!
If you saw the Kawasaki fridge in the Motocross America exhibit feature in the December issue of Racer X Illustrated, check out this follow up piece:
http://www.motohistory.net/news.html.
Have you seen the video of that astonishing jump that Ryan Capes made last weekend, jumping further than a football field on a CR250? John Lee from Crown Management was kind enough to hook us up with this video highlight reel from Capes' record leap.
And then we got this note from Johnny Airtime following all of the PR that came out:
I just wanted to correct something regarding Ryan Capes' jump. I know all the details, and I measured everything about the jump with Spanky Spangler and Bill Rundle. I saw the press release from Monster on Racer X Ill's website, but there's one correction: Scott Sepkovic of Monster apparently didn't know the ramp gap. On the press release, he said the ramp gap was about 270 feet, but it was actually 235 feet. Ryan's total jump distance was 310'4". His height at apogee was 55.7 feet, which appears to be a height world record until I can review Butch Laswell's 55 footer more closely, as well as Trigger Gumm's evidence. It's important that the facts are right when it comes to motorcycle jumping distance measurements, so I wanted to take the time to let you know the actual ramp gap of his jump so that only the actual numbers are put out there. Let's not let this get exaggerated!
Ryan actually set 5 world records, when we think about it:
1. 250cc total jump distance world record of 310'4"
2. 250cc ramp gap world record of 235 feet
3. 250cc clear gap world record of 211 feet
4. Height world record of 55.7 feet
5. Overall distance world record regardless of category or displacement, 310'4"
Johnny Airtime
http://johnnyairtime.com
To read more about the jump, check this out.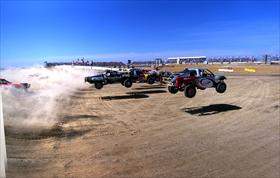 That's Jeremy, jumping #2
photo: Eric Johnson
Check out this shot of
Jeremy McGrath
at the CORRS Truck race he did a few weeks back. No wonder the champ is into that stuff—that looks like fun!
For those of you heading to the AMA banquets in Las Vegas over the November 18-19-20 weekend, don't forget the only indoor off-road race in America takes place the same weekend at the Orleans Arena. From what we hear, the Maxxis EnduroCross is goin' pretty huge with ticket selling at a very fast pace. Top Americans like returning champ Ryan Hughes, John Dowd, Mike Lafferty, Ty Davis, Barry Hawk, Nathan Woods, Geoff Aaron, Destry Abbott, Russ Pearson and more will be taking on World Enduro Champion David Knight, Mika Ahola, Ivan Cervantes, Homero Dias and a few others who are all looking for their share of the $20,000 purse.

We also understand that there are only a few spots left for the qualifier round which happens the day before at the Orleans. The top ten riders from this group will get the opportunity to race with the best off-road racers in the world. For more info, make sure to check out the details at www.EnduroCrossUSA.com

One other EnduroCross note. Cycle News has a poll where you can vote for who will be the winner. Right now Ryno has a solid lead. Check it out here and cast your vote.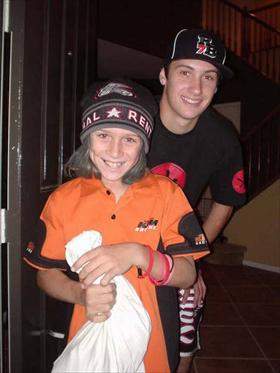 Li'l Hanny and Li'l Imposter
photo: Kelly Louch
Congratulations to Fly Racing's
Terry Baisley
, whose son
Matthew Baisley
has earned a factory ride on the Phantom Bicycle race team for 2006 Finally, the Red Bull Last Man Standing off-road race down in Texas is looking like an amazing new event. It's 160 miles, run through the afternoon and into the night, with four elimination stages. It takes place on Sunday, November 12, but will be on TV for everyone to watch this winter.
Looking down through the list, some names that pop out include David Knight, the British enduro hero, multi-time AMA Champ Mike Lafferty, GNCCers Josh McLevy and Jimmy Jarrett, and Nathan Kanney, plus well-known off-roaders like Jeff Fredette, Matt Stavish, Allen Gravitt, and Fred Hoess. Even former pro motocrossers Guy Cooper and Charley Bogard are in the lineup.
To read all about it, check out redbulllastmanstanding.com.

Hey, if you haven't seen it yet, check out Tony Scavo's BooKoo Arenacross photos from Ft. Worth this afternoon!

That's it. Thanks for reading Racerhead, and I hope you enjoyed the new look of our site—thank Jason Hooper and Jeff Kocan for that. See you at the races.