5 Minutes with … Chris Stiepock
This afternoon, we spoke at length with Chris Stiepock, General Manager for the ABC/ESPN-produced X Games, about a 2006 Supermoto series the two networks were rumored to be heavily involved with. To add a bit of insight, last August on the Saturday of the 2005 Summer X Games, Chris Stiepock led a meeting that was attended by representatives of all the major OEMs. The meeting was held to gauge potential interest in a Supermoto series that would run, live, on the ESPN network during the summer of 2006. We were present at the meeting, and all things considered, the concept was met with great, albeit cautious, optimism. In the past three months, ESPN and ABC have continued to investigate the potential of a 2006 Supermoto series. Today, they made a declarative decision on the reality of holding a series in 2006: ABC/ESPN has decided to, in Stiepock's words, "take a step aside for the moment." However, that doesn't mean ABC/ESPN has lost interest in the sport. In fact, if one goes by what they are about to read below, the future may burn brighter for Supermoto.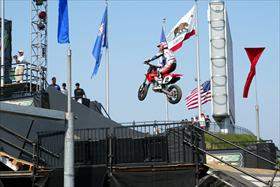 Jeremy McGrath
photo: John Clark

Racer X: Chris, thanks for taking the time to talk to us. So the proposed ESPN Supermoto series will not, in fact, happen in 2006?
Chris Stiepock: Well, I spoke to Paul Crandell [Director of Event Marketing for Red Bull] for a half hour this morning. As far as ESPN is concerned, we're going to take a step aside and take a breather for 2006. As you know, back in the November of 2005, we looked at the potential of creating a Supermoto series that would lead into the 2006 Summer X Games. But right now, ESPN is currently looking at the potential of making a bid to televise NASCAR races. If we're successful, that will happen in 2007. If that does happen, then we will look at what that means for other forms of racing on ESPN. In other words, there could be synergies with ESPN, NASCAR, and things like the Supermoto situation. We are still very interested in the sport of Supermoto. We believe that it has great potential. We will continue to have conversations with the manufacturers and the AMA about a potential tour during the second and third quarters of 2007 [June, July, August and September].

Throughout the past few days, we've spoken to a number of people about just what Supermoto will be in 2006. Will ESPN have any involvement in the sport next year?
Yes. We want to work with interested partners about specific races in 2006. We want to take a peek at the sport through specific races. We don't want to do a tour, but we've been holding discussions with Red Bull and talking about working together to do one-off Supermoto races at times we both feel are correct and optimal. We want to hold a race where the motocross guys, the roadrace guys, and the flat track guys can attend. They have racing obligations throughout the year, so we want to find opportunities where we can bring the best riders together at the same time and on the same track.

Back in August, at the meeting you held in the pits at the Home Depot Center, a 2006 ESPN-backed series looked to be gaining traction. So all the right pieces just didn't fall into place?
In a nutshell, recently we decided that it just didn't seem like the right time to make a move. We don't want to push it and rush in. We want to be able to look at the best possible scenarios for ESPN to hold a Supermoto tour. For us to be the most successful, we want the best representation of riders and all the OEMs on-board. Right now we want to investigate everything in 2006 so we can get ahead of it.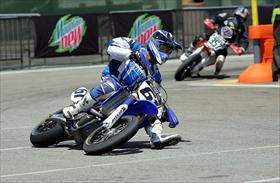 Mark Burkhart
photo: John Clark

How did ABC/ESPN feel about the 2005 Summer X Supermoto race?
We were happy with everything involved with the race with the exception of the overall attendance at the Home Depot Center. We only have ourselves to blame for that. But we will address everything and make tweaks. For instance, a great deal of the race went on outside the stadium and the fans that were inside the stadium wanted to see that. And the people who were outside the stadium wanted to see inside of it. But the racing was phenomenal, the field was phenomenal and the course was phenomenal. I think the pit stops were a good addition. For the most part, they added drama. Next year we may even look at things like including a caution flag to the race. But as far as the Supermoto race was concerned, we were happy with the ABC TV window and liked the fact that it finished off the Summer X Games. As far as 2007, it's too early to tell what the X Games programming schedule will be.

If ABC/ESPN makes a move and holds a series in 2007, can you provide us with a rough sketch of what might be entailed?
Sure. We believe that racing should be presented live. When we started investigating the potential of holding a Supermoto series we knew it would be a series we would want to televise live. But when you talk live television, there are great expenditures on the production side. We also had to look at time slots Would it be a 9 p.m. or a 10 p.m. time slot on the East Coast and a 6 p.m. time slot on the West Coast? That requires looking at all types of geographical locations. We didn't know. Also, it would have been stupid to make the decisions without talking to the riders, teams and OEMs to find out what would be best for them. That's why we wanted to wait until 2007. So that we could fill in the blanks.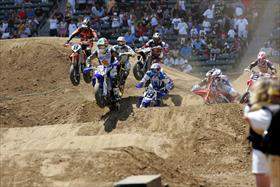 Chad Reed (#22) leads the pack
photo: John Clark

Theoretically speaking, could there be a relationship between NASCAR and Supermoto on the ABC/ESPN networks?
At the very least we would look at cross-promotion. We would also look at the potential of any synergies or economies of scale with the raceways. We really want to investigate, in great deal, what would be the best template for success for a Supermoto series in 2007. Could we hold a Supermoto race the Thursday night before a Saturday NASCAR race? I can't tell you what NASCAR or the speedways would say about that. But doing Supermoto races in cooperation with NASCAR races could be a good avenue to explore.

Can a ABC/ESPN Supermoto series work?
Let me ask you that.

I think a live, primetime TV slot for Supermoto could very well be the greatest thing to ever happen in American motorcycle racing. It could be a type of pilgrimage for racing fans. I mean I could see myself meeting my friends at a bar or a restaurant or someone's house and watching a great race together. It be a great communal thing for both the sport and the industry.
Well, I guess that's kind of the way we look at it too.

Wow. Well, best of luck with everything, Chris.
Thanks a lot, Eric.