Last week, Chad Reed announced the news everyone didn't want to hear: Discount Tire/TwoTwo Motorsports was shutting down. Chad wants to remove the day-to-day stress of running a team, but still wants to race and win in 2016.
If he does win again, it will add to his legend, but no doubt his successes with his own TwoTwo brand have left a huge mark on the sport. Before we forget any of it, here's The List of the biggest moments in TwoTwo Motorsports.
Before It Started
For 2010, Chad Reed was teamed with Ryan Villopoto at Monster Energy Kawasaki. This super team barely ever appeared together, as Reed was sick and injured most of this season—although he did scratch out the Hangtown National win while wearing the #1 plate. His results started trailing off until he disappeared at Millville. Reed announced he had Epstein-Barr and went into exile to recover. He had a two-year deal with Kawasaki but wanted to start from scratch, so he cut ties. It was a risky move considering the economy and industry were in the tank at the time.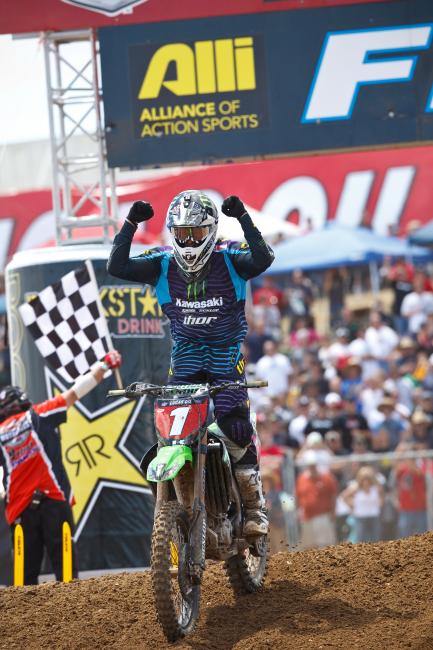 The Team Begins
Reed bought a bunch of different bikes and rode them all, eventually deciding on the Honda CRF450R. There was a small forerunner for TwoTwo Motorsports at an Australian supercross, as Reed built a team around the Honda for a race over there. He soon started planning a team in the U.S. An Aussie paper picked up the news but got it terribly wrong: They claimed Reed would base the team out of Australia, and the bike would be a "Frankenstein" with parts from various brands all bolted on. We talked to Chad to let him set the record straight. This is the first-ever interview about the team; notice TwoTwo Motorsports isn't even a name yet.
First Look
We caught Reed testing his new machine—now with TwoTwo Motorsports graphics—at Castillo Ranch in California. Here's the Racer X Film with Reed talking about the new effort.
First Races
Reed built his first bikes with off-the-shelf Pro Circuit parts. That made him a privateer. He did okay at the first three Monster Energy Supercross races, with a fifth, a fourth, and a seventh after a first-turn crash. But his best was yet to come. In this interview after round two in Phoenix, the always outspoken Reed said, "I don't know why I'm having trouble getting into the race pace so far this year. I've been in some race environments. But then you look at RV and James and they've been out of it longer than me, so I don't know, maybe I'm just being a pussy or whatever. I'm starting to get back into it." Yes, Reed the team owner could pretty much say whatever he wanted.
First Podium
This was Oakland 2011. Oh, the little team that could just made a podium. Reed was also unusually candid about having some bike issues in the race. Again, Chad could say whatever he wanted, and he was starting to like this feeling. "Honestly, it was nice to see the front guys and be in the battle," he explained. "It hurt my feelings last week to be down on the ground, to be half a lap behind and hear the crowd going nuts for this battle, and to not be in it. I don't want to feel that way anymore."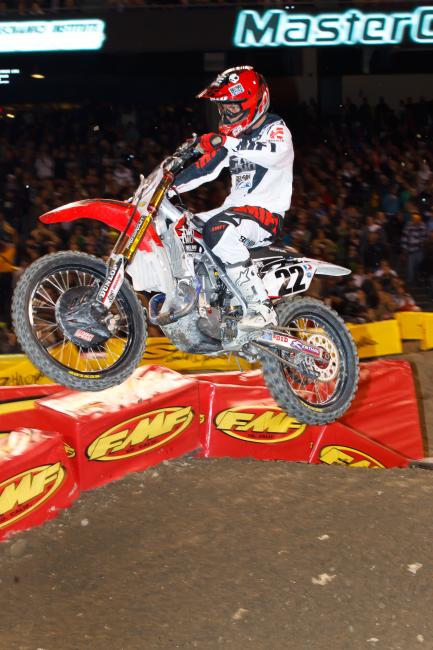 First Win
The San Diego Supercross has been magical for Reed throughout his career, and on a muddy night in 2011, he won it, marking the first privateer supercross victory since Rick Ryan's seminal 1987 triumph at Daytona. "The last lap I started thinking about, well, you're always thinking about how you can win if you put yourself in position to win, but this one was coming to reality on the last lap and over the triple," he said. "I took a look down at my radiator shroud and saw the Two-Two logo and thought, 'Wow. That's pretty cool.' It's a pretty cool feeling to have your name on that bike and it could be fun. It's hard to put into words what the feeling is."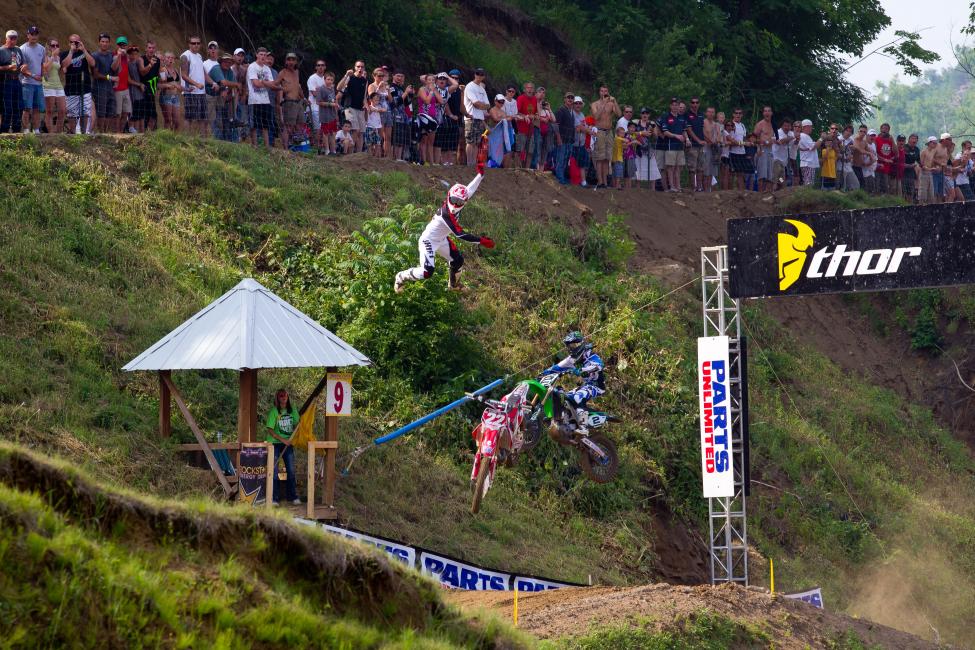 National Wins
Trey Canard got hurt testing for the Nationals, and Honda gave Reed Trey's factory Honda for the last few SX races. He came up just 4 points short of Ryan Villopoto in the supercross chase. Reed told us he wasn't sure if his little team could find the funding to race outdoors, but they not only showed up, they won the first two rounds. "I feel like I'm riding the best I ever have outdoors and I'm excited for that," he said. "Win or lose, I'm happy that it's been this good so far!"
The Chadapult
The 2011 Nationals became a magical season, as Reed held off the advances of Ryan Dungey and Ryan Villopoto to maintain the 450MX points lead. Then came Millville, where Chad outdueled Dungey, the home track specialist, for the first moto win. In the second moto, he went after Villopoto and passed him on the first lap. Moments later, he suffered one of the most famous crashes in the sport's history. While not injured, Reed would never be the same outdoors that year.
The des Nations
Credit to Reed for showing up for Team Australia whenever he was physically able, even if that meant spending TwoTwo money to do it. Post-Chadapult, he managed one more big outdoor win on a huge stage. At the 2011 Motocross of Nations in France, Reed won the first moto. Ultimately, he and Team Australia came up short of the coveted overall win, but in its first year, TwoTwo Motorsports had proven itself as capable as any team.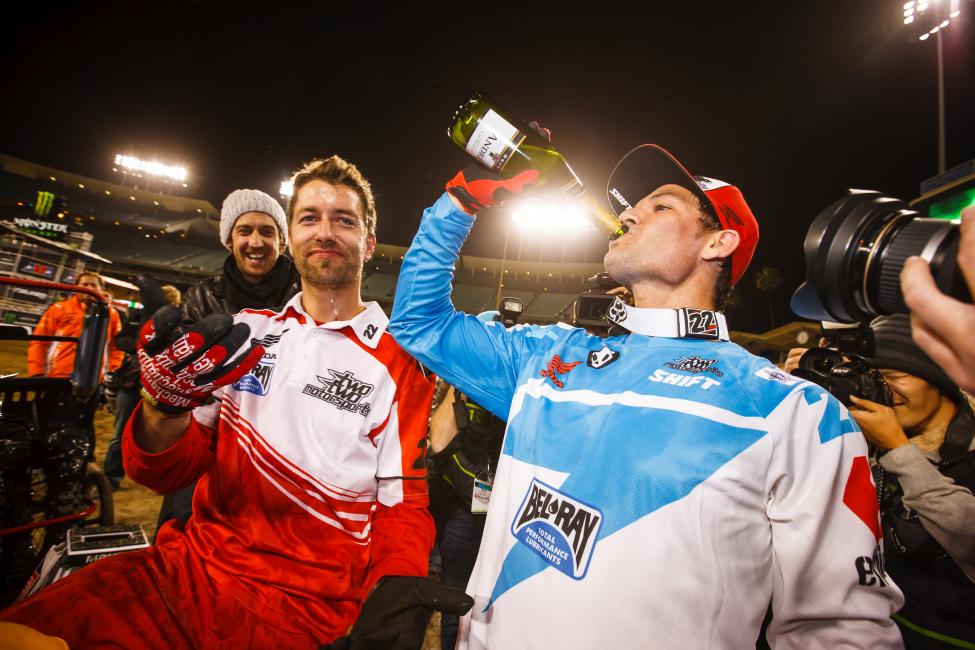 Los Angeles Supercross Win
Reedy dominated this one, stamping himself as a title contender for the tenth straight year. These early 2012 races might have been the best we've ever seen Reedy in supercross, as he ran away from the field in LA and battled to the final lap with Ryan Villopoto in San Diego. Clearly, in year two, his team was even better.
Dallas Injury
After the narrow loss in San Diego, Reed was on fire in Dallas and stalked Villopoto early in the main event. Then came one small miscalculation, as Chad got kicked over the bars on a jump. Chad actually upshifted in mid-air to try to generate more wheel speed and panic-rev his way out of an endo, but he couldn't save it, and with his foot stuck under the shifter, his leg got yanked badly when the bike hit. The result: a torn ACL and the end to what was such a promising season.
The First Replacement
Reed found a credible replacement rider for the Lucas Oil Pro Motocross Championship with Ben Townley. The Two/Two BT101 combo was quickly heralded as title contenders, and our staff was pumped on this deal when it was first announced. I might have messed it up with my take:
"I just hope Reedy's old Gotta' Be In It To Win It motto plays out—please, please, please, for once, let's not a get a 'Townely injured during preseason training' PR. It's happened enough!"
Well, it happened again. Townley was flying during some races in Australia but misjudged a jump and dislocated his hip. He never had a chance to race for Reed, leaving the TwoTwo truck idle the rest of 2012.
The Struggle
The 2013 season was not good for Chad. He wanted to snag Dean Wilson as a teammate, but was unable to secure a second works Honda. Wilson stayed on Kawasakis. Reed's knee still wasn't right, he couldn't train properly, and he wasn't getting on with the new-generation Honda and its air forks. He scored two podiums and finished fifth in the SX standings, and then a lowly fifteenth in the final outdoor rankings. At this point, doubters were starting to creep in (for probably the 17th time). Was Reedy done? And what about the team?
Ultimate Victory
During the off-season, Reed had the chance to join RCH Suzuki and pack in his TwoTwo team. Instead, he decided to dial it up again with a new brand—Kawasaki—which was oddly the same one he left in order to form TwoTwo. Now into his thirties and coming off of possibly the worst season of his career, the doubts were there. On January 1, Reed told us he thought he could get back to his old level:
"I think it is still there. I still think I can achieve those results. It seems like every interview I do these days I'm giving the same answers in the fact that I don't know if I'm just delusional or if it's really possible. For me, I honestly think it's possible."
It was. At Anaheim 2, he put together one of the most emotional supercross wins ever, overcoming his old rival James Stewart to emerge with a huge victory.
"The mental factor is, I didn't buy into what you all said: I'm old and washed up and whatever," he told the press. "I believe that I belong here. I believe that this can happen. I needed to get healthy. I needed to get back in shape and get on a motorcycle I was comfortable on. We ticked all those boxes and here we are."
He Does It Again
With back-to-back Anaheim wins, Chad made believers out of everyone. Here's his post-race interview.
The Crash
San Diego had been a magical place for Chad, but it was evil on this night. James Stewart and Ryan Villopoto were gone out front, but Reed wanted podium points and closed on Ken Roczen on the final lap. When Roczen edged left to avoid a lapped rider, Reed ran into him in the whoops and went down. He tried showing up and racing the next event at Dallas, but couldn't go. Shoulder surgery ended his supercross season.
Enter Wilson
Chad was in need of a replacement rider, and now with his Kawasaki alliance he could sign Wilson, who was a 250 West Region racer for Monster Energy/Pro Circuit Kawasaki. Chad told us about it here.
Dean, new to a 450, made a big impact in Daytona, where he snagged the fastest qualifying time, won his heat, and holeshot and led the main. Then arm pump kicked in, as it would each week Dean was on the machine. This combo showed promise, but Wilson was unable to deliver on his potential. Once 250SX West resumed, Wilson headed back to the 250s, while Reed got ready for a return outdoors. He was never fully healthy and couldn't get the results he wanted, so, you know, some doubts were coming (again) for 2015.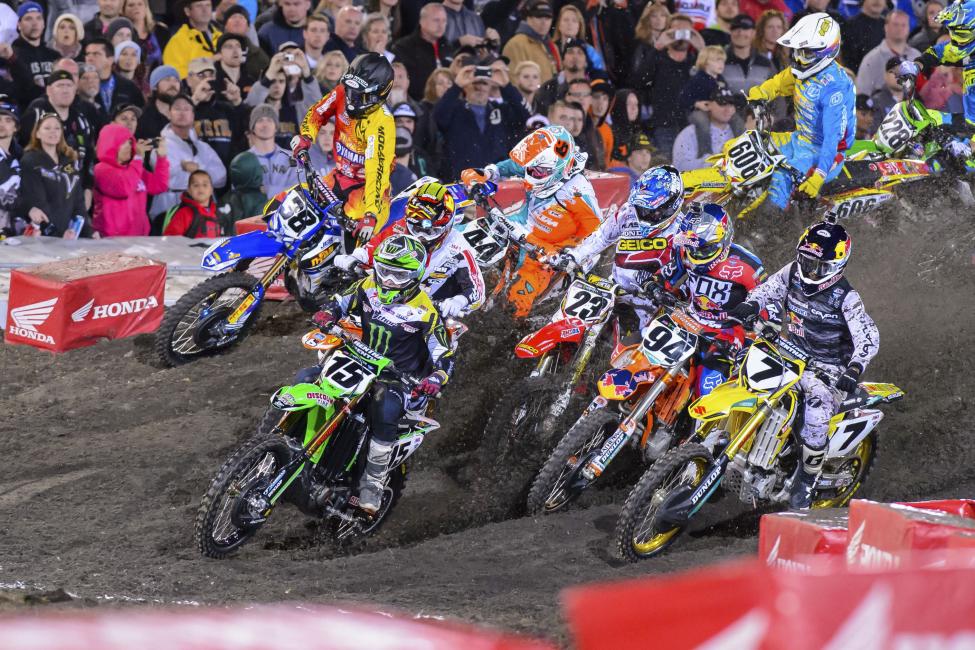 A Teammate
Reed stayed with Kawasaki for the year but picked up Josh Grant, the first full-time teammate for the squad. But for the most part, things were the same. "No massive changes, no new model bike, no new colored bike," he told us. "It's been nice for me to be able to take some time off during the off-season and get healthy and get my mind clear. I'm on the grind and ready to do what we did at the beginning of 2014."
Black Flag
Reed didn't start this year with the flurry of 2014. He was good, but never quite great, and then he was black-flagged for a controversial incident with Trey Canard at Anaheim. That sucked the championship life out of his season, but TwoTwo had one more win in it.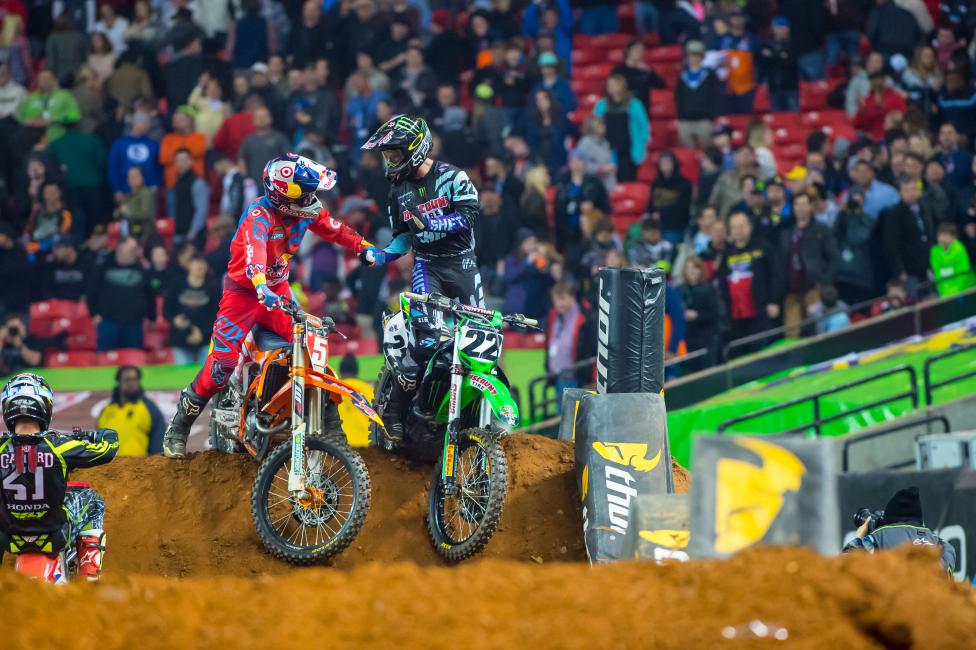 One More Win
In Atlanta, Chad pulled the start and saw his shot. Of course, he knew what to do with it and held off Ryan Dungey for the win.
"I felt that I was going to challenge for race wins and for the championship, and it just hasn't gone that way at all," he said after the race. "So it's been a bummer. It's been hard to swallow; the comments start to creep back in. 'He's done, he's washed up, he's old.' It's been tough to ignore those and stay on the grind. At a certain point you start going, 'Man, is it real? Is this my time?' Sticking to the schedule, it's not that fun. You're eating healthy. I hate eating healthy. I enjoy a drink every once in a while and eating what I want. When you're sticking to that program and you're getting the results that I was, you start questioning whether it's all worth it. But you try to stick it out and you hope for nights like this."
The End
Out-of-character crashes knocked Chad off of his usual podium standards, and then this outdoor season didn't start well either. With Grant injured and Reed fighting a shoulder injury, the summer wasn't panning out. It was a rough year, filled with the Black Flag deal, controversy over his sponsorship with Fly360 cameras (which, due to the rules in both supercross and motocross, he could not use during a race) and a shoulder injury that sent him under the knife. He finally announced he would shutter the team and return in 2016 riding for someone else. We don't know who or what that will be yet, but we know Chad's not done. Turning TwoTwo Motorsports from a team dream into dream team goes against long odds, but he overcame them. Simply succeeding again as merely a racer shouldn't be as hard. Until then, thanks for the memories.