Angel Stadium
Anaheim

,

CA
Race Center: Anaheim 3
Monster Energy AMA Supercross Championship
He did it again! On Saturday night, Discount Tire TwoTwo Motorsports' Chad Reed took his second-straight Monster Energy Supercross win at Angel Stadium. That's two wins in three races for Reed, and we can no longer act shocked about any of this. Afterwards, Reed provided a great interview—which is also no shock.

Racer X: There was pressure the whole time but you looked comfortable out there.
Chad Reed: I felt good. I just tried to concentrate on my race and just kept telling myself just do what you do at home, just pound out the laps and watch the pit board. I knew that I wasn't really giving up anything too much anywhere. The little places he [Ken Roczen] was gaining, I was gaining back. So I felt good out there. I was surprised that we got 12, 13, 14 laps in and it became clear that it was going to be Kenny or I that was going to battle for the thing [and we'd pulled away from everyone else]. It was fun. Kenny rode super clean and hard. Threw it up the inside one time but you just respect people if they race like that. He's just good a kid that's coming out of Europe. They just race real … they race hard but clean, and that's fine.
How about the track?
There were whoops so that's nice. They were sketchy. There wasn't a lap that I went through there that didn't feel like the first. As much as I love whoops and I feel like it's an advantage for me, I was scared as hell every lap. I just kind of tried to throw it in there and you just rely on your bike doing what it's going to do. One lap I think I might have missed one in the middle there and kind of gave me a little bit of a buck, but other than that it was all right.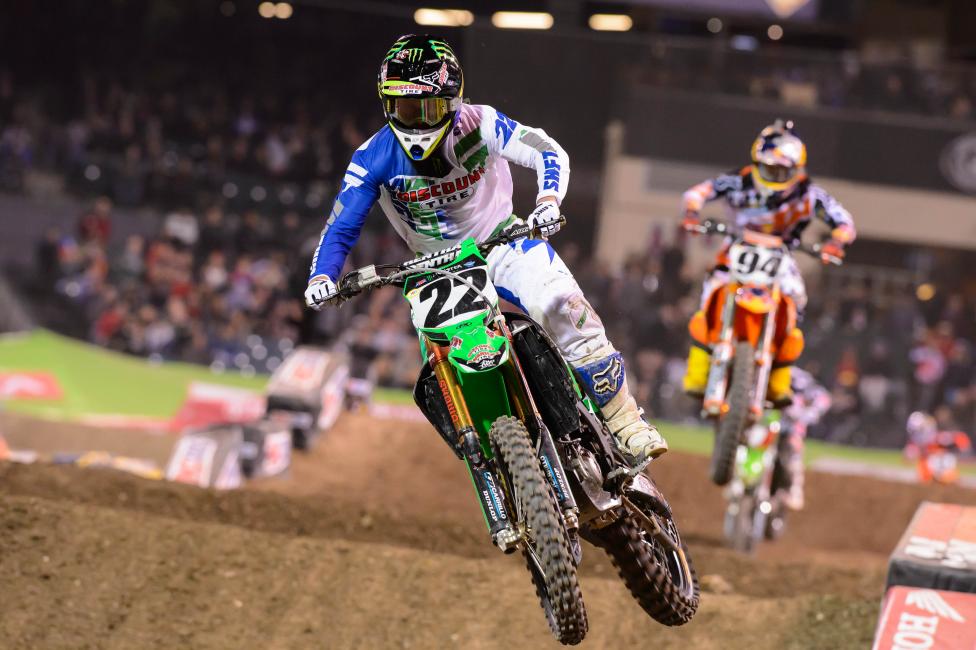 In your race with Kenny was there a place that you felt like you were pulling him or a place that he was pulling you?
Through kind of the mechanics area I felt like I was pretty strong through there. After the whoops, I think he was pretty good in the whoops too. Young, full of testosterone, probably throwing it in there a little more than what I was. I was just making sure to be solid every lap, not to give up too much. So pretty much from the whoops through to the next set of whoops I felt like I gave up some time to him. I could always hear him right on me and then I would kind of just pull that gap back out. Last lap was tough. I just tried to grind away, not make any mistakes in the whoops and get the turns down. I think a lapper got in-between us. I actually got a little bit scared because those lappers just came together and then they were still fighting. We came up on them so fast I don't think [Jimmy] Albertson knew I was there. I was kind of giving the bike a bit of a revs and doing all those good things to try to make him aware that I was there.
You're just two points out. How do you feel about going forward?
I feel good about going East Coast. I'm ready to get out of California, but one more stop, which is one of my favorite stops. It's been good to me over the years. So hopefully, yeah, we can go to San Diego. It'll be nice. It's been a long, long time in my career, maybe '09, since I got back-to-back wins. It will be nice to go there and try to get a win and then head East Coast.
Physically, at age 31, we all can put numbers and stats behind all that. But how do you feel? Do you feel any different than when you were 25 or 21?
I feel better at 31 than I did at 30, so that's nice. [Laughs] I think this year it was harder to get into shape. The numbers that you're used to seeing and how long it normally gets there, my body's always been pretty good at responding and getting my weight off, getting down to fighting weight, getting in shape, getting up that intensity. That all happened a lot slower this year. That kind of gives me a heads up that that's probably not going to get any better next year! For me, I like to go and have and an off-season. I'm not like these robots out here that just 24/7 they're athletes. I like to go be a human being and have a good time, enjoy life, and hang out with the wife and the kids. So I'll probably have to shorten up my off-season this year, just give me some time for next year to get back into shape.
And as far as riding speed-wise and all that, I would think everything steps up every year. So wouldn't you think in general if you go back to '03 when you first started in this class, aren't you a better rider than you were then? Wouldn't everybody be if they're still winning races?
I feel like I'm better, but, it's hard to say this, but I don't feel like the pace is any different than when I raced Ricky [Carmichael]. I really don't. I don't think that we have progressed any. I think the race tracks have become way easier than when we used to race. I believe the level of people as far as now there's 7 or 8 of us that potentially could win on any given weekend, where before it obviously was only James or Ricky or I. So I think that the amount of people [that can win] has come up. And I'm unsure if that's because they're all that good or if the tracks are just that easy and the bikes are that good. That's my opinion, and it probably won't be liked by some people as a good comment, but that's just what I see. I've been around a long time. I've seen it all. The way I have to ride isn't any different than when I raced Ricky. Racing Ricky and RV [Ryan Villopoto] is so alike. They both attack the track, they're solid everywhere, they're there every weekend, they're great at their turns, getting to the bottom of their turns. In a lot of ways you feel like the same nightmares you have at night are still there! And that's not taking anything away from anybody, that's just kind of my feeling of how it is from my side.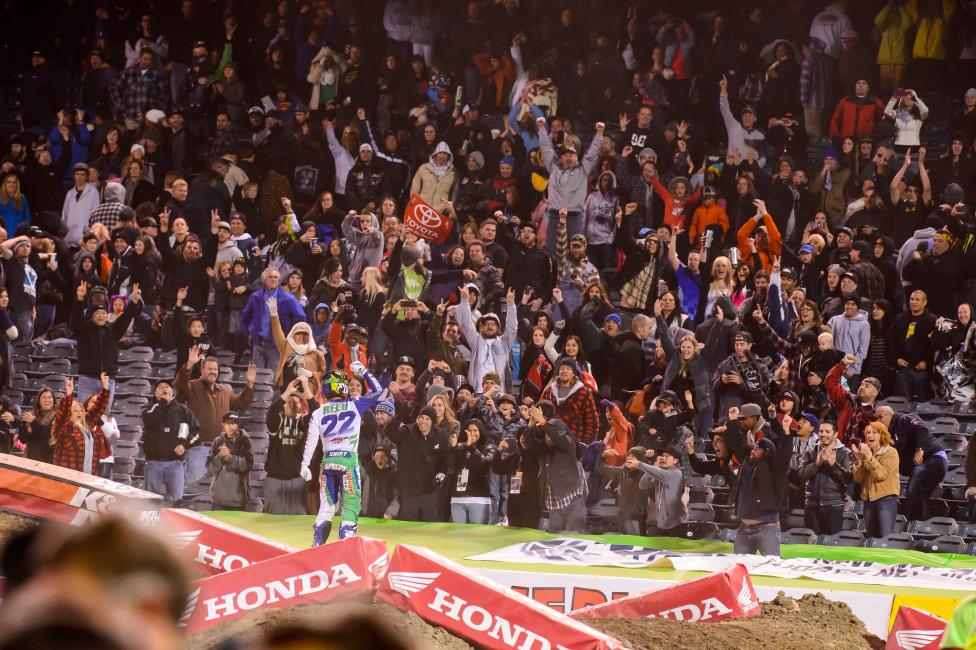 What's this compare to … that was so crazy when you won here two weeks ago. Is this win anything like that?
Two weeks ago was an emotional win just because last year was tough, getting hurt in '12. You just never know. You believe in yourself and I've always been good at that. But we made a lot of choices. I felt that I was out of shape and my knee wasn't awesome last year, my health wasn't awesome. And then on top of that I didn't feel super comfortable on the bike. So this off-season we made a lot of changes and it seems like the choices we made were good. That was emotional, just a lot of pressure off my shoulders, where now it's about trying to be there every weekend and make my bad one that ninth in Phoenix and now try to just be on the podium ever week.

Do you wish you could pick a track out of the past and throw it into the middle of the season and see how everybody reacted to it?
Yeah, that'd be fun. You put me on the spot; I'm not sure exactly what track. But I think the tracks in '03, '04 they were more difficult in the fact that they weren't so fast. I'm a hater on how fast these racetracks are. They're super, super fast. The momentum's just crazy. You've got to adapt to it, obviously. You can't come here and just be mad at the track all weekend. That doesn't work for me. For me I've just got to come here and have fun on whatever it is and get on a plane and go home tomorrow.