Honda Muscle Milk's Justin Barcia enjoyed a practical and profitable European vacation by taking wins at last weekend's Genova Supercross in Italy and then the Bercy Supercross in France, which wrapped up yesterday. As is the norm for Barcia, who is now a two-time King of Bercy, the French weekend didn't come without controversy, as some contact with his teammate Trey Canard ultimately tipped the overall win his way. Here's Bam Bam's take on the weekend, and the bam bamming.
Racer X: Second time as King of Bercy, congratulations, and you made it exciting. Here on the last night, you and Trey Canard had fourth and fifth gate picks.
Justin Barcia: Too exciting! Yeah, too exciting. We were on the way outside and we both didn't make the start happen, that's for sure. We both fought our way through the pack, and there were some crazy passes. Luckily we didn't go down, but there was some crazy riding all around the race. Yeah, we pushed it all the way to the front and then kind of did a train from there. I wasn't able to get close enough in the Joker Lane, so yeah from there it was like a train.
You were doing the math [for the overall] in your head, I imagine? You were like, "Hey I don't need to try to kill myself."
Ah, I wanted to win pretty bad.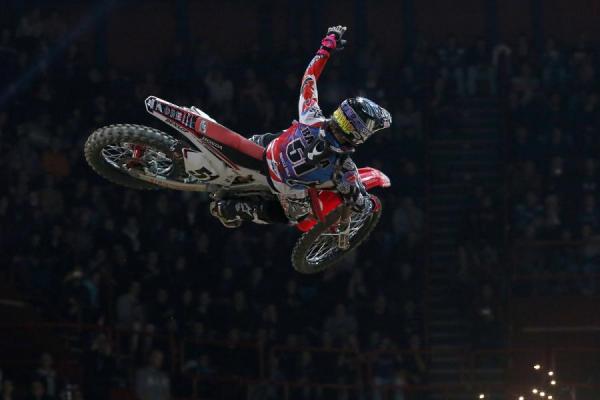 Justin Barcia won his second King of Bercy title following a 1-1-2 performance.
Ray Archer photo
[Laughs] Because you're Justin Barcia?
Yeah. I definitely want to win. I was pushing it, not so far over my head that I was going to hurt myself, but we were going so fast, Genoa last weekend and this weekend, we were both going so fast and we were so close, it was like you could throw a rope between us. It was pretty wild.
First lap, you went into the tunnel ahead of Canard, I believe, and when you came out of the back, he came out in front of you.
Yes, and it was so crazy I don't even remember what happened. I just know there was a bunch of us in a pack and I think I might have went outside and he went inside, I passed two guys and he passed three guys, so it was pretty wild.
Yeah and at one point he was third and you were like fifth or sixth. There were some slower guys in front of you. Was it kind of panic time, a little bit?
Uh, I mean, I knew I had to make my moves, because our speed is so close, if he got away right away and if I was in the back it wouldn't have even been possible to put up a fight. At least I was able to put up a fight and it was a great race. Trey rode real good. The tension all weekend was up there, teammates, block passes…. always everyone sees my passes, but he stuck it in on me a few times pretty hard on the weekend, in the back tunnel he got me a couple of times. Tension was high, but we'll leave that here, we'll go home and hopefully we kick ass in the supercross season.
Well it wouldn't be Bercy and Barcia if there wasn't something going on. Be it with a European rider or this time with your teammate. I understand, though, that Dan [Betley, team manager] had some words with both of you guys?
Yeah, he came over after the race, I said "What do you think, too much?" And he said, "It was almost too much." So I said, "Perfect." For me that's great, you know. I don't need to ask permission to make a nice block pass on anyone. That's racing and I like the excitement factor. If Trey had gone down it would have been a way different story and I would have felt really bad about that. I knew what I was doing and I made a good pass and it was awesome.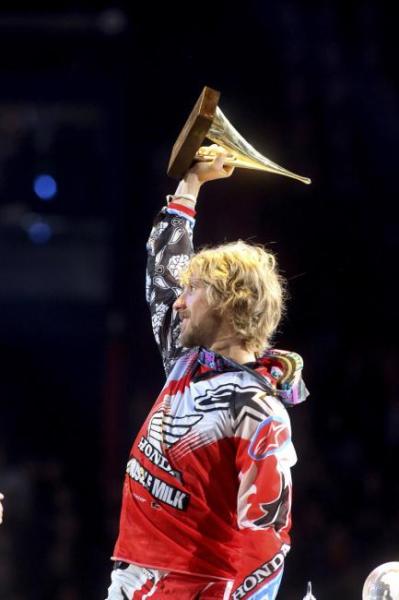 The French fans embraced Barcia this year, which has not always been the case.
Ray Archer photo
Hey, last time fans were booing you and throwing garbage at you. This time they were cheering you. In that last main event they were watching your charge through the pack.
Yeah fans were great this year. First night they were awesome, second night they were awesome, the last day they were a little bit quiet but still great. I didn't get any boos this year that I could hear.
And you lost your front end in the elimination race and Trey plowed into you, so that was great.
I lost my front end twice. It got really slick today, and dry. That's what's really good about this race, we learned some stuff. Maybe tires or forks or something like that. It's good.
And Genoa, the whole experience in Europe. It was fun?
Yeah, it's been a long trip, almost two weeks for me. I'm ready to get back on American soil and regroup a little and get back to work.