Honda Muscle Milk's Trey Canard ended up second to his teammate Justin Barcia at both of his European races, but the two were super close on speed as a whole. For Trey, now coming off a full season relatively injury-free, this is all valuable momentum heading into 2014.
Racer X: Trey Canard, surprisingly your first time here. Before we get to the results and everything, let me get your thoughts on the event. Going balls out in the tunnels, the crowd, everything.
Trey Canard: It was definitely different, for me it was a crazy night. Especially the first night, for me, was the wildest. At Genoa we did a Super-Pole and a main event and that was kind of it. Here you do one qualifying practice and then a heat and then you have Super-Pole and then three elimination races and the main. It's just a lot fit into one day, and then they have you doing autograph signings between here and there. It's a crazy day, and the fans are nuts, with the chainsaws, the horns, everything.
That's why some guys, for start money, they want more money, because of all of the things they have you doing. Three days of racing and everything.
Yeah they definitely get their money's worth out of us. But I had a lot of fun. I got sick, which was a bummer, but it was a blast.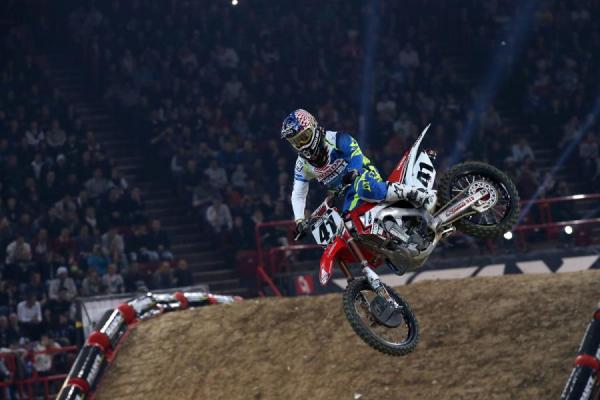 Trey Canard's 2-2-1 performance at Bercy would only garner second overall, as Honda teammate Justin Barcia went 1-1-2.
Ray Archer photo
Tonight you got the main event win, you swept the elimination races yesterday. Did you get a Super-Pole?
Yeah I got the Super-Pole today.
Yeah, so won a little bit of everything. Justin got King of Bercy, but you still rode well.
Yeah. I wish I would have won last night, I felt like I had the speed and I felt like I had the momentum in last night's race. Rubbin's racin', I guess, and I've got to learn to protect that inside a little better. I thought it was great…
Did you guys talk about it at all, did you make up?
I never really got that upset. I was pretty upset right afterwards, but I should have known. You have to know who you're racing against.
The good part about it is that you reeled him in—on a track that's hard to pass and hard to make time up. That's the part that's encouraging, maybe even more than today's performance.
Yeah I think last night was really good as far as the riding. I think I rode pretty decent tonight. I think there are a lot of positives to take home from this race. I know I'm not King of Bercy, but I really struggled in the first couple of laps in this last season. And all of these elimination races, qualifiers, just so many gate drops with that instant speed burst you have to have, that was really good for me.
Tonight, Justin went down, you plowed into him, so you didn't make the final elimination race. I thought you starting in the back row was a terrible idea. I did! But it worked out okay. You were dead last, but you snuck around.
Yeah the first turn here was seriously, if you hit it normally, you'd have to hit it in first gear and just be creeping around it. I knew Shorty being a good starter he was going to get a good start and push everyone out. I thought I would be better being on the inside there instead of getting pushed and then be dead last. I think it worked out pretty good, actually. It was just a very heavily one-sided gate and I felt like I was better off being on the inside of that rather than being on the outside.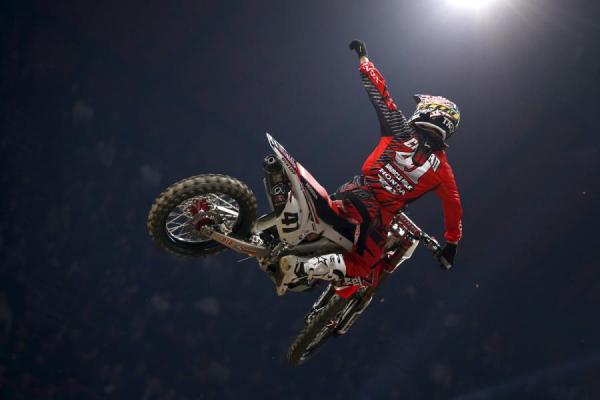 Canard is taking the positives of his time in Europe and looking forward to A1.
Ray Archer photo
My thinking was just, I had seen Cooper and Tixier pull some starts in the heat from outside, and I knew you were a good starter and your bike is good. I'm thinking, "He could get it." But I get the strategy, too. So early in the main event, I think you passed Justin in the tunnels on the opening lap. Were you kind of marking him? You needed some help to win King, and at one point you were two or three spots ahead of him and you were clinching it, but then he snuck up behind you.
I'm not too concerned about it. My focus is January. I mean it would be nice to win it.
Yeah you're not going to turn it down!
Yeah I'm not going to turn it down if it's given to me, but I'm not going to try to take him out or do anything like that. I just wanted to try to win the race [Sunday's main event].
I don't mean take him out so much that, but just that he was behind you and you were like, "I have to get by all of these dudes and hopefully he gets hung up."
Yeah. At the start of the race, I knew it was a pretty hairy first turn. I thought, "If I get out of this I'm going to just try to get the lead and go." That's all you can do is try to control your own race.
I'm surprised at how fast you moved forward, and he did, too. You put two or three riders behind him and he got them in like one turn, and you two were clearly the class of the field here. But I guess you're not thinking that when you're buried in sixth, early in the main.
No, no, and this is a difficult track to pass on. If you go inside, you lose a lot of momentum. Thankfully I was able to make a lot of good passes in the whoops. They were sketchy. I was able to capitalize on some mistakes, and it was good.