Ok people, the 2014 national numbers are right here—sort of, anyways. And I'm terribly sorry for the all caps in some spots but I feel I need to make some points.
Thanks to Dan Truman who actually updates these year after year. Here's what we're thinking the numbers are going to look like. First though, a refresher:
If you win a 250MX, 450MX or 450SX title you get a career number and it CAN be a single digit number if you would like. Eli Tomac won his first title this year (a 250SX TITLE DOES NOT COUNT FOR A PERMANENT NUMBER) and has hinted that he'll go with #3 because Mike Brown—the previous #3 holder—did NOT score the required number of points (25) to hold onto it for life. So we're going with the fact that Tomac will run with #3.
If you score a top-ten position in COMBINED points (250SX, 250MX, 450MX and 450SX), you get a TWO-DIGIT career number to keep forever (unless you win one of those titles like Tomac did, then you can switch to a single-digit number). The only new rider we have this year is Zach Osborne, who has gone on the record saying he likes #16 (John Dowd did NOT score the 25 points he needed to in order to hold onto it). So we're also going off the fact Osborne will take #16.
You CANNOT take a three-digit number for a career number. However, Mike Alessi is grandfathered in and that's why he has #800. And yes, Zach is bummed about this decision because he would've picked #338.
The number 13 is a little superstitious, so the AMA gives the rider the right to not take it if they don't want to. Jason Anderson finished 14th in combined points this year and was also the FIRST rider who does not have a career number. Therefore, he gets the lowest OPEN number, and that number is #13. In a text message, he indicated that he does NOT want that number and will take #14.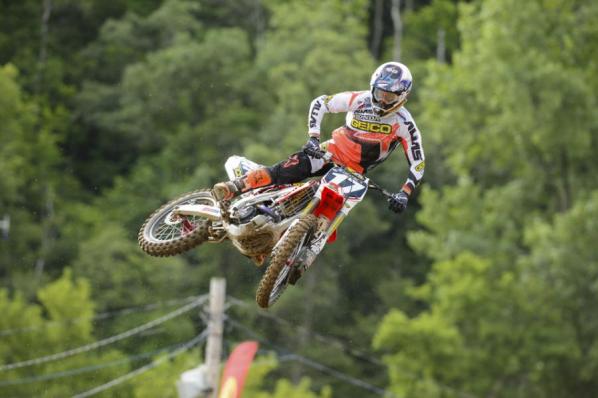 Will Tomac go with #3 or another route?
Simon Cudby photo
Below is the combined points order of the riders this year and the number they should have on the left. There are 22 riders that now have career numbers.
P.S. - The fact that the AMA made the decision to allow 250SX points for riders' national numbers is still ridiculous one year later (in my opinion). Kyle Peters probably loves it though.
P.S.S. - Although Mike Brown, John Dowd and Kevin Windham did not meet the requirement to keep their numbers, I would not be surprised if the AMA just "allows" them to keep their numbers for another year and therefore renders some of this list moot.
P.S.S.S. - Even though Ivan Tedesco did not race in 2013 and no one wanted his number, I would also not be surprised that if he DOES race in 2014 (doubtful), he comes back with #9. I'm ok with this.
P.S.S.S.S. - Like Osborne last year when he raced some supercross rounds, riders with FIM licenses like Desalle and Strjibos do NOT count for national points, hence why they are listed in the combined points but do not have numbers. We're not sure about Akita Narita way down there at the bottom. He could get a number.
Projected numbers for 2014:
| | | |
| --- | --- | --- |
| 1 | Ryan Villopoto | 934 |
| 5 | Ryan Dungey | 844 |
| 3 | Eli Tomac | 787 |
| 94 | Ken Roczen | 692 |
| 51 | Justin Barcia | 688 |
| 25 | Marvin Musquin | 606 |
| 41 | Trey Canard | 553 |
| 29 | Andrew Short | 476 |
| 16 | Zach Osborne | 468 |
| 7 | James Stewart | 463 |
| 12 | Jake Weimer | 432 |
| 20 | Broc Tickle | 412 |
| 4 | Blake Baggett | 402 |
| 14 | Jason Anderson | 399 |
| 22 | Chad Reed | 396 |
| 10 | Justin Brayton | 391 |
| 17 | Jeremy Martin | 371 |
| 19 | Cole Seely | 371 |
| 21 | Wil Hahn | 370 |
| 23 | Kyle Cunningham | 342 |
| 18 | Davi Millsaps | 338 |
| 800 | Mike Alessi | 336 |
| 30 | Martin Davalos | 302 |
| 28 | Tyla Rattray | 297 |
| 31 | Justin Bogle | 291 |
| 32 | Malcolm Stewart | 285 |
| 34 | Justin Hill | 285 |
| 33 | Josh Grant | 268 |
| 35 | Blake Wharton | 256 |
| 36 | Cooper Webb | 255 |
| 37 | Phil Nicoletti | 248 |
| 38 | Ryan Sipes | 222 |
| 39 | Weston Peick | 207 |
| 40 | Vince Friese | 189 |
| 42 | Joey Savatgy | 187 |
| 43 | Matt Goerke | 182 |
| 44 | Darryn Durham | 171 |
| 45 | Adam Cianciarulo | 138 |
| 46 | Kyle Peters | 133 |
| 47 | Ben LaMay | 122 |
| 15 | Dean Wilson | 120 |
| 48 | Gavin Faith | 116 |
| 49 | Jessy Nelson | 107 |
| 50 | Cole Thompson | 104 |
| 75 | Josh Hill | 93 |
| 52 | Christian Craig | 87 |
| 53 | Lance Vincent | 87 |
| 54 | Jimmy Decotis | 82 |
| 55 | Alex Martin | 82 |
| 56 | AJ Catanzaro | 81 |
| 24 | Brett Metcalfe | 81 |
| 57 | Travis Baker | 80 |
| 58 | PJ Larsen | 79 |
| 59 | Jackson Richardson | 78 |
| 60 | Austin Politelli | 76 |
| 61 | Mitchell Oldenburg | 75 |
| 62 | Robert Kiniry | 73 |
| 63 | Les Smith | 72 |
| 64 | Zack Freeberg | 63 |
| 65 | Tyler Bowers | 59 |
| 66 | Jake Canada | 59 |
| | Clement Desalle | 58 |
| 67 | Chris Blose | 50 |
| 26 | Michael Byrne | 50 |
| 68 | Levi Kilbarger | 49 |
| 27 | Nick Wey | 48 |
| 69 | Brady Kiesel | 47 |
| | Kevin Strijbos | 45 |
| 70 | Zach Bell | 43 |
| 71 | Daniel Herrlein | 43 |
| 72 | Dillan Epstein | 42 |
| 73 | Steven Clarke | 40 |
| 74 | Jimmy Albertson | 38 |
| 11 | Kyle Chisholm | 38 |
| 76 | Max Anstie | 38 |
| 77 | Matt Lemoine | 34 |
| 78 | Ryan Zimmer | 30 |
| 79 | Kyle Partridge | 29 |
| 80 | Josh Cachia | 29 |
| 81 | Fredrik Noren | 29 |
| 82 | Scott Champion | 28 |
| 83 | Dakota Tedder | 28 |
| 84 | Nico Izzi | 26 |
| 85 | Derek Anderson | 26 |
| 86 | Shane McElrath | 24 |
| 87 | Jesse Wentland | 23 |
| 88 | Kevin Windham | 21 |
| 89 | Jean Ramos | 21 |
| 90 | Michael Lieb | 21 |
| 91 | Jacob Baumert | 20 |
| 92 | Killy Rusk | 19 |
| 93 | Adam Gulley | 19 |
| | Akira Narita | 19 |
| 95 | Topher Ingalls | 18 |
| 96 | Evgeny Mikhaylov | 18 |
| 97 | Matt Bisceglia | 18 |
| 98 | Broc Schmelyun | 17 |
| 99 | Justin Starling | 15 |
| | Cody Gilmore | 14 |
| | Gareth Swanepoel | 14 |
| | Zach Williams | 13 |
| | Justin Sipes | 13 |
| | Chris Plouffe | 13 |
| | Travis Bright | 13 |
| | Kyle Hussey | 12 |
| | Austin Howell | 11 |
| | Mike Brown | 10 |
| | Travis Preston | 9 |
| | Tommy Weeck | 9 |
| | Kade Mosig | 9 |
| | Landon Powell | 9 |
| | Kyle Regal | 8 |
| | Gared Steinke | 8 |
| | Tyler Bereman | 7 |
| | Bradley Ripple | 7 |
| | Robbie Marshall | 6 |
| | Ross Johnson | 6 |
| | Adam Enticknap | 6 |
| | Jeremy Medaglia | 5 |
| | Jason Brooks | 5 |
| | Trevor Reis | 5 |
| | Aaron Siminoe | 5 |
| | David Buller | 5 |
| | Tucker Hibbert | 5 |
| | Cedric Soubeyras | 4 |
| | Casey Hinson | 4 |
| | Chad Gores | 4 |
| | Ozzy Barbaree | 4 |
| | Travis Sewell | 3 |
| | Gannon Audette | 3 |
| | Preston Mull | 3 |
| | Nicholas Schmidt | 3 |
| | Chad Crawford | 3 |
| | Austin Coon | 3 |
| | Maxx Malatia | 3 |
| | John Dowd | 2 |
| | Erki Kahro | 2 |
| | Michael Horban | 2 |
| | Tevin Tapia | 2 |
| | Bryce Stewart | 2 |
| | Kurtis Mccabe | 2 |
| | Shawn Rife | 2 |
| | Vann Martin | 2 |
| | Jake Mohnike | 2 |
| | Trevor Ivey | 1 |
| | Bracken Hall | 1 |
| | Jacob Hayes | 1 |
| | Heath Harrison | 1 |
| | Sean Hackley | 1 |
| | Ricky Dietrich | 1 |
| | Joey Peters | 1 |
| | Brandon Scharer | 1 |