Angel Stadium
Anaheim

,

CA
Anaheim III (A3)
Monster Energy AMA Supercross Championship
Practice is complete here at Anaheim, and, supercross fans, it's not over yet. Defending Champion Ryan Villopoto has been rolling lately in this Monster Energy Supercross Championship, with two-straight wins. And he looked darned fast out there all day today, taking first in the first timed session. But, hope still reigns for other contenders. First, don't forget that RV is still only third in the current point standings, with Davi Millsaps and Trey Canard still ahead. Second, James Stewart is still showing some fight, bad race last weekend, torn ACL, and all. Stewart was right behind in the first timed session, with a 52.811 to Villopoto's 52.807.

Then in the second timed session, Stewart went out and blitzed the track to the tune of a 51.725, ahead of Villopoto's second-fastest 54.459. Yes, we've seen Stewart go fast this year in practice before (or, really, every year) but he has not at all been able to back it up with results in the main events thus far in 2013. So, it's anyone guess if Bubba can make it happen for 20 laps when it counts. The potential is still there, though. Stewart also brought in a new trainer this weekend, Pablo, who worked with Davi Millsaps last year. So it's clear he's still trying to step up his program and get stronger.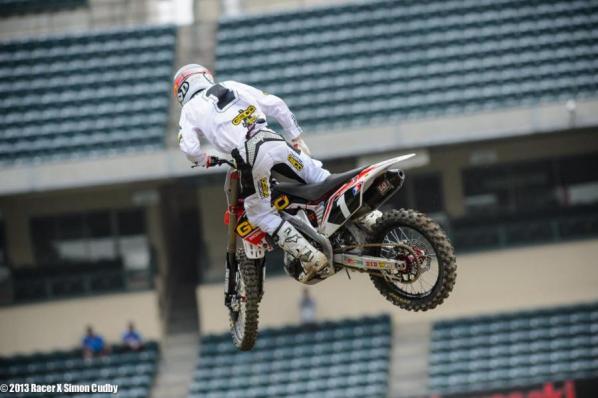 Lots of talk about Ken Roczen holding the red plate for the first time today, but it looks just as odd to see Eli Tomac go back to the standard black background.
Cudby photo
And other riders look ready to mix it up. Josh Grant logged a strong final session and ended up third overall, just off of RV's time with a 52.500. It's the best we've seen JG ride in this still-young season. Millsaps and Canard rounded out the top five. Also, Chad Reed looked aggressive in practice and ended up sixth. There are times when you don't see Chad pushing in practice, but today he looked strong—you don't see it in lap times with Chad, you see it in the riding, and he was riding well.

Ryan Dungey had a big crash in the first timed session, but got up okay and ended up 7th fastest. Justin Barcia popped into the top 5 at times, and ended up 8th. Justin Brayton and Jake Weimer rounded out the top ten.

In the 250 class, no surprise, but Eli Tomac and Ken Roczen were doing the battling for the fastest laps. Roczen was fast all day, but Tomac caught fire in the third and final session and  ended up with the fastest time, with Roczen about three tenths off. Jason Anderson, Martin Davalos and Zach Osborne rounded out the top five.

By the way, Tomac says he's totally fine after last weekend's big crash. He has a bruise that hurts if he touches it, but feels fine when he's riding. Osborne has also been on the mend from a shoulder injury, and says he's finally feeling good again, and rode three days this week.

As for the track, the deciding factor could be the first whoop section, which is very long and seemed to get rougher and rougher as practice went on. Otherwise, the typically slick Anaheim dirt could prove to be the separating factor, as most of the obstacles look fairly simple. There's a tabletop that a few riders are clearing, but that line doesn't seem much faster than just going on and off of it.

That's it. Check out @racerxonline for live tweeting from tonight's race.


450 SX Times
1 7 James Stewart Suzuki RM-Z450 51.725
2 1 Ryan Villopoto Kawasaki KX 450F 52.459
3 33 Joshua Grant Yamaha YZ450F 52.500
4 18 David Millsaps Suzuki RM-Z450 52.601
5 41 Trey Canard Honda CRF 450 52.863
6 22 Chad Reed Honda CRF 450 52.990
7 5 Ryan Dungey KTM 450 SX-F 53.011
8 51 Justin Barcia Honda CRF 450 53.390
9 10 Justin Brayton Yamaha YZ450F 53.573
10 12 Jake Weimer Kawasaki KX 450F 53.604
11 20 Broc Tickle Suzuki RM-Z450 53.648
12 47 Matthew Lemoine Kawasaki KX 450F 54.118
13 85 Kyle Partridge Suzuki RM-Z450 54.142
14 62 Matthew Goerke KTM 450 SX-F 54.146
15 46 Weston Peick Suzuki RM-Z450 54.209
16 29 Andrew Short Honda CRF 450 54.342
17 11 Kyle Chisholm Yamaha YZ450F 54.394
18 57 Ben Lamay Yamaha YZ450F 54.458
19 84 Chris Blose Yamaha YZ450F 54.610
20 55 Jimmy Albertson Honda CRF 450 54.649


250 SX Times
1 1 Eli Tomac Honda CRF 250 51.939
2 94 Ken Roczen KTM 250 SX-F 52.258
3 21 Jason Anderson Suzuki RM-Z250 53.021
4 40 Martin Davalos Kawasaki KX 250F 53.091
5 338 Zach Osborne Honda CRF 250 53.146
6 38 Kyle Cunningham Yamaha YZ250F 53.333
7 74 Max Anstie Suzuki RM-Z250 53.409
8 59 Christian Craig Honda CRF 250 53.485
9 31 Travis Baker Yamaha YZ250F 53.525
10 28 Tyla Rattray Kawasaki KX 250F 53.615
11 32 Malcolm Stewart KTM 250 SX-F 53.817
12 43 Cole Seely Honda CRF 250 53.848
13 176 Joey Savatgy KTM 250 SX-F 54.430
14 76 Austin Politelli Honda CRF 250 54.438
15 205 Josh Cachia KTM 250 SX-F 54.629
16 36 Jessy Nelson Honda CRF 250 54.719
17 992 Jean Ramos Kawasaki KX 250F 55.401
18 78 Scott Champion Honda CRF 250 55.714
19 98 Chris Plouffe Honda CRF 250 55.936
20 396 Diillan Epstein Kawasaki KX 250F 56.028