Washougal Motocross
Washougal

,

WA
Washougal
Lucas Oil AMA Pro Motocross Championship
GEICO Honda's Justin Barcia said two things heading into Washougal. First, he was sick of getting second place. Second, he struggles on harder, slippery tracks like Washougal. Something had to give, and in this case it was Barcia's bad rep on the slick stuff, as he delivered his second win of the season. Next up, his favorite track, Southwick. Here's what he had to say after the race.

Racer X: You got out front. That first moto went your way. Great battle in the second with Blake Baggett. Your thoughts on that.
Justin Barcia: My thoughts on the first moto was, it was awesome. I had to ride really hard. I was behind Marvin [Musquin] forever and I finally got sick of the roost. Like everyone says, the roost is brutal here. It hurts so bad. Even if you have on the protector, it doesn't really help, it just hurts. So I made that pass and Eli [Tomac] was on me most of the first moto towards the end of the race. He kept the pressure on. It was awesome. I won that one. Then second moto, great holeshot and was just riding my own race. Then [Blake] Baggett came up and passed me. I tried to pass him back and was just going for it as hard as I could and ended up losing my front end in probably the second to last lap in one of the corners. I just pushed maybe a little too hard and that was pretty much it.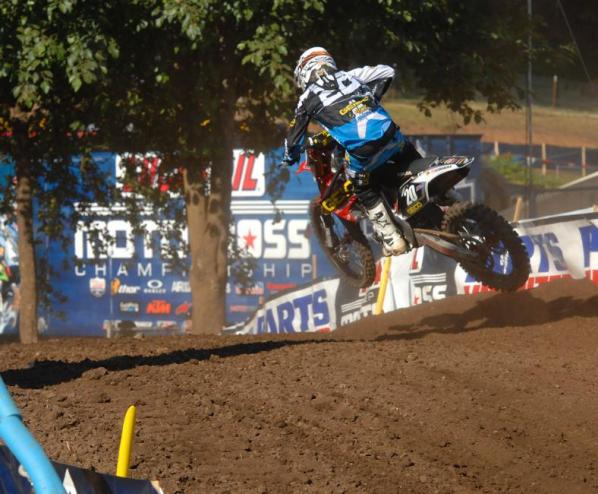 After capturing the overall at Washougal, Justin Barcia has closed to within eleven points of points leader Blake Baggett.
Carl Stone photo
You took a line that was way outside on Horsepower Hill going up. I noticed in a couple cases, your bike was just wide open, revving and even popping. You were also going fast down that hill into the S-turns. Is it just that section of the track that you like? Because you were wide open going through there.
Yeah, it was awesome. Honestly, down that one back straight, I didn't really want to shift up because it was just going way too fast, so I just revved it up pretty hard! It was good toward the end to get some engine brake going on. I didn't really have to ride my brake too much, so it worked out perfect. That sucker was popping for sure.
Southwick is coming up and des Nations is a sand track this year. A lot of people have mentioned you for the team since you do well at Southwick. Is there kind of a pressure to do well at the next race?
Yeah, for sure. I love the sand. I'm the sand man. So, if they're gonna pick anybody, I'm up for it. I do love Southwick a lot. Obviously, Ziggy from Factory Connection lives out there. We've been great friends for a long time. Southwick's badass.
On the opposite end, you said last week that this is one of the tougher tracks for you. So you've got to be pumped with how this went down.
Honestly, I don't want to say I was nervous coming in here, but I definitely wasn't very comfortable. Last two years I've really struggled here. I'm the worst hard pack rider ever. But, after today, I'm happy because I rode really good. Usually in the past, I revved out a lot, I didn't like to shift and on hard pack, that doesn't really work. This year it was way better on that. We've worked a lot on our bike setup and stuff. I didn't make any changes today, just a rear tire and it worked out perfect.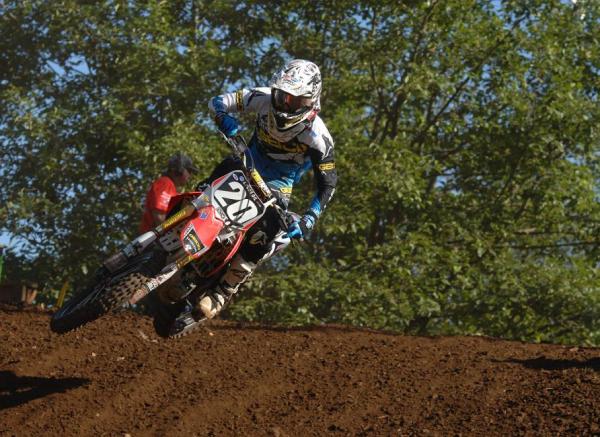 Barcia will be the early favorite when the series returns at Southwick.
Carl Stone photo
Come on dude, Las Vegas is hard pack too and you did pretty good there. You're turning it around.
Yeah, I turned it around for sure. I grew up in New York and you get some loam and pretty good ruts. I don't like hard pack, but I'm starting to get a lot better at it, so that's good. My dad should have just rented a roller back home because he made that track so hard. It was not fun to ride on all week.
Talk about that second moto and just how hard you guys were going at it.
It was good. I had a really good pace going, good holeshot. Obviously, I knew Blake [Baggett] was coming. He was there for a majority of the race and he made the pass. I actually almost passed him back. I could've done a Bam Bam, but I was nice -- nicer -- to him. So I just chased him down and I was pretty close those last couple of laps then just pushed in one of the corners too hard and that's what happened. I'm not upset about that, though, it just shows that I have heart and I want it and I'm willing to go for it.
You said you weren't going to make any changes for Southwick. You were on the 450 last year. How's that going to be coming from the 450 last year to the 250 this year?
Oh, it'll be good. My property's right down from Tallahassee and they have pretty good sand trails in there, so I'll be riding that sand stuff all week. It'll be good. You know, 450 or 250, it doesn't matter. I really like the 450, but the 250, you can really wring that thing's neck at Southwick. Honestly, I don't know how those bikes stay together at Southwick because you're wide open everywhere. Seriously, Southwick's awesome. It's been really good to me. I got my first pro win there and it was a pretty muddy day, so that was cool. Last year we had some bike problems first moto, but I won the second one. It's a good one. I like it a lot.