Washougal Motocross
Washougal

,

WA
Washougal
Lucas Oil AMA Pro Motocross Championship
By Jason Weigandt and Aaron Hansel
Jeff Ward Racing's Josh Grant has had a solid, but not spectacular season. At Washougal he explained that he's been happy with his riding but just needed a better start to show what he can really do. He got that start in moto one, gating second behind Mike Alessi. But a few laps in, he crashed out of that position hard. He gamely fought back for 17th in the moto, and then scored a solid sixth in moto two.
The Jeff Ward Racing team has been linked to signing Dean Wilson for a 450 ride in 2013, but at the moment, nothing is officially official.
Mike Alessi picked the right race to win. Leisure Concepts, the parent company of the MotoConcepts team, is based in Spokane, Washington, about three hours from Washougal. A Friday night team dinner was packed, and Mike had plenty of employees cheering him on during the motos. For good measure, teammate Mariana Balbi went out and grabbed a podium in the WMX Class.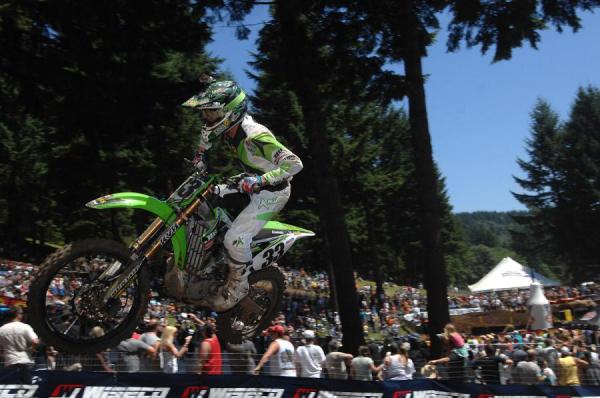 Josh Grant suffered a big crash in moto one, but was able to rebound with a sixth in moto two.
Carl Stone photo
The Lucas Oil Troy Lee Designs team figured out a great way to promote their 2013 gear line--by building custom bikes to match the gear! Their orange CRF250Rs definitely got attention throughout the day.
After a huge crash launching up a hill (without his bike) at Millville, Kyle Regal was fighting a sore back at Washougal. After a rough first moto, he and the JGR/Toyota Yamaha team decided to call it a day--the team semi had already pulled out before the second 450 moto had begun!
Another race, another solid day for Colorado privateer Derek Anderson, who went 19-12 for 17th in the 450 Class. Anderson also received the RC Hard Charger Award for a come-from-behind effort last week at Millville.
After a strange allergy attack last weekend at Millville, Honda Muscle Milk's Tommy Hahn spent the week getting blood tests to figure out what happened. Turns out he has an allergy to certain chemicals in dirt, and will now have to give himself three shots a day for the next year to build up an immunity. That pretty much sucks! But the good news is that Tommy didn't have any problems at Washougal, and delivered solid 7-7 scores.
Sweden's Fredrik Noren finished eighth in 450 moto two!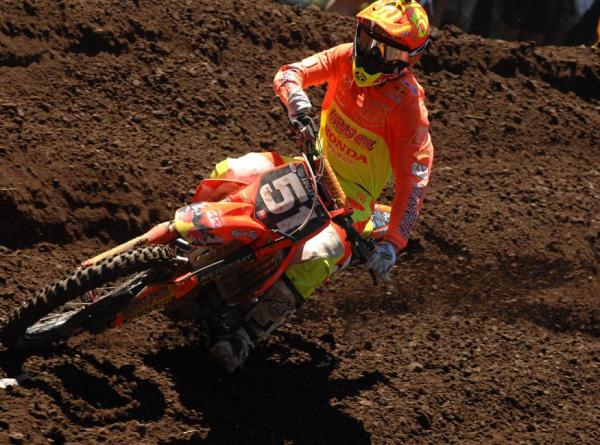 The Lucas Oil Troy Lee Designs team built custom bikes to match their new 2013 gear.
Carl Stone photo
It really was a family affair for Josh Hill at Washougal. Not only did he make his return to the Nationals for the first time since 2009, his little brother Justin was on hand to watch. Justin was expected to be a top gun at the Red Bull Amateur National at Loretta Lynn Ranch, but a torn ACL has ended his season early. Justin says he has a pro deal lined up for next year, though, so the Hill boys may just rent an apartment together in Southern California and work together in riding and training for 2013. Josh Hill recently sold the house he owned in California and is living in his native Pacific Northwest full time right now.
Monster Energy Kawasaki's Tyla Rattray didn't have a good day at Washougal, with 15-18 scores for 19th. In just his third U.S. race on a 450, he was having a tough time finding the right set up for the track.
It has been an up and down season for Ryan Sipes in 2012, and the roller coaster continued as his Star-Valli Rockstar Yamaha team switched him from a 450 to a 250 for the race. But his day was actually totally consistent, with 8-8 scores for ninth overall.
Also consistent: Malcolm Stewart went 11-11 for 11th overall in the 250 Class.
Beyond Sipes, the rash of bad luck that the Star Valli Rockstar Yamaha team has been experiencing all year continued at Washougal when the team's newest recruit, Cole Thompson, crashed out early in the first moto. Thompson sat the second moto out, leaving what was one of the largest teams at the beginning of the year with just one active rider (Ryan Sipes) for the second set of motos. Star Valli hopes to rebound at Southwick, where Kyle Peters, Thompson, and possibly Nico Izzi will be back in action.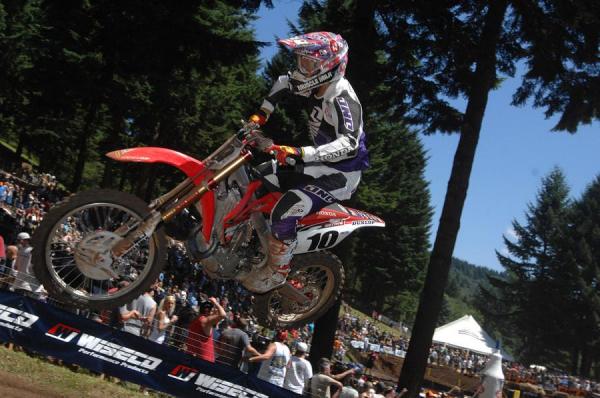 Justin Brayton also suffered a big crash at Washougal, but should return at Southwick.
Carl Stone photo
It was a bad one for Monster Energy Pro Circuit Kawasaki's Ivan Tedesco. Returning to the races after missing a few rounds with a knee injury, IT tweaked the knee again in moto one and had to call it a day.
You want to know how business gets done and championships get won? Pro Circuit's suspension guru Jim "Bones" Bacon didn't go to Washougal, but he was watching the first moto coverage live on FUEL TV. After Blake Baggett struggled in moto one, he called Bones to get some setup tips--some clicker changes and a tire switch made Baggett more comfortable for moto two, which he won.
Baggett is notorious for using the same tire--an aggressive one more suited to soft dirt--no matter what track he's racing on. But he decided to try a hard pack tire for Washougal in the first moto. After a sub-par result, he switched back to his old favorite for moto two.
Justin Brayton's recent string of strong riding went on pause when he crashed out of the second moto (he was fifth in moto one). This morning, the Team Honda Muscle Milk rider told us he's okay, just a little sore.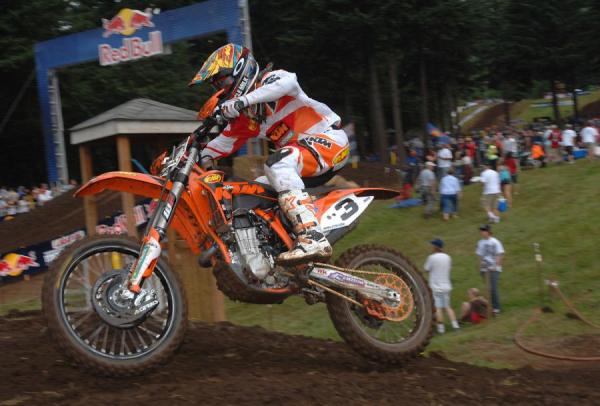 Mike Brown is just three points shy of retaining his national number 3 for another year.
Carl Stone photo
Langston Witt Racing rider Les Smith had some bad luck in the first moto at Washougal when an early crash resulted in a torn fuel line and a subsequent DNF. The crash was big enough that Smith had to get checked out by the medical crew before the second moto. He received clearance and despite a bad start a tip-over in moto two, was able to charge up to fifteenth for twentieth overall.
Mike Brown also had some bike-related issues put a damper on his day. Brown, who ran as high as sixth place in the first moto, crossed the line in eleventh. In the second moto, he was in eighth place when a mechanical problem took him out of the race. It's a double bummer for Brown, as it ruined what could have been a stellar overall result, and also prevented him from earning the measly three points he now needs to retain his national number 3 for another year. Remember, Brown ran out of gas in both motos at RedBud. Dude needs a break! He should be back for two more rounds this year to get another shot at those points.