Loretta Lynn Ranch
Hurricane Mills

,

TN
AMA Amateur National Motocross Championship (Loretta Lynn's)
Amateur National Motocross Championship
Racing got started very early Saturday morning for the vet racers at the Mammoth Motocross. Blue skies and a smooth, perfectly groomed track awaited the riders as they made their way into the facility. The track wouldn't stay that way for long as the normal bumps, berms and ruts would slowly reappear early in the program.

The Masters class (50-plus) was absolutely dominated by Jeff Ward. Wardy pulled the holeshot and simply checked out in the first moto. In moto two he would have to get by his buddy, Troy Lee, who pulled the holeshot and led briefly. Wardy slid by on lap one and took off again to win the first big, wooden bear of the weekend.
The senior expert class (40-plus) was won almost as convincingly by Dr. D, Doug Dubach. He won both motos en route to the overall but he was kept honest by former northern Californa pro Billy Jo Mercier.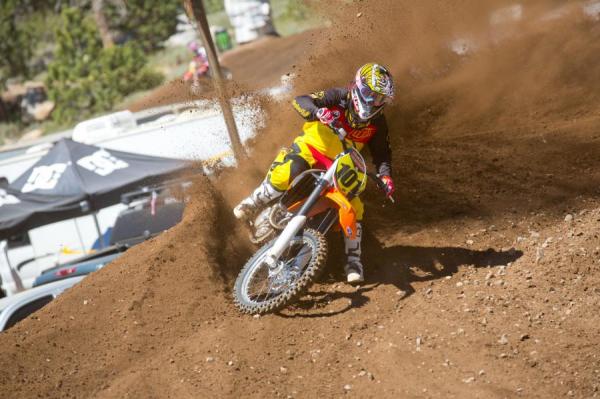 Ping finished fourth overall in the 30-plus class at Mammoth.
Matty Fran photo
The Vet expert class (30-plus) was wild as crashes and DNF's mixed up the standings throughout the day. In the opening moto KTM's Mike Sleeter grabbed the early lead and took off. For the first few laps he stretched his lead and looked to have the moto win in the bag. Just prior to the halfway mark, however, Mike broke a chain and had to push his bike back to the pits. That turned the lead over to Nathan Tierney who was being chased by Tyson Taylor and David Pingree. Ryan Hughes and Rusty Holland were near the front on the opening lap but the two of them got together and went down. Hughes got up and worked his way towards the front but when the checkers flew it was Nathan Tierney with the win. He was followed across by Hughes, Taylor, Pingree, Lars Lindstrom and Jeff Northrop.

The second moto holeshot went to Rusty Holland who was on a mission to have a better second moto. Coming down the downhill on the opening lap Hughes got bumped off the track and reentered after the horseshoe turn. This led to some protests following the race but no penalty was given. Hughes went on to win the moto and earn the overall on the day. Holland stayed in second and Tierney was third in the moto. The overall top five was Hughes, Tierney, Taylor, Pingree and Lindstrom.

Racing continues again today with the same classes. Check back for a Saturday race report later.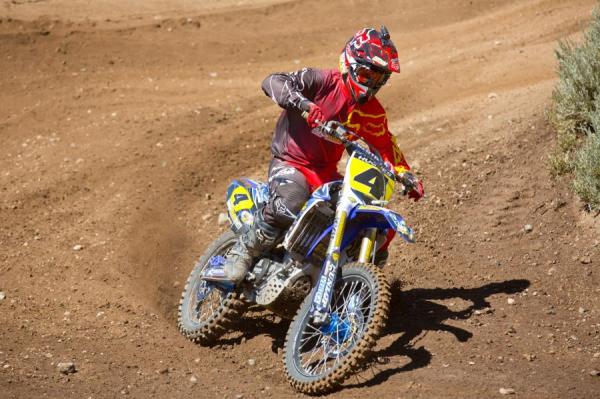 Ryan Hughes would take home the overall on Saturday.
Matty Fran photo