Hangtown Motocross Classic
Rancho Cordova

,

CA
Race Center: Hangtown Motocross Classic
Lucas Oil AMA Pro Motocross Championship
Normally, the opener for the Lucas Oil Pro Motocross Championship, sanctioned by AMA Pro Racing, represents a fresh start after a five-month run through Monster Energy Supercross. That fresh start scenario was totally apparent at the at the 2012 National MX opener at Hangtown, where Yoshimura Suzuki's James Stewart and Monster Energy Pro Circuit Kawasaki's Blake Baggett erased forgettable supercross seasons by dominating the proceedings en route to 1-1 overall wins.
Stewart's much-anticipated full-time return to the series after a four-year absence included a late switch to a new team, Yoshimura Suzuki. Any thoughts that Stewart would have some outdoor rust on him, or wouldn't be able to adapt to his new bike, were gone by the first lap of the first 450 moto. Chaparral Honda's Andrew Short grabbed the holeshot, but Stewart battled him and then made a pass halfway through the lap. From there, Bubba rode a solid race, made few mistakes, and went on to an unchallenged victory.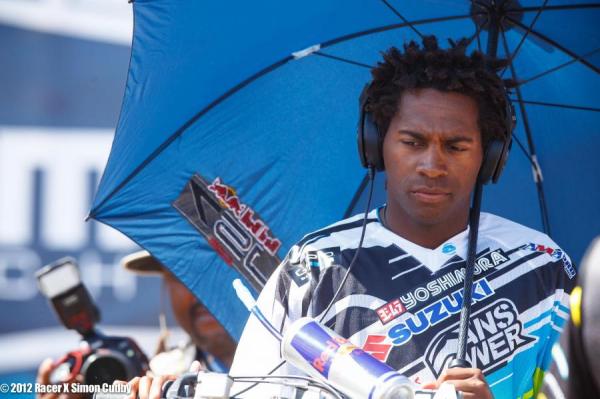 James Stewart's return to motocross went as well as it possibly could.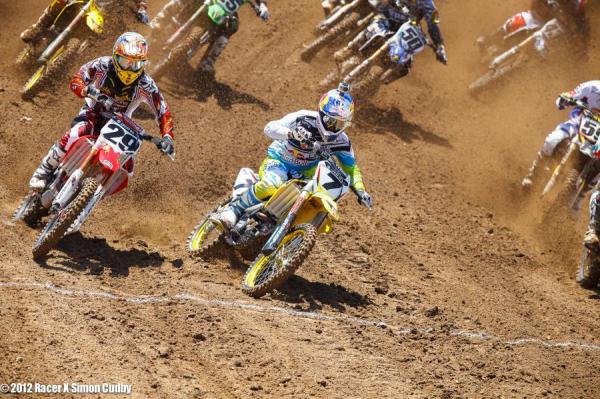 Stewart and Shorty battled for the holeshot in the first moto.
Simon Cudby photos
Behind Stewart a great battle raged between Short, JGRMX Toyota Yamaha's Davi Millsaps and Stewart's teammate Brett Metcalfe. Millsaps rode strong early and challenged Short for second repeatedly, but Metcalfe rolled up on them and eventually passed both for second. Then Red Bull KTM's Ryan Dungey appeared on the scene after a bad start. Dungey, the 2010 Series' Champ, was on a roll and got around Short and then challenged Millsaps for third. But Millsaps responded, found new lines and ended up passing Metcalfe back for second. Dungey then got Metcalfe as well, but Millsaps got away to take second. Dungey, Metcalfe and Short rounded out the top five.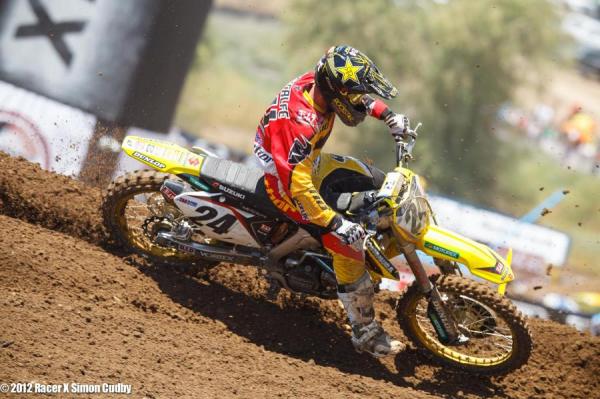 At one point Brett Metcalfe rallied to second and made it a Suzuki 1-2.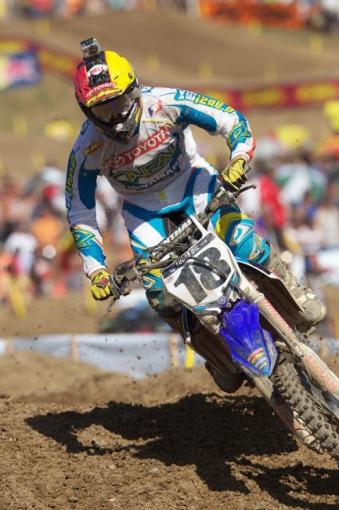 Davi Millsaps rode well in the moto and charged down the stretch to take second.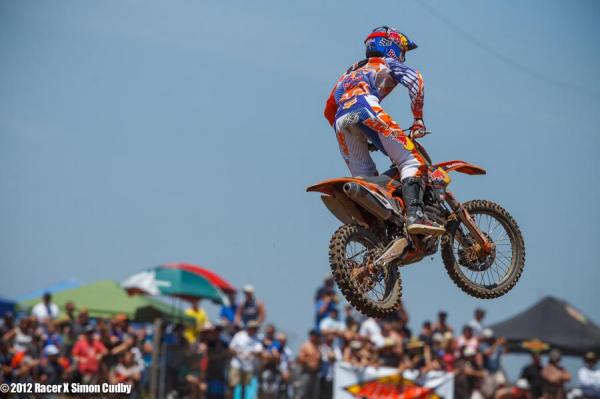 Ryan Dungey overcame a bad start to take third in moto one.
Simon Cudby photos
In the second moto, Mike Alessi grabbed a trademark holeshot on his MotoConcepts bike, but Dungey and Stewart were with him. The three traded lines early, and Dungey made a quick pass for the lead. Alessi responded and got Dungey back, though, and then Stewart made a pass on Dungey, also. Stewart then made the same pass on Alessi that Dungey had made, but he protected his line and prevented Alessi from getting him back. Then Dungey passed Alessi, and the hyped-up Stewart versus Dungey battle was on.
Dungey stayed close, the lead staying between just one or two seconds for most of the race. Then the duo hit lapped traffic, and Stewart was actually able to negotiate it better from the lead than Dungey was from second. Stewart got away, and that was the end of that battle. Dungey took second and Alessi completed a solid ride with third.
"(Today) went better than I thought," said Stewart. "I thought I'd come and struggle a bit, which I did a little. This (season) is one of those things where you continue to build and we got a good start on it. I'm just here to enjoy it. I didn't come to be the fastest; I came to learn the motorcycle. Everything is new. We've got a long way to go. I've been away for a while, but I don't realize how much I miss it till I'm gone."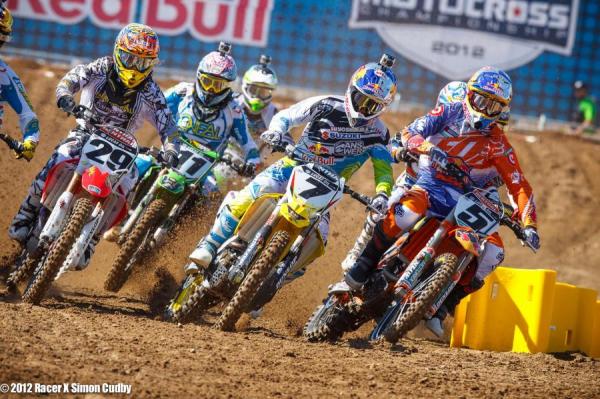 Moto two presented a Stewart Dungey duel.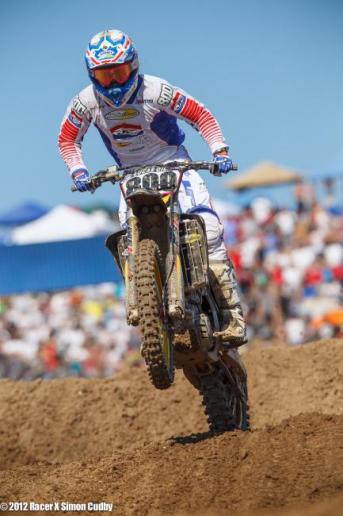 Mike Alessi took seventh in moto one but bounced back in moto two. He holeshot and led.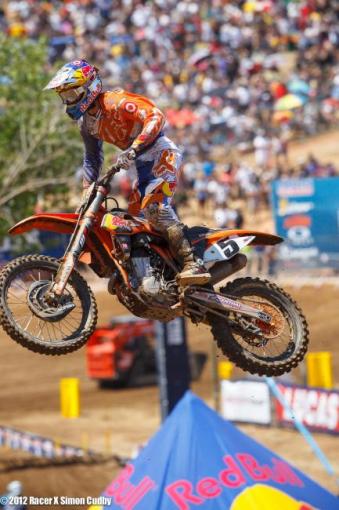 Dungey got a better start in moto two and briefly took the lead from Alessi. Alessi got him back, though, and then Stewart got past both.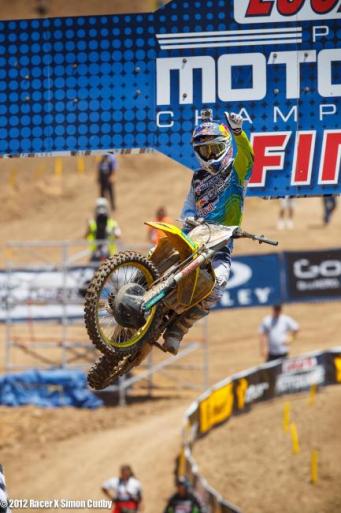 Dungey kept the heat on Stewart for much of the race, but Stewart handled lapped traffic better and stayed strong to the finish to complete a 1-1 day.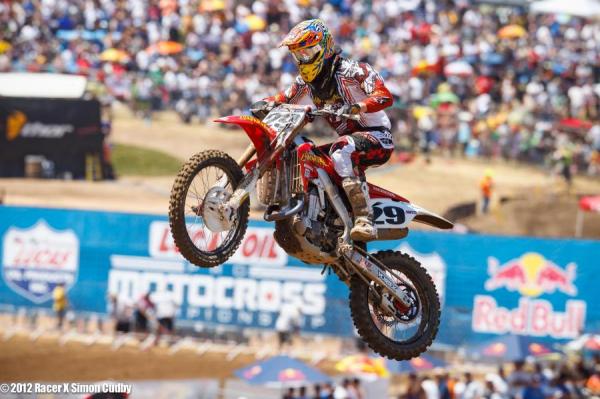 Andrew Short passed Metcalfe on the last lap for fourth in the moto.
Simon Cudby photos
Millsaps was up front early in the moto but had a few crashes knock him back. This left the overall podium battle between Alessi, Short and Metcalfe. On the last lap, Shorty made a pass on Metcalfe to take over fourth, which left all three riders in a tie on overall points. Alessi's better second moto finish (7-3) gave him the tie breaker and third overall.
Meanwhile, more bad news for the Monster Energy Kawasaki team, which had already lost 2011 Series Champion Ryan Villopoto to a torn ACL. His replacement, Tyla Rattray, broke his hand in the first moto and was knocked out of competition for the day.
The hits kept coming for Kawasaki, as defending 250 Champion Dean Wilson retired from competition early in the first 250 moto. Wilson's ailing shoulder just wouldn't stay together, and he's now out for the summer with shoulder surgery.
GEICO Honda's Justin Barcia grabbed the first 250 moto holeshot, with Red Bull KTM's Ken Roczen behind him. Barcia and Roczen hooked up in a great duel for the lead, with Roczen making an impressive pass around the outside. Eventually, Barcia's teammate Eli Tomac closed in from third to make it a three-rider battle, with Roczen's teammate Marvin Musquin and Monster Energy Pro Circuit Kawasaki's Blake Baggett in the mix as well.
Musquin is struggling with a hand injury (he had a new plate and screws installed to replace a damaged plate two weeks ago) and dropped back slightly. Then Baggett reached into his 2011 "El Chupacabra" bag of tricks and turned up the heat. He got past Tomac for third, then kept digging and digging until he caught the Roczen/Barcia battle for the lead on the last lap. Then, amazingly, he passed Barcia for second at the beginning of the lap, and then with about three corners to go, he struck, making the pass on Roczen to take the lead in dramatic fashion. Third to first on the last lap!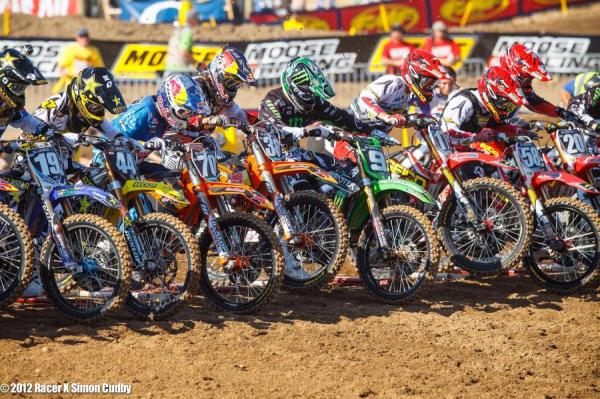 The 250 class blasts off.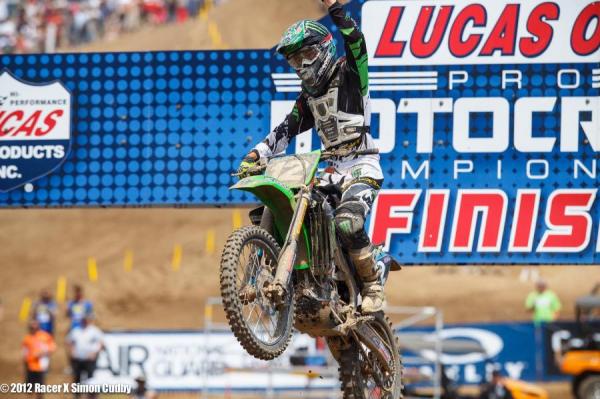 Blake Baggett put together another of his patented come-from-behind charges.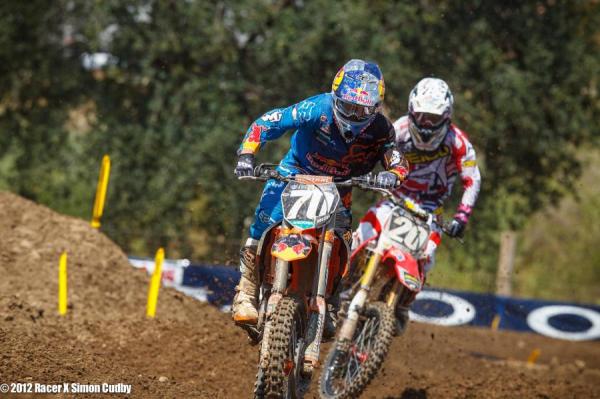 Roczen and Barcia went at it in this moto.
Simon Cudby photos
Barcia and Roczen started moto two 1-2 again, but this time Tomac got caught in a first turn crash. Baggett started third and went for the lead pretty quickly. On the first lap, Roczen fell over while running second. This left Baggett second, and he eventually got past Barcia to take the lead and take off with a 1-1 result.
Roczen only lost a few spots with his early crash, and worked his way back forward. He got to third, and tried to run down Barcia, but came up short and settled for third.
"I just wanted to be on the box," said Baggett. "(Sweeping the motos) is beyond what I came in expecting to do. Every weekend I don't want to ask for too much. I want to be in the points one way or the other with two rounds to go. I couldn't even tell you what was going on in the first moto. I honestly was just bouncing around. I knew in the second moto if I stayed on (Barcia's) rear wheel I could make a pass. The opportunity came and I took advantage of it."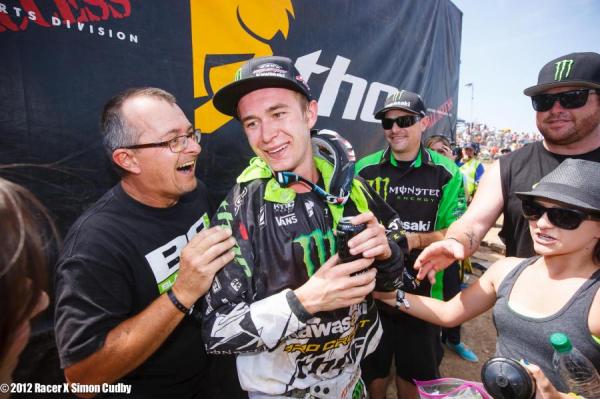 After a rough SX season, the win felt good for team Baggett.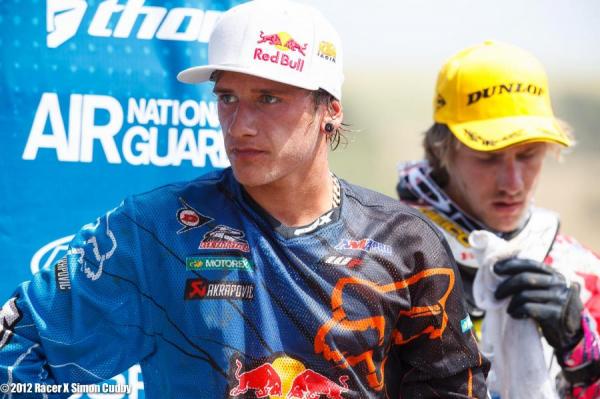 Roczen and Barcia rode well but they couldn't stop El Chupacabra.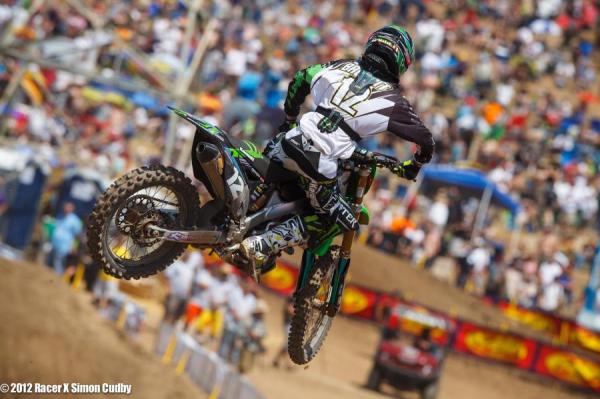 Baggett won Hangtown last year. Can he turn this year's win into a title?
Simon Cudby photo
In am impressive fourth overall came Ivan Tedesco, who was making his return to the 250 class for the first time since winning the title in 2005. Hot Sauce rode well, with 6-4 scores putting him in fourth overall. Tedesco hadn't even completed an outdoor moto since 2010!
Meanwhile, the Rockstar Suzuki team had a good race going in moto two, with Martin Davalos, Jason Anderson and Blake Wharton up front. Anderson looked set for a fourth-place finish until he stalled his bike late and dropped to ninth. This put Tedesco in fourth and Davalos fifth.
The WMX class kicked off their season as well. The first moto showed similar action to last year, with Ashley Fiolek grabbing the holeshot on her factory Honda and battling with Jessica Patterson before going on to get the win. Lucas Oil Troy Lee Honda's Tarah Gieger was third. But all heck broke loose in moto two when both Fiolek and Patterson crashed early. This opened the door for a shocker, as little-known Australian Meghan Rutledge, on a Kawasaki, railed to the moto win. Patterson, meanwhile, had popped her shoulder out of the socket in her early crash, but somehow popped it back in, dug deep and rallied for second. That was enough to give the Rockstar Suzuki first overall with 2-2 scores—despite the busted shoulder!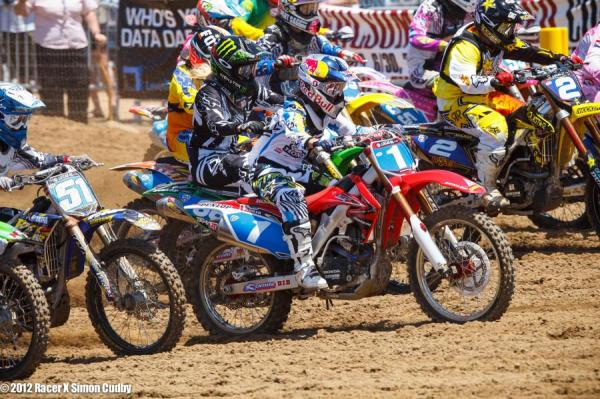 Fiolek ripped two holeshots.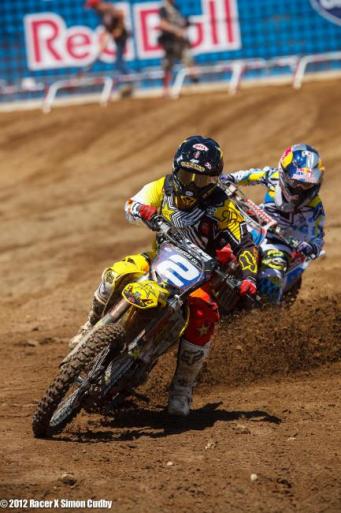 Patterson had a rough day. But grabbed a win!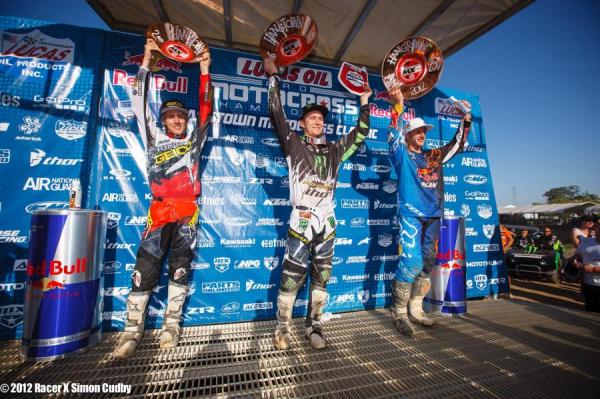 The 250 podium.
Simon Cudby photo
250 Overall Results:
1. Blake Baggett 1-1
2. Justin Barcia 3-2
3. Ken Roczen 2-3
4. Ivan Tedesco 6-5
5. Eli Tomac 4-10
6. Martin Davalos 14-4
7. Kyle Cunningham 9-8
8. Jason Anderson 8-9
9. Marvin Musquin 5-14
10. Wil Hahn 7-13
11. Jake Canada 10-11
12. Blake Wharton 16-6
13. Travis Baker 15-12
14. Gareth Swanepoel 12-15
15. Justin Bogle 21-7
16. Jessy Nelson 13-17
17. Kyle Peters 11-30
18. Hunter Hewitt 17-16
19. AJ Catanzaro 18-18
20. Shane Sewell 19-19
21. Alex Martin 23-20
22. Killy Rusk 20-37
23. Dakota Tedder 24-25
24. Scott Champion 34-22
25. Tevin Tapia 39-21
26. Malcolm Stewart 25-39
27. Topher Ingall 35-31
28. Joey Peters 22-28
29. Zack Freeberg 26-35
30. Brad Nauditt 29-26
31. Travis Bell 30-32
32. Robert Noftz 28-34
33. Landen Powell 31-29
34. Steve Roman 32-33
35. Chris Plouffe 33-36
36. Dean Wilson 36-40
37. Phil Nicoletti 40-38
38. Johnny Jelderda 27-27
39. Preston Tilford 38-23
40. Jason Potter 37-34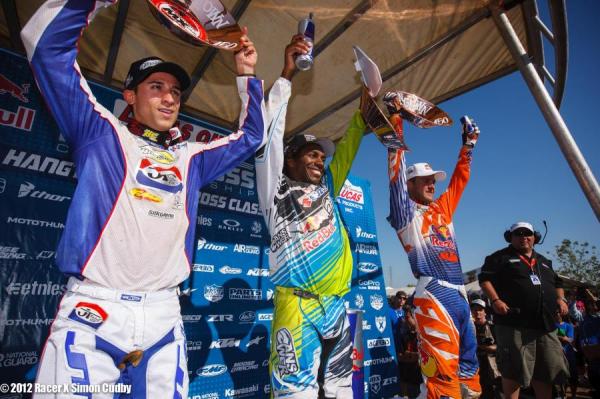 The 450 podium.
Simon Cudby photo
450 Overall Results
1. James Stewart 1-1
2. Ryan Dungey 3-2
3. Mike Alessi 7-3
4. Andrew Short 5-4
5. Brett Metcalfe 4-5
6. Broc Tickle 6-7
7. Davi Millsaps 2-14
8. Jake Weimer 10-6
9. Josh Grant 9-8
10. Nico Izzi 11-10
11. Kyle Chisholm 13-9
12. Robby Kiniry 12-13
13. Jimmy Albertson 17-12
14. Tommy Hahn 8-27
15. Matt Lemoine 19-11
16. Vince Friese 15-18
17. Sean Collier 14-24
18. Ryan Sipes 25-15
19. Justin Brayton 24-16
20. Nick Wey 16-36
21. Kyle Regal 28-17
22. Michael Byrne 18-22
23. Derek Anderson 23-19
24. Kevin Rookstool 38-20
25. Ben LaMay 20-35
26. Billy Laninovich 21-23
27. Justin Sipes 27-21
28. Les Smith 22-28
29. Austin Howell 26-25
30. Sean Borkenhagen 32-26
31. Jason Thomas 30-29
32. Preston Mull 31-30
33. Michael Giese 34-31
34. Dalton Carlson 33-32
35. Dustin Pipes 29-37
36. Josh Greco 36-33
37. Blake Ballard 37-34
38. Dakota Kessler 35-38
39. Ryan Hughes 39-39
40. Tyla Rattray 40-40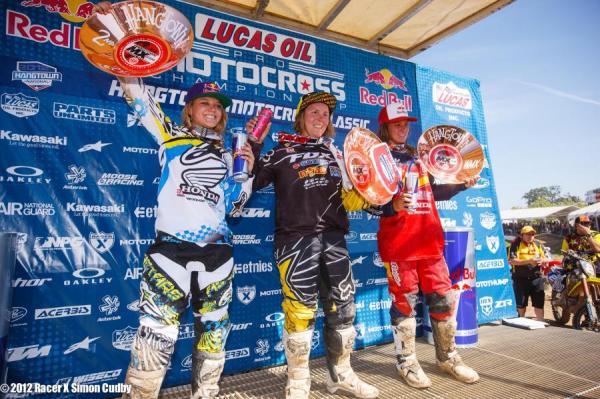 The WMX podium.
Simon Cudby
WMX Overall
1. Jessica Patterson 2-2
2. Ashley Fiolek 1-5
3. Tarah Gieger 3-3
4. Meghan Rutledge 8-1
5. Sayaka Kaneshiro 5-4
6. Kasie Creson 6-6
7. Mariana Balbi 7-8
8. Sara Pettersson 11-9
9. Lindsey Palmer 10-11
10. Hailey Larson 9-13
11. Jacqueline Strong 14-10
12. Sara Price 4-31
13. Amanda Maheu 30-7
14. Alexah Pearson 19-12
15. Sade Allender 16-15
16. Amanda Brown 13-18
17. Taylor Miller 17-16
18. Sarah Whitmore 12-21
19. Brittany Marcotte 29-14
20. Jackie Ives 15-29
450 Class Championship Standings
1. James Stewart, Haines City, Fla., Suzuki, 50
2. Ryan Dungey, Belle Plaine, Minn., KTM, 42
3. Mike Alessi, Victorville, Calif., Suzuki, 34
4. Andrew Short, Smithville, Texas, Honda, 34
5. Brett Metcalfe, Mannum, Australia, Suzuki, 34
6. Broc Tickle, Holly, Mich., Kawasaki, 29
7. Davi Millsaps, Cairo, Ga., Yamaha, 29
8. Jake Weimer, Rupert, Idaho, Kawasaki, 26
9. Josh Grant, Riverside, Calif., Kawasaki, 25
10. Nico Izzi, Rochester, Mich., Yamaha, 21
250 Class Championship Standings
1. Blake Baggett, Grand Terrace, Calif., Kawasaki, 50
2. Justin Barcia, Monroe, N.Y., Honda, 42
3. Ken Roczen, Apolda, Germany, KTM, 42
4. Ivan Tedesco, Murrieta, Calif., Kawasaki, 31
5. Eli Tomac, Cortez, Colo., Honda, 29
6. Martin Davalos, Quito, Ecuador, Suzuki, 25
7. Kyle Cunningham, Fort Worth, Texas, Yamaha, 25
8. Jason Anderson, Edgewood, N.M., Suzuki, 25
9. Marvin Musquin, La Reole, France, KTM, 23
10. Wil Hahn, Decatur, Texas, Honda, 22
WMX Class Standings
1. Jessica Patterson, Tallahassee, Fla., Suzuki, 44
2. Ashley Fiolek, St. Augustine, Fla., Honda, 41
3. Tarah Gieger, Aguadilla, Puerto Rico., Honda, 40
4. Meghan Rutledge, New South Wales, Australia, Kawasaki, 38
5. Sayaka Kaneshiro, Osaka, Japan, Honda, 34
6. Kasie Creson, Vallejo, Calif., Honda, 30
7. Mariana Balbi, Belo Horizonte, Brazil, Honda, 27
8. Sara Pettersson, Sweden, KTM, 22
9. Lindsey Palmer, Conifer, Colo., Kawasaki, 21
10. Hailey Larson, Green Brae, Calif., Honda, 20
R