Rogers Centre
Toronto

,

Canada
Toronto
Monster Energy AMA Supercross Championship
This week the Monster Energy Supercross series rolled up north to Toronto, Ontario Canada. The fabulous country of Canada got to see fireworks, daredevils on motorcycles, people putting tuff blocks into the back of a pick-up truck and Lurch asking us if we're ready for Supercross! Supercross is indeed the same no matter what country you have it in.
There's definitely some grumbling among the teams and riders about the Toronto race as is involves a fair amount of customs work, some teams have to rent different tractors, some industry people can't get in due to legal issues and let's face it, it's a different country, different money and different food, Kind of. I'm obviously a big fan of this race (Duh, I'm Canadian) and think going there is cool. But if you're reading this and you're not a fan of going to Toronto, I have a message for you:
Get used to it, this race ain't going anywhere.
Toronto has had increased attendance every year that we've gone there. It has a nice downtown with lots of hotels nearby, and the Rogers Centre is a nice dome. And with the FIM sanctioning that the AMA Supercross series now has, the series has to visit an international venue every year and with the FIM deal still having another six or seven years to go on it, Toronto looks to be a stop that will be on the schedule for years to come. Oh yeah, and Poutine is a pretty good dish as well. Viva Toronto!
Look I'll make this easy on everyone: Kawasaki's Ryan Villopoto won Toronto. This is no surprise as the guys that RV is currently racing, while incredible gnarly riders, aren't on his level right now. Maybe soon they will be but for now, it's Ryan's world and everyone is just living in it. Will he win out? I say no because chances are in these last five races, something happens to him that stops him from winning maybe one race, but it's getting to be a rout. He has over one-hundred points over fourth place Davi Millsaps and even if James Stewart comes back (and, I'm saying it here, his hand injury will prevent that), this thing is over. RV's the man.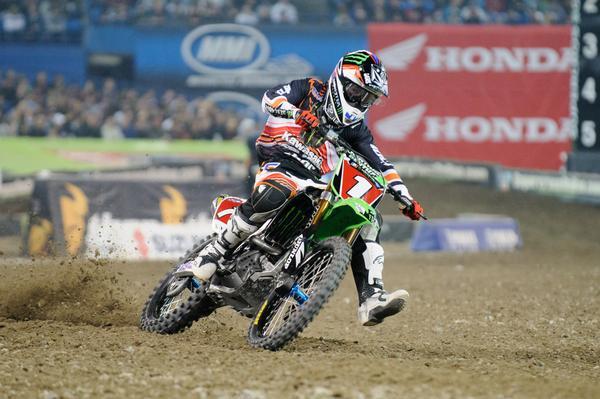 Villopoto continued his dominance in Toronto.
James Lissimore photo
I did a podcast a while back with 42-time Canadian champion Ross "Rollerball" Pederson who happened to be my childhood hero. He was the dominant rider up north for a decade plus and only lost three championships in eleven years (and many of those years, there were three titles a year up for grabs) and since we were just in Canada, I thought I'd bring this story up. (Stick around, I'm working into something relevant besides just another Rollerball story from Matthes).
What I found interesting was Ross telling me that he couldn't let his rivals, guys like Doug Hoover, Al Dyck, Jeff Surwall and Carl Vaillancourt, beat him too many times. He remarked that getting beaten once was okay, but he (Ross) couldn't let them beat him two times in a row. That would give them confidence and Pederson knew that this game called motocross is very mental. He had to do whatever it took so that these guys wouldn't think for one second that they were better than him.
Here's where I bring it around to 2012 and not leave it in 1987 like I tend to do with a lot of things in my life (have you heard the new disc from Leoppard called "Hysteria"? It's awesome). Last week in Indianapolis, Honda's Justin Brayton led some laps and put in a nice ride to get second. Brayton's a great rider and certainly full of confidence right now. He's never won a main event but he's starting to "believe" he can. And this folks, is where Ryan Villopoto and Ross Pederson are the same guy. After Brayton led laps last week and finished second, he came out at Toronto and set the fastest time of the day. And then he holeshot the main event and maybe, just maybe, thought he could get his first win of his career.
At this point, please see this quote from Villopoto from after Toronto about Brayton and his improved riding:
"They (other riders) see opportunity, then their confidence rises, they start riding better than they have all year, then I'm like 'don't make a mistake' and I kind of ride timid. So, it's tough. The last few weeks, like you said, Brayton's been riding really well. I think it caught me a little more off guard last weekend than it did this weekend. This weekend, I was ready for it. I was more prepared."
As he said above, RV was not going to let Brayton think that there was a hope. He was fooled in Indianapolis for a bit but that wasn't going to happen again. Not on Ryan's watch. And just like Pederson back in the day, Villopoto was not going to give Brayton some hope. He motored by him early and kept the hammer down to the end. These pesky newcomers, who do they think they are?
But this isn't to belittle Brayton's ride because the last few weeks, he's been sensational. He's separated himself from the riders he was battling with at the beginning of the season and if something happens to RV, he's right there to win one of these things. Me being the forward-thinking sort, I'm really wondering what Honda is going to do with Justin in 2013 (and no, it's not too early to be thinking about that, a lot of other people in the industry are already knee deep in negotiations). You know Brayton is going to be a solid outdoor guy as well. But here's the rub: Honda's most likely going to have Justin Barcia in the big truck next year and from what I hear, Trey Canard will be back next year (albeit with a hit in base pay and a more incentive laden deal) so that means either Brayton is out, or Honda's going to have to add a rider.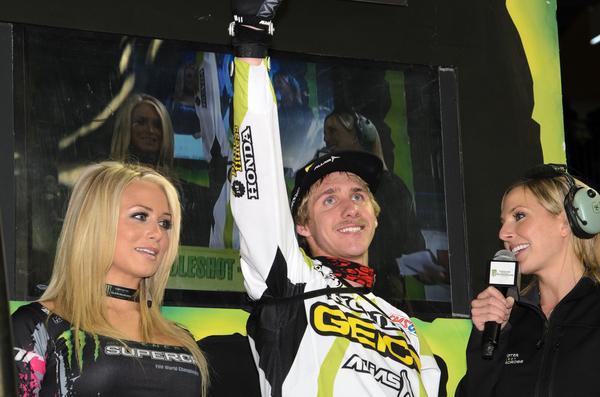 Can anyone slow down Barcia?
James Lissimore photo
They certainly could do that. Brayton knew going into this deal that he could be out after a year, but he's earned himself a long look for 2013 by the red crew.
Good to see Kevin Windham get a podium, and he got it the hard way: He earned it. After a bad crash last week, KW didn't ride all week (although much like Larry Ward at the end of his career, I'd bet there are quite a few weeks where KW doesn't ride at all) and just got therapy and work done on his bad back. So to see him hunt down Davi Millsaps and Jake Weimer to get the last spot on the box is pretty cool. The old guy still has it! And the next two races will take place in Houston and New Orleans, where he will have as much of a hometown advantage as you can get in supercross.
I felt kind of bad for Villopoto this week in Canada. Usually, Windham gets the loudest cheers each week while RV is just a little behind in this category. How do I measure it you ask? Just my ears bro, just my ears. Anyways, RV or any of the other riders really didn't get much rise out of the Canadian audience (we're Canadian, we're not all about expressing ourselves) and Windham was the only guy who could get the fans to cheer. It was such an overwhelming cheer for Windham that I wondered if the other guys were wondering what they did to Canada?
What can you say about Justin Barcia that hasn't been said? Much like Ryan Dungey in 2010, I can't really find any more adjectives to describe the season he's having. Barcia got another win in Toronto and that's five out of six for him in the Lites East Region and Barcia is putting a stamp on this series. We all thought it was going to be close but he reminded us just why he's got that number one on his bike. It was over before it started for everyone else.
I thought Ken Roczen rode pretty well, maybe his best race of the year. He got second, led early, kept Barcia honest and despite having the flu before the race, he rode great. He definitely cruised around in practice and didn't put in that hard of an effort, and that's probably because he would have barfed up his lunch of Red Bulls and sausage.
Jake Canada has been great this year for the MotoConcepts Team -- a real surprise. It seems that every week he's been getting better and better, and that is great for him and that team. Canada is proof that many riders just need a chance, just something to go their way and if they work hard and have some talent, they can make something of themselves. Canada, in Canada, had a career-high fourth place this week.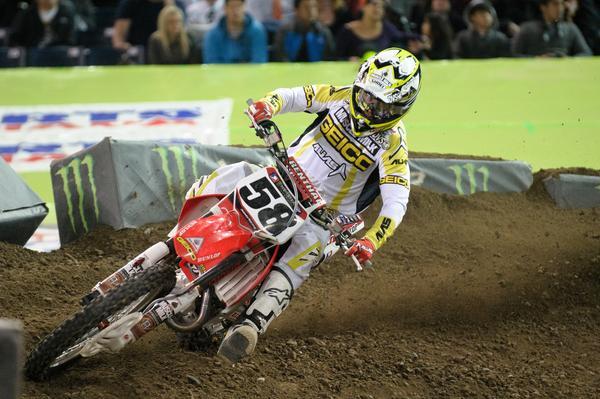 It was a good debut for Wil Hahn in the Supercross class at Toronto.
James Lissimore photo
Walking the track with Honda's suspension guy Shane Drew, I remarked on the length of the start straight in Toronto, which was probably the longest of the year. He just claimed right there and then, at 11:25 AM the morning of the race that "We'll holeshot tonight…" and seeing as he's not usually a guy that makes bold claims (No, I leave that up to me who seems to "stamp" quite a bit of things and am running at about a 50 percent success rate right now) I expressed amazement. He just said their bikes are killer fast and the longer straight played into their advantage.
And what did I see in the main event? Well after I saw Wil Hahn holeshot a heat race, I saw the number 10 of Brayton going warp 9 into the first turn with a holie. Afterwards I asked Brayton about it and he said that once the factory Hondas hit third gear, it's a rocket ship and Hahn told the Pulpmx Show that it was like being strapped to a missile. I admire Drew for calling his shot and then making it happen.
What's going on with Blake Baggett? The championship hopes of Baggett and his Pro Circuit team are long gone. Blake was one of the favorites going into the season but he's just been off at most of the races. He's had a few podiums, but generally the races he's been bad in, have been really bad. He had a LONG talk with his trainer Aldon Baker by the podium after the race and he didn't look happy. Blake's a good kid and works hard so I'm not sure what's going on. Maybe he's got some girl problems? Something behind the scenes? I don't know, but it wouldn't be the first time that happened in our sport.
Myself and Chad Reed were wondering where the safety lights were on top of the triples this week. Instead there were flaggers with the red cross flags stationed there. I wondered if the red lights got caught at the border trying to smuggle some coke in but nope, according to this email I got from a track worker, the answer was much simpler than that:
"Hey Steve, I worked Toronto SX for Feld and want to explain why we didn't use the lights. The stadium had a repeater that was the same frequency as the lights. So the lights could go off involuntary during the races, which could be very dangerous. Toronto is the only stadium that has had this interference."
And now you know.
Let's take a look at the results shall we?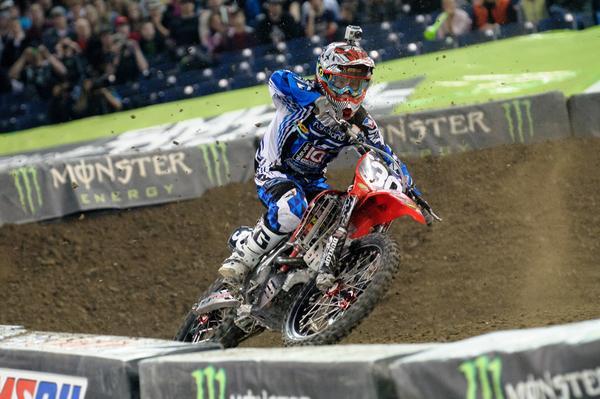 Alex Martin had a season high sixth in Toronto.
James Lissimore photo
Lites East Overall
1. Justin Barcia Hon
2. Ken Roczen KTM
3. Blake Wharton Suz- And nice to see him play the national anthem before the race. Double duty!
4. Jake Canada Hon
5. Darryn Durham Kaw
6. Alex Martin Hon- Best ride of the year for the Ewok Warrior. And this includes a crash! But then again, outside of the top four guys, I think every single guy crashed.
7. Tommy Weeck Hon
8. Justin Bogle Hon- Bogle will figure it out, he's going through a rough patch right now but he's got too much talent, on too good of a team to not break through here and start getting some results.
9. Matt Lemoine Kaw
10. Jeff Gibson Hon- Yeah Gibson! Top ten for the veteran racer.
11. AJ Catanzaro KTM- I can't keep Catanzaro, Smith and Vincent all straight out there. I'm always confused and trying to figure out which is which number and which KTM team they ride for.
12. Shane Sewell KTM- Flying Sewell brother just outside the top ten.
13. Malcolm Stewart KTM- Mookie's not having a good year.
14. Tyler Bowers Kaw- Bowers crashed with Martin in what has to be the biggest height differential between riders that have ever crashed into each other in supercross history. There are no records kept for this sort of thing so I could be wrong.
15. Blake Baggett Kaw
16. Dakota Tedder Kaw
17. Lance Vincent KTM
18. Kyle Peters Yam
19. Shawn Rife Hon- Rife had a great ride going, maybe the best of his career, before crashing out in an incident with Durham.
20. Phil Nicoletti Hon- I think Filthy Phil's bike broke. Outside of his first round fourth, Nicoletti doesn't have many results to show for how fast he's been.
Supercross Overall
1 Ryan Villopoto Kaw
2 Justin Brayton Hon
3 Kevin Windham Hon
4 David Millsaps Yam- With Stewart out, Millsaps has himself a brand new tank/shroud combo on his Yamaha YZ450F!
5. Jake Weimer Kaw- Somehow Weimer saved himself from death when he launched off the track and onto the concrete.
6 Marvin Musquin KTM- I can't believe KTM isn't making Moose-can do two more 450 races. He's getting better and riding well on the 350, heck I'd just park pull him out of the 250 West series and let him ride it out on the 350.
7 Kyle Chisholm Kaw- The Chizz was great in the heat, like the best he's ridden all year as he worked into second at one point before settling for third. In the main, he found himself all by himself and got caught from behind when he lost the pace.
8 Broc Tickle Kaw- Tickle crashed early in the main when he was on Chisholm and by the end of the race, he was right on Chizz again, so that's a good ride.
9 Robert Kiniry Yam- How could you not like Bobby Kiniry? The guy crashes in practice and most of us would've been curled up on the side of the track crying our eyes out asking for mommy but Kiniry being Kiniry, he got up and soldiered on for his best main event finish of the year.
10 Wil Hahn Hon- This was Wilbur's first ever 450 SX race as a fill-in for Honda. And his first race since Anaheim 1 so a tenth is pretty good. No pressure Wilbur, Barcia, Canard and Seely have just all killed it on that bike…good luck!
11 Justin Sipes Kaw- Look at Pooh Sipes with an 11th. Great job for him and again, if you're the Motosport.com/Ti-Lube Kawi team and have to replace Chris Blose with a fill-in, could you do much better than Sipes?
12 Josh Grant Kaw- Grant had a rough weekend. He couldn't catch Jeff Alessi in the heat race for the last transfer spot. Let me say that again -- he couldn't catch Jeff Alessi for the last transfer spot in the main event. Grant is just coming off injury and probably isn't 100 percent but I don't care, he should be much better. The way he was grabbing the brakes before the whoops made me think he's still hurting somewhere. The rebuilding of Josh Grant has begun.
13 Mike Alessi Suz
14 Matthew Goerke Suz
15 Jimmy Albertson Suz- Albertson was back in the main event and in my opinion, he shouldn't ever miss any from here on out. But now he's got to get used to 20 laps at race speed, which you can't ever truly duplicate at home. When you don't make a few, the first one you do make is sometimes a shock.
16 Jeff Alessi Suz- I've been harsh on Jeff for making the main events and rolling around out there but I have to say, he's been better in the last few weeks. He's at least trying to race.
17 Kyle Regal Kaw
18 Brett Metcalfe Suz- Metty was doing well before crashing at the end of the whoops and not being able to start his Suzuki. Bummer.
19 Nico Izzi Yam- Izzi's got skills but he just doesn't use his head, he's not making many friends out there.
20 Gavin Faith Hon- This just in, Faith is good. I heard he had bike problems in the main event and that's too bad. Watching him in practice, I'm impressed with the rookie.
By the way, most overused phrase of the next few weeks? "______ had his best main event finish ever."
I get a lot of "Matthes, why don't any Canadian racers race?" every year at this race and honestly, it's a real shame and a statement on Canadian moto right now. I have no doubt that racers like Colton Facciotti, Dusty Klatt, Tyler Medaglia and others have the talent to be main event bubble guys. It used to be that team Blackfoot Yamaha wouldn't allow the top riders to race but now with them being gone, there's no reason that the now-KTM backed Klatt and Facciotti or privateer Honda-backed Medaglia shouldn't race. They're all down south at facilities that have full supercross tracks and the race is in Toronto, why not come out and take on the best?
Sadly, just like Facciotti not showing up at the Monster Energy Cup or not trying to privateer it in this year's SX series (which I have no doubt would have transitioned itself into a fill-in ride of some sort), the Canadian racers just don't want to help themselves. I don't know what happened to the old adage of trying to be the best but that doesn't apply to the Canadian guys. They just don't seem to care. Maybe it's their egos, maybe it's their lack of desire but man, guys like JSR, Pederson, Wallin, Vaillancourt must be shaking their heads in disgust when they think about the current state of Canadian moto.
When you add in the pathetic state of Canada's Motocross des Nations efforts, the ongoing feuds with sanctioning bodies and teams and OEM's pulling out of Canadian moto, my home country hasn't been this depressing in a long time.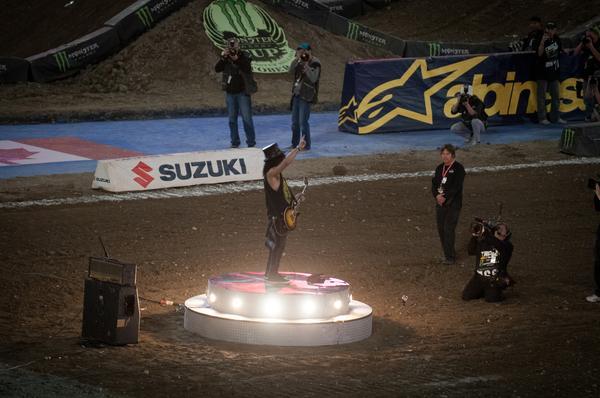 Slash of Guns N Roses fame played during opening ceremonies.
James Lissimore photo
Kyle Regal is having a rough time of things in the two races he's filled in over at the Hart & Huntington team. Seems like every time I look up, Regal's picking his bike up. This weekend though he got absolutely cleaned out by Mike Alessi and Nico Izzi in two separate incidents that were definitely dirty. If something goes down with Regal and the other riders I just named, don't be surprised. Both guys have some payback coming.
The rumor mill is churning with news that privateer Honda rider Tommy Hahn, who has been hurt for most of the year, is going to be the full-time fill in for Factory Honda Muscle Milk for the outdoor season. Again, just a rumor but it makes sense and I hope it happens. Tommy's a good guy and certainly talented.
Slash, ex of Guns N Roses, played the Canadian National Anthem before the race and although no one could really figure out why, it was hella-cool to have him there. The Canadian anthem is pretty wimpy sounding (you Americans have a super cool bitching one with bombs, red glares and flags that are still there) but Slash tuned it up like no other. As I said above, I'm stuck in the 80s so this was a big deal for me. The only bummer was Tevin Tapia asked him for a photo down in the concourses of the pits and Slash, who always comes across as a good guy in interviews, said no.
Still talking about music, I was very, very, very, very excited for opening ceremonies when Kyle Chisholm said on the Pulpmx Show that I can pick his music. And of course, again being stuck in the 80s, I gave him a few Sammy Hagar-ear Van Halen songs to give to the opening ceremonies dudes. Before the night show, he said they were all set and I should get ready to be blown away. So it was with great anticipation that I waited to hear the sweet sounds of Hagar blasting the roof off Rogers Center. But then it happened…they played Halen but it was David Lee Roth-era Halen "Ain't talking about Love" and I was crushed. I haven't been this upset since 1993 when the Maple Leafs lost game 7 to the LA Kings for the right to go to the Stanley Cup final. Good thing my Mac has a keyboard cover on it to protect against the tears steaming down my face. We'll try again in Houston.
Thanks for reading, see you in Houston and if you got something to say to me, by all means email me at matthes@racerxonline.com