Lucas Oil Stadium
Indianapolis

,

IN
Indianapolis
Monster Energy AMA Supercross Championship
By Dean Baker
Last week the motocross world lost late Phil Alderton, who owned the powerhouse satellite team Honda (and then Yamaha) of Troy and revolutionized the role of the satellite team in the sport. JGR Yamaha's lead engine man, Dean Baker—who spent ten years at HoT/YoT—gives us his thoughts and memories of the best riders who competed for Phil's "Fifth Dragon."
I was there from the tail end of the 1993 outdoor season, where I worked with Jeremy Buehl, and then we picked up Johnny O'Mara's Hondas and did the 125 nationals once the 250 nationals stopped. I knew Phil previously, but that's how I came to work for his team—that fall of '93. I worked there from '93 through the 2003 season.
I remember Phil as a guy who gave me a huge career opportunity as a mechanic and as a friend; he was a really giving person. You hear about people giving a shirt off their backs, but seriously, Phil literally would. He was a great friend to me and I went through a lot of his struggles with him, and I wish I could have done more for him. He was a very good friend to me.
The whole thing for me working for Phil was really, really good. I worked as a mechanic for five years and then as the motor development guy for the last five years. Erik said he believed in me and knew I could do the motors for the team. It was a great time for me to learn and figure things out, and without Erik and Phil believing in me, I wouldn't be where I am today.
Todd DeHoop was the original guy for the Honda of Troy team, him in his own box van with some support at the nationals and supercrosses. He was my first guy at HoT, and I thought the world of him. I thought he was a great rider and we really respected each other. It was the early beginnings and it was super cool for me to have that job—I was a retired rider looking for something to do in motocross and this was the start. We didn't aim for race wins, but Todd was a very capable top-ten guy and we often got there. He'd give you everything he had, and sometimes that meant riding over his head. He wasn't scared to twist the throttle.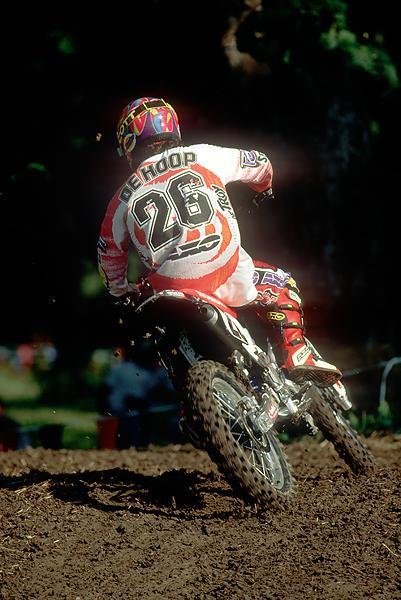 Todd Dehoop was the OG of Honda of Troy.
Photo: DC
Erik Kehoe was another guy who was wrapping up his career, and although Todd was the original rider for HoT, I think Kehoe put them on the map. He was a guy that could win nationals, and maybe he was getting a bit old for supercross. (He could still win outdoors, and he's known for that launch at Gainesville. Look who he's beating out there—Jeremy McGrath!) He was a great guy to work with, and he was really focused on the job at hand. He was very serious and I was in a different position when I was involved with him, in that he was an elder statesmen type of guy. There wasn't much goofing off with him. He made me a bit nervous because he was a big name and took it so seriously. Later on he got injured, broke his back for the second time, and became the team manager at HoT. We all thought that was an awesome idea to have him there. It was a blessing to have him there with his knowledge, and he was already a good business guy when he was a racer. He was great at managing like he was racing. He was manager there for five or six years before he left for factory Honda.
Mike Craig was my pick to work for as a mechanic. I first worked for Mike toward the end of 1994 when Yamaha let him go. At the end of the season Phil told me he was going to break us up because I was expecting too much out of him! I was a little bummed, to say the least. Saying that, though, like Dehoop, you acknowledge their talent level, and to me, Todd was a top-ten guy. But Mike was so talented, I thought he should have been a top-three guy easily. That's what I expected out of him, and when he would goof up and maybe not even show up, it was hard not to be disappointed. I was pumped up and thought that we could win some races.
The following year, in 1995, I worked for Jamie Dobb, and Mike had Shawn Persinger, another mechanic, work for him. For 1996, Craig indicated he wanted me back and Phil gave me a choice of riders to work for. I picked Mike because he was the most talented guy. I thought that with some hard work, he could win. Crazy talented guy. One time he stayed back in Florida with us while we did the Atlanta and Orlando Supercrosses and the Gainesville National so he was stuck with us. He had to answer to us and had a daily schedule with the team. We did a lot of testing those weeks, and inadvertently he got a lot of riding time on the bike. So at the first moto at Gainesville, he was running away with it, and with two laps to go I was high-fiving with Kenny Watson about my guy winning it … and then, boom, he crashed. That was the last time I celebrated before the race was over. He was so talented, but he was a little bit of a loose cannon upstairs.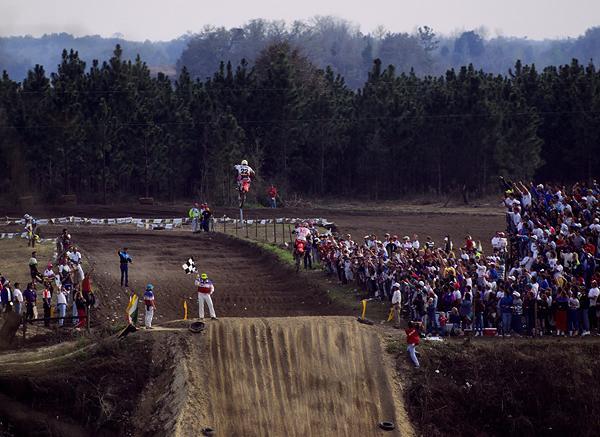 That's Erik Kehoe (left) launching the finish line jump at Gainesville en route to a victory of Jeremy McGrath.
Photo: Paul Buckley
Larry Ward was another guy who had some good finishes for us. He was super picky about his bike and always wanting the right setup. Maybe sometimes he forgot to go race the bike when it was all said and done. Larry was a good guy for the team—he brought us some attention, and looking back, we had the '97 CR250s, and they were a little evil-handling for sure.
Mike Kiedrowski was similar to Kehoe, a hard worker and hard trainer. He knew what he wanted in a bike, and I think he caused everyone on the team to step up their game a bit because he was coming off a factory team and knew how they worked. I remember Honda kicking down some works parts for Mike and giving him quite a bit of support. Before he got injured, he was progressing each race and getting better and better. I think he ended up breaking a finger or something that put him out for a while.
Mike Brown won our first race for the team in 1995 at Washougal in the 125 class. I didn't work for him then, but I always liked him as a guy. Later on, in 1998, I got to work for Mike as a mechanic and that was my last year as a mechanic. I also think it was my most enjoyable one. I really liked working for Mike—he was such a hard worker, times ten. Just over the top. And it was sometimes a negative for him. He would run himself into the ground and probably still does. I would try to work with him with the mental stuff, and I can only imagine the pressure he put on himself to compete with Ricky Carmichael outdoors and as well in 250 supercross, which was never easy for him. He wanted to succeed in the worst way. Mike and Phil were really tight as well. Brownie rode for us three different times—it was crazy that way.
In 1999, we switched to Yamaha as their factory support and we got Ernesto Fonseca on the team. I knew him when he would come to Florida for the winter races. He'd be on this YZ80 with Kodak sponsorship and then he was riding for us on the professional level. Erik and Phil, along with Mike Guerra at Yamaha, followed him as an amateur and got him on the team. I remember thinking he had a lot of work to do on the supercross track—he had a good teacher there, because McGrath was there, and Ernie just stuck to those guys and learned everything he could. I thought he'd do well, but we had Stephane Roncada as his teammate and had more experience. I thought Ernie would play second fiddle to RonRon, but then I remember in the daytime qualifiers at his first race he was pulling a wheelie all the way down the start straight each lap and I figured he'd be okay. He won something like six straight races for us in the 250 East Region. It was an amazing year, and when he won that first main event, I was kind of amazed that my motor won the race. Although we had Casey Lytle and Casey Johnson winning on the West side, Fonseca's wins came out of left field.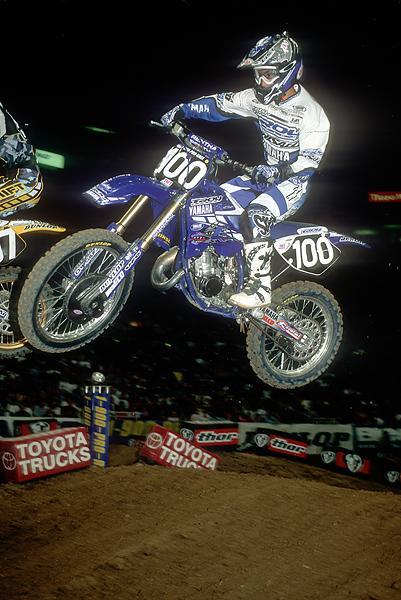 Ernesto Fonseca was a memeber of Yamaha of Troy.
Photo: Karl Ockert
Casey Johnson never won a title for us, but he was super fast and super confident in knowing what it would take to win a race. I remember Lytle would jump anything that the big bikes could jump and Johnson would just sit there and tell us that wasn't going to win the race. We were always like, "Really?" But come main-event time, it was Johnson standing on the top of the box. Unfortunately, he got landed on while he was winning the series and that was it. He was a good guy to have on the team.
Stephane Roncada won a title for us and we had him from the start of his career. The French guys just seem so creative, like they're working outside the box and everyone else had blinders on. He was amazing and got his program on track in 2000 and won the SX title and almost won the outdoors as well. He was fun. You had to trick him into doing activities for training. He was always so talented, but he found a guy who figured out how to do enough physical activity to get him in shape and the wins started coming.
Nathan Ramsey won us a title on the 250F and the Ramsey Rodeo kept it exciting and fun for us. He always had the throttle pinned and his legs were just flapping behind him. With those 250Fs, early on, they were an advantage but they also had some problems. They were in their infancy, and for the most part, we didn't push the limit but because there was no history. Maybe we were pushing the limit. We were finding out what was durable and what wasn't. It's different to simulate a race condition in practice, and our durability testing was insane trying to find out what was a weak part and what wasn't. Then sometimes parts with low hours on them would bite you. With a new bike, it was important to make it successful and not have any failures. I guess we did a good enough job to win titles, but there were a few times you could follow the oil trail back to the pits.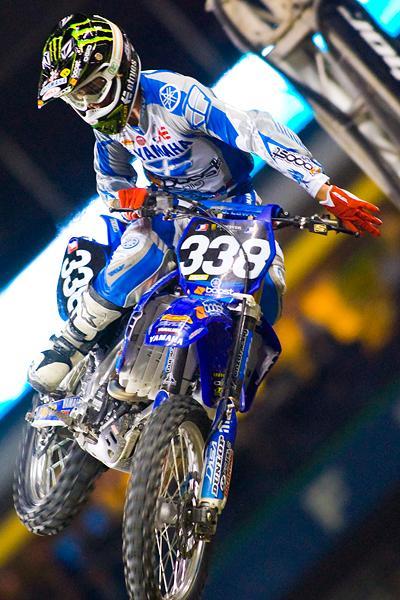 J-Law was the last rider to bring home a title to Yamaha of Troy.
Photo: Andrew Fredrickson
Chad Reed, we had him in his first year as a professional, and I don't think he wanted to be on the 250—and he let us know it. He had a little chip on his shoulder because he had to start in the Lites class. He was always looking forward to the big bikes. That was a good indicator of his drive. We were lucky to have a guy of Chad's caliber. He won some 250 GPs against some seriously fast guys, and he had great supercross skills, coming from Australia. He dominated that supercross series and had a real strong showing in the outdoors where only James Stewart was able to beat him. We had some great races with him, but Stewart had a little more speed.
Jason Lawrence was the last guy to win a title for the team, and I was gone at that point, but he was able to win the 250 West for the YoT guys. He out-dueled Ryan Dungey for the title that year, and although the team wasn't as strong as it was in its heyday, it still showed that the guys running it at the time could pull off something as hard as winning a title.