Lucas Oil Stadium
Indianapolis

,

IN
Indianapolis
Monster Energy AMA Supercross Championship
Everyone knows that in order to get good results on the track, a rider has to be putting in the work off of it. The same is also true of the person working on the bikes and keeping them running right. If a bike isn't set up correctly or is running poorly, the rider isn't going to be competitive, period. For the Violation1.com / Shea Racing / Passportworld.com / National Switchgear team, the man behind the bikes is Brian Storrie of SMS Racing. Storrie's bikes have made it into two main events in four rounds of Eastern Regional Supercross Lites action, including a top ten in Atlanta with Shane Sewell. That's pretty good, especially when you consider the fact that the team has been battling illness and injury. On that token, we got in touch with Storrie to talk about how he got involved with the pro scene, the Daytona mud, and what it's like building competitive race bikes.
Racer X: How long have you been in the industry, and how did you become associated with Shea Racing?
Brian Storrie: Well, I've been working in bike shops for seventeen or eighteen years, and I've been running my own store, SMS, for eleven years. As far as Shea Racing goes, I met Adam Tappe from the team last year, and the Shea Racing guys needed somebody to help them out with technical assistance and parts. I had helped a little bit last year, and they wanted to know if I would be interested in coming on full-bore this year. They originally came to me and just wanted me to supply bikes for the team, but I wasn't interested in just supplying bikes. I was only interested if I could build the bikes from the ground up in my shop, including motors, suspension, the whole deal. I don't feel like anybody is aggressively going after the hop-up market with KTM here in the U.S., and I want to dip my toe in the waters.
Anyway, we put the whole deal together on Friday night before A1. [Note, the team races in the Eastern Regional Supercross Lites series] At that point I didn't have bikes arranged, I hadn't built anything, I hadn't tested anything, but they took a leap of faith with me. The week before, I had built a set of supercross suspension for a local kid, Jeremy Huddleston, and sent him down to a local place called MX Underground, which has a pretty decent supercross track. We made a video of him doing a few laps, and brought that to the Shea Racing guys, just to show that I could build something competitive. We didn't even have any riders lined up for the year, either. At A1, we had nothing other than a handshake agreement and a good dinner.
We really didn't have much time, and to make matters worse, Sean Lipanovich, one of the team riders, went off and broke his collarbone two weeks before the season when he was supposed to come in for final testing. So there went the rest of the pre-season testing! But we finally got Shane Sewell and Jeremy Huddleston on Tuesday before round one in Dallas, and we got a day at Tommy Hahn's house. He was gracious enough to let us come out and I want to thank him for that. Then we got a day at Underground, then showed up in Dallas!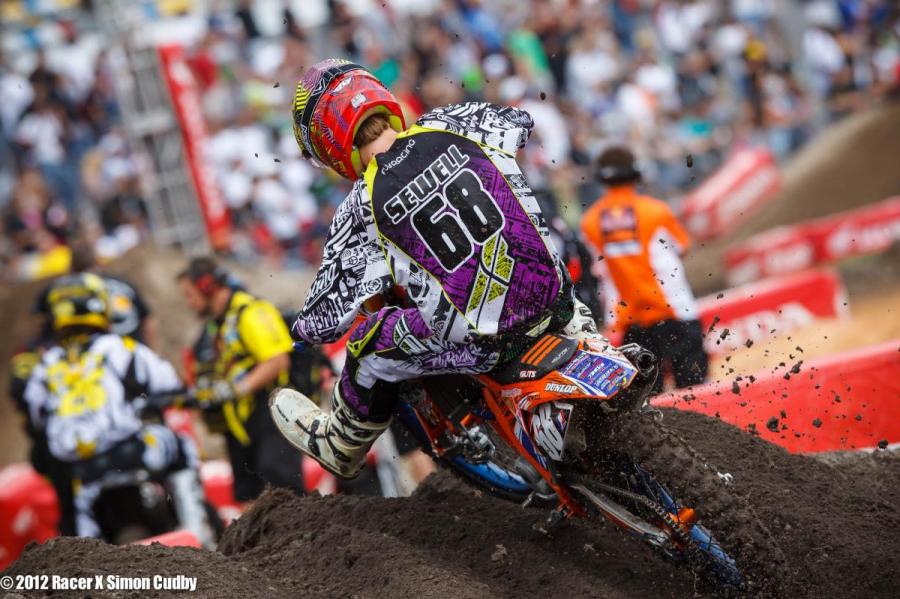 Sewell finished 12th in the mud at Daytona.
Photo: Simon Cudby
Sewell took twelfth in Daytona. Take us through what it's like to prep a bike and keep it going throughout the day when you have a race as muddy as Daytona.
Daytona was a mess, and it's not just mud, it's gritty sand mud, which is probably about the worst thing you can have for motorcycles. It eats up the fork seals, the chain and sprockets, the brake pads, and it'll scuff up the graphics. The bike got washed I think four times that day! We were spraying stuff all over the bike anywhere we could to where it wouldn't take grip away from Shane. We wanted the mud to fall off instead of sticking to it so we could keep the bike light. We ran the suspension stiffer, especially in the rear to keep the rear end up under the extra weight of the mud. Plus, we didn't want to be dragging foot pegs in the mud on the jump faces. We switched over to MX31 Dunlop tires, and they worked really well. I think that was pretty much the standard of what everyone was running out there.
Mud races have got to be absolutely draining on the mechanic. What's the most difficult part of the day?
Honestly, just getting the bike clean enough so that you can check all of the things you need to check, so that you can get the rider out on the track safely and still going fast. When you come off the track in Dallas, Atlanta, or St. Louis, you can roll straight to the truck and start running through your check list and making sure everything is ready to rumble for the next time out. At Daytona, the bike is covered in so much crap that you have to literally clean everything just so you can even see what you need to check. Domed stadiums actually put very little wear and tear on the bike. The bike is going to get an hour or less on it the whole day, with very little sustained wide-open throttle. The typical supercross isn't really very hard on the bike, and Daytona is the polar opposite. I bet we put more wear and tear on the race bike in Daytona, than we will in all of the other races combined this season. There's massive amounts of wear on everything.
How good does it feel when you see a rider not only qualify for a main event on a bike you've built, but put it in the top ten like Sewell did in Atlanta?
For me and Shane, Atlanta was unbelievable. It was a victory for the team, for SMS, and for Shane, who hadn't raced supercross in two years. To make a top ten for him, it just gave him so much more confidence. For me, my second race ever that I built a bike for supercross, to prove to all the doubters that didn't have faith in me… We actually had a rider who was probably going to be on the team, that wasn't even willing to come test the bike, and we beat that person convincingly in that race. It was a personal victory for me and Shane, and it was the best finish ever for the team. It was vindication. I put my money where my mouth was, and went out and showed people that I could build competitive bikes at the highest level.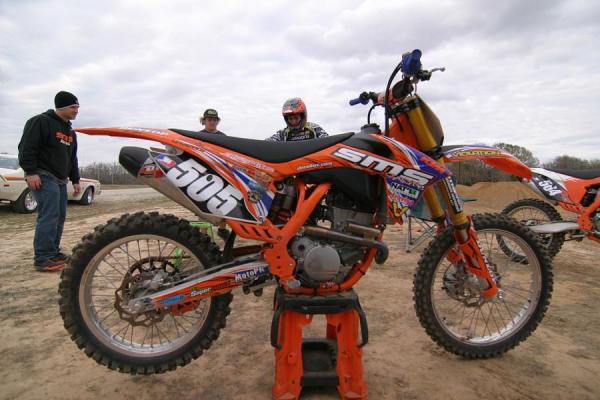 The Violation1.com / Shea Racing / Passportworld.com / National Switchgear bike built by SMS.

What's the most difficult thing about building a race motor?
The most difficult thing about building our race motors, is that we're not a high-budget team. We don't have the money to pull the motors out and send them back to the shop every week. I had to build motors that we could put in the bikes before the season started, and have them stay together the entire season without ever pulling anything apart and rebuilding. I had to get competitive horsepower numbers, but also have engines that could stay together and be reliable for the whole season. We built a motor that's capable of top ten finishes, and at this point, halfway through the season, we haven't touched them other than to change the oil. The whole point is to show normal guys that I can build competitive motors and suspension for a reasonable price, and have them stay together for a whole season.
Sounds like a great story unfolding here. Who do you want to thank?
I'd really like to thank Tim Shea and Adam Tappe for giving me the opportunity to work with the two of them, they're both standup guys. I'd like to thank my wife for putting up with me, I love her very much. And I'd like to thank Fly Racing, DeCal Works, DRD, Micro Tech, Warp 9, DT1 Filters, ODI, Outlaw, Engine Ice, Renegade Fuels, Dunlop, Supersprox, Maxima, Matrix Concepts, Guts Racing, Get Dirty MX, Slick Off Road Wash, Action Sports TV, Super B, Moto PR, Tapped Out Racing and RVMX for supplying the parts and pieces that I asked for so I could build the bikes I needed to build. I'd also like to say the three riders that we have, Shane Sewell, Sean Lipanovich and Jeremy Huddleston, we picked them as much on their character as much as we did on potential results, and all three guys are a pleasure to work with. Lastly, thanks to Jim Holley, who has been a huge help to our team.