Daytona International Speedway
Daytona

,

FL
Daytona
Monster Energy AMA Supercross Championship
By: Aaron Hansel and Chase Stallo
Change of Scenery
This weekend the series heads to Daytona, where the track rides more like an outdoor venue than an actual supercross track. When you combine supercross obstacles with the rough, outdoor-style terrain in Daytona, it can play havoc on a rider's setup, which in turn has the potential to lead to some interesting results. Will it be business as usual for outdoor specialist Ryan Villopoto, or will the track changeup deliver a shakeup in the results?  

The Separator
In San Diego, we saw the return of a nice set of big, long, nasty whoops. The track crew opted to leave them gnarly for the main events, and as a result, the section played a major role in the results when the racing was all over. Well, in Daytona, the riders are in for yet another long set of  crazy whoops; according to the track map, there's nearly twenty of them! Expect them to reward some riders, and to wreak havoc on others.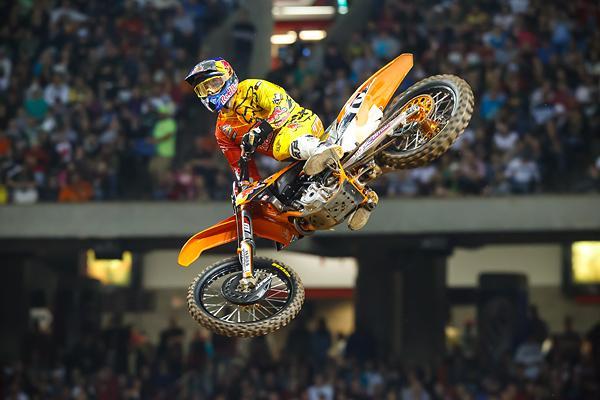 Can Roczen and crew finally take a win away from Barcia tomorrow night in Daytona?
Photo: Simon Cudby

Now or Never
So far, preseason title contenders like Ken Roczen, Blake Wharton, Kyle Cunningham, Blake Baggett, Darryn Durham, and Malcolm Stewart have been no match for red-hot GEICO Powersports' Justin Barcia, who with only three races down, has accumulated an eighteen point lead in what is already a short series. The pressure is especially on Baggett this weekend, who lies seventh in points. He won this race last year and desperately needs to find the El Chupacabra that dominated a bunch of outdoor motocross races last year. And Roczen has experience on the Daytona track after riding a 350 here last year. But Barcia has a new weapon for this year's Daytona event -- four-time Daytona winner Jeff Stanton is training him this year. If Barcia's competitors want to keep their title hopes alive, one of them needs to step up this weekend in Daytona and put an end to Barcia's winning streak.

Mother Nature
If there's anything to be learned in racing, it's that anything can happen at any time, and when it rains, the unpredictability factor skyrockets. Well, don your rain suits and grab your umbrellas, because according to weather.com, Daytona is expecting to receive isolated thunderstorms throughout Saturday, which could turn the track into a gigantic soup bowl. Nasty conditions have the potential to turn a season upside down for some riders, while playing into the hands of mud specialists like Kevin Windham. If the rain comes down tomorrow, expect some drama.

Two Not Four
With an impenetrable sound, an aroma that can be detected from well beyond the fences and arguably the most passionate fan-base in the sport, the two-stroke will forever live in motocross lore. Tomorrow night at Daytona the two-stroke makes its return to Supercross. Privateer Ricky Renner, younger brother of freestyle pioneer Ronnie Renner, will make his 2012 East Region Lites debut aboard a 2009 Yamaha YZ 125. Renner is teaming up with GetDirtyMX.com for a one race deal. Although he will be fighting an uphill battle, Renner is ecstatic about the chance of bringing back the beloved two-stroke. "I'm so pumped for this race. The support I have gotten especially from the guys at GetDirtyMX is just unbelievable. I just want to get out there and have some fun and put on a good show. The fans seem to be just as excited as I am so I'm gonna do my best to put the 125 in the night show," explained Renner in a recent press release. Can Renner run the two-stroke all the way to the night show at Daytona?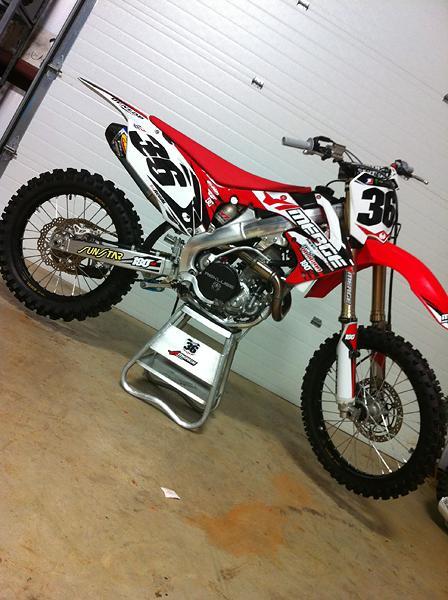 Regal makes his return at Daytona aboard a Merge Racing backed Honda.

Regal Returns
After missing the first nine rounds of the 2012 Supercross season Kyle Regal will make his long-awaited return to Monster Energy Supercross at Daytona. Sidelined since Christmas with a dislocated hip and broken femur, Regal is teaming up with a familiar face. Regal shined as a privateer with Merge Racing in 2010 and the two are joining forces again. Daytona fits Regal's outdoor style but the Texas native was quick to point out his expectations for the weekend is moderate after a 10 month SX layoff. "I'm going to the beach to have fun and see where I'm at," stated Regal.  

Rocky Beginnings
J-Star JDR KTM's Malcolm Stewart has had a turbulent beginning to the 2012 season. After a suspect pass/knockdown on Justin Bogle at the opening round in Atlanta that ended with Bogle slapping Stewart on the back of the head, and the AMA slapping down a $500 fine, Stewart lawn darted while leading his heat race in Atlanta and suffered a mechanical DNF when his bike failed to start in the LCQ. Stewart would bounce back in St. Louis with a seventh but has yet to live up to his potential. Can Stewart shake off a disappointing start to the season and secure his elusive first career podium in Daytona?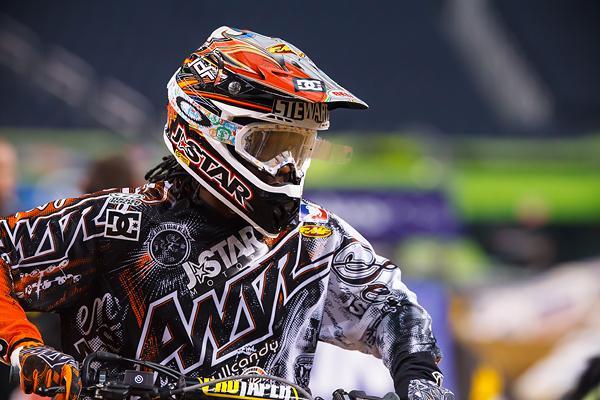 Can Mookie bounce back from a rocky start to the 2012 season?
Photo: Simon Cudby
Who's Next?
Despite battling a painful leg injury Justin Brayton was able to soldier his way to his first podium of the season in St. Louis, marking the sixth different rider to grace the box in 2012—joining Villopoto, Dungey, Stewart, Reed and Weimer. With Reed out of the mix and Stewart still trying to find himself the opportunity is there for another rider to secure a spot on the box. Kevin Windham has been knocking on the door all season and has had success at Daytona. Davi Millsaps seems to be hitting his mid-season stride and can run with the best of them … when he's on. Throw Alessi, Hansen, Metcalfe and the front-running Cole Seely into the mix and there's potential for a seventh rider to reach the podium in 2012. Will the podium faces remain the same in Daytona or can Windham and crew brighten the box with a new look?

Challengers to the Throne
Ryan Villopoto is threatening to get away from the field with four wins in the last five races. Daytona will provide a real test for Ryan Dungey's Red Bull KTM team, with a totally different style of track to dial in on their new bike. Plus, Dungey is running with a sore shoulder after a crash just before St. Louis. On the other end, things seem to be coming together for James Stewart and his JGR/Toyota Yamaha team. Stewart endured a high-profile crash while running away with last year's race. If he can overcome Villopoto and get a W at D, it could turn his season around.