AT&T Stadium
Arlington

,

TX
Arlington (Dallas)
Monster Energy AMA Supercross Championship
With a victory in Dallas, Monster Energy Kawasaki's Ryan Villopoto now has a three-race win streak and a 13-point lead in a supercross tour he wasn't even leading just a few weeks ago. Even bigger,Chad Reed, the rider who was shaping up as Villopoto's stiffest competitor for the Dallas win--and possibly even the championship--crashed out of the race. What kind of impact did that have on RV's race? We asked him for this week's Monday Conversation.
Racer X: Wow, what a race. You and Reed were really pushing it. Or were you? It looked like you were really pushing it. Were you feeling it?
Ryan Villopoto: I was definitely feeling the pressure from him, but at that point, it's like I can't see what he's doing, I can't see where he's going a little bit faster. It's kind of like I'm still going to ride fast, but I'm just gonna settle a little bit and just ride my lines and take my lines and be quick the whole time and try and inch away by him making mistakes. Obviously I don't know what he's doing or where he's going on the track or where he may be a little bit quicker. It's kind of like the deal where I hold it on and when I let it off, he holds it on just a little bit longer.
It's easy for him because he's behind you and it did look like he was out braking you in some spots.
Exactly. He was running it in, sticking it in and he knew where he could do that because he was behind me. At that point, it wasn't like I was just going to open it up and just try and ride away from him because I knew that wasn't going to happen. He was riding really good and I was just going to focus on myself.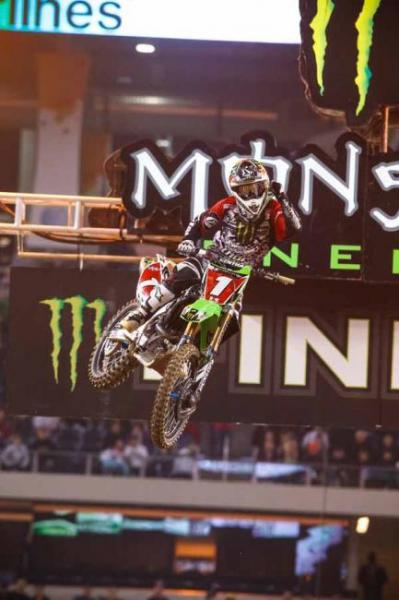 With his win in Dallas, Villopoto holds a 13-point lead over Ryan Dungey.
Photo: Simon Cudby
Is that the hardest you've been pushed this year?
Um, I don't know. San Diego was hard too, but not as early on. He was right there on the first turn.
After he went down, you probably heard the crowd and you felt no more pressure.
I heard his rev in there, too. I figured there was a mistake, enough to give me some breathing room. Then once I hit the triple, I looked over and I saw he was down.
From there , it was really just cruising home. Nothing to make you bummed on the track, huh?
No. Once that happened, it was just cruise it in and stay up.
The track, everyone seemed to like it. Everyone gave it glowing, positive reviews.
Well, I wouldn't go that far. But it was way better than it was last year, that's for sure. The dirt is really weird here. Normally the dirt gives when you case something a little bit and it moves. But here, there's no giving, the bike moves from underneath you when you case something, so you've got to be precise.
Your teammate Jake Weimer, almost second place.
Yeah, I was hoping he was going to stay up front. He did.
What's your points lead, do you know?
I think it's 13 on Dungey then like 30 or 40 on Chad.
Oh, that's big.
I mean, I think it is. Go back and look.
I guess I'm the media, I can go back and look.
Yeah.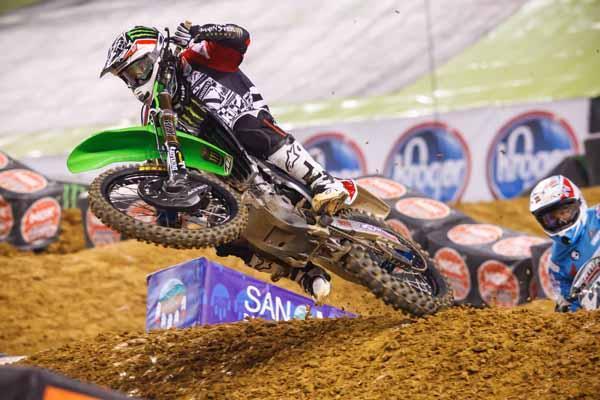 Villopoto looks to make it four in a row this weekend in Atlanta.
Photo: Simon Cudby
Atlanta. Looking forward to it?
Yeah, that's some good dirt, obviously, and they have the sell-out crowd. So it'll be real good.
When are you going back to Florida?
Tomorrow morning.
Are you pumped on that?
Yeah, I've got two supercross tracks now. Well, I had one. Now I just have another one now. It's brand new and we're going to just go back there and get some good riding in.
The solitude of Florida might help you do better.
Nah, I mean I wouldn't just say that, but definitely the track quality is better--it's just a lot better for riding.
Final question for you, it's the question that's going through the pits and you may not have an answer. But what's up with Stewie?
You know, I don't know. I'm not on the team and I don't hang with him, so I don't know. We'll see. He could still pull the hat trick and throw down one of the fastest lap times out there.