AT&T Stadium
Arlington

,

TX
Arlington (Dallas)
Monster Energy AMA Supercross Championship
Perhaps the number-one plate did it, or maybe it was the long wait before the East Region Lites Championship began. Something made Justin Barcia extra nervous before the Dallas SX, but he really didn't show it—after all the GEICO Powersports Honda rider won the race! He seemed much more relaxed when we found him after the race.
Racer X: Okay, the biggest challenge: How were you able to overcome waiting this long to freaking race? It must have been hard just waiting while the west went at it.
Justin Barcia: Well, you know, I went through about 50 cartons of Marlboro reds. [Laughs]
[Laughs] Still on that?
I know right? It's a good joke. Seriously, though, I don't know because today I was a nervous wreck.
Really?
Honestly, I was pretty nervous all day.
Compare it to other openers.
Compared to other openers, this is the most nervous I've been.
Why?
Tell me about it! I don't know why! I rode tight. For like how good I rode today, I was so tight all day. This first race, there's just so much hype. I know I put in all the hard work. I mean, I'm in the best shape I've ever been in and there's no doubt in my mind about that. But yeah, I was just nervous all day.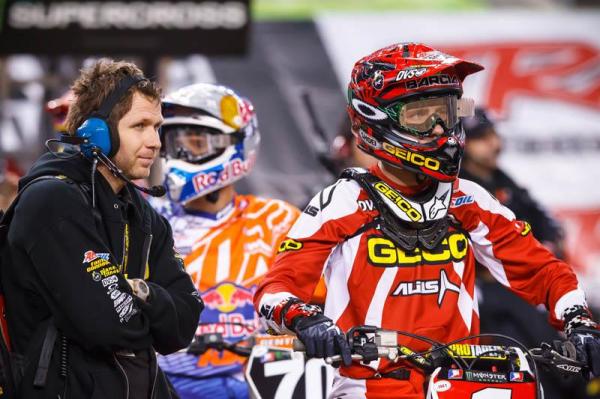 Barcia said he was tight and nervous all day--but luckily his trusty mechanic Snikey was there to try to calm him. A little.
Cudby photo
So do you ever felt like you rode how you could ride?
I felt like the second practice, I rode really well. I wasn't tight at all. Then in the heat race, I didn't get the greatest start and I rode a little tight. I mean, I passed everyone, but I was still tight. And then the main, had a pretty good start and I came off the track and I had arm pump still. So now that this first race is over and the nerves are gone, I think I'm set now. I definitely have another level to go speed-wise. I just feel like with all the time running up to the races, it's just like, let's get this thing over with. I've never had the feeling before of being this nervous. I mean, you're always a little butterflies and stuff like that, but today was kind of stressful.
You're working with six-time now as a trainer [Six-time AMA National Champ Jeff Stanton].
Yeah, six-time Stanton.
You guys have been together since, what, end of the year last year?
Yeah, since like Bercy, or a little bit before Bercy.
So is that actually a long time? When it comes to training does it need to be, like a whole year? Or is it already kicking in?
It definitely already kicked in for sure. We killed it on the off season. He knows what he's doing. I have a lot of good people around me at home. We live in the middle of nowhere. We train, we ride, and then we just have fun. There's nothing better than riding your dirt bike every day and having fun and doing what you love to do, that's for sure.
Is it pretty gnarly, though? Some of the stuff Stanton has got you doing?
Yeah, we do some serious training. Actually, it's pretty cool by my place. I've got like a 5k loop around my property and stuff, so it's sick. We run that a lot. I actually have another trainer at home, too. I've got like a lot of trainers! [Laughs] No, but seriously, I have a weightlifting trainer and I have Stanton and my dad and everyone. We have this good clique right now.
Could that be why you're nervous? That's a lot of preparation. I mean, you've been preparing hard since October or whatever.
I knew I didn't overtrain because we're smarter than that. I've done that before, a long time ago, and I knew I was doing great. I'm stronger than ever. If I took my shirt off right now, you could see my muscles. I'm gonna' keep the shirt on for you, but maybe one of these podium weekends I'll take it off and you can see my muscles.
I don't have a video camera. I don't think anyone needs to see this.
[Laughs] But seriously, though, I am stronger and I feel great on the bike. Our bike is sick this year. We've done a lot of improvements. Everyone has just been doing a great job.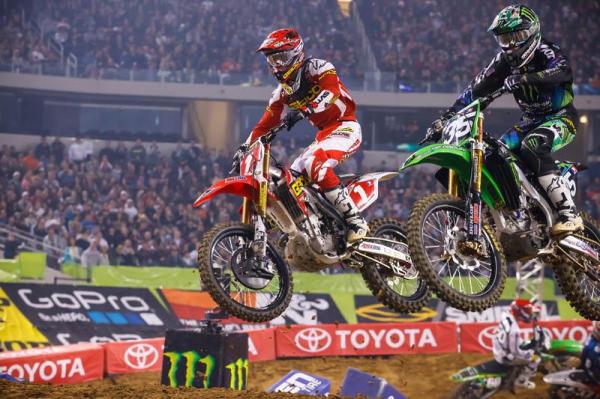 Barcia had to make moves on Darryn Durham to get wins in the heat and main event.
Cudby photo
Take me through the main. It looked like you had many opportunities to full-on bam bam people and you went like maybe 75 percent. You weren't super nice, but not super gnarly, either.
Yeah, I did the bam. Not the bam bam. No, yea, the main, I was sitting up here all day thinking I've got to get a start for sure. So I figured it out, kind of, I got a really good start. Me and my teammate battled a little bit and then finally I got around him. Then I just kind of started picking guys off and got a really good drive through the whoops one lap and ended up getting Darryn in the corner. I just rode the rest of the race from there.
But we haven't seen the full game?
Honestly, I don't think that was the full game this weekend because I was just so tight all weekend. But that's good to win it anyway.