AT&T Stadium
Arlington

,

TX
Arlington (Dallas)
Monster Energy AMA Supercross Championship
Hello, everyone, and welcome to the Rev Up. So, what's going on with our sport? Are we riding a rocket to the top of the motorsports world? With the somber tale of the times juxtaposed with the fading of the factories, are we really placing our feet in the concrete with a product that the world is turning more attention to? That's what the word on the street is. From time to time I hear talk from people—people who are more than worth listening to—and those folks are watching the 2012 Monster Energy Supercross series. Ah, the wonder of the social network. I'm sure you guys have noticed some names tweeting about supercross that you possibly wouldn't have imagined twenty, ten, or even five years ago. The "network" is coy in her delivery because she is instant, and worldwide. Like most of man's inventions, we harness and exploit the power of the technology before truly owning its value. Not to get on that tangent, but when I see NHRA, NASCAR, NBA, NFL, and Hollywood superstars alike tweeting as the main event is taking place, it raises my eyebrows. But that's the deception of the 'net. You see the names and think, everyone must be watching. But they aren't as much as that notion leads you to believe. Are more "influential" people and Forbes 400 companies watching supercross with a vested interest more than ever before? Well, why wouldn't they?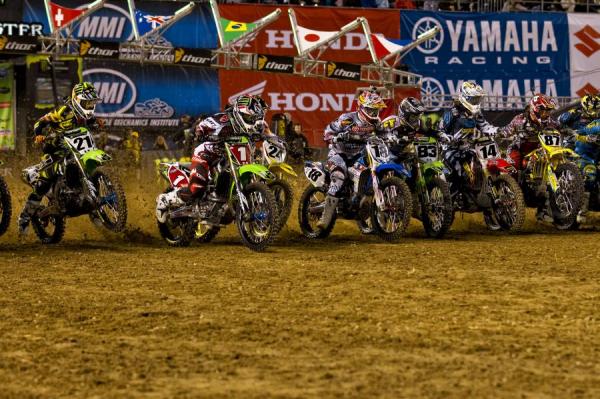 The charge heads east to Dallas.
Photo: Garth Milan
What a show, folks. The charge and energy is at a level we've never been this lucky to flaunt. Supercross LIVE on SPEED has been the beating heart of American motorsports since the turn of the new year. Our product is compact, dangerous, sexy, and intriguing. Professional motocross has always been admired by her peers, loaded with legends that the indigenous have long held sacred, but we're peaking at a unique time. And right now we are kicking some ass. We defenders of the faith are standing up and screaming for our heroes like always, but the boys are reaching far and away while riding a wave of instant global synergy. There is no exploit of the combustion engine that does what we do, with so much passion and style.

This fact is fueled by the characters on the stage. What a contingent of gladiators we have. On one hand we have Ryan Villopoto and his current status as the annihilator. He has a stellar fan contingent, but do people really connect with RV Park as a person and a brand? When he rode off the track after a duel to the death with Chad Reed last weekend, he didn't turn to give his comrade a high-five. I didn't like that, but that is kind of what makes him Ryan Villopoto. He doesn't have much in the hater column. His fans love him for his raw aggression. Everyone else seems to respect his demeanor. He is nails, but boring. And he carries the red number plate into Dallas.

I told you last week that Chad Reed is a racer's racer, and he didn't disappoint in San Diego. As a fellow racer I know the feeling when you see your prey in front of you and reel him in. You know you are riding on the edge, but you're watching your dinner just in front of you. It's a hell of a realization to know you're on the brink but that prize you want so much is right there. With the help of lapped traffic (which is part of the game), The Thunder pushed himself past his comfort zone and looked good doing it. He blasted the whoops and ate himself some dinner. Problem is, this particular prey has the ability to claw his way from your mouth and fight harder. But Chad felt it. He knows he can get him. Beware the animal with blood on his jowls.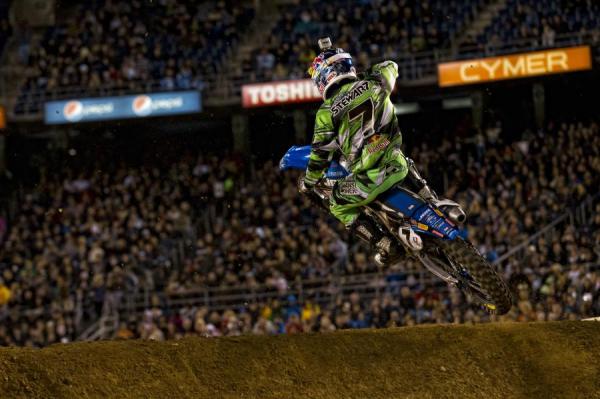 Can Stewart get back on track in the Big D?
Photo: Garth Milan
Then we have the debacle of James Stewart. Why can't he do it? Why can't he just put in the twenty laps it takes, week after week, to win the championship? He has more talent than any rider that has ever ridden a motorcycle. His capacity for speed has left all of us mouth agape. But his all-too-common folly leaves us … well, I don't have the words. I'm tired of the hype. Stewart needs to string together three or four main events before I'll count him back into this title fight. I'm actually mad at him as a true fan. He has to do better and find the balance to get back into the fight. So much and so many are behind you. He has to man up and get it done.

The rest are what makes the story all so much more compelling. Look at Jake Weimer with his born-again flow and speed but sour luck. What do you like about Ryan Dungey and his recent fade out of podium contention? Hopefully not a lot. I think the machine is capable, and the racer has the juice. He came out of nowhere at Phoenix, and he needs to reciprocate. How can you not cheer for Kevin Windham this weekend? As one of the venues closest to his birthplace, KW always digs a little deeper in Texas. What would we do if he yanked down a holeshot this time around? What would HE do? Old man Windham can get it done if he just gets a little help. He can make things look so easy. Look for #14 to put the hammer down Saturday night.

You want more? The opening charge of the East Region Supercross Championship takes place this time! Defending champion Justin Barcia, wunderkind Ken Roczen, Blake Wharton, "Bad" Blake Baggett, Malcolm Stewart, Kyle Cunningham, and a lot more are going to add nitro to the blazing inferno.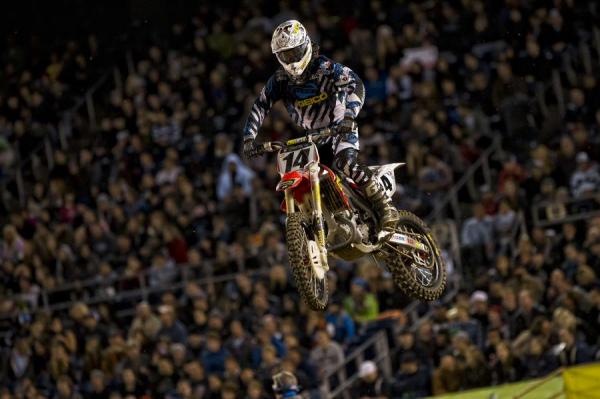 Can Windham secure his first podium of the year in Dallas?
Photo: Garth Milan
How about the setting? Texas Stadium is the utmost in human development and technology. It's what you can do with a billion dollars. And we're going to take the charge there. Screw football, this is the heat. As much as we've been through already this weekend in Dallas, Texas has the mettle to take it further. The world is watching. All of the adrenaline rushes we get through the week in our grind are set to climax in Texas. The world is ours, and they want us. They want us and we're going to give it to them. This is American supercross, son. Time to get it the hell up and do what we do. Who's ready to scream for the boys?! Let's get up, ONE TIME!! Right now. Let's see the show. The damn show.

Thanks for reading, see you next week.