James Stewart, JGR/Toyota Yamaha, 2nd place in SX Class
What happened in that heat race? You were doing a wheel tap?
Yeah I was doing the same thing I was doing in the main event….
Yeah you came back and did it again!
Well I had to get it out of my system! I was scared! So I did it in the last chance, I got it out of my system. In the heat, I wheel tapped it, and the back end touched, barely touched, and it just slammed the front end down. It gave me some whiplash, and my hands came off. So I was basically sitting on the handlebars going through a rhythm section. So it threw me off. As soon as I landed, I just felt my ribs, and it knocked the wind out of me. I was sore, and I'm really sore now. But I'll be fine.
What about the gate pick for the main?
Actually I got pretty lucky. Somebody didn't want a gate on the inside because of the rut. The rut was pretty gnarly, but I thought, I'll take it, I didn't want to go to the outside. It wasn't too bad, I wasn't too far inside, but just a little. Davi [Millsaps] ended up getting the jump on me, and I was just trying to stay upright through the first corner and get through in the top ten. It wasn't too bad, it was decent. It's tough when you let the guys get up in front of you, it's hard to push so hard that you can catch them. I just, after that heat race, I didn't have it in me, so I was second.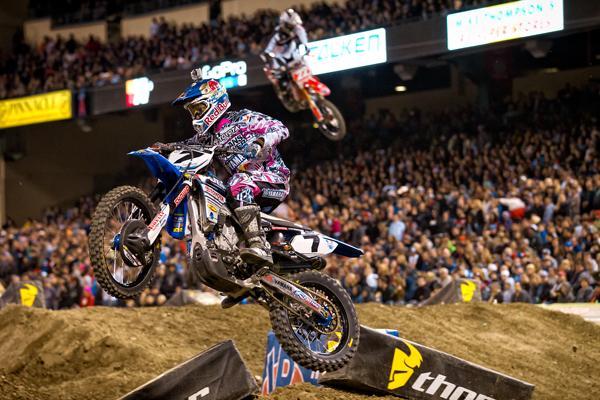 "I was basically sitting on the handlebars going through a rhythm section." -- James Stewart
Garth Milan photo
Cole Seely, Lucas Oil Troy Lee Designs Honda, 2nd in Lites Class
It was looking really good. The short time I was in the lead I got myself a little bit of a gap. And I was feeling strong and feeling comfortable out there. We've been doing a lot of work with Pro Circuit and Showa on suspension testing, and I feel really comfortable on the bike. Obviously I want to win, so that's disappointing, but it's still a great weekend, especially compared to the last few. It's my best weekend since Anaheim 1. I was super excited to get the holeshot and be in the lead, but I had just one mistake. I got up, but I kind of rode with a heavy heart after that. I tried to catch back up to Eli, but he's riding really good right now.
Yes you had two bad races in a row, and that has really hurt your championship hopes. How did you keep from getting discouraged?
Just try to take positives out of everything. Last week I went down, but I was in third, and me and Wilson were battling back and forth coming through the pack. And he's obviously one of the top guys, so it was good to know I was running his speed. So I tried to take that out of Oakland. L.A., I can't really take anything good out of that!
What happened in that corner when you fell?
They groomed the start straight for the guys on the outside. So they tracked it over. And I actually thought to myself, when I went around that turn on the first lap, I was surprised how much traction that section had. So I guess I got a little too confident with it. But I'm thankful I didn't high side, though. That would have been really bad.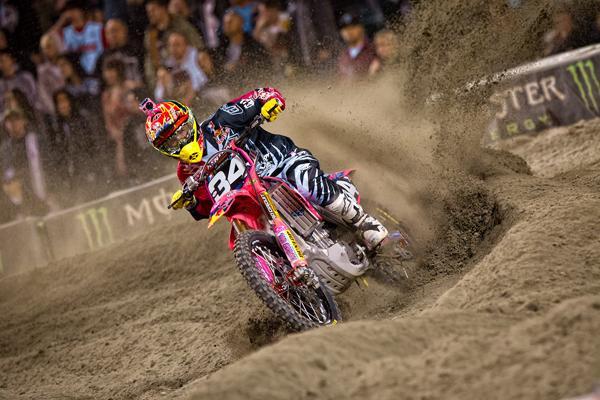 "I was super excited to get the holeshot and be in the lead, but I had just one mistake."
-- Cole Seely
Garth Milan photo
Davi Millsaps, JGR/Toyota Yamaha, 7th place in SX Class
How was the race?
Well, it was another race.
Wow! Excellent analysis! It was, indeed, another race.
[Laughs]
You and Windham had a good battle out there.
Yeah it seems like the last couple of weekends Windham and I have been going back and forth. And that's what makes it fun. It keeps you going, because I didn't even ride all week, I was sick. Even today, I'm still not 100 percent. So it just drained me, and I felt horrible going into practice and in practice. I mean I was 13th fastest. I was horrible. So to pull off that, I somewhat turned my night around and did the best I could for the night. Obviously taking weeks off doesn't work for me.
Going to be able to ride this week?
Definitely, I'll be able to ride and test and get on it.
You have Yogi [Ezra Lusk] back with you today.
Yeah it was awesome to have Ezra here and my trainer, Pablo. Pablo wasn't supposed to come, it was too last minute and his flight was going to be too expensive. Then he called me yesterday morning and out of the blue he said he was heading to the airport. Things like that mean the most. Then Ezra came out here and got on my butt today. Those guys, they believe in you, and they help you push through it and turn the day around.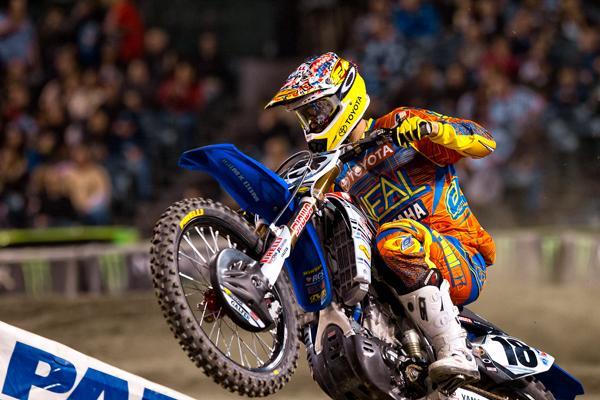 "Yeah it seems like the last couple of weekends Windham and I have been going back and forth." -- Davi Millsaps
Garth Milan photo
Chad Reed, TwoTwo Motorsports Bel-Ray Racing Honda, 3rd in SX Class
How was the race?
Honestly great, I'm pumped with the podium. It was on Tuesday night, Tate was up all night, throwing up. We went through a lot of towels! Then the next night Ellie had it, and I thought I did pretty good and dodged it, but on Wednesday night I ended up with it. So, a rough week. I just dealt with a lot of throwing up, and unfortunately, diarrhea as well. I was actually doing pretty well, last night was the first night in a couple of nights where I had an appetite, I ate some dinner, and then this morning I had a small breakfast. So I felt pretty good, but then after practice I came in and threw up! Yeah, so for the situation we were in, I was happy to get a good start and run up front and just fight with all I had.
Looked like you were digging those last few laps to try to get Stewart back?
I was trying. That's what you have to do, you know, I was sick and it was up in my throat and trying to come back up. But I felt like Stew was a wounded duck out there, too, so I'm sure he had his problems and I had my problems. But everyone is dealing with something at some point, sometimes you know about it, sometimes you don't. But Ryan, he rode a great, solid race. So I think the podium guys, we're all happy.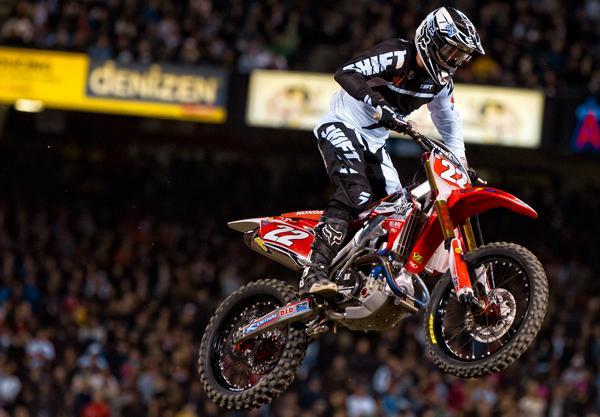 "For the situation we were in, I was happy to get a good start and run up front and just fight with all I had." -- Chad Reed
Garth Milan photo