Angel Stadium
Anaheim

,

CA
Anaheim II (A2)
Monster Energy AMA Supercross Championship
A few weeks back, we switched on the Racer X Bench Racing Ammo supercomputer and tried to find a link between winning AMA Supercross round one and winning the AMA Supercross Championship.
The computer couldn't find a connection. Since 1999, only five times has the opening-round winner gone on to win the championship, which is just five out of 13.
The next week we focused on something else, the round three winner. We found that over the last 13 years, the round three winner has gone on to win the title ten times. That means round three carries double odds of significance over round two.
Now the Monster Energy Supercross Championship is buzzing with four winners in the first four races.  As much as we'd like to see a new face on top to really mix things up, odds are we're going to see a repeat winner for the first time on Saturday night. Does that mean much in the road to a title? Let's fire up the computer and get inside the numbers!
Here are the stats from the last twenty years:
Year: First with 2 Wins/Champion
1992 Damon Bradshaw/Jeff Stanton
1993 Jeremy McGrath/Jeremy McGrath
1994 Jeremy McGrath/Jeremy McGrath
1995 Jeremy McGrath/Jeremy McGrath
1996 Jeremy McGrath/Jeremy McGrath
1997 Doug Henry/Jeff Emig
1998 Ezra Lusk/Jeremy McGrath
1999 Ezra Lusk/Jeremy McGrath
2000 Jeremy McGrath/Jeremy McGrath
2001 Jeremy McGrath/Ricky Carmichael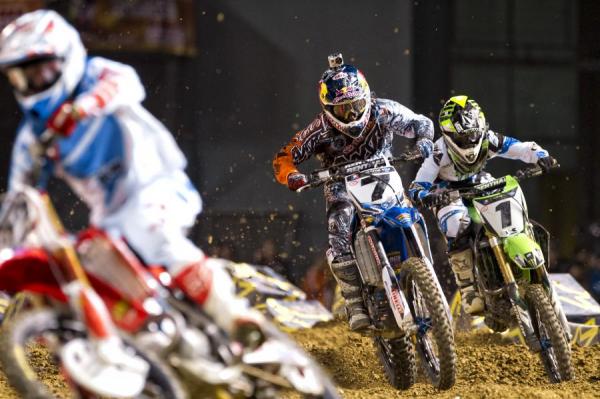 Who will be the first to grab their second win of 2012: Reed, Stewart, Villopoto (pictured above) or Dungey?
Photo: Garth Milan
2002 David Vuillemin/Ricky Carmichael
2003 Ricky Carmichael/Ricky Carmichael
2004 Chad Reed/Chad Reed
2005 Ricky Carmichael/Ricky Carmichael
2006 Ricky Carmichael/Ricky Carmichael
2007 James Stewart/James Stewart
2008 Chad Reed/Chad Reed
2009 James Stewart/James Stewart
2010 Ryan Dungey/Ryan Dungey
2011 Ryan Villopoto/Ryan Villopoto
In 14 of the last 20 years, the first rider to win two races has gone on to win the championship. That's 70 percent, which really isn't all that impressive. More impressive is more recent history. In the same 13 year span in which we tracked the round one and round three winners, we see the same stat as the round three winner: 10 of the last 13 seasons, the first rider to two wins went on to win the championship. And even more remarkable, the first rider to two wins has won the title for the last NINE years.
Will history repeat itself or will the streak be broken? We'll learn one part soon, and the other in May.