Angel Stadium
Anaheim

,

CA
Anaheim II (A2)
Monster Energy AMA Supercross Championship
The first three rounds didn't exactly go the way Rock River Racing's Ben LaMay wanted them to. Despite making the night show at every race, LaMay had yet to transfer into the main. That streak ended in Oakland, when LaMay qualified right out of his heat. Unfortunately, a mechanical problem relegated him to fifteen laps and nineteenth place. LaMay's ride is still worthy of note, however, which is why we got in touch with him for this week's Shoei Privateer Profile

Racer X: Congrats on getting into the main for the first time this year! Take us through your night.
Ben LaMay: It went good. Coming into it, I had a lot of things I was trying to fix from a lot of previous rounds, and I was pretty determined to make it in Oakland. In practice I qualified pretty good, I think I was seventeenth, which is my best so far. I was calm and mentally prepared for it. I got a bad start in the heat race, but I elbowed my way into the top nine, then I passed into eighth, and it was clear sailing from there. In the main, the nut on the clutch hub came loose and the hub moved, which caused the clutch arm to pop up, and it let oil come out.

That's too bad, but at least you were in the show. How stoked were you when you knew you were breaking into your first main of the year?
I was really excited to finally get it done. It's where I feel like I should be every weekend, in the main. Not doing that the first three, I was bummed at myself. Coming around on that last lap, I didn't have any pressure behind me, and I was actually catching Hanny [Josh Hansen] for seventh, and I was thinking I could probably catch him and pass him, but I thought, "Don't push too hard and crash and blow it." When I crossed the line, I was really relieved, and I didn't have to worry about the crazy LCQ.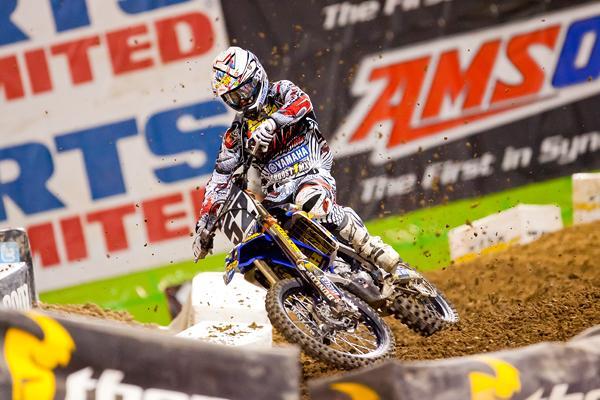 LaMay qualified for his first main of 2012 in Oakland.
Photo: Andrew Fredrickson
Yeah, these days, even in the LCQ there's a lot of fast guys. You've got a much better chance of qualifying out of the heat than the LCQ, it seems.
Yeah, it's definitely a lot easier, for sure. You always have another chance in the LCQ, but when you get that monkey off your back in the heat race, it's like, "Yes!" You have a big break before the main, and you can relax.

The team had to be stoked, too. They've had kind of a rough year with a few injuries.
Yeah, everyone was really happy. The whole Rock River Racing team is really cool. It's a real laid back deal. Everyone is really chill, and they just want the best for you. Everyone is real professional. Obviously, the team doesn't have unlimited funds like some of the other teams might, but we do what we can and I'm happy with it. Everything is going good, and I'm going to keep plugging along for the rest of the year.

The dirt in Oakland looked awesome, but the track also seemed very technical. What was it like to ride on?
It was really deceiving. When we went out for track walk, the top layer of dirt was so dry. Everyone was like, "What are these people doing?" But then after we rode it, underneath that dirt, it was really soft and it rutted up super quick. It made it really technical. It was marbley on top and sticky underneath. There weren't any big, gnarly jumps, just that one rhythm section. I liked the track a lot, it flowed pretty good; it wasn't like some of the previous rounds. I think it was definitely one of the better ones of the year. The start could have been a little bit better, it was a little tight, but I thought it was a really good track.
Last year you rode a 450 in supercross and were a privateer in the truest sense of the word. No team, no mechanic, no nothing. How much of a difference does it make to be with Rock River?
Yeah. I did all of my own driving myself. My girlfriend was with me most of the year, and we just drove the Fun Mover from race to race. I was my own mechanic, and I did what I could. Riding for Rock River is a lot different. The stress off of your shoulders is what makes it a lot different. Racing is all mental, and that's what really helps. You know that everything is taken care of. I don't have to worry about doing this, or getting there, or making lunch, or getting the bike ready. It's all handled. It's really good mentally, and it's a lot less stress off you, so you can focus on training. Being able to fly into the race, I can work on my training on and off the bike during the week instead of sitting in the driver's seat for ten to fifteen hours at a time, while trying to find somewhere to ride during the week. It was really hard on myself, but it was my only option last year.

LaMay is hoping to make it back-to-back mains in Anaheim this weekend.
Photo: Andrew Fredrickson
How's the pace out there this year compared to last?
It's definitely increased, I'd say. The depth is a lot more, for sure. There are some riders hurt right now, and that's opened things up a little bit, but it's still really packed. The biggest thing is that you just have to get your elbows up and get aggressive. That's what it takes to make passes and get in the main. That's the biggest thing for me, is to get more aggressive. My speed is there, there's just a few little things here and there that I need to work on, and I'll be there every weekend.

Who is helping you out this season?
Rock River Powersports, O'Neal, Race Tech Suspension, Tom Morgan Motors, Vans, Bell Helmets, Rip N Roll Goggles, Larry Beardsley CPA, Yamaha Motor Co., Roost MX, GYTR, Dunlop, FMF, Hinson, K&N, MotoStar, Renegade Fuels, We Are MX, Xtrig, Yamalube, Black Ops Moto, Boyesen, EVS, Guts Seats, Hammerhead, Hot Cams, Hot Rods, LiftMaster, MotoConcepts, Pivot Works, UFO, Vertex, LightSpeed, CV4 and Tokyo Mods.