O.co Coliseum
Oakland

,

CA
Oakland
Monster Energy AMA Supercross Championship
We hate to start off Racerhead on a sad note, but on days like this we have no choice.
James Stewart
himself broke the news to the racing world: "I got some horrible news that my practice mechanic Mark 'Tex'Adams was hit by a car and killed this morning while on the side of the road helping someone whose car had broke down. I'm in disbelief that something so tragic could happen while helping someone else in need. I'm stunned because Tex was such a caring person. My heart goes out to his family. Damn this is a sad day. We love you Tex, R.I.P."
Adams, who also helped Travis Pastrana for a while, was apparently the victim of a texting-while-driving accident. Here is a local news story on the accident, which happened along Interstate 4 in Florida.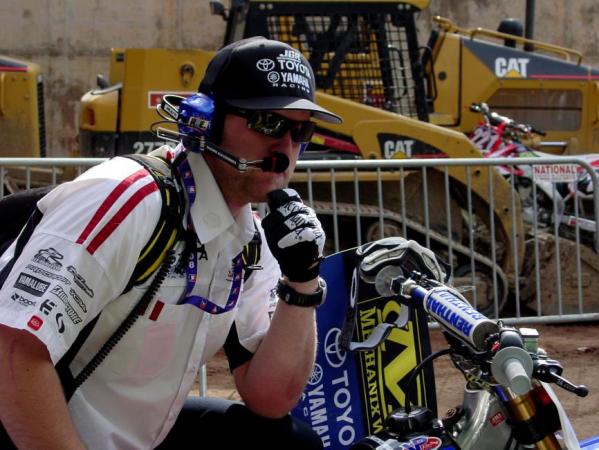 Mark "Tex" Adams.
Adams was an original member of the Joe Gibbs Racing MX team, and he was working in Florida as Stewart's personal tuner at his Haines City home, working on his practice bikes and working with the team on new setups. David Evans sent us a link for more about Tex.
Our thoughts and prayers go out to Tex and his family and friends. Mark Adams was 28 years old.
The other tough news of the week has been the horrific crash at Los Angeles' Dodger Stadium on Saturday that left both Trey Canard and Ryan Morais with multiple injuries. There's been a lot of hand-wringing about how and why it happened and what might be done to eliminate this kind of crash, from the proximity and placement of triples to better fortifying Tuff Block covers to keep them from getting caught up in bikes and dragged along the track.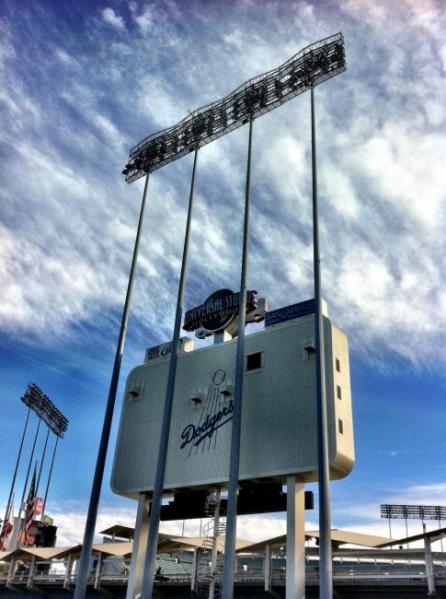 The L.A. SX was a great event with some unfortunate moments.
There was also some criticism leveled at the way the event announcers handled the situation. It is doubtful that either Lurch or Erv Braun had any idea of the severity of the situation, but they've been trained to keep the crowd informed and entertainment in any event. The old adage "the show must go on" is likely ingrained in the fabric of a company that puts on so many events, be it monster truck races or Barnum & Bailey Circus acts. I know both of those men, and they both have long known and Trey and Ryan on a personal level. Yes, the T-shirt cannon and the Monster Girls might have been a bit much, but they were only doing what they're told to do in such situations. I'm sure they meant no disrespect, and I'm also sure they will probably handle such matters with more delicacy in the future.
I would also add that I thought the TV crew handled the whole incident well; I wasn't sure if it would be shown or not, but when Ralph Sheheen explained about the red flag having come out earlier and then they showed the tape of the crash, I just thought it was handled well.
Okay, that's all the bad news I can handle.
Tomorrow night's Oakland Supercross will air on CBS on Sunday at noon Eastern, 9 a.m. in the West. The Lites race will show at 5 p.m. ET on SPEED. You can also look for re-airs on Fuel TV.
I texted Chad Reed after the race on Saturday night to tell him how stoked I was to see him and his team win. TwoTwo Motorsports/Bel-Ray are off to a great start, and Reed has become a very popular racer out there. I also know a lot of guys like Dave Osterman, Lars Lindstrom, and even Mike Gosselaar that bet on him by joining his semi-privateer outfit, and now he's in the mix for the red plate along with current points leader Ryan Dungey and defending champion Ryan Villopoto. And the fact that his starting-gate routine of bouncing around got turned into a hilarious "Party Rockin'"remix video just caps off a generally good week for the talented Mr. Reed. If you aren't one of the 100,000+ people who have already since this video from the Mannenin Brothers, you should get a laugh out of this:
Congratulations to American Honda on winning their 200th supercross main event in the premier division last Saturday night. The list includes everyone from Marty Tripes to Chad Reed. Ricky Ryan is on the list for his shocking 1987 win at Daytona, while Jeremy McGrath is on there for winning a whole bunch of races between 1993 and '96 on red bikes. There's also Ricky Carmichael, Rick Johnson, David Bailey, Johnny O'Mara, Bob Hannah, Kevin Windham....
The list has Marty Smith as the first winner, going back to 1976, but Honda actually won before that: Marty Tripes topped the '73 Superbowl of Motocross on an Elsinore CR250, but the race did not count as an AMA Supercross because the series had yet to be conceived! It would not become a standalone series until 1974, and even then it was called the Yamaha Super Series of Motocross. It was finally dubbed "supercross" in 1975.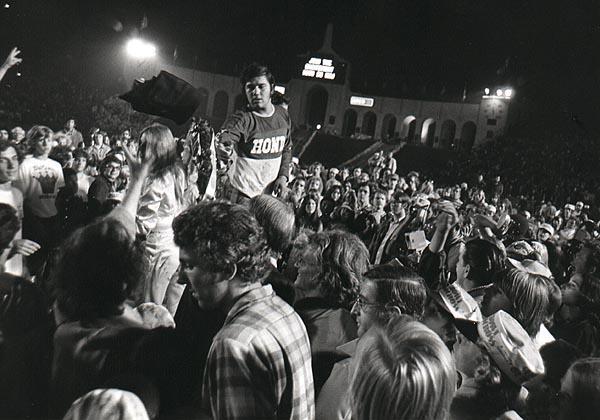 Marty Tripes after winning the 1973 Superbowl of Motocross on a Honda.
Racer X Archives
You may have noticed on Saturday night a sizable contingent of riders in the Lites main event that either have an international background or are have been racing the GPs lately. And they fared quite well, too, with Zach Osborne landing on the box with a solid third that he hopes to parlay into good momentum for a run at a world title, and then a full-time return to the States in 2013. British rider Max Anstie was sixth, and California's own Michael Leib, who also raced the GPs last year for Husqvarna, put in the best race of his young career with an impressive seventh-place finish. Also, former world champs Tyla Rattray and Marvin Musquin were racing, with Rattray finishing fourth and Musquin crashing out while chasing him. Heck, even injured current MX2 world champ Ken Roczen was there to watch and be interview by Erin Bates.
But there was one more GP rider in the pits I ran into, though he is no longer racing in any capacity. Michael Hall was once a promising young rider here in the states, and like Leib, he took a gig at a young age to check out Europe. It did not quite work out on the track the way Hall wanted it to, but now he's back and he's in college full-time, and he told me he absolutely loves it. He was always serious about schoolwork coming up through the ranks, and he used the time he had traveling to read and further his own mind. Now he's going to school and loving the career change. There aren't enough success stories like Michael Hall's in our sport.
Look for a piece on Michael coming up in Racer X Illustrated.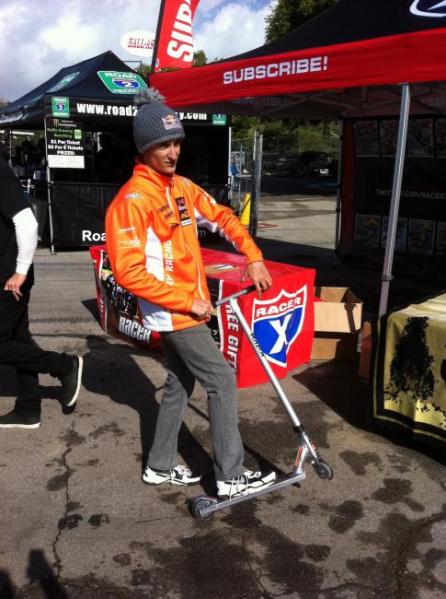 The Marv Attack is one of many imports from the GPs into SX Lites.
DC photo
I saw something pretty cool yesterday. On my way out to Lake Elsinore I stopped by the team practice tracks to say hello to Simon (he was shooting at the KTM track) and then to visit with Ricky Carmichael about the upcoming Daytona Supercross. RC was at the Suzuki track, riding with Brett Metcalfe, who placed fifth last weekend in Los Angeles. Carmichael, who has not raced SX since March '07, was chasing Metty around the Suzuki test track, running a Contour helmet cam and videoing #24 in order to show him some things he was doing right and wrong. They had pieced off sections of the track and were doing 10- to 15-second sections, over and over and over... And when they finished that, they decided to do a quick ten-lap race.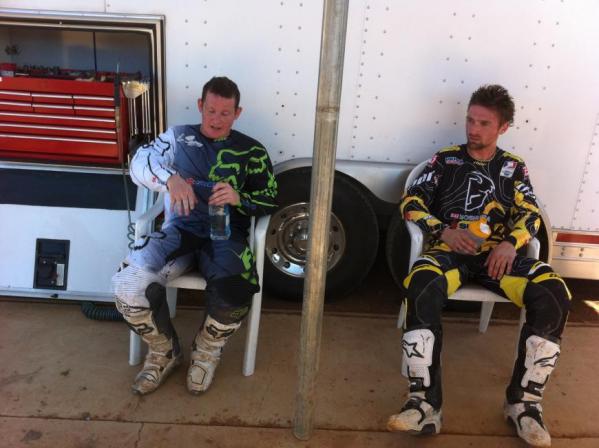 The big question of course is how Ricky would do if he ever decided to strap the boots back on and sign up for a real race. Well, he's obviously not in the same shape he was when he was racing, but the man can still ride a motorcycle, that's for damn sure. And if he put his mind to it? While I think he would not be as comfortable as he once was in supercross--"those guys are doing some pretty difficult stuff out there now"--I have no doubt he could still win outdoors.
But that's not going to happen. Carmichael is focused on his family back home in Florida as well as his auto-racing career, helping his friends like Metty at Suzuki (he volunteered to help out), the Ricky Carmichael Daytona Amateur Supercross in March, and then the Ricky Carmichael University, which will be held this fall. Add it all up and he's a busy man. He's also still pretty damn fast!
RC and his manager, JH Leale, also told me a little bit about how things went sideways with his Monster Energy deal for NASCAR. The company had an offer to grab the notorious Busch brothers for 2012 and they jumped at it, moving much of the funding for Carmichael's auto sponsorship over to Kurt and Kyle. He's not happy about it, but he understands that it was a unique opportunity and is already working on some deals. He is still a Monster Energy athlete and plans to stay there for a long time to come.
I also stopped by Lake Elsinore yesterday and spotted Jessica Patterson riding her new Kawasaki. The girl looked really good on green, the brand she rode for during much of her amateur careers. As for the Lake Elsinore Motorsports Park, it's coming along nicely....


Cool pan of the new Lake Elsinore.
JH photo
One thing I have noticed in Southern California is the almost complete saturation of convenience-store markets with the Monster Energy brand, and more specifically, with point-of-purchase promotions like a chance to win free motorcycles or grab early-entry pit passes for upcoming Monster Energy Supercross races. The Monster claw is everywhere out here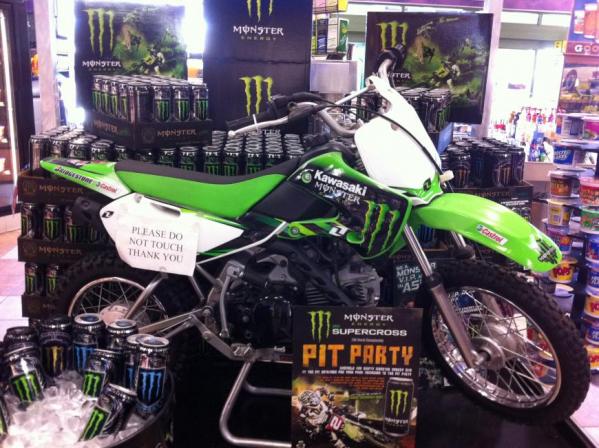 Displays like this can be found all over Southern California convenience stores
DC photo
I am proud to say I made the American Motocross Facebook page's Countdown to
Hangtown
on Day #113--sort of. This photo was from 1985 in my one and only AMA Motocross National,
High Point
. I was #214 and a Pro-Am rider, qualified okay, but then tore my knee up in the first moto and that was that. While looking for a #113 back East at the office, the guys found this one.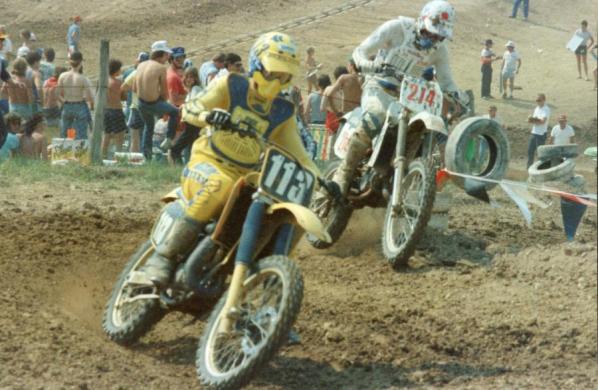 That's DC on the #214 battling with.....Terry Tinney.
American Motocross archives
No sooner had the photo gone up than I received a note from my old friend in Ohio Todd Applegate, who shot the photo and gave it to me maybe ten years ago. He also solved the mystery of who #113 is: That's Terry Tinney, a very fast man from Texas.
Okay, let me get the ball rolling by handing this off to Ping first, with a lot more on the Morais and Canard crash...
Thank God Ryan Morais and Trey Canard are going to be okay. Both of them have an ugly month or two ahead of them but they will both be walking to their therapy sessions and recovering fully. This could have ended much worse. But why did it happen? You could argue that there shouldn't have been a triple jump that close to the start. That is a valid point. I hope the track builders will take that into consideration, much like they did the right-hand first turns.
The Tuff Blox are a million times better than hay bales, no question about it. But the covers need to be fastened on. This has happened too many times, and this incident got guys hurt. When a footpeg snags one of them they rip right off. You can't blame Trey for not jumping the triple with that thing hooked to his peg. If it wrapped into his wheel (which happens often), it could have locked his rear wheel up in midair. This issue could easily be fixed with some straps that snap on underneath and hold the covers on. When wooden stakes were identified as a potential hazard at the nationals they were quickly replaced by yellow plastic breakaway track markers. Let's hope something is corrected soon with the covers also.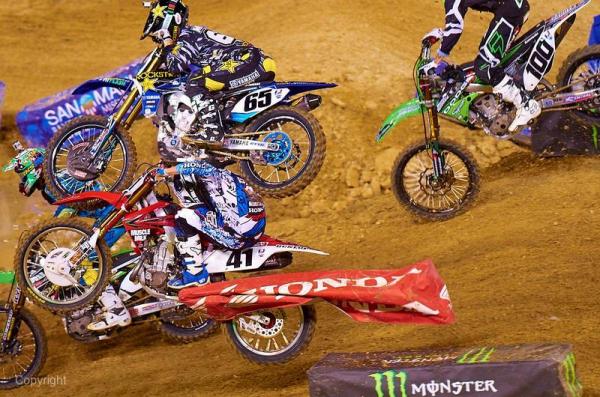 Wow.
Photo from amasupercross.com
There are many people talking this week about making chest protectors and neck braces mandatory. I don't know the legalities with that issue, and I'm not going to argue for or against it. I will point out this graphic photo of the crash and hope the many riders who have decided that neck protection is "too uncomfortable" will reconsider. Trey's head is pretty much smashed into his seat and yet he has no C-spine injuries. His thoracic vertebrae were injured right in the spot where Ryan's wheel is hitting it, and understandably so. Morais did not have neck protection and fractured his C2, C3, C4, C6 and T1 vertebrae. Keep in mind that well more than half of all catastrophic injuries in sports are cervical spine injuries. Making matters worse is that your diaphragm (which controls your breathing) is innervated through the C3, C4, and C5 vertebrae so injury to those can be particularly life-threatening. I don't mean to discount injuries elsewhere in the spine, but the cervical area is critical. Okay, I'll hop off my soapbox now. Heal up quickly, guys. The whole motocross community is pulling for both of you.
It's off to Oakland, where the only thing scarier than the whoops or jumps is the walk from your car to the stadium. Of course I'm kidding, folks! So far we've had six different winners in three different races. Could we see eight winners in four races? I think so. I know James Stewart hasn't been himself so far, but I think a lot of that has to do with bike setup and traction. James did the vast majority of his testing in Florida and North Carolina, where traction is optimum. The first three races have been hard and slick, but that isn't likely to be the case this weekend. The Bay Area has been hit pretty hard with rain in the past week or so and I'm guessing the dirt will be softer and a bit more Stewish (for lack of a better term). He's nearly a whole race down in points, so he has to start making moves. I think we'll see a different letter from the COW this weekend. And you people can boo all you want but I still like watching him ride. He brings excitement to the track. You can't argue with that. [Ed. note: Ping turned this in before news broke about the tragedy in Florida involving James' practice mechanic, Mark Adams.]
And I'm picking Tyla Rattray for the 250 class win. I know it's a long shot, but if the track is rutty and rough, he could shine. He's riding better in supercross than ever before and with a start he could make it happen. I just want to see some good racing, really.
Have a nice weekend.
Here's Steve Matthes:
The Oakland Supercross coming up this weekend is in its second incarnation as a race. Last year James Stewart won it. Me being an Oakland Raiders fan, I'm pumped to go to the stadium and actually enjoy myself as the previous two times I was there to watch the Raiders (before the incredible past two 8-8 seasons) they got worked and the crowd got so unruly I was scared of getting stabbed on the way out.
Interesting debate this week on the PulpMX Show. We had Chad Reed on the line and Zach Osborne in-studio debating the different styles of tracks. Reed said he much preferred the football stadium designs because of the longer lanes and what he said were more options. Osborne said he liked the baseball stadiums, which usually feature shorter straightaways. It's not something that I, as a media guy, think too much about, but it does make a difference to the guys. Both guys had interesting takes on the layout of the stadiums, and seeing as how this weekend in Oakland it's both a football and a baseball stadium, things seem to be about equal. Actually, last year, the Dirt Wurx guys laid the track out like a baseball field, which the Alameda Coliseum originally was.
I would also like to add that while I didn't really know Tex all that well, every time I ever spoke with him, he was very friendly and cool. As we saw this past Saturday with Canard and Morais, your life can change (or end) in an instant. It almost doesn't seem to matter what you do. Tex was just trying to help another motorist, and now he's left us. And that's a real shame. RIP, Tex.
Here's Weege...
James Stewart was back in Florida this week doing more testing with the JGR crew (we now know this turned out to be a tragic week down there, with the passing of Mark Adams). Also, two previous weeks of testing in California have definitely helped the Stewart/JGR program, and everyone involved seems to think everything is under control.
But many are wondering why Stewart and the JGR team didn't test in California before the season began. Last weekend JGR Team Manager Jeremy Albrecht explained that off-season California testing was in the plans, but the team didn't get the parts they needed to test until too late. One of the differences between JGR's program and others is suspension components. They're the only Yamahas you will find with Showa forks, and their shock is built by NASCAR shock builder JRI. It's much easier to get new Showa stuff to try for a Honda or Suzuki—because everyone uses Showa forks on those bikes—but getting works stuff made for the only two Yamahas on Showas isn't at the top of the priority list. But the team has what they want now.
Also, Stewart tried JGR's rear lock-down system for his starts in Los Angeles, and his starts were much better. This system works similarly to the holeshot device everyone runs on their forks, but Stewart wasn't so sure about using the rear lock down, since he had never used one before. It seemed to work last weekend, though. Of course by now everyone realizes the JGR team uses Pirelli tires, which is also a departure from other teams. I heard Pirelli is working so hard that they've had engineers in Brazil manufacturing tires on a Tuesday to deliver to the race track on Friday. They are not messing around.
But still, we've had three winners in three rounds and Stewart is not one of them. It's a strange supercross world when things like that happen. Until now, Stewart had taken at least one victory by the second round of the series every year since 2006.
For a good look at the LASX, check out Matt Walker's riding technique Breakdown that we posted this morning right HERE.
Finally, get well soon to Trey Canard and Ryan Morais. Can't say that enough.
Okay, let's turn it over for a moment to Aaron Hansel: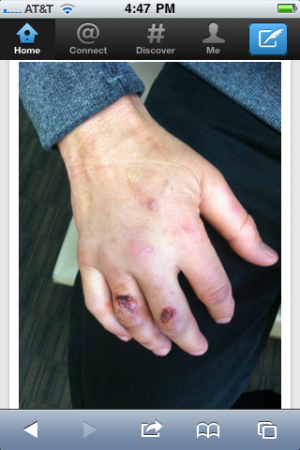 Tedesco sent us this picture. Ouch.
This wave of injuries is going to have an effect on a lot of guys that aren't hurt, too. Gavin Faith got the call to sub in for the injured Wil Hahn last week, and this week we'll see Matt Goerke riding a BTOSports.com/Butler Brothers MX machine, while Bobby Kiniry will be piloting a Star Valli Motorsports bike in the 450 class. Once the series goes east, we'll also see Nico Izzi jump into the premier class.
I interviewed Robbie Maddison earlier in the week for an upcoming issue of the magazine, and while I can't go into detail about what we talked about, I can say that after talking to him, I saw the leap he and Levi LaVallee made over San Diego Harbor in a whole new light. You will too, after reading the interview. Maddison mentioned a few things that reaffirmed my belief that he last the largest set of balls on the planet, which is something I actually blurted out during the interview. Of course, in an attempt to sound professional, I edited that part out. If you haven't seen the Red Bull: New Year. No Limits. jump, you can check it out here.
In more news on substitutions, we'll also see Cody Mackie fill in for Jeff Ward Racing's Josh Grant, who is out with a shoulder injury.
Finally, here are some more closing notes and thoughts:
Earlier today we posted The List: Top Ten NorCal Riders of All Time. It's in honor of both tomorrow night's Oakland Supercross and the injured Ryan Morais. I asked the Fox brothers for their input, as their Morgan Hill-based company is a hub for the entire region. This afternoon, after The List went up, I got some input from Geoff Fox, the co-founder of Fox Racing and a moto man through and through.
"I would put Pat Richter and Donnie Cantaloupi just above Tallon Vohland and Rodney Smith," wrote Geoff, who worked with both of those guys with his Moto-X Fox team, as well as Fox Racing Shox. "Pat and Donnie were the dominant Northern California riders of their times, which I don't think you can say about the other two guys as good as they were. And Dan Turner just behind those guys.
"Bob Grossi at #3," added Geoff, mentioning a rider we unfortunately left out altogether. "Bob Grossi competed in an era before we had National Championships. However I could make a good argument that he was the fastest U.S. motocrosser of his time. In my opinion it was either Bob Grossi or Barry Higgins [from the East]."
Headed to Oakland this weekend? Stop by the Racer X booth to subscribe or renew and get one of these vintage blankets from Smooth Industries with your subscription for only $25! The blanket is made of heavy-weight polar fleece, with vintage motocross inspired graphics, a special vintage collection woven label and whip-stitched edge. Perfect for those cold nights sitting in the stands at the Supercross, keeping warm in the desert or lounging on the couch. Plus it's 60" x 80"! A blanket plus a subscription to your favorite magazine all for $25!
My old friend Ron Heben spotted this amazing video and sent it along to a few of us. If you haven't seen what these guys do in the air, it's pretty amazing.
Speaking of cool videos, here is a cool Vurb Moto Original Film of Chad Reed and Dean Wilson working together at Castillo Ranch before last week's race:
Congratulations to Jacob Saylor and his girlfriend Amanda Wise on the birth of their little boy Jaxon Scott Saylor, who tips the scales at 8 pounds, 12 ounces.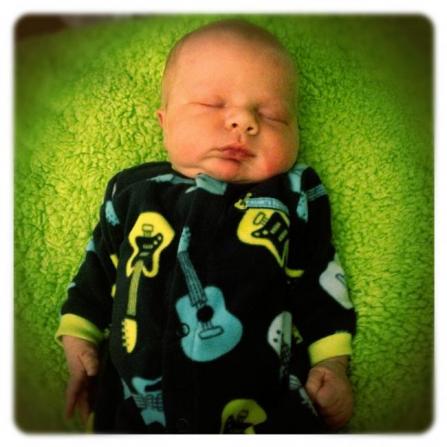 Hello, Jaxon Saylor.
I ran into Chuck Liddell at Dodgers Stadium, and I almost had to kick his ass after he made fun of my hat hair. That's a joke, Mr. Liddell! Please don't get mad! It's funnier when I get the names right!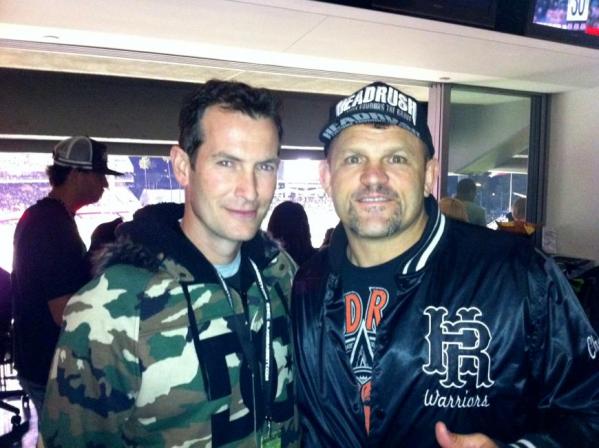 DC and Chuck before they jumped into the octagon.
I received a couple of emails this week from old friends Mark Homchick and Mark Thome, whom I have known since way back in the newspaper days of Racer X Illustrated. That was when Evel Knievel was still alive and we were always searching for the King of the Daredevils. Evel was larger than life back then, a bigger mainstream star than all of the riders today on the starting gate put together. He was also quite the character, a swashbuckling, whiskey-drinking badass on the American landscape who was fearless, and somewhat shady. Anyway, Homchick and Thome found a new trail leading to Evel, or at least his big rig and scrambler van. Check it out at http://www.restoreevelrig.com/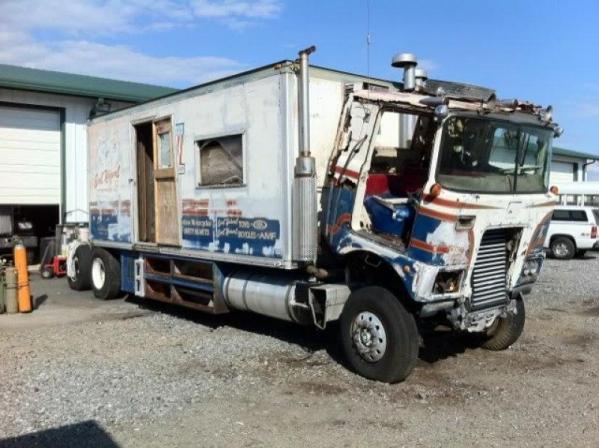 If you were a kid in the seventies, chances are you had a plastic version of Evel Knievel's Scramble Van
That's it. Thanks for reading Racerhead. See you at the races.
Godpseed, Mark Adams.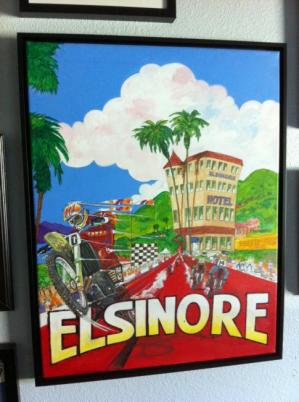 Sweet poster at Troy Lee Designs.