Fresh off an Open Pro Sport title at Loretta Lynn's, his second Loretta's title in consecutive years, Californian Chris Plouffe made his pro debut at Steel City with the JDR J-Star KTM team— filling in for an injured PJ Larsen. Although he was one of only three rookies to have a Loretta's title under his belt, Plouffe entered the pro ranks overshadowed by fellow Loretta Lynn graduates Justin Bogle and Kyle Peters. Bouncing back from a 30th place finish in his first career moto at Steely City, to finish a respectable nineteenth overall in his pro debut, Plouffe showed the experience that of a seasoned veteran rather than a wide-eyed rookie. Early troubles would plague the young star at the season finale at Pala, but Plouffe has been steadfast since, cutting his teeth in the supercross ranks at the Monster Energy Cup and overseas in Finland preparing for his pro debut at A1. We caught up with Chris earlier this week to talk about his pro debut, his new contract and his expectations for 2012.
Racer X: You got your feet wet in the pro ranks last year riding for JDR J-Star KTM. How much do you think being able to race those last two nationals will help you going into your rookie season?
Chris Plouffe: I think it helped me a lot, just the experience of doing the last two outdoors with the JDR team really helped me.  Just working with the team and hearing everything they had to teach me. I was there a month before Steel City just riding and testing and everything and just hearing their input on the season. Just taking all that in, then obviously from being at all the races, riding and racing, is all going to come back and help me. I'm going to know what to expect now and what I need to do and I know the places that I need to work on after doing those two races. It definitely helped me out a lot.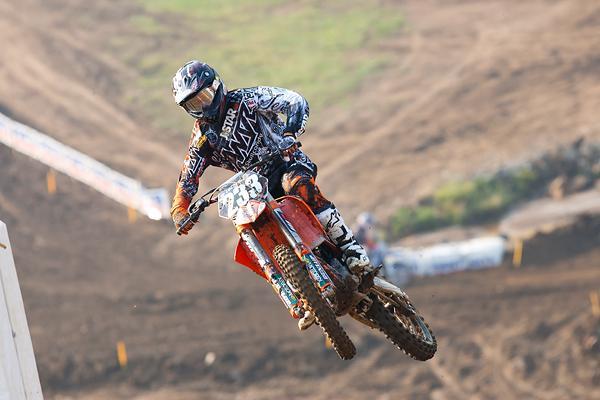 Plouffe made his pro debut for the JDR J-Star KTM team at Steel City.
Photo: Andrew Fredrickson
You also got some supercross experience racing the Monster Energy Cup and then in Finland as well. How much do you think that's going to benefit you, seeing as a lot of up-and-coming amateurs don't get a chance to get too much supercross racing experience?
The Monster Cup was a good experience. It was good for me to go there. I had a little bit of a hard time. I practiced on my 450 and the first heat race I was running alright. I was in sixth or seventh, and then my 450 blew up. And then I borrowed a 250F for the semi and LCQ, but I hadn't been riding a 250F before that, I was training on my 450 to get ready for Monster Cup. I went out and I was doing decent in the semi but was just having trouble, some little mistakes in the races that put me out of the game. But in Finland, I went over there and raced with the 250F against 450s because it was open class. But just being on a supercross track and getting use to somewhat of a supercross schedule helped me out for as much as it can for the 2012 season.
What was that experience of traveling to Finland, to race, like for you?
It was a good experience. I'd never been overseas. That was my first trip. The tracks there are a lot different, there are not very long and their dirt is really soft, so it got really rutted up. But it's going to help me over here. The tracks over here don't get as rutted as that track did, so it's going to help with that and also the sprint mode for supercross is also going to help.
Do you have anything lined up for next year, or are you still working on things?
I'm still working on a few things. There's Naveen Honda Racing and it should be 51fifty Energy Drink. I've been working with them for a couple of weeks now and it seems like everything's coming together with those people. So I'll be on a Honda for the West Coast Lites Series and then the outdoor series also.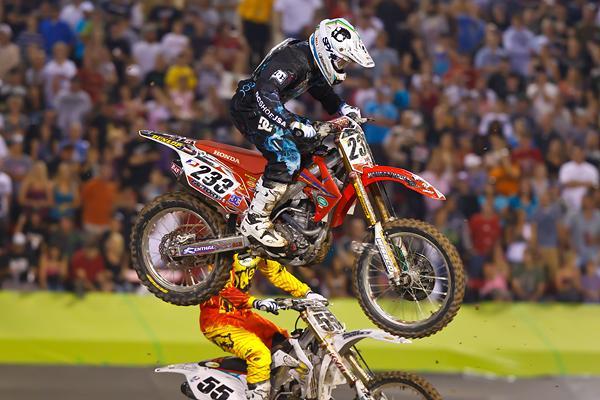 Plouffe was hampered by bike problems at the Monster Energy Cup, but gained valuable supercross experience in the process.
Photo: Simon Cudby
How'd that deal come about? How'd you get hooked up with those guys?
I rode for Honda of Houston for the last two years as an amateur and Naveen built the motors and was a big part of that. So he wanted to start building a supercross team and an outdoor team and we just kept talking. From working with him as an amateur, I worked really close with him. Then the 51fifty Energy Drink side of it came about from my friend Jay Johns from Troy Lee. I just started talking with him and they both wanted to do their own things at first, but they kind of realized that each other had what they needed, so they came together as one team and joined up. It's all coming along pretty good so far and everything should be finalized in the next week or so.
And that deal is for indoors and out, right?
Yeah, I don't know if I'll be doing the whole outdoor season as of now, depending on the budget. But I'll be doing at least four, maybe five of them.
Did you have any talks with JDR about signing with them for next year or did they already have their plans set?
I was talking with them after the season was over, but they had already had two riders for sure signed last year and then the third rider, who was Malcolm [Stewart], was pretty much a done deal during the outdoor season. So they were still working on something because nothing was for sure at the time. That's just how it all ended up working out.
I want to backtrack to your Open Pro Sport title at Loretta's. Obviously Loretta's is one of the most prestigious amateur races in the country. How big of an accomplishment was that for you to win a second title at the Ranch this year?
It was a huge accomplishment. In 2010, I won the 450 B Modified title there so coming back the next year and being able to win another class is awesome. I've always dreamed about winning at Loretta's and in 2010 it finally happened and it was my first amateur title. Then I got two more at the Freestone Spring National, then I came to Loretta's and I got the Open Pro Sport Championship. It was cool. I was one of the three pros that won the title at Loretta's and the other two pros got good rides. The team I'm going to be on, it's going to be good. We have Naveen with a great bike and it's going to be good.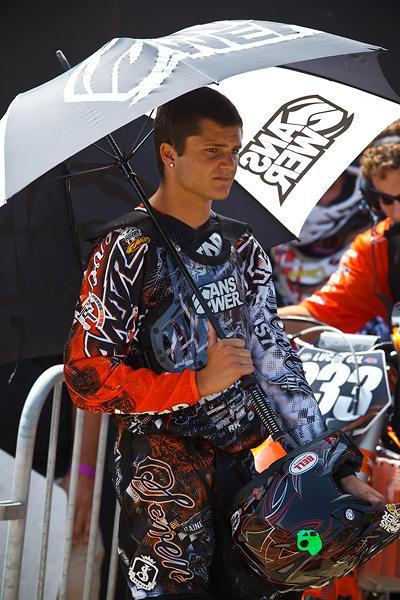 Plouffe will make his SX pro debut at A1.
Photo: Simon Cudby
What are your expectations going into your rookie season next year? At the end of the year, what would you consider a successful season?
Well it's definitely going to be stacked no matter what coast you're on. There's going to be a lot of kids coming up from the amateurs and there are enough guys that are still up there in pros. I expect myself to definitely be a top ten guy then at the end of the season be top ten in the series. I'll be happy, but I know the first year will be just to get my feet wet with the new team and pretty much the whole new environment for supercross. I should be able to pull off some better finishes than top ten. I know I'm capable of it. I just have got to put in the hard work and keep it going and have fun.
What are you doing to train and get prepared for A1?
I'm staying at my house in California and I just got done building a supercross track near my house, so I'll be riding and training up on that track. I'll also be down in southern California riding Milestone and the Ranch and all those supercross tracks. So, I'll just be doing that and training. I do all that on my own. I don't have a personal trainer or anything like that. I've always showed up to the races ready to go, so I'll be ready when Anaheim 1 comes.
Thanks again Chris. Who would you like to thank for helping you out?
I'd like to thank everyone at Honda of Houston for my helping me through my amateur career, DC Shoes, Skullcandy, DEFT Gloves, SPY Goggles, 51fifty Energy Drink, Race Tech Suspension, H&S Electric, Pit Pro, Dunlop, Asterisk, Moto Gate, Matrix, Bell Helmets and Naveen—who was a huge help with my motors and he let me stay at his house in Texas. I would also like to thank my mom, my dad, and my sister. They've been a huge help and have been behind me since day one. And just everyone who's helped get me to the point to where I am now.