Thunder Valley Motocross
Lakewood

,

CO
Race Center: Thunder Valley Motocross
Lucas Oil AMA Pro Motocross Championship
10. ELEVATION AND INJECTION:
With the
Thunder Valley
facility located just west of the Mile High City and nary a bit closer to sea level, the location's effect on horsepower is often noted. Everybody is down on power at this elevation, the question is how much? Subplots to watch begin with how
Mike Alessi
's carbureted 450 runs at altitude -- compared both against its own in-house EFI-equipped little brother and the fuel-injected full-sized machines from other factories -- and continue in the 250 class with that Eleven-10 Mods team looking to be the little engine (team) that could over the steep hills of Colorado.
9. GRANT GOES GOOD: At the Budds Creek starting gate, Josh Grant was making his return to the national scene after missing much of the season with injury. He was lined up next to the point's leader and sort-of kinda teammate, Chad Reed, also riding a factory Honda but under his own TwoTwo Motorsports banner. Aside from graphics, pretty much the same bike... but as Grant stared to his left at the 22 bike, it's not hard to imagine that he was more fixated on those red number plates. Maybe imagining how they might look with an equally symmetrical number 33? One race at a time: If Budds Creek was a self-described shakedown run for Grant, it's more likely he'll go to the line at Lakewood wanting to win and remembering his strong race at Thunder Valley a year ago. Grant caught Ryan Dungey, made the pass for the lead on the outside of a sweeping corner and dropped the points leader for a decisive win. A first turn crash in the second moto ruined his chances to challenge for the overall, but Josh still charged hard from last to finish 10th in the second moto and fourth for the day. Can he find that magic again?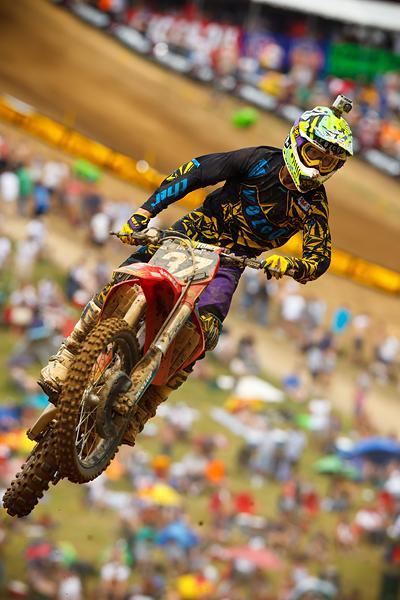 Can Double D break through at Thunder Valley?
Photo: Simon Cudby
8. D-SQUARED DOUBLES UP?: Darryn Durham's season thus far might not be a surprise for some, but it is the talk of many. Durham has run at the front of several motos now, only to fade a little (Mt. Morris) or crash real hard (Budds Creek). Can a true breakout ride -- one with a result that matches his speed -- be in the offing for Double-D? His result from last year's Lakewood stop offers little clue: Durham carded a 40th in the first moto but came back to score a 10th in the second for 15th overall.
7. INDIGENOUS DIRT: In the first two rounds of the season, artificial elements -- rice hulls and copious amounts of sand, respectively -- were trucked in and dumped on the racetracks in an attempt to soften the surface and, it's said, hold moisture. While the first was accomplished, the second was in doubt. Neither track was what you would call universally well received. In the last two rounds the natural surface -- darker soil that tends to go to hardpack at both tracks -- was prepped without any softer mix. The rain at Budds Creek came more mercifully, before the races instead of during, but both Budds and the previous round at Mt. Morris mixed local dirt with local precipitation to excellent effect. Which brings us to the Rocky Mountain location of Lakewood -- by nature maybe the hardest track of all. Once a rocky outcrop of a course, Thunder Valley has seen continual improvement since joining the national tour and now offers a good mix of traction sans horsepower robbing sand. Having a mix of soil types from track to different track is a good thing. And at Lakewood's elevation, with all those big jumps, a little blue groove might not be a bad thing.
6. PERCENTAGE PLAY: Last year, aboard his previous ride, Andrew Short pulled the holeshot at Thunder Valley in four successive races -- two outdoor national motos plus great rides at that MXoN thing. Somehow it seems unlikely that Shorty will be extending that string of starting success when he goes to that Mile High starting gate lacking the odd 100 cubic centimeters. (Alessi, with a string of holeshots and moto scores that read 4-4-5-5 since his return on the 450, struggled to a 12-5 for eighth overall on the smaller bike last year.) On the other hand, horsepower due to atmospheric pressure loss is generally a percentage --- so with less to lose, the 350 will lose less. So, you know, it's got that going for it.
5. RED PLATE ROUND ROBIN: Following the events of Budds Creek, Tyla Rattray and Dean Wilson have begun to establish themselves as the front-runners of not just the Pro Circuit team but the whole darned shooting match, with the two fighting to a 174-170 points total that is some 30 clear of the up and down Blake Baggett, who still sits third for the season. But after scoring just 28 points total in Maryland, will Baggett's off and on swing be back on in Colorado?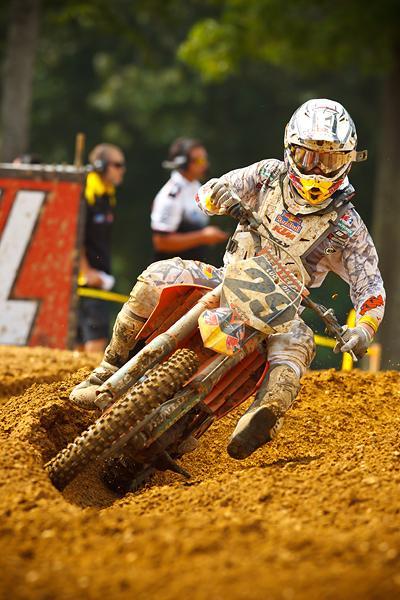 Can Short get the 350 to the front of the pack?
Photo: Simon Cudby
4. RED TEAM RESURGENCE?: Lakewood is where Factory Connection's Trey Canard caught fire last year, finishing 3-2 for second before going on his second half season tear. With Canard gone to the factory 450 team -- and, sadly, still not ready to race at Lakewood though he IS back on a bike -- the onus is passed on to Justin Barcia, who is riding with mononucleosis, and Eli Tomac, who is riding in his home state. Can either rider rise to the occasion at Thunder Valley, ala Canard? Well, at last year's race Barcia crashed twice in the first moto and wound up with a 16-7 for 10th. Tomac started slow, but posted a solid 7-9 for eighth overall. Tomac sits fourth in the current points standings, 38 points behind Rattray. Barcia's three-point second moto at Hangtown continues to weigh down his series total, but he is in fifth, another 20 points back.
3. THE GIRLS ARE BACK: After going on hiatus for the past rounds, the WMX circuit revs back up and rolls back in to Thunder Valley. The battles between Jessica Patterson and Ashley Fiolek recommence, with the Honda rider holding a 91-83 lead over Patterson. The defending champion struggled with crashes and finished a disappointing 13th in the first moto at the last outing for the women's tour in Freestone. Patterson came back to win the second moto but lost the early points lead to Fiolek. The Yamaha rider will be looking to further avenge that finish as the series resumes.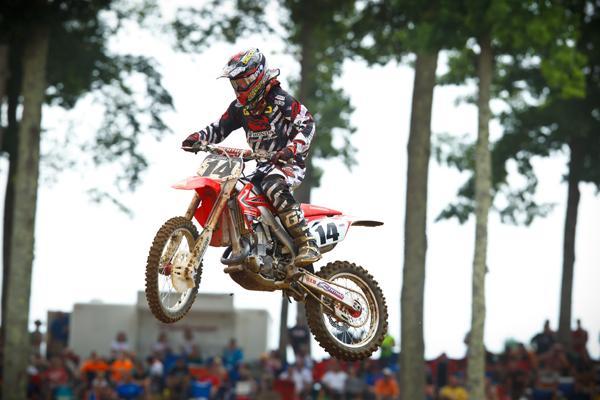 Windham returns to Thunder Valley.
Photo: Simon Cudby
2. RYAN'S RUN?: Last season Ryan Dungey won 19 motos on his way the championship. This season, thus far, he's won one. There are 18 motos left this year, so if he wants to repeat his phenomenal rookie season... well, he'd better get it on. Of course, points leader Chad Reed and second place in the points Ryan Villopoto might just continue to skew Dungey's previous results. To be fair, Dungey would have won that race at Freestone if not for the bike problem, and he's finished second -- sometimes a very close second -- five times so far. Like Andrew Short, his last four motos at this track have went pretty well: 2-1 for the overall at the last national and that whole American hero thing at the Nations last September.
1. DID SOMEONE SAY AMERICAN HERO?: Is it true? Is it? Is Kevin Windham going to race in Colorado? Is K-Dub enjoying the outdoors enough to push off plans of a lake vacation? Man, let's hope so.