Freestone Raceway
Wortham

,

TX
Freestone Raceway
Lucas Oil AMA Pro Motocross Championship
Last week I said
Hangtown
seemed a little more like hardcore motocross than usual. Track seemed rougher, motos seemed longer. But that's nothing compared to this weekend at the Rockstar Energy Drink
Freestone
National in Texas. This one was old-school motocross. Like, 1974 motocross or something like that.
It so many ways, motocross has been refined to where perfection is the rule in an imperfect world. When the sport began, the bikes were so unreliable that promoters decided to use a two-moto format. You didn't want fans buying tickets to see their favorite rider, only to have his frame snap on the first lap of the race. Two motos gave the stars two chances to perform for the fans.
In those days, you needed to baby a bike at times to just finish the races, and OG champions like Roger DeCoster will tell you all about that if you ask. And with 45-minute motos on primitive bikes, riders had to pace themselves, physically, too.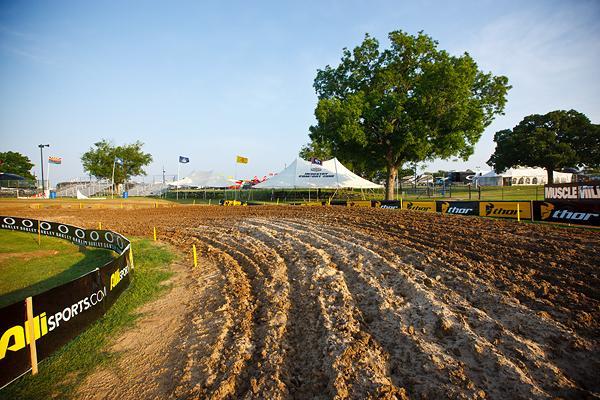 The calm before the storm.
Photo: Simon Cudby
Just about all of that is gone nowadays. Races are sprints instead of marathons. You need to get a good start and push immediately—waiting and trying to save anything at all doesn't work. [Note: this is the part where old school fans get mad and rant about how Bob Hannah never paced himself, he rode flat out, all out, all the time and never got tired because he was so stinkin' tough. You know, I used to work at Disney World, and one day a guy asked me when they took all the big loop-de-loops out of Space Mountain. I told him it never had loops, and he said it must have, because when he was a kid it was the craziest, wildest roller coaster ever.]
Anyway, dust off a copy of an old Cycle News and read the race reports. Back in the formative days of American motocross, riders paced themselves, waited, and strategized. And when they crashed or made a big mistake, they would say things like, "That took away all of my energy." You don't hear that anymore. Today's strategy is simple: get a good start and go like mad.
Yes, today's riders are so afraid of showing weakness that they'll tell you they're not tired even when they're huffing and puffing. That's part of it. But after Ricky Carmichael made the perfect season seem not only possible, but predictable, the variables have been tossed out. It's expected that a rider can never crash, never get hurt, never get tired and never break a bike.
It really isn't that easy. And through two rounds this year, we've seen some old school thrown back into the mix. The heat, the pace, the pressure, it's taking a toll on riders and bikes, and doing in it in equal opportunity fashion.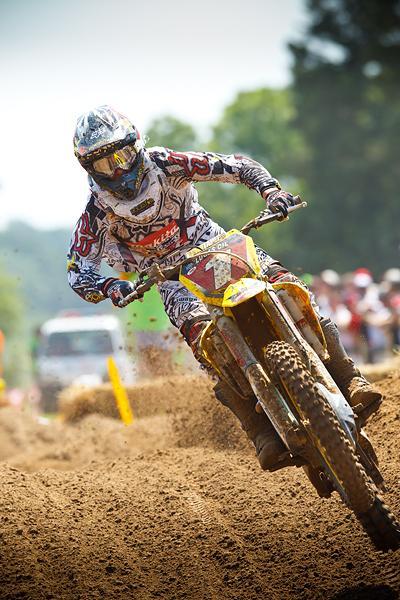 Dungey lost valuable points to Reed after a DNF in the second moto.
Photo: Simon Cudby
Nothing major, either. Bikes aren't grenading catastrophically. Riders aren't passing out on the side of the track, they're just getting tired. We didn't have a single "Brett Metcalfe in Texas '08 incident" where a dude was riding on autopilot with heat stroke. And not a single part broke in Dungey's Suzuki, instead, the fuel boiled in the heat and vaporized (evaporated, essentially) right out of the vent hose. Eventually, the tank ran dry. I talked to Suzuki team manager Mike Webb this morning to get that explanation, and he added that the team used the same fuel tank they used in Texas last year (where they had no problems) and that they also had plenty of gas left at the end of moto one. It's a shame for that team and especially ace mechanic Mike Gosselaar, who was the one who wrenched Carmichael to so many of those perfect seasons. Bikes built by Goose seemingly never break (and Trey Canard admitted Dungey's chain problem at Anaheim 2 happened because he ran into him. None of this is directly Goose's fault, but he takes this stuff hard). The point is, Suzuki can't point to a major malfunction here. All they can say is that motocross racing is tough, and in racing, sometimes things like this happen.
Suzuki is not alone—they just had the highest profile incident. KTM obviously had problems with Andrew Short's bike last week. Broc Tickle DNFed the first 250 moto in Texas. Honda has had an assortment of problems, too, one of which caused Kevin Windham's bike to give up before the first moto was over (and Reed said he was having the same issue, he was just lucky enough to get to the finish). Bike problems. They're back!
The riders are also admitting fatigue at times (I swear, the sport ran through a good 15-year run where not a single rider ever admitted they got tired in a moto.) Dungey and Villopoto wore down in moto two at Hangtown, for example. Villopoto admitted that the Texas heat really caught up to him when he crashed in the second moto. I talked to several riders who admitted they were really tired after the first moto and had to go into survival mode in the second one.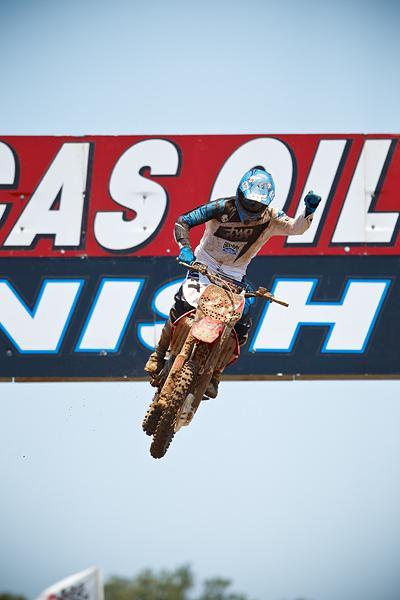 Reed was there to take advantage of Dungey's misfortunes.
Photo: Simon Cudby
In supercross, we surmised that, perhaps, the days of single rider domination may have waned in favor of some old-school parity. In motocross, we may be seeing perfection wane in favor of old-school physical and mechanical limits.
Definitely a bummer for Dungey. The dude was putting in an inspired ride, as after Reed got the better of him in the second moto at Hangtown, and then the first moto here, The Dunge had a nice rebound going with a big lead in the second moto. Reed was close at first and looked like he had a run in him, but he crashed, and Dungey didn't, so Dungey deserved the win and Reed said as much. But here's what is interesting: The last time I remember a guy having a win in hand only to suffer bike problems was last year at Southwick when Brett Metcalfe ran out of gas—and handed the lead over to Dungey! And we all remember the time that a DNF cost a rider a championship: Christophe Pourcel was in position for the 2009 250 title until he ran into engine trouble at Southwick. And Dungey was the one who took advantage! So I guess this shows that racing is an equal-opportunity offender.
Now Dungey and Suzuki will need to bank on that type of luck catching up with Reed so they can get some points back. But really, even 25 points is small stuff when you have 20 more motos and 500 potential points up for grabs. Remember, Reed had front brake problems at High Point last year and failed to finish the first moto.
Behind Reed and Dungey, there's a real gap at the end of the motos. Ryan Villopoto has the speed (his first moto lap time was the fastest of the race) but not since the first race of his first pro season in 2006 have I seen him out of contention at a motocross race like this. To me, it looked like he knew this weekend just wasn't going to be his, so he did what he needed to do to go 3-3 and get his points. The second moto crash dropped him to 3-5, but the point is that RV is in damage control mode and trying not to dig too deep a hole before he gets his A game back. And again, he gets a lot of leeway since he's been so strong outdoors in the past. I am hearing some people say that Aldon Baker leaned Ryan out too much, but seriously, how could anyone question the Villo/Baker convo? Did they not just win arguably the most competitive supercross championship ever?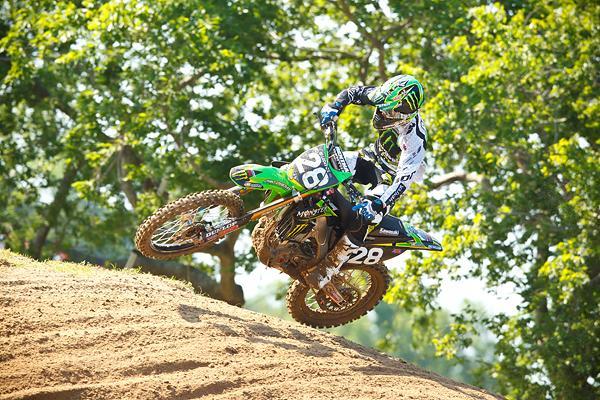 Rattray is one of the many championship contenders in the 250 class.
Photo: Simon Cudby
Chad Reed is the benefactor here, but the dude is riding so well I don't want to make it sound like these are gifts. Just watch how inspired he is throughout the race and you can tell he's doing everything right and deserves this kind of success. Villopoto and Dungey will be back, but Chad is going to hold onto this series' lead with one heck of a grip.
If you're going to pick a rider to win on race days that come down to survival of the fittest, Tyla Rattray is your man in the 250s. We know Rattray is going to be in the hunt every weekend and not throw any points away. His only threat is if one of these younger kids catches fire with some sort of wicked Trey-Canard-last-year burst. Rattray's own teammates Wilson and Baggett have that potential. Wilson easily had the stuff to go 1-1 but he rushed an aggressive pass on Justin Barcia (you don't say!) and threw it away in moto two. But man, Wilson looks fast. Baggett does, of course, too, but he crashed hard. Barcia had a wild one, too, taking out Marvin Musquin in a manner that makes Dungey's day look awesome in comparison.
So, Wilson, Baggett and Barcia crashed. Rattray won. This may be the type of matchup the season boils down to. Can the kids tame the aggression enough and use their speed to beat the veteran?
Meanwhile I'm waiting for Eli Tomac here. Good but not great through the first two rounds. He told me he felt a little off and Hangtown and was happy with the results he got there, considering. We media folks were really playing up the "he's gonna' go 1-1 because he's so mad after Vegas" angle, but in moto, that rarely works. Anger often just leads to tense riding, and it looks like Eli, instead, is relaxed.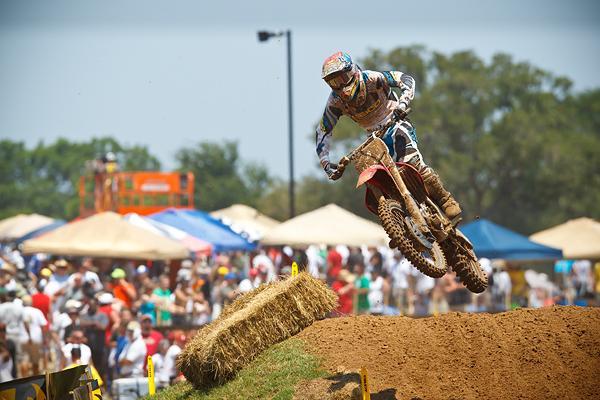 Tomac has gotten off to a slow start in 2011.
Photo: Simon Cudby
Kyle Cunningham is improving right before your eyes. He's come a long, long way this year, finally reaching the potential he would tease with every once in awhile. What I'm impressed with lately with Kyle is that his good results don't come when he gets good starts. I feel like, for years, in every Kyle Cunningham interview, he brought up how hard it was to get results when you don't get starts. And that's true, yes, but no one is every going to get holeshots every week (even the 800 went through a bad summer last year), so you're going to have to learn to deal. And Kyle has! I feel like calling Star Racing Rising Star Racing, because the stock is going up over there. Cunningham and Ryan Sipes have both gone from "talented, fast guys who keep making the same mistakes" to just "talented, fast guys."
In supercross, five guys really established themselves, and you ended up with a best-of-the-rest scenario behind them. Kevin Windham made inroads by the end of the season, but otherwise, you had riders probably riding better than they have at any point in their career, but having it go largely unnoticed. We'll see if that happens this summer. Brett Metcalfe is a great dude, hard worker, tough guy, someone to root for. Davi Millsaps is enjoying a renaissance. Christian Craig's day was spectacular. Ricky Dietrich is surprising people even though this shouldn't be a surprise any longer. Jake Weimer is getting his racing legs back underneath him. I don't know if these guys are going to get to the Reed/Dungey (and RV) pace but that doesn't mean they're not bad dudes. Maybe the fact that this outdoor season is making this sport look a little tougher will help add some respect for everyone who is out there.
Enjoy the weekend off. Shoot me an email jasonw@racerxonline.com