Freestone Raceway
Wortham

,

TX
Freestone Raceway
Lucas Oil AMA Pro Motocross Championship
Thank goodness motocross is up and running. Nothing makes hard work more worthwhile than seeing it all start coming together. The fortieth year of American motocross got off to a fantastic start at Hangtown last weekend, with great racing, a huge crowd, live TV all over the world … and it was on the start of summer! Special thanks from everyone at MX Sports and Alli Sports—who together run the entire Lucas Oil AMA Pro Motocross Championship—to the Dirt Diggers North Motorcycle Club. Those guys and girls put on a wonderful event, and they rescued the track from a week of storms and turned it into that brutal motocross circuit you saw last Saturday, live on Fuel TV, and then again on Sunday when the second motos aired on Speed.
Of course the big winners were Chad Reed in the 450 Class and first-time winner Blake Baggett in the 250 Class. Reed's win was just amazing to watch, and afterward his heartfelt thanks to his family and team, as well as American Honda for stepping up, was a great moment. So was Baggett's breakthrough win, though the Monster Energy/Pro Circuit Kawasaki rider has won three SX Lites mains in his career to date. But the grin on his face after taming that brutally rough track was also a special moment. Congrats to everyone on a great start to the fortieth year of the American motocross tour.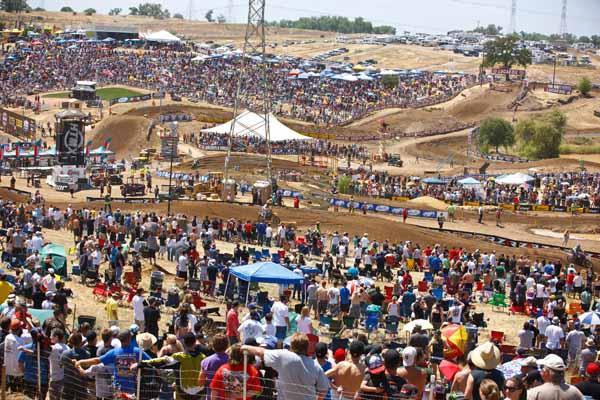 The opening round of Lucas Oil AMA Pro Motocross garnered a huge turnout.
Photo: Simon Cudby
This week we're in Wortham, Texas, for the Rockstar Energy Freestone National, and the first motos will again air live on Fuel TV and the second motos will air on Speed here in the States on Saturday night—check your local listings for the times.  Unable to find Fuel TV on your television? Here's a list of common providers and the channel you need to be tuned into to catch all the first motos of Lucas Oil AMA Pro Motocross live all summer long.
DIRECTV – Channel 618
DISH NETWORK – Channel 156
VERIZON FIOS – Channel 198
AT&T U-VERSE – Channel 536
You can also watch the first motos live online on www.allisports.com. (And sorry about the sound issues on the webcast—it was a mistake down the line with a channel switcher. Again. We will do better this time around.)
Reed's win landed him on the cover of Cycle News, which is back in digital form and is still delivering quality race reports, photography, and more. Check it out at www.cyclenews.com.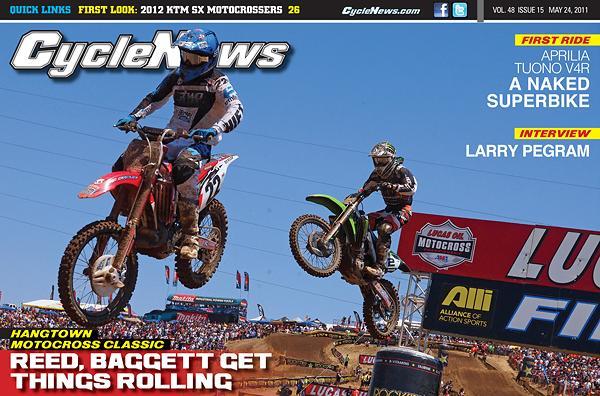 Reed was definitely the winner, but he's not all alone at the top of the points—Ryan Dungey also scored 47 points, so by rules, both will wear the points leader's red plate. But Chad made it clear in his tweets this week that he thinks there should only be one red plate out there, as he won the race, and he has the trophy to prove it! Is he going to actually wear the red plate tomorrow? Not sure. It's on his bike now, but if you watch the Racer X Pre-Race Show later on www.allisports.com, you will see that he may not have it on there tomorrow.
Blake Baggett has always been one of the nicest, funniest kids at the races, going back to his pee-wee days. His stunning win—he wasn't even in Racer X's who-will-win-Hangtown poll!—had the pits abuzz, but he took it all in stride. He even invited all of the media over to the Pro Circuit building on Monday for free pizza! But what I really found this week that explains just how innocent this kid is came in a Steve Cox interview over on Grind TV.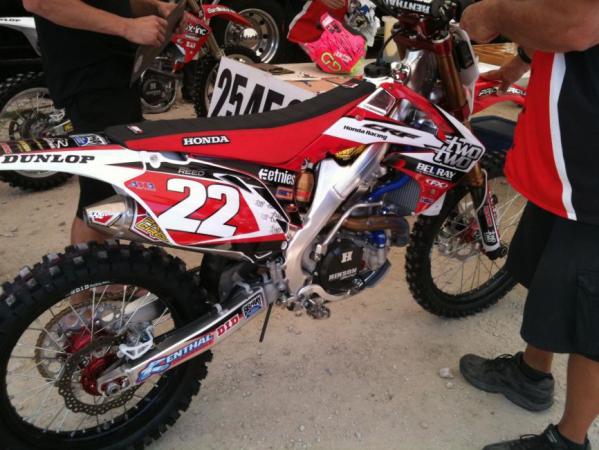 Reed is wearing the red plate...for now.
Photo: John Wolven

Cox: Now you're the points leader, though. How does that make you feel?
Baggett: Yeah, definitely; points leader. I don't know how they work their points. Do they do it off moto or off overall?
Are you serious? They add up the points from both motos...
Yeah, but do they give you points off the overall finish? Like 25 for the overall? Or do they give you 25 per win?
No, you get 25 for the moto and then 22 for the other moto in second. So, you've got 47.
Oh, so they give you points per moto. Yeah, see, I didn't even know how they handled the points out here...
That's good stuff. I'm sure he knows now! Everyone knows how fast his teammates Rattray and Wilson can go here in Texas, so this weekend should be really, really interesting.
Maxima's The List is a good one this week, and full credit to the Yamaha guys—Jim Perry, Mike Guerra, Bob Oliver, Leighton, and the rest—for the idea: 10 Best Butt Patches. We went digging in our memory banks for some cool photos and old sayings and messages that made it onto the rear bumper of riders' pants. Of course guys have been doing it for decades, with Bob Hannah the first to make a habit out of it and then JT Racing making it popular with all of their riders to go beyond just a name. And we should credit John Fox for taking it up another level when computer printing techniques came into play; some of the sayings the Fox Racing pants Scott Taylor would show up with for RC and James Stewart had some really provocative notes. Which are your favorite butt-patch sayings from years and races gone by?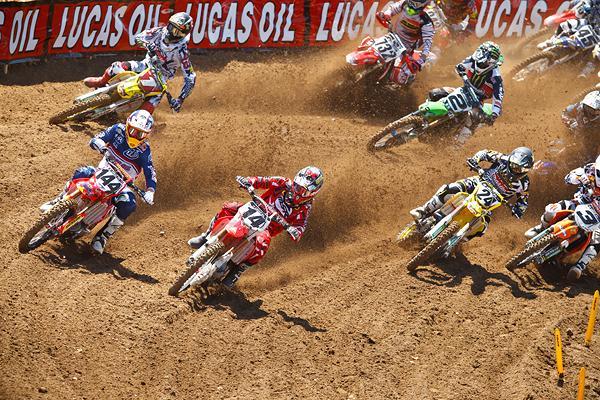 Windham scored the holeshot and the tweet of the week.
Photo: Simon Cudby
No offense to Reedy, but here's the Tweet of the week:
@kdub_14 "Motorhome, van, expedition wife, 4 kids, gear guy, farm hand/ mechanic and a gold fish. National lampoons motocross vacation!!!"
Okay, I have to get back out in the sun here in Texas, so here's Ping:
Last weekend had some big surprises, didn't it? Congrats to Chad Reed for really showing some grit and determination late in the moto. Out-dueling Ryan Dungey at the end of a second moto is not an easy feat. It's going to be a great series, and since those three guys are going to likely wind up on the podium most weekends, consistency is going to be key. I'm anxious to see if Ryan Villopoto feels better this weekend or if it will take some more time until he's riding at 100 percent. There is no question he was under the weather in Sacramento and just doing what he had to do to score some points.

The 250 Class was a shocker too. Who would have predicted a Blake Baggett win? I mean, besides me, of course—I was calling it all the way. So I'll go way out on a limb this week and say that a Pro Circuit rider will win again this weekend and Marvin Musquin wins High Point in Pennsylvania in two weeks. Stamp it.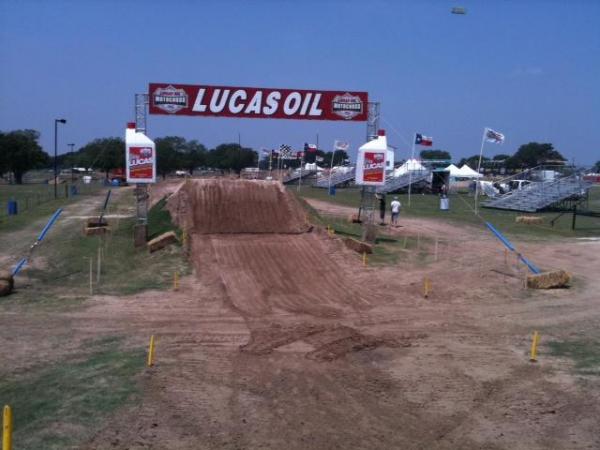 Freeston looks in prestine condition for tomorrow's racing.
Photo: John Wolven
Dean Wilson
was out clicking off laps in a jacket this week in preparation for the heat. I'm not sure cooking yourself like that three days before the race is good, but at least his head is in the game. Deano had the speed last year and had the win in the bag until he gave it away—twice—on the last lap. An overall this Saturday would definitely help him put last year's debacle behind him.
FMF Energy Drink is about to hit shelves on the West Coast. If you haven't heard, the Flying Machine Factory is launching a new drink and it has already caused some ripples and rifts with their partnerships. Monster Energy Kawasaki is still running their exhaust systems but without any logos whatsoever. It seems unlikely that they would continue to run their products after this season ends when their title sponsor is a competing energy drink. And I wonder if Li'l D and Hammer over at Red Bull will still be friends after all this.... With all the success FMF has been having on the racing front lately, I have to wonder if releasing this drink is worth the risk of the big teams and series not being able to run your logos because they compete with beverage title sponsors like Rockstar, Red Bull, Monster, Muscle Milk, etc. Stay tuned for the drama as it unfolds. In the meantime I'm anxious to try one of the new drinks.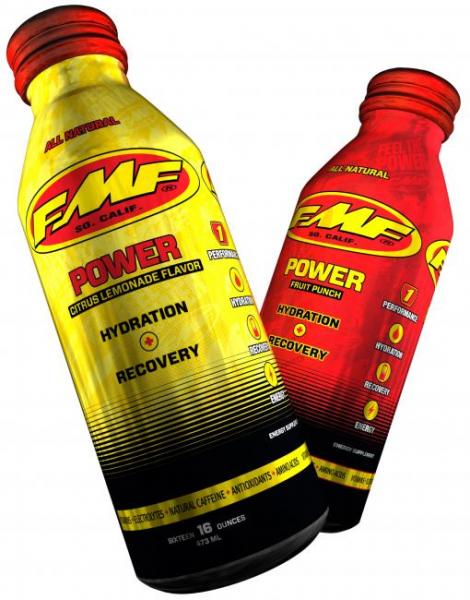 Here's Steve Matthes:
As I write this I'm sitting in Las Vegas' McCarran Airport (Vegas airport, where there are never any flight delays!) waiting for my flight out for round two of the Lucas Oil AMA Pro Motocross Championship. I'm looking forward to this race. Texas certainly isn't an easy track to watch from, but I think we'll be able to see who can keep this momentum going. I really believe that after next weekend off, and at High Point, that is when we'll see the outdoors truly get rolling. The guys are coming off Supercross—they aren't fully in the motocross mode quite yet and their bike setups may not be where the guys want it for right now.

But for now, the guys that are killing it need to make hay while they can and grab those points now, because I think things will change from these two races. The track in Texas isn't particularly rough on the guys. The biggest challenge is the humidity and the heat. With it approaching 100 degrees this weekend, the riders who have been doing the work will shine.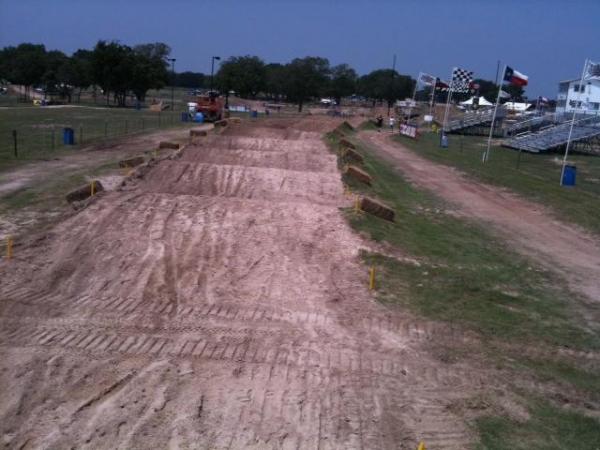 The famous
Freestone
whoops could cause some riders trouble this weekend.
Photo: Jeff Wolven
Apparently, reading comprehension isn't many people's forte. I wrote in Observations that Reed broke Dungey at Hangtown and I got some tweets (@pulpmx), emails, and comments below the story saying that one moto at Hangtown doesn't mean anything. And you know what? They're right! I wasn't insinuating that Dungey can't win this weekend or anything like that—I just meant that at Hangtown, in the second moto, Reed had the guy that destroyed everyone last summer (who did it with speed and fitness) on him like white on rice, and he motored away. That's it, nothing more, nothing less. The outdoors are a series of 24 motos for the championship, and in this one race, on this one day, Reed broke Dungey. I can guarantee you that Dungey is going to win motos, overalls, and be right there the whole way no matter what.

Silly season is sort of buzzing along with the news a week or so ago that Dungey has selected IMG as his agency. IMG is better known as a major player in the "big four" sports and movie world, and their list of clients is long and carries some major star power. The Dunge is going to be working with the same guy who once handled snowboarder/skater/icon Shaun White, and it's interesting to see if Ryan gets any mainstream exposure/sponsors from this move. He's got Target and Nike 6.0 now and I'd look for some more down the road.

Obviously, with Dungey's contract up, you could make a case that everyone outside of Kawasaki (who has Ryan Villopoto) is interested in Ryan. His old boss Roger DeCoster has had talks with Ryan about coming over to KTM, and I'm sure Suzuki wants to keep Ryan too. To me, this is a no-brainer that Ryan would want to stay and Suzuki would want to keep him. The fact that he hasn't basically re-signed with them tells me that something is up with this and Dungey may not be back next year over there. He's shopping around—make no mistake about it.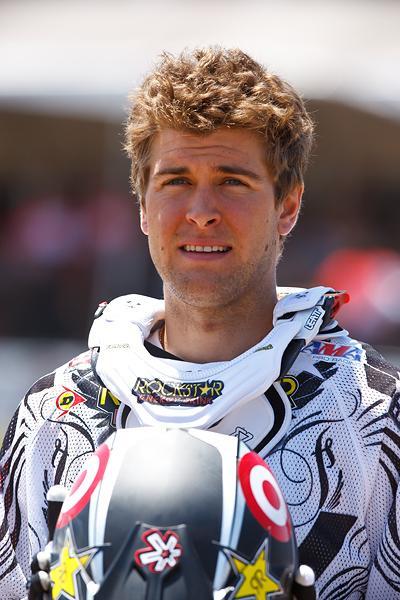 Is Dungey close to signing with mega agency IMG?
Photo: Simon Cudby
An interesting thing I heard was that Honda has pledged a bike and support to Ryan but they have indicated that he could go and start his own team or, get this, join forces with Chad Reed over at TwoTwo Motorsports. From what I hear, Ryan would bring in some outside money (this is where IMG's clout comes in) and be in his own truck under the TwoTwo umbrella. Sort of like what a NASCAR team does.

A little mini-Twitter fight broke out between James Stewart's manfriend Eric Sorby and me when I reported that James was also talking to Suzuki about getting on yellow next year. My tweet got a reply out of James, who obviously denied it (he's got another year on his Yamaha deal), and then Sorby promptly made fun of me for my weight, said James has my number on block, that nobody likes me, and that I'm wrong....

It's my job as a media guy to put things out there when I hear them from reliable sources. Trust me, I hear a lot of stuff that never makes it to a Word Document, but there are certain people who know "things," and when I make a couple of calls to find out info, I put the stronger rumors out there for public consumption. Some of these things will happen, some won't... I did hear that Suzuki is interested in signing Eric Sorby, but that's probably just a rumor too.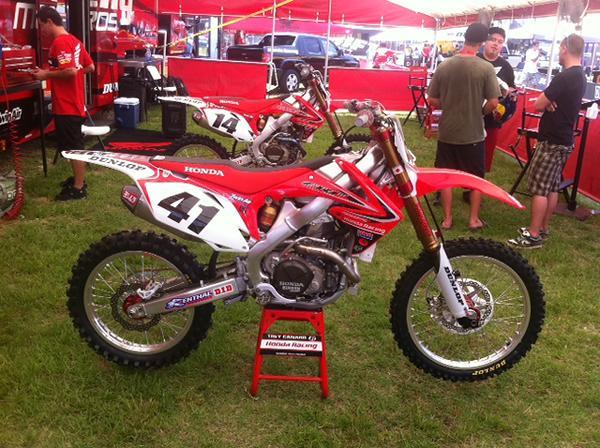 Windham's bike (rear) may be on the starting line all season long.
Photo: DC
Check out Pulpmx.com for more stuff from the races, and thanks to DC, Bryan, and the guys at Racer X for letting me throw in mentions and breaking news from my site. Also thanks to web guru Chase for posting said stuff. I appreciate it!

Okay on to Texas and what I'm sure will be a great weekend of racing. Stay tuned to this site for updates all weekend and I'll be running the Twitter account (@racerxonline) and there will be some nuggets on my own account as well (@pulpmx.com).

Thanks, I think Matthes was kidding about Sorby.... Okay, Racer X contributor Aaron Hansel was also on hand at Hangtown, and here are his notes:

Hangtown. Over the years I've accumulated a lot of great memories from this place: watching Doug Henry rip gigantic holeshots on a YZ400, Travis Pastrana attempting to race with a cast on his wrist, Greg Albertyn slicing through the pack after crashing on the start, Eli Tomac taking the win in his professional debut... the list goes on. And after Saturday, there's a few more memories to add to the list. The weather was fantastic, the crowd was great, and the action on the track was tremendous. We really couldn't have asked for a better day of racing—unless, of course, you're Mike Alessi, who suffered a concussion in practice and will most likely not return to racing until the third round at High Point.
Dungey finished second overall at the opening round at
Hangtown
.
Photo: BrownDogWilson
Hangtown really set the table for the 11 rounds to come. As I wrote in this week's 450 Words, there are always a lot of questions coming into the opener, and after it was all over on Saturday, there were even more. We saw the Reed and Dungey battle go down to almost the very end, and both go fast in Texas.

And of course Villopoto, who was battling a fever, was fast but just didn't have it in him to challenge for the whole motos. I'm going to go way out on a limb here and predict that once he's back at 100 percent, he'll be winning. Kevin Windham also looked good, but a mechanical issue, which Steve Matthes discovered was a problem with his air boot, limited his performance in the first moto.

In the Lites class, how about Blake Baggett? Injuries have kept the Monster Energy/Pro Circuit rider from competing in a complete outdoor tour, and he's only got a handful of outdoor races under his belt, but you wouldn't be able to tell that from his performance at Hangtown. Baggett started the first moto in twelfth and was forced to battle past some of the fastest riders in the world on his way to second—and he even crashed once! Equally impressive is the fact that the final two laps of the moto were Baggett's fastest. He backed it up by winning the second moto and overall. There may not have been a lot of hype surrounding Baggett before Hangtown, but he's certainly on the radar now! Baggett's teammates, Dean Wilson and Tyla Rattray, rounded out the podium for a Pro Circuit sweep, and all three of them absolutely drenched Mitch Payton with champagne in their victory celebration.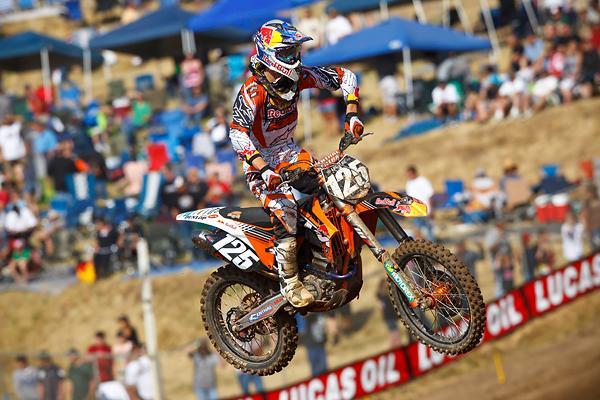 Marvin Musquin made his U.S. debut at
Hangtown
.
Photo: Simon Cudby
MX2 World Motocross Champion Marvin Musquin made his U.S. debut on Saturday, and he had one of those days where his results on paper don't reflect just how well he rode. After setting the fastest time in practice, the Frenchman scored very respectable 4-6 finishes for fifth overall. Pretty good, right? Especially when you consider that Musquin crashed in the second turn of moto two and remounted in dead last. If he can finish sixth after coming back from dead last, what can he do with a holeshot?

On the WMX side of things, I don't really have much to say—not because there wasn't good action, but because Jessica Patterson's performance left me speechless. JP$ completely dominated both motos, even after stalling in the second moto and coming back from tenth place. I guess none of this should really be all that surprising when you consider how well she rode last year. The other girls had better get some things figured out soon, because at this rate, they're in for a long season.

Hangtown was fantastic, and when guys like the Christophe Pourcel, Brett Metcalfe, Andrew Short, and Justin Barcia hit their stride, the action is going to get even hotter!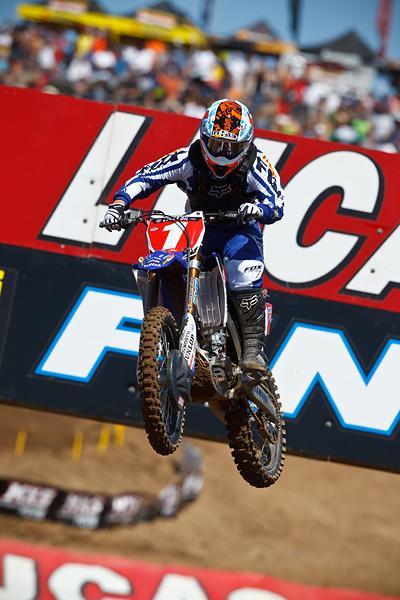 Will Patterson's dominance continue at
Freestone
?
Photo: Simon Cudby
Finally, I want to mention just how lucky we all were to have Hangtown go so smoothly. As a resident of Chico, roughly two hours from Hangtown, I watched the rain pour down in the week leading up to the race. Luckily, it let up to give the Dirt Diggers just enough time to provide an excellent racetrack. The nasty weather returned the next day, and we've been dealing with on-and-off hail, heavy rain, and thunderstorms all week. On Wednesday, three tornadoes (highly unusual for the region) even formed a mere hour and a half from track! Thanks to the moto gods for sparing the season opener from the extreme weather.

Okay, some notes before we head over to the Lonestar to listen to Dano murder some karaoke....

Our own David Pingree finally got a cover! Ping is featured on the cover of this Four-Stroke Motocross and Off-road Performance Handbook, which is actually on pre-order special right now at Amazon ($16.49 vs. $24.99). Click here to order.

We actually got an advance copy here at the office, and it's packed with useful information and advice for anyone who rides a four-stroke.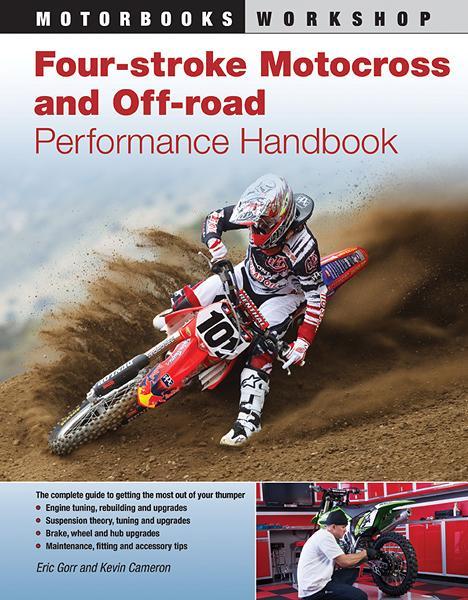 Ahem. Turns out our own Davey Coombs finally got a cover too. DC is featured on the cover of this Vintage MX Journal, after competing a few weeks back at Diamond Don's vintage classic on a borrowed '74 TM250, running the retro Fox Gear that Warren Johnson and Chris "Beeker" Onstott gave him after Washougal's retro race last year, and one of his old friend Rob Andrews' Camel GP bibs from back in the day.... How many SX races did Ping win again? Sometimes it's who you know (and how you dress!).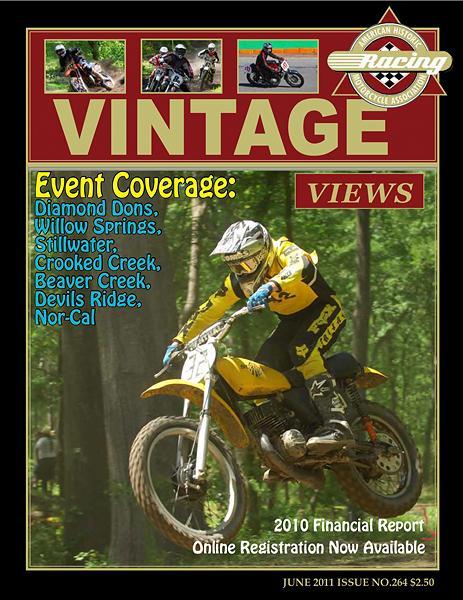 Check out the chopper Ron Joynt of DeCal Works spotted on the net.... No idea who used to own it, but thanks for running our colors! Ron added, "Check out the tail number. I know there is a number of significance that is associated with Racer X?" What a strange coincidence. Every issue of Racer X has #174 on the spine because that's DC's dad's old AMA Pro-Am number from back in the day. He kept it for years and years after his own brief career ended and he just starting riding for fun as he became a race promoter. Serendipity?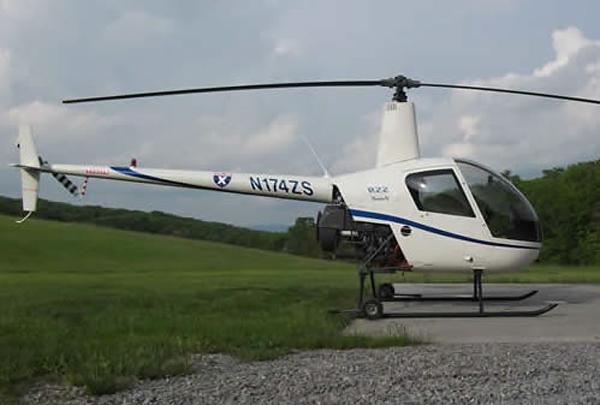 The MX Sports team joined more than 250 other motocross enthusiasts to fight Congress and the Consumer Product Safety Improvement Act—the dreaded "lead law" -- for the AMA's Capitol Hill Climb on Thursday.  The MX Sports team was made up of Amateur Racing manager Tim Cotter, his son Griffin, staff newcomer Andria Alvarez, Mark Gricewich, who is a second-generation owner the RG Honda/Yamaha dealership. They had meetings scheduled throughout the day with the entirety of West Virginia's congressional delegation, both in the House and Senate. On the House side support for repealing the lead law as it pertains to motorcycles stood at 72 delegates strong and showed much promise.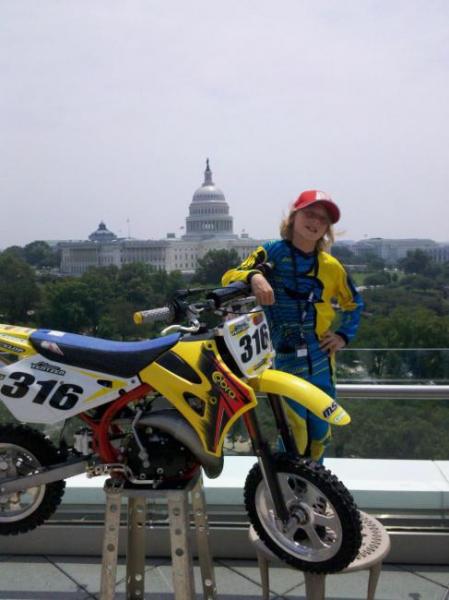 Chase Yentzer was one of the very cool and proactive kids who marched on Capitol Hill to help all motorcyclists' cause.
After their time with the representatives, our guys made their way across Capitol Hill to the AMA's government relations office, where AMA President Rob Dingman and Washington representative Rick Podliska joined our team for meetings with West Virginia's U.S. Senators John D. Rockefeller and Joe Manchin.  Rockefeller's staff revealed a deadlock in Congress and showed some opposition and difficulty towards our team and the cause we support. But Manchin looked Cotter in the eye and assured us we still had reason for hope that the lead law is resolved. Stay tuned.

Below is a photo of Montana Congressman Denny Rehberg and the Kids Just Want to Ride gang at the AMA Family Capitol Hill Climb Thursday in Washington, D.C.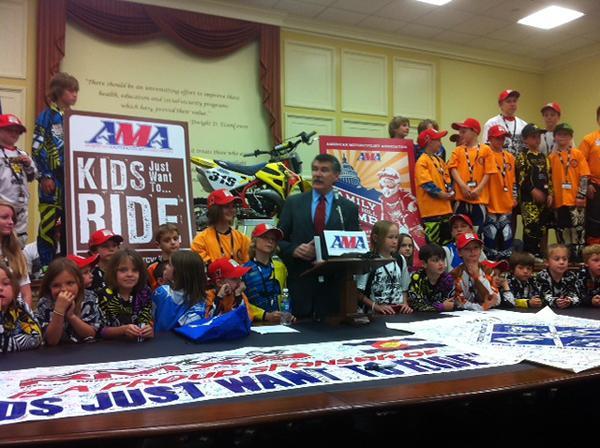 For more information on the AMA Family Capitol Hill Climb and ways to help save youth riding, contact the AMA Grassroots Team at (202) 742-4310, email
grassroots@ama-cycle.org
or visit the event webpage
here
.
Cheers to Doc "Rob Walters" Wobbles, who is celebrating the birth of young Beth Alexandra Walters, as is her mum, Claire. The little Wobbler was born last Friday, May 20, weighing in at 8 lbs. Then all three spent Saturday night watching the Hangtown National live on MotorsTV!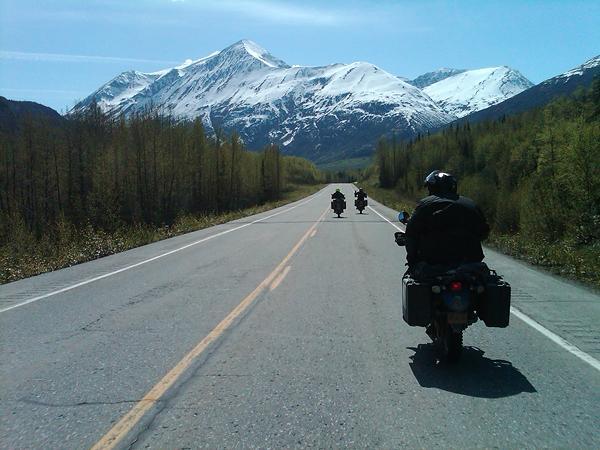 If you don't live in Europe, you probably don't know realize how cool it is to have the AMA Motocross Champioship on live every Saturday via Motors TV. We got lots of notes and emails from friends abroad telling me how cool it was to see their favorite riders and epic tracks like Hangtown on TV. Gary Price wrote us a note: "Watched it in a bar in N.Ireland whilst at the North West 200 road race. It was a good Saturday evening!"

The Racer X brand will be rocking at every round of the Lucas Oil AMA Pro Motocross Championship in 2011, with the famous (and always free) Racer X National stickers, which celebrate each round of the American motocross tour. And with this being the fortieth summer of the word's most competitive motocross series, we made sure to go extra big on the stickers by going right into the wheelhouse of every dedicated race fan: beverage cans! Be sure to drop by the Racer X booth at Freestone to pick up a FREE sticker.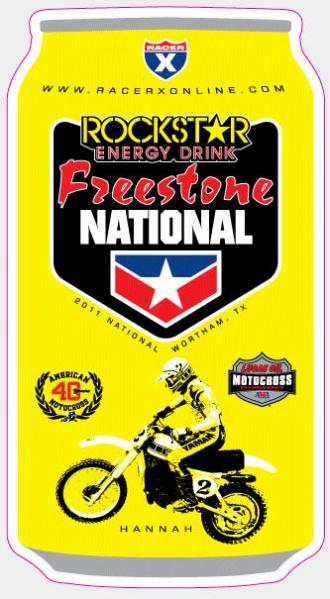 Bob Hannah graces the cover of the
Freestone
sticker.
Ryan Dungey makes a cameo appearance in the new Pac-Sun commercial. The #1 Rockstar/Makita Suzuki rider roosts around some friends to a Frank Sinatra tune. The campaign is called "Dress Irresponsibly" and you can watch it right here. 

Congratulations to longtime motorcycle-industry girl Kristin Cheatwood on opening her own photography business in downtown Ketchum, Idaho. Kristin is the daughter of Ben Cheatwood and has been working with Acerbis, but she will be done there in a few weeks and focused on Cheatwood Photo. Good luck, KC!

Natasha Johnson shows off an autograph from her favorite rider, who happens to be the new Monster Energy AMA Supercrosss Champion.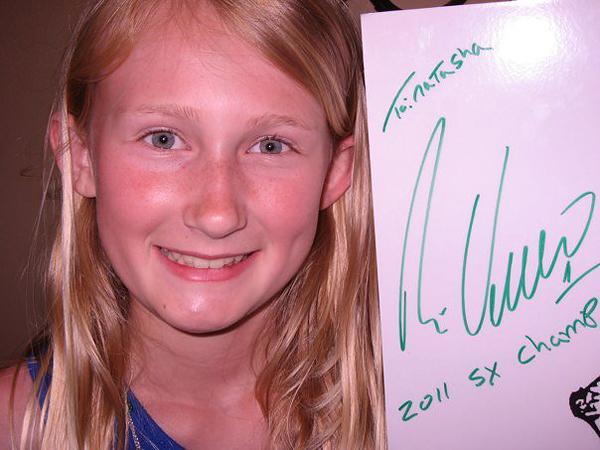 WMX rider Sarah Whitmore went through tech today and asked the AMA to reconsider their jersey requirements so that she doesn't have to put her name up on her shoulders on the back. Why? Because her neck brace comes down and covers a few of the letters in her name, leaving her with this: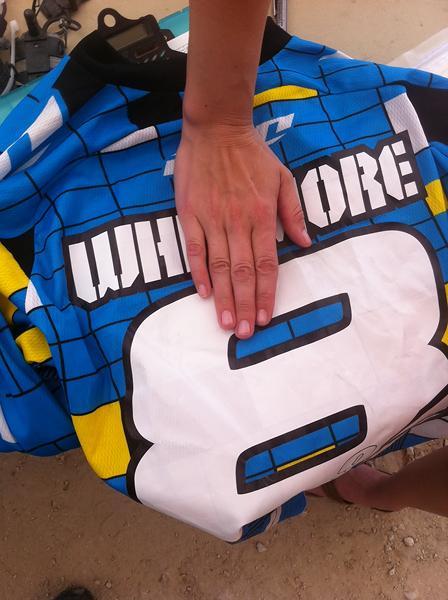 I think she makes a very good point!

Okay, here are the results to our Facebook poll question: Chad Reed and Ryan Dungey are tied in points headed into Freestone. Both will have red plate backgrounds on their bikes, as per the rule. What's your take?

Chad Reed should have the plate: 823 votes
Chad Reed and Ryan Dungey should share the plate: 253 votes
Previous season champion should run the plate all season: 912 votes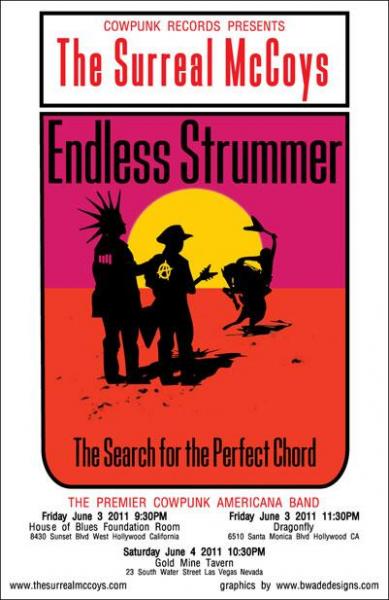 Finally, the Surreal McCoys are making a stop on their Endless Strummer Tour in Hollywood. They play some of their own tunes, as well songs from Johnny Cash, The Clash, Pulp, and more. It takes place next Friday, June 3, at 9:30 p.m., and then Saturday night at 11:30 p.m. More info here.
www.thesurrealmccoys.com

That's it, thanks for reading Racerhead. See you at the races!

This Racerhead is dedicated to the great Lynn Nickerson. May he rest in peace.