Sam Boyd Stadium
Las Vegas

,

NV
Las Vegas
Monster Energy AMA Supercross Championship
It's only fitting that the season many consider to be the most competitive and compelling ever in the history of Monster Energy Supercross went out with more great competition and compelling drama—for whatever reason, supercross in 2011 provided the goods right down to the very last lap of the season.

In the end, Ryan Villopoto claimed his first-ever SX Class Championship, but even in a race where Villopoto was supposed to enjoy a safe, easy ride, crazy things still took place around him. In Lites East, Justin Barcia's straight path to the championship was delayed slightly due to a quick fall, and Lites West delivered some of the wildest action we've ever seen in a title finale, with Broc Tickle emerging with the championship. Like the season it completed, the Las Vegas race lived up to the hype.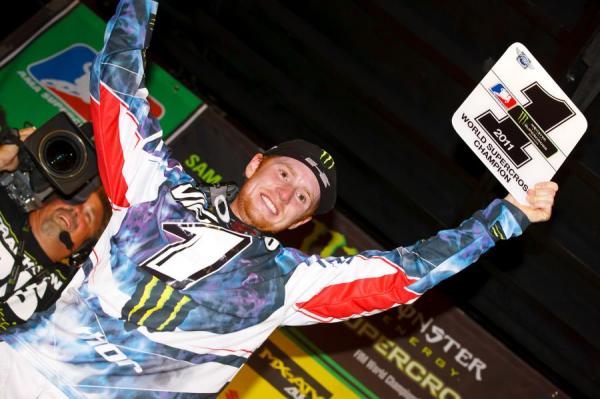 Wild night--and season--ends with Villopoto as a deserving champion.
Cudby photo
It was clear this night would be special before nightfall even landed on Sam Boyd Stadium, as GEICO Honda's Kevin Windham snagged the fastest-qualifier spot in practice over James Stewart, signaling that possible championship spoilers were in the mix. Villopoto only needed to finish fifth to clinch the championship, but off the start he found himself in sixth, and indeed, Windham was a factor, going after Red Bull KTM's Mike Alessi to get the lead. Alessi had grabbed his customary holeshot, and fought back with Windham to retake the lead, before Windham passed him again to lock it down. Then Stewart moved into second on his San Manuel Red Bull Yamaha and began to challenge Windham. Villopoto quickly shuffled forward, getting around his old rival Alessi to make his way safely into third. Meanwhile, Stewart and Windham battled up front, and the season decided to throw out one more heart-stopping moment.

Windham stayed on Stewart's rear wheel until they hit the whoops, when Stewart started getting sideways for the "too manyith" time this season. Down Stewart went, and Windham, driving through the whoops, was helpless to avoid him and plowed right into Stewart and his bike. Windham went crashing over the bars, while Villopoto, speeding through in third, suddenly saw his championship life flash before his eyes. He avoided the carnage, though, riding past the bikes and bodies of Stewart and Windham to take the lead.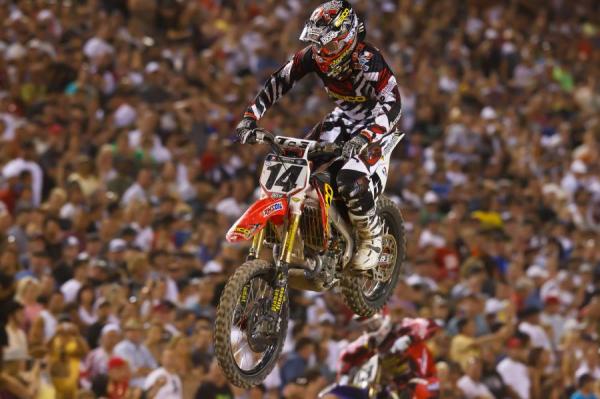 In order for anyone else to have a chance at Villopoto's title, spoilers were needed up front, and Kevin Windham stepped up to add some sizzle to the race.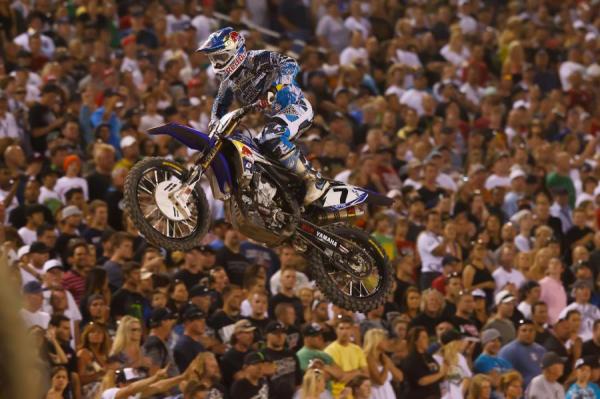 James Stewart was also in the mix, making an impact on the race in the way he seems to do far too often this year.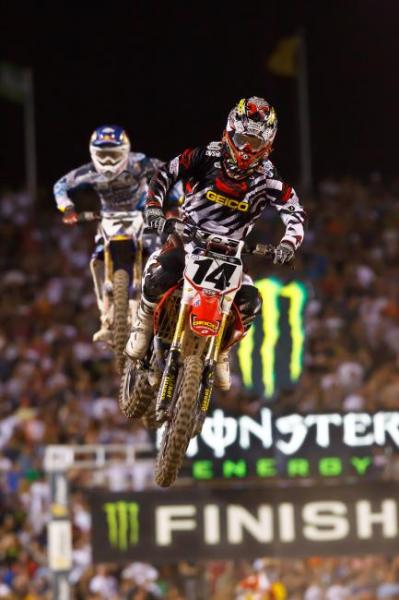 Windham led the race early and then took on a challenge from James Stewart. Once again, all heck was about to break loose.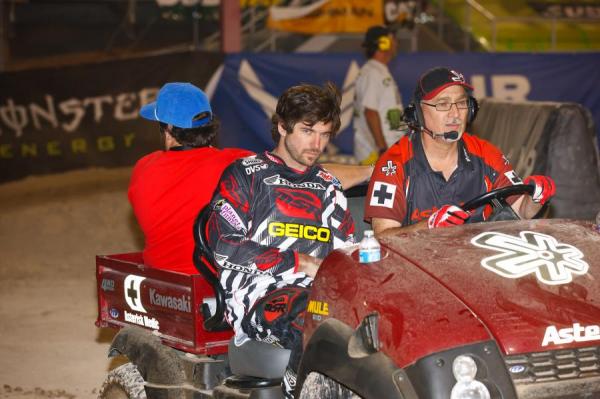 Stewart crashed, Windham went down with him, and the night ended early for both.
Cudby photos
Villopoto had TwoTwo Motorsports Bel-Ray Racing's Chad Reed—the rider closest to him in points—all over him. Reed made a pass, Villopoto fought back, and as they battled, Ryan Dungey closed up. Finally Villopoto, realizing he only needed to finish in the top five to win the title, backed it down. But Dungey didn't give up, pressuring Reed hard for the lead. They battled, and fittingly the final lap of the season presented one last great race, with Reed and Dungey fighting it out through the last lap, with Reed holding on to win the race. Dungey was second and Villopoto sealed the championship by just four points over Reed with a third.

"I really have to thank everyone who made this happen, especially Aldon Baker, my new trainer," said Villopoto. "That was probably the best move I've ever made in my racing career. I knew I had the skills and everything else, but I needed the fitness, and I was able to get that and it paid off. That and everyone on this team, Monster Energy Kawasaki, it takes great people behind you to do this."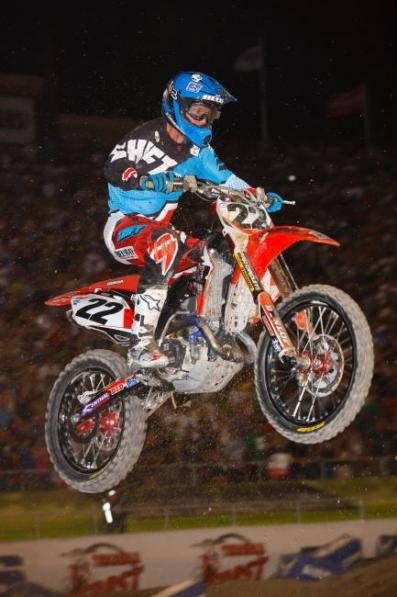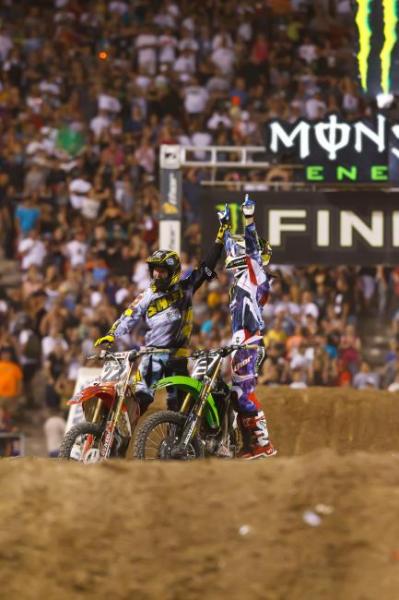 Reed held off Ryan Dungey to win the race, then congratulated Villopoto on his title.
Cudby photos
Reed gave Villopoto credit. "He won the most races and he deserved it," he said after locking in his second race win of the year. "I think we all left points out there at various times throughout the season, but you live and you learn. I've had a blast this season, so congrats to Ryan, I love that kid."

Dungey was stoic after handing over his title. "It definitely hurts, but we'll work even harder next year and try to get it back," said the 2010 Champion, who ends up third in the final standings.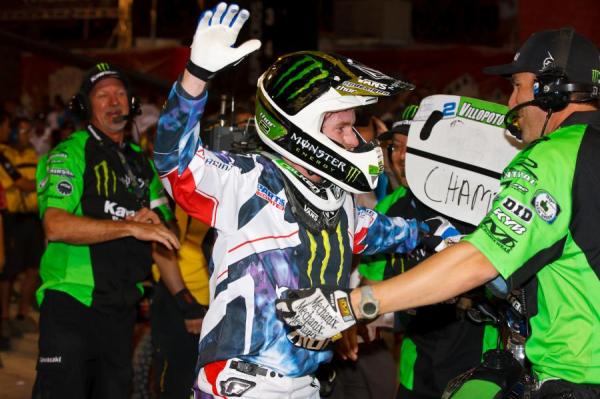 Kawasaki's 2009 gamble of going with Villopoto over Stewart paid off with a championship.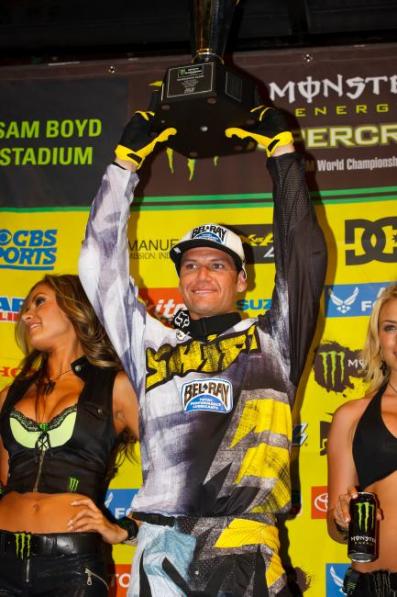 Reed finished second in the series.
Cudby photos
Chris Blose put it in a superb ride on his Dodge Motorsports Hart and Huntington Kawasaki to take fourth ahead in the Las Vegas race ahead of Red Bull KTM's Andrew Short.

Titles were on the line in Vegas for both the East and West Lites classes. In the East main, GEICO Honda's Justin Barcia put the title battle to rest by grabbing the early lead, while Dean Wilson, who sat second in points, was way back. But Barcia washed out and handed the lead over to Sipe. Hearts temporarily stopped in the GEICO Honda pits, but Barcia was able to get up in third and avoid falling behind Wilson. Sipes continued to lead, but Monster Energy Pro Circuit Kawasaki's Blake Baggett stayed close. Bagget appeared to have most of the track wired, but Sipes had the better line  through the whoops and used it to keep Baggett at bay. Late in the race, Baggett figured out the whoops and began attacking Sipes, and on the last lap, they dueled with Baggett snagging the lead and the win. Behind them, Barcia finished third to seal the title.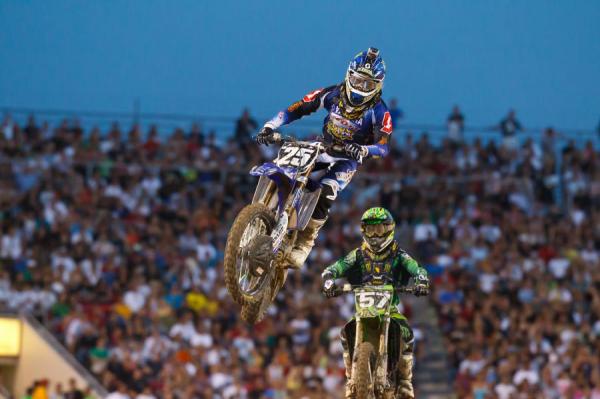 Sipes and Baggett put on a superb battle for the East final-round win.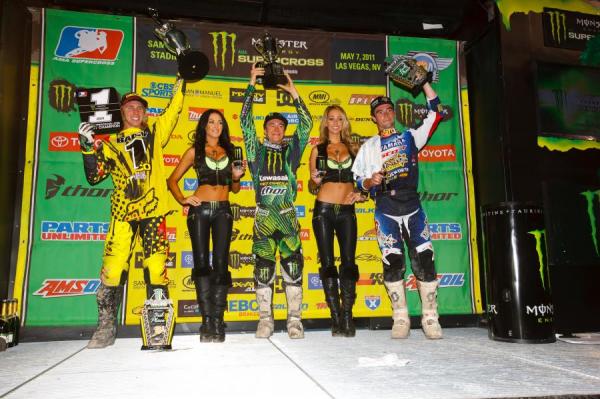 Baggett (center) claimed the final East Lites win of the season while Justin Barcia locked up the title with a third.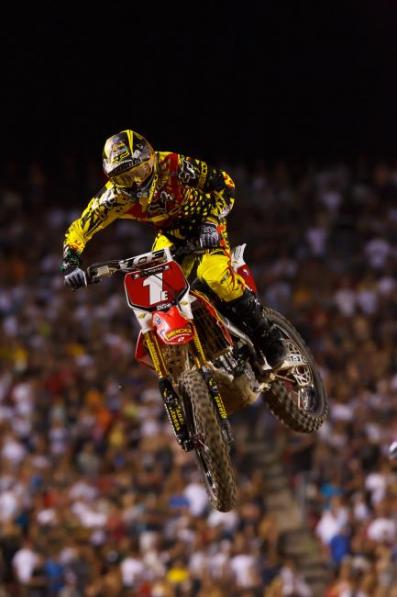 Barcia later got to show off his new hardward in the Lites Shootout.
Cudby photos
The West main presented the wildest title fight in ages, with Monster Energy Pro Circuit Kawasaki's Broc Tickle and GEICO Honda's Eli Tomac separated by just two points coming in. In fact, this race was so good that it's nearly impossible to find the words to describe everything that went down. Red Bull KTM's Ken Roczen grabbed the start, then fell, handing the lead to Lucas Oil Troy Lee Honda's Cole Seely. Then Seely crashed, handing the lead back to Roczen, while behind them the title battle to the death began: Josh Hansen led Tomac and then held him up, hoping to help his teammate Tickle who was right behind. Tomac survived, slicing through, but then had more company as Kyle Cunningham moved past while he was dealing with Hanny. Tickle got past Hanny easily, and stayed within striking distance of Tomac a bit. Tomac kept charging to stay ahead of Tickle, and started to close on Cunningham and Seely. Tomac found himself battling in traffic, again, and Cunningham and Seely didn't make it easy on Tomac at all—in fact, many would say they were playing a little dirty with the title contender. Tomac nearly tangled with Seely twice, and then almost collided with Cunningham over the big ski jump, and after all the tangling, Tickle slipped by and took advantage. Tickle then had to deal with the pressure, and on the last lap he managed to pass both Seely and Cunningham, but the Cunningham pass was incredible—it looked like he Tickle was about to land right on him, but he bounced off of Cunningham's rear fender and managed to save it. Tomac chased Cunningham and Tickle to the finish but couldn't find an opening, allowing Tickle to claim the championship. Almost unnoticed up front Roczen won the race—his first career SX win.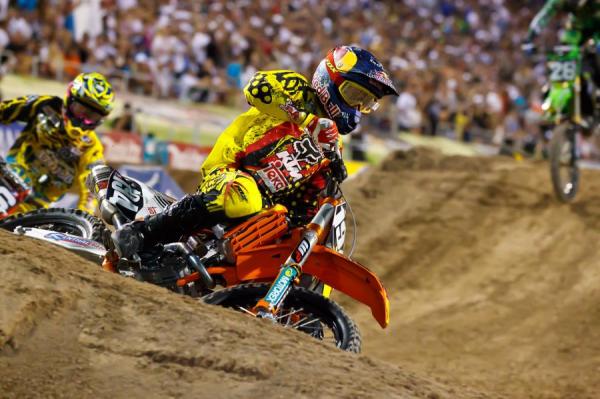 Ken Roczen railed to his first-ever Lites SX win. That was the simple part.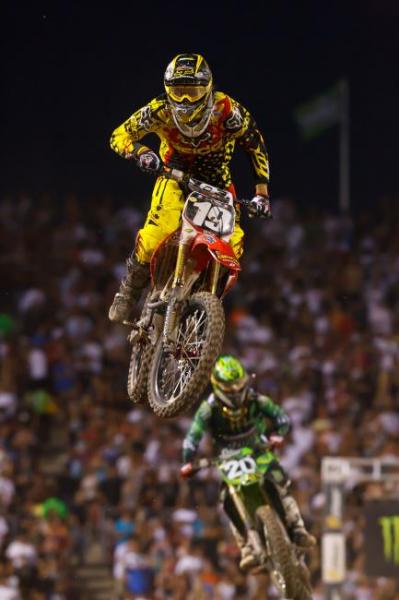 For several laps Eli Tomac held title-rival Broc Tickle behind him, but he needed to keep it that way to win the title. He got held up up Cole Seely and Kyle Cunningham, and Tickle took full advantage.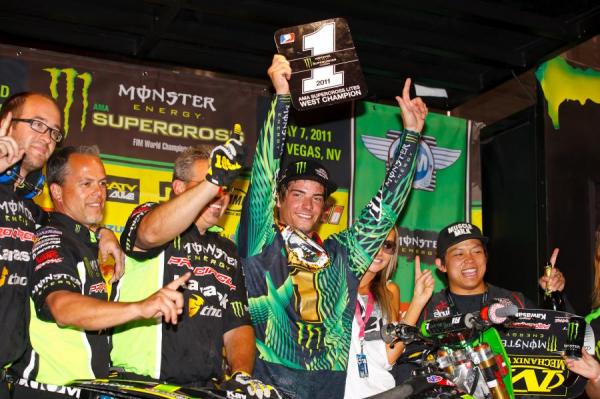 After a wild, wild west final, Tickle claimed his first career title, and proved he could indeed deal with championship pressure.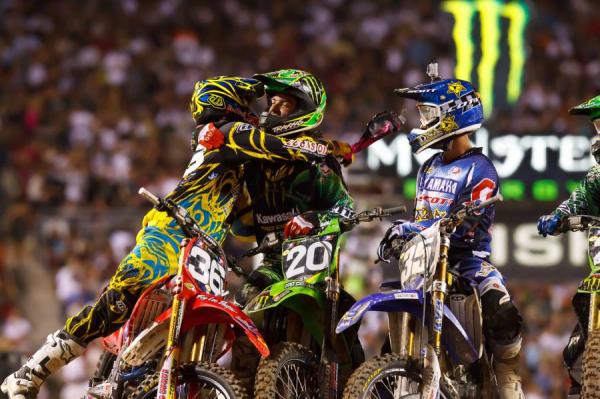 Seely (36) and Cunningham (35) helped seal Tomac's fate, and their celebration post-race aroused some suspicions.
Cudby photos

In the Dave Coombs Sr. Lites East/West Shootout, Barcia got out front again, but washed the front end, again, and went down. Then Sipes took the lead and held onto it over Seely and Roczen. Tickle and Tomac simply cruised around, their fate already determined in the crazy championship battle earlier.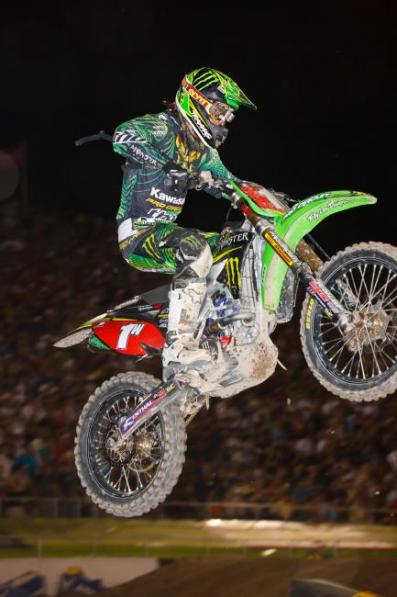 Tickle got to don the 1W for the Shootout.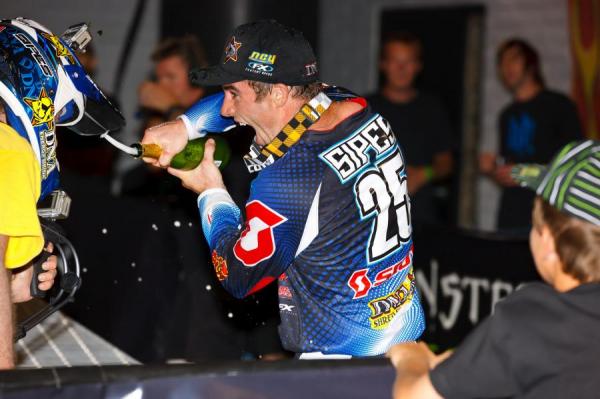 After taking a close second in the Lites East final, Sipes returned to win the East/West Shootout.
Cudby photos
It was one to remember, and the standard for 2012 is set high. Drama and action, see you next year?
Lites East Results
1. B. Baggett
2. R. Sipes
3. J. Barcia
4. D. Wilson
5. M. Stewart
6. M. Lemoine
7. L. Vincent
8. H. Hewitt
9. L. Smith
10. J. Sipes
11. C. Gosselear
12. T. Futrell
13. L. Kilbarger
14. T. Brght
15. A. Catanzaro
16. J. Moore
17. K. Rusk
18. R. Renner
19. B. Ripple
20. G. Audette
Lites West Results
1. K. Roczen
2. B. Tickle
3. K. Cunningham
4. E. Tomac
5. C. Seely
6. T. Rattray
7. R. Morais
8. T. Baker
9. M. Davalos
10. J. Hansen
11. B. Rutherford
12. N. Paluzzi
13. J. Canada
14. B. Evans
15. C. Hinson
16. D. Tedder
17. L. Powell
18. T. Weeck
19. G. Steinke
20. T. Ingalls
Dave Coombs Sr. East/West Shootout Results
1. R. Sipes
2. C. Seely
3. K. Roczen
4. D. Wilson
5. M. Davalos
6. E. Tomac
7. L. Vincent
8. K. Cunningham
9. T. Baker
10. B. Tickle
11. T. Rattray
12. B. Baggett
13. N. Paluzzi
14. M. Lemoine
15. R. Morais
16. J. Barcia
17. L. Smith
18. M. Stewart
19. J. Canada
20. H. Hewitt
SX Class Results
1. C. Reed
2. R. Dungey
3. R. Villopoto
4. C. Blose
5. A. Short
6. J. Weimer
7. A. Stroupe
8. N. Wey
9. K. Regal
10. T. Simmonds
11. T. Bowers
12. W. Peick
13. D. Millsaps
14. M. Byrne
15. J. Stewart
16. K. Windham
17. T. Hahn
18. M. Alessi
19. J. Brayton
20. R. Kiniry
Eastern Regional Supercross Lites Class Season Standings (Unofficial Results)
1. Justin Barcia, Ochlocknee, Ga., Honda – 205
2. Dean Wilson, Menifee, Calif., Kawasaki – 183
3. Ryan Sipes, Vine Grove, Ky., Yamaha – 163
4. Blake Baggett, Grand Terrace, Calif., Kawasaki – 159
5. Blake Wharton, Pilot Point, Texas, Honda – 125
6. Matt Lemoine, Collinsville, Texas, Kawasaki – 120
7. Malcolm Stewart, Haines City, Fla., Suzuki – 89
8. Lance Vincent, Youngsville, La., Honda – 83
9. P.J. Larsen, Murrieta, Calif., KTM – 80  
10. Hunter Hewitt, Pilot Point, Texas, Suzuki – 80
Western Regional Supercross Lites Class Season Standings (Unofficial Results)
1.     Broc Tickle, Holly, Mich., Kawasaki – 187
2.     Eli Tomac, Cortez, Colo., Honda – 181
3.     Josh Hansen, Elbert, Colo., Kawasaki – 162
4.     Cole Seely, Corona, Calif., Honda – 147
5.     Ryan Morais, Murrieta, Calif., Suzuki – 138
6.     Ken Roczen, Germany, KTM – 130
7.     Tyla Rattray, Wildomar, Calif., Kawasaki – 126
8.     Kyle Cunningham, Aledo, Texas, Yamaha – 125
9.     Martin Davalos, Cairo, Ga., Suzuki – 107
10.  Ben Evans, Garden City, Idaho, Kawasaki – 75
Supercross Class Season Standings (Unofficial Results)
1.     Ryan Villopoto, Poulsbo, Wash., Kawasaki – 338
2.     Chad Reed, Tampa, Fla., Honda – 334
3.     Ryan Dungey, Belle Plaine, Minn., Suzuki – 328
4.     James Stewart, Haines City, Fla., Yamaha – 301
5.     Trey Canard, Shawnee, Okla., Honda – 255
6.     Andrew Short, Smithville, Texas, KTM – 230
7.     Kevin Windham, Centreville, Miss., Honda – 207
8.     Davi Millsaps, Carlsbad, Calif., Yamaha – 180
9.     Justin Brayton, Cornelius, N.C, Yamaha – 155
10.  Nick Wey, Dewitt, Mich., Yamaha – 152