Trey Canard crashed and broke a femur a week ago while testing for this Lucas Oil AMA Pro Motocross Championship. It's a huge bummer for Trey, his team and his fans, as the injury is not only painful, but it knocks him out of contention for both this year's Monster Energy Supercross crown and the motocross championship.  We joke that there's never a good time for an injury, but as times go, right now is about the worst time to get bent up like Trey is at the moment.

On the bright side, things could be worse. Trey's not the only rider to go down while testing—just ask Jake Weimer. Here's a list of big crashes and injuries away from the races. Some are unfortunate, some tragic.

10. Travis Pastrana 2003: We could do a List with 100 entries for Pastrana wrecks and injuries, but one stands out in the supercross scene. While preparing for the 2003 season, Travis is reportedly flying at the Suzuki track. But a few days before the season begins, he tries to jump a massive jump at Castillo Ranch, crashes, and blows out his tender knee once and for all. Travis was never as serious of a contender as a racer again.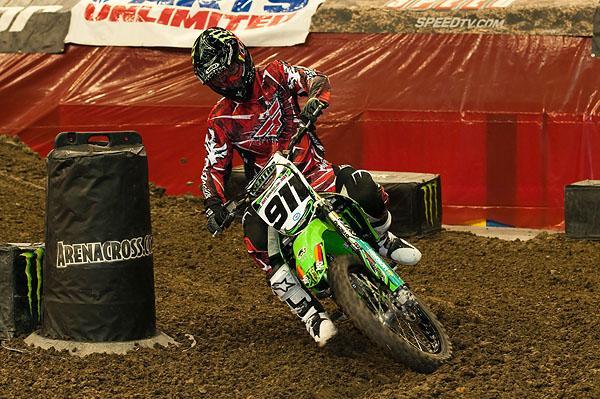 Bowers would lose out on the 2010 Arenacross championship after breaking both his femurs in a practice crash.
Photo: Shan Moore
9. Mike LaRocco 1993: The Kawasaki test track was developing a tough rep for a few years here, with a variety of stars going down at the track. Mike LaRocco raced through a broken wrist for most of the 1992 season, showed up healthy in 1993 and won the series' opener in Orlando. While battling for the points lead early in the season, he snapped his wrist testing, again, and ended his indoor season.

8. Branden Jesseman 2003: Jesseman breaks through to win the 125 East Region Supercross Championship, but at the Suzuki test track preparing for the Las Vegas East/West shootout, he breaks his arm. Jesseman never gets to run the #1E in racing, and he also misses a big chunk of the AMA 125 Motocross Championship, where he was expected to be a front runner. More injuries and crashes followed—and most of the time they took place while practicing and testing.

7. David Vuillemin 2001: This one is pretty famous. David Vuillemin is leading the 2002 AMA Supercross Series, when he hits the hills in a TWMX photo shoot. He crashes and jacks up his shoulder, leaving he powerless to stop a Ricky Carmichael come-from-behind championship effort.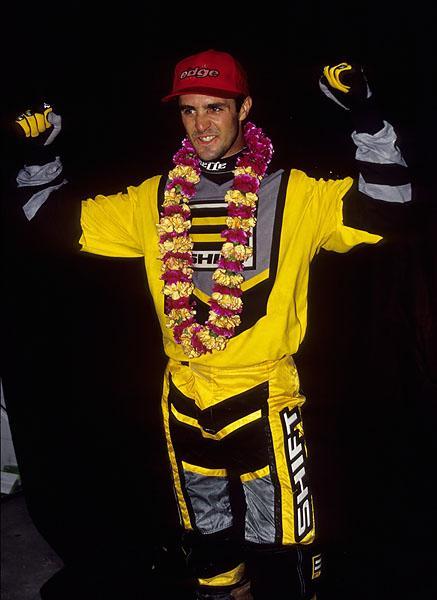 Emig would break both wrists in 2000 while practicing costing him his SX season.
Photo: Simon Cudby
6. Tyler Bowers 2010: Bowers dominates the early going in the Arenacross tour and leads the points down the stretch against a surging Josh Demuth. Late in the season, Bowers crashes while practicing and breaks both femurs—ending his championship run.

5. Bob Hannah 1983: Hannah is back to his old form after several years of struggles (mostly caused by a broken leg while water skiing. You thought crashing at the practice track was bad). He wins a bunch of races and looks ready to take back the AMA Supercross and 250 National Motocross Championships, but he breaks his wrist practicing and struggles through the rest of the year.

4. Broc Hepler 2007: B-Hep signs with Team Yamaha for the new season and is reportedly flying at the test track when he knocks himself out. Badly. Hepler misses a few months of racing and comes back with sporadic results—he does score a moto win at Steel City and a SX podium in 2009 at New Orleans. But the head injury never goes completely away, and Hepler crashes too often to live up to his potential. He finally stepped away from racing last year to go back to school.

3. Jeff Emig 2000: Double trouble here for 'Fro, who was setting up a Chad Reed-like privateer assault on the 2000 season. Emig says he had never ridden supercross better than he did that off-season, which included a win at the U.S. Open in Vegas. But on January 1, he crashes and breaks both wrists while practicing at Stephane Roncada's house. Months later, preparing another comeback for AMA Motocross, his throttle sticks and he crashes again, breaking his back. Emig is forced to retire.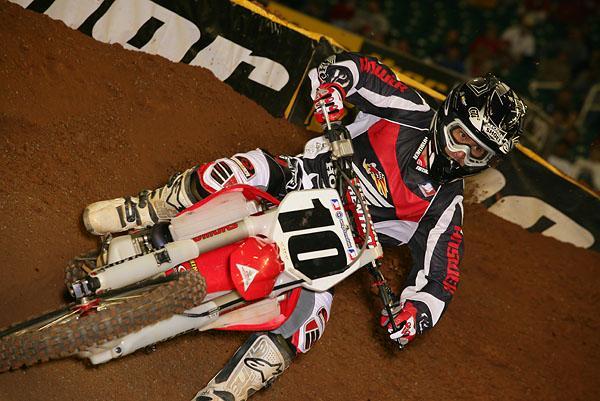 Fonseca would suffer a career-ending injury while practicing in 2006.
Photo: Simon Cudby
2. Donnie Hansen 1982: "Holeshot" Hansen wins both the 1982 AMA Supercross and 250 National Motocross Championship. But he is never able to defend those titles. In the fall, he heads to Europe to race the final 250 GP (he wins both motos) and then heads to West Germany to get in some practice for the Motocross des Nations. He crashes and knocks himself out. Hansen attempts a comeback, but is never able to race again.

1. Ernesto Fonseca 2006: Tragically, Ernesto's career ends in a crash at the Honda test track in 2006. He had just come off of a podium finish at the St. Louis supercross when a broken neck ends his racing days.