Neuquen, Argentina
MXGP of Patagonia Argentina
FIM Motocross World Championship
MX Large's Geoff Meyer sent us this interview with Jeffrey Herlings to get an update after his return to MXGP action. Herlings, the 2021 MXGP World Champ, missed the entire '22 season due to injury. Here's what he had to say following his runner-up finish in Argentina.
"The Bullet" is back! Maybe not a GP winner, but man, he came very close, despite not racing a Grand Prix in 15 months and having very little in the way of top-class competition during that time. Sure, he went 1-1 at Arnhem on the Grand Prix circuit, up against a bunch of local Dutch riders and he battled Romain Febvre and Glenn Coldenhoff at Hawkstone Park, but the real "fastest man on the planet" hasn't been seen at a GP since the back end of 2021, so question marks were clear, even from me, one of his biggest fans.
With Herlings enduring so many injuries throughout his career, there was a grey cloud hovering over Herlings until he showed us what he still had, even though he has surprised us time and time again. Well, around the tough Patagonia circuit, he showed us, maybe not on Saturday, but on Sunday, enough to realize he is back on form and will be winning Grand Prix again sooner, rather than later.
MXLarge: I was a bit nervous yesterday [after watching Saturday's qualifying race, where he finished 10th].
Jeffrey Herlings: Terrible hey….
I know you have been away a long time and this is a dangerous track, but what was the story yesterday?
I just, I don't know. I was just so scared something would happen and I made it way more difficult for myself. I actually got a good start and shut off, but then there were guys on my right, on my left, guys hitting each other, hitting me. Because I was mid-pack, it was chaos there. I was just too cautious. Today I told myself, let's just make it happen. I had a good start and was up with the top guys. I was a bit off, but not much, but I was pretty happy with what happened today.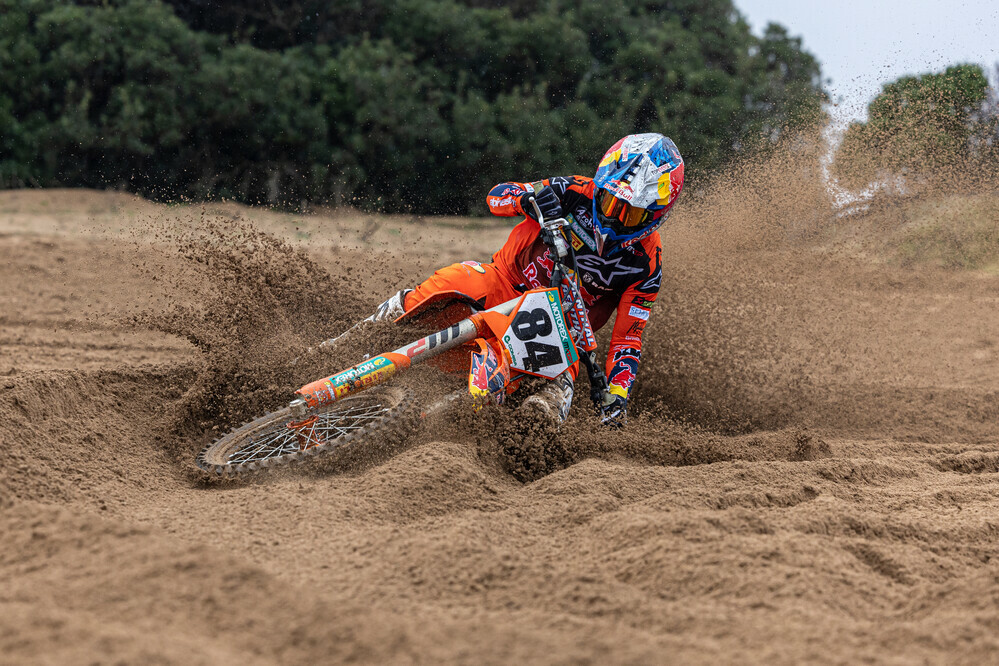 We have all missed having you here. In the pre-season preview you mentioned you wanted a top five. You finish second. Happy?
I just got a better flow throughout the weekend and when you are out of this feel for 16 months you can't underestimate what it takes. I did 100,000 laps in Spain, but race intensity, that takes time. There is nothing like a real race. I am getting better and better, but today, every session and every race I got better. If I could have signed up for second overall, I would have done that. Now there is pressure for the next races, because I can't hide anymore.
Why were the two races were so different?
I was so cautious because of all the injuries and I was scared, but I realized I needed to be with the front guys, because they are safer to race. Ruben was just too fast, and I let him go, rather than try and race him and crash. I felt riding a couple of seconds slower at times was better for me today.
In the first race, you mentioned your condition was bad, but then in the second race it was okay. How does that work?
I felt all day that I had the speed to win, but my condition was difficult at times. The track is sketchy, and I couldn't last that speed for the whole moto. I don't know man, but you don't want to be me tomorrow morning when I try and get out of bed. You will need something to get me out of bed! I really don't know how I got it done. Throughout the weekend I got better, but Saturday, I was really like, this is not Jeffrey Herlings, this is not how I want to get it done. The first race back in 10th was just a shame. Going into today, I figured I could get around fifth and I would do everything possible to get there, then to finish 4-2 is pretty good. I was like 10 seconds off the pace at some point and I didn't have the speed of Renaux in the first moto or Ruben in the second race, but I wasn't far off, and we will get there.
Second round in Sardinia is a sand race and you will race in Holland next weekend, I would imagine you can go to Sardinia with a lot of confidence for your 100th Grand Prix win?
I actually feel like we are better on the hard-pack now, because we have been in Spain for three months. I worked a lot on the bike in the hard-pack and not so much in the sand, so at the moment I am better on hard-pack tracks. Not as a rider, but because of my bike, but Sardinia we will test a lot and I have to do a lot of work on the bike for the sand, so we will see what happens in Sardinia.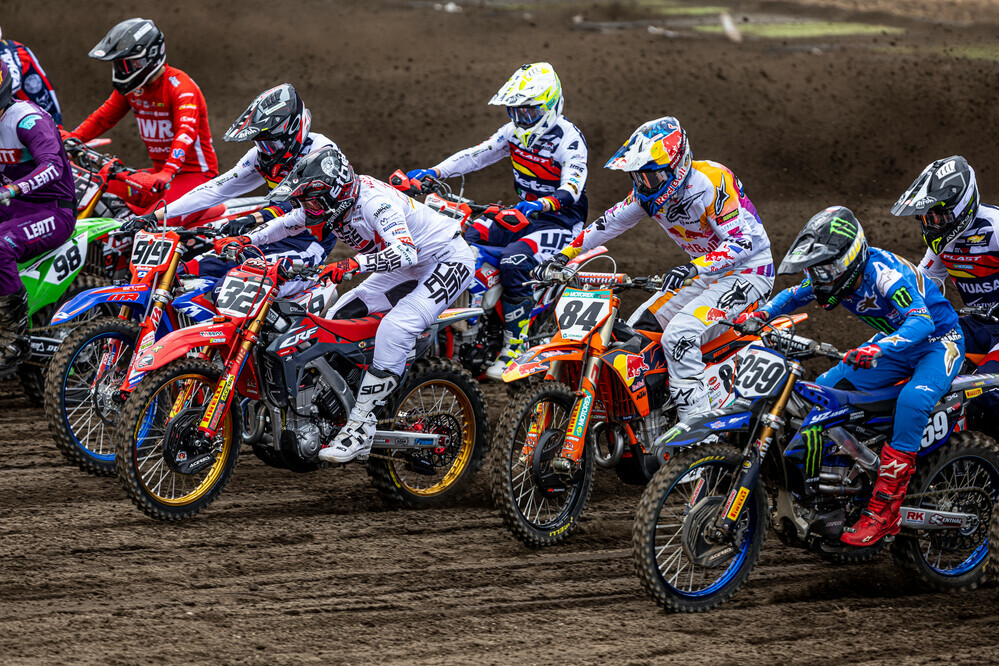 Being that you haven't been around these guys for a long time, and you have been out for a year, plus you are not getting any younger, have you had some doubts if you can get back to where you once were?
Yes, in fact, when I woke up this morning, it is the 12 of March and I am 28 and a half today. Turning 30 is coming closer and closer, so it's like…but really, I never doubted myself, because in practice I can make the speed happen, but I couldn't make it happen at Hawkstone Park, because it was like I froze, all the guys around me, it felt uncomfortable, because I hadn't done it for so long. In practice you don't have that race intensity, so I have to learn that a bit again, but it's coming quickly. I need to race a lot, so we will race next weekend in Holland. I really want to race every weekend, just to get that feeling back again.
Despite doing better than you expected, on the podium you didn't look happy, just losing the Grand Prix by such a small margin. I guess winning is really the only thing that will make you smile again?
Mainly, because in the first moto, Renaux was coming and he was faster than I was. I don't know if you saw it, but I waved him through, to pass me and those points cost me the Grand Prix win. I didn't even fight him, so I am a bit disappointed about that now. I was in the air and pointed to him to pass, but once he passed, I actually stayed with him, so I was disappointed about that really. That move cost me the GP.
How is it being back?
Chaos again, but this is what I live for. That is why I extended my contract with KTM, and I feel fit, and I have more patience, so I am happy to be back and fighting with these guys.
You are always in and out of these places, no time for sightseeing. You have a flight out tonight at midnight. You really are just here for the racing, right?
Yeah, 12:30 flight, but we fly to the capital tonight and leave tomorrow. If I want to take a holiday that is for the off-season. Now it's time to work.
---
Main Image by Juan Pablo Acevedo/KTM Images