Tampa, FL
Tampa
Monster Energy AMA Supercross Championship
Last Saturday night we saw not one but two late turnovers that cost the riders in each class a victory. In 250SX, Monster Energy Yamaha Star Racing's Nate Thrasher had a seemingly insurmountable lead, only to have Team Honda HRC's Hunter Lawrence hunt him down on the last lap and then make a beautiful block pass in the last corner to win by less than two-tenths of a second. And then in the 450SX main Chase Sexton was leading and in position to grab the red plate when he up and tripped in some slippery whoops, handing the lead and the win to Red Bull KTM's Cooper Webb. Credit, of course, to Webb for applying pressure and Lawrence for charging down to the last inch. The misfortune of Thrasher and Sexton got us to thinking about other races where what looked like sure winners ended up snatching defeat from the jaws of victory since 2000. Feel free to leave some suggestions on old school races from before that (Johnny O'Mara running out of gas on the last lap at Unadilla in 1986), or more modern races we may have missed. The comment section is there for you.
2001 Unadilla 125 National: Travis Pastrana dominated the first moto and the was half a minute out front in the second when he suddenly lawn-darted himself on a fast uphill double. That handed the win to KTM's Grant Langston and pretty much cost Pastrana a repeat AMA 125 Pro Motocross Championship.
2001 Steel City 125 National: South Africa's Langston appeared to have the AMA 125 National Championship all wrapped up in the waning moments of the Steel City season finale. All he had to do was finish the second moto a few positions behind Pro Circuit Kawasaki's Mike Brown, who was behind him. But then Langston smashed his rear wheel landing off a big tabletop and spokes started breaking. The wheel finally collapsed with less than two laps to go, and with it went both the overall win as well as what would have been his first AMA title.
2001 Houston 125SX: Earlier that same season Langston was well on his way to what would have been a first-ever 125SX main event win for him as well as KTM, but then he went to celebrate on a big triple on the last lap with a celebratory fist-pump, only to then crash in the following corner and hand the win to Travis Preston. Instead of KTM winning, Preston gave Husqvarna its first-ever 125SX win instead.
2002 Anaheim 125SX: Either Yamaha of Troy's Rodrig Thain or Factory Connection Honda's Chris Gosselaar was going to win the opening round of the '02 EA Sports/AMA Supercross season at what was then called Edison International Field, and it would have been the one and only AMA Supercross win for either of them. But instead Gosselaar ran into the back of Thain on the last lap in the whoops, and both went down. Right there to claim an unexpected gift once again was now-Factory Connection Honda rider Travis Preston.
2008 Daytona 450SX: Team Yamaha's Chad Reed had this one in the bag. It was raining heavily on Daytona International Speedway and Reed was putting on a master class in the shortened 450 main when his YZ450F suddenly started belching brown smoke from its dying motor. He completely seized it two straights from the checkered flag, handing the Daytona SX win to Honda-mounted Kevin Windham.
2010 Freestone 250 National: Monster Energy/Pro Circuit Kawasaki's Dean Wilson was way out front in the second moto and on his way to what would have been his first-ever overall win when he suddenly slowed and coasted in on the last lap, not realizing that his teammate Tyla Rattray was closing in fast--he apparently thought Rattray was lapped and wanted to let his teammate by! Wilson also allowed Star Racing Yamaha rider Broc Tickle to get him just before the finish line, handing not one but two spots and the overall win away. He went from a 3-1 to a 3-3, which allowed his teammate Christophe Pourcel to take the win instead.
2011 Freestone 450 National: Suzuki's Ryan Dungey finished runner-up to Chad Reed in the first moto and then clearly had the moto two win in hand when his Suzuki RM-Z450 suddenly stopped with a lap and a half to go, the fuel in his bike having boiled over, running his tank dry. That allowed Honda-mounted Chad Reed to take the win instead.
2012 Unadilla 450 National: This was a sad one: With just six minutes to go and sizable lead in the first 450 moto, Australian veteran Michael Byrne swapped in a fast section of rollers and destroyed his leg--without even crashing! After somehow saving it, Byrne simply rolled to a stop on the side of the track and collapsed in agony. It ended his season on the spot. Wrote Matthes of Byrne's unfortunate moment in his Observations, "There's no one in the pits that doesn't like the friendly Aussie. He's one of the good guys and most people (like Andrew Short's win in Seattle earlier this year) were very happy to see the #26 up front. But the clock struck midnight before the 30 plus two was up and Byrner went from Cinderella to pumpkin. Oh this cruel sport that we all love!"
2016 Detroit 450SX: Red Bull KTM's Ryan Dungey had this win in the bag--literally. They had already given him the trophy and the champagne and the winner's interview on the podium when race officials took another look at a situation where a red cross flag was being shown, but RD5 did not see it. After a quick meeting between officials, it was decided to give Dungey a two-position penalty, which handed the main event win to then-Husqvarna rider Jason Anderson and moved Dungey's Red Bull KTM teammate Marvin Musquin up to the runner-up spot. (Anderson was apparently told he won while on a stadium elevator headed to the press conference.)
2016 FIM Motocross of Nations: It one of the most bizarre finishes we can ever remember, Team USA's Jason Anderson won the middle MX2/Open moto at the FIM Motocross of Nations at Maggiora, Italy, over Team Netherlands' Jeffrey Herlings, putting Team USA in a prime spot to end their five-year losing streak. Anderson, however, wouldn't make it off the track. Having won with room to spare, Anderson rolled the big finish-line tabletop rather than launching it. Behind him, a Japanese rider he had just lapped did not see him slow and went ahead and launched the tabletop himself. He landed on the winner's head, knocking Anderson out for the day. The fact that he couldn't ride the second moto meant that all of Team USA's other moto scores counted. Had he raced the last moto and just finished sixth, Team USA's Anderson, Cooper Webb, and Alex Martin would have won.
2019 Arlington SX: Since the AMA started publishing margin-of-victory data, this race ranks as the closest of all-time. Cooper Webb hunted Ken Roczen down on the last lap, and they battled through the final straight to the finish, side by side. Webb won, final margin: .028.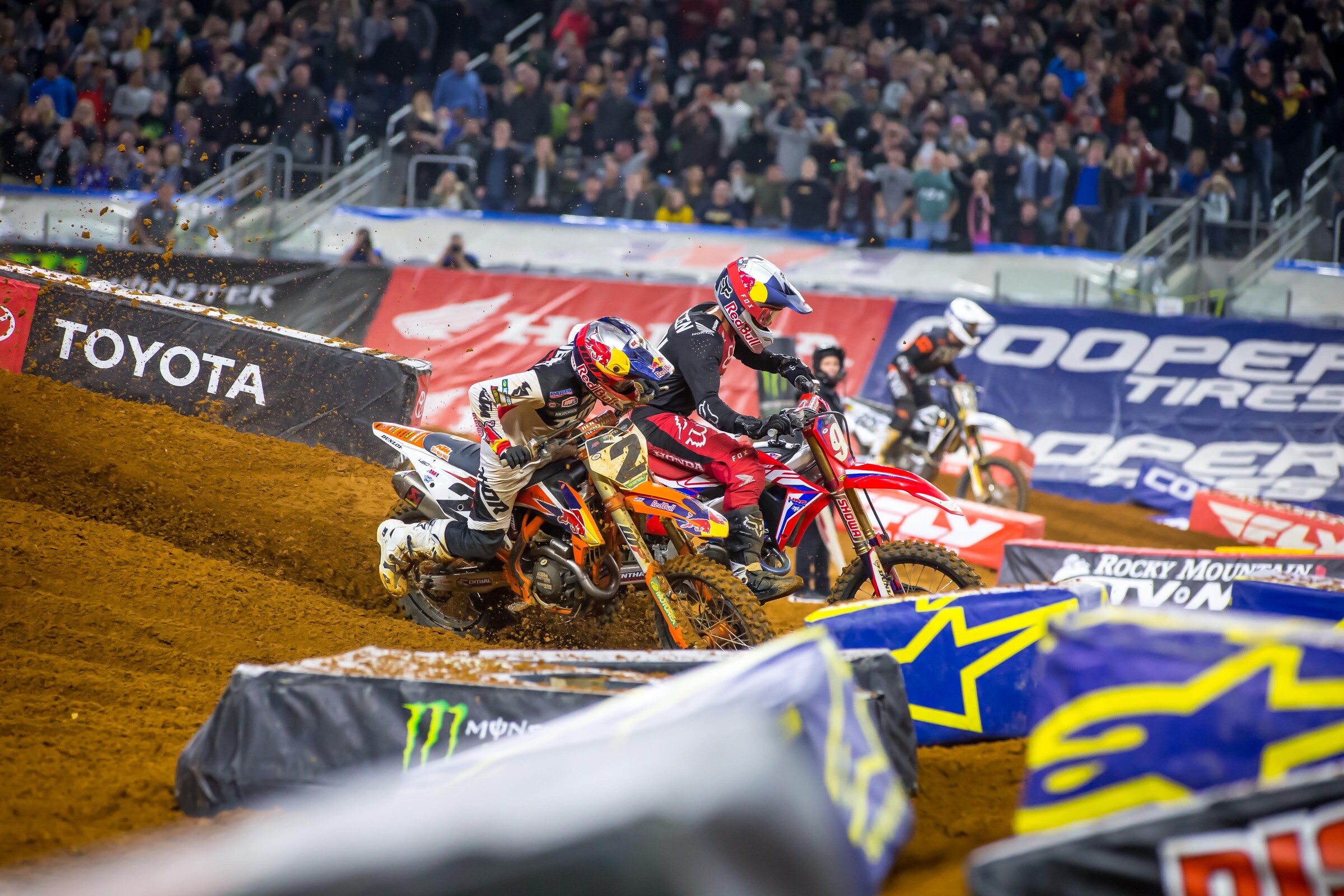 2022 Minneapolis 450SX and Thunder Valley 450MX: Unfortunately again for Chase Sexton, this happened twice in '22. He overtook defending champion Cooper Webb a third of the way into the 26-lap main event, and then crashed while he was all alone out front with just two laps to go. And then a couple months later at the Thunder Valley 450 National in Colorado, Sexton had the second moto in the bag before tipping over in a corner, handing the lead as well as the overall win to his Honda teammate Ken Roczen.