Images by Christophe Desmet
Despite being 38 years old and winding down his professional racing career, Justin Brayton has had a busy off-season of racing. Over the weekend, the Iowa native finished third overall at the Paris Supercross behind King of Paris Ken Roczen and the 2022 450 AMA Supercross and Motocross Champion Eli Tomac. After the second night of racing was complete, our Steve Matthes caught up with Brayton to get his thoughts on the weekend.
Racer X: One bad main event over the two nights did you in a little bit, but third overall. You'll take it. Whoops speed was phenomenal. A nice showing here in Paris.
Justin Brayton: Yeah, it was solid all weekend. Probably the highlight was qualifying first in front of the guys that were racing here. I even impressed myself on that one. Just lucky to be here. As Weege says, we're just kind of lucky to be here. Almost 40 years old. It was fun. I had a blast all weekend. Felt like my speed was really good. Second to Eli in the first main yesterday. The second one, crashed on the first turn and that kind of messed me up, obviously, for the overall. But, I probably didn't have anything tonight for Kenny and Eli. I feel like I might have last night if I would have got the starts. I think they went to a different level tonight, even in practice earlier.
For about five laps there, it was okay and then six, seven laps they were pulling you a little bit. Before I knew it, it was six seconds.
I was behind Coop [Cooper Webb] for a while. In the second one, I had to pass Marv and Coop which I was stoked because I had to come from a long way back actually to catch them and pass them. To catch something here is one thing. To pass him is a totally different thing. Especially those two guys. So, I was stoked on that one. Then the third one, me and Coop were tied on overall.
So you know that going in?
Yeah, I knew it. So, I had to beat him in that last one. So, I just kind of sat there. I knew that I didn't need to pass him early, because the whoops were somewhat fresh. They had pressed them. I was going to let Kenny and Eli—obviously they were like I said on a different level, so I didn't worry about them. So, I actually had a plan of sit here for half the race, then I knew I could have passed him in the whoops late once they got cupped out. He made a little mistake and I ended up getting by. But Marv actually rode pretty good, so he kept me on my toes for most of the race. I knew it was between us three, and I don't really care about the front guys. But, I think if I could have got out with them and maybe had a little bit of a toe and learned where they were a little bit better. I think the first sector of the track, whoops and all that, maybe I was the best guy, or between Kenny and I, I think we were the best guy.
When they were big yesterday and fresh, you were unbelievable in those things.
From the start of it yesterday, I felt good. Even when they got chewed out. Obviously, the more they prep them, the smaller they get. First main tonight, we were all just the same. I was really frustrated because they're brand new and you couldn't really do much. I couldn't really catch Coop or Marv. But then once they got chewed up, that's where I can really make some time.
You've done a lot of these. This is a real technical track for this race. They stepped it up this year.
Yeah. When I came in and we did the press day, Xavier who kind of runs the race, he said, "I told them to build a very challenging track this weekend because we've got a lot of good riders." So, it was awesome. We had a quad out there. We had some challenging rhythm lanes. Honestly, I believe that's the way it always should be. We should be challenged. If you watch us ride the track, it probably looks pretty easy but if you go out there and walk it, it's a whole other thing. I think all the money and time we put into these motorcycles and time we spend training, make the tracks somewhat tough.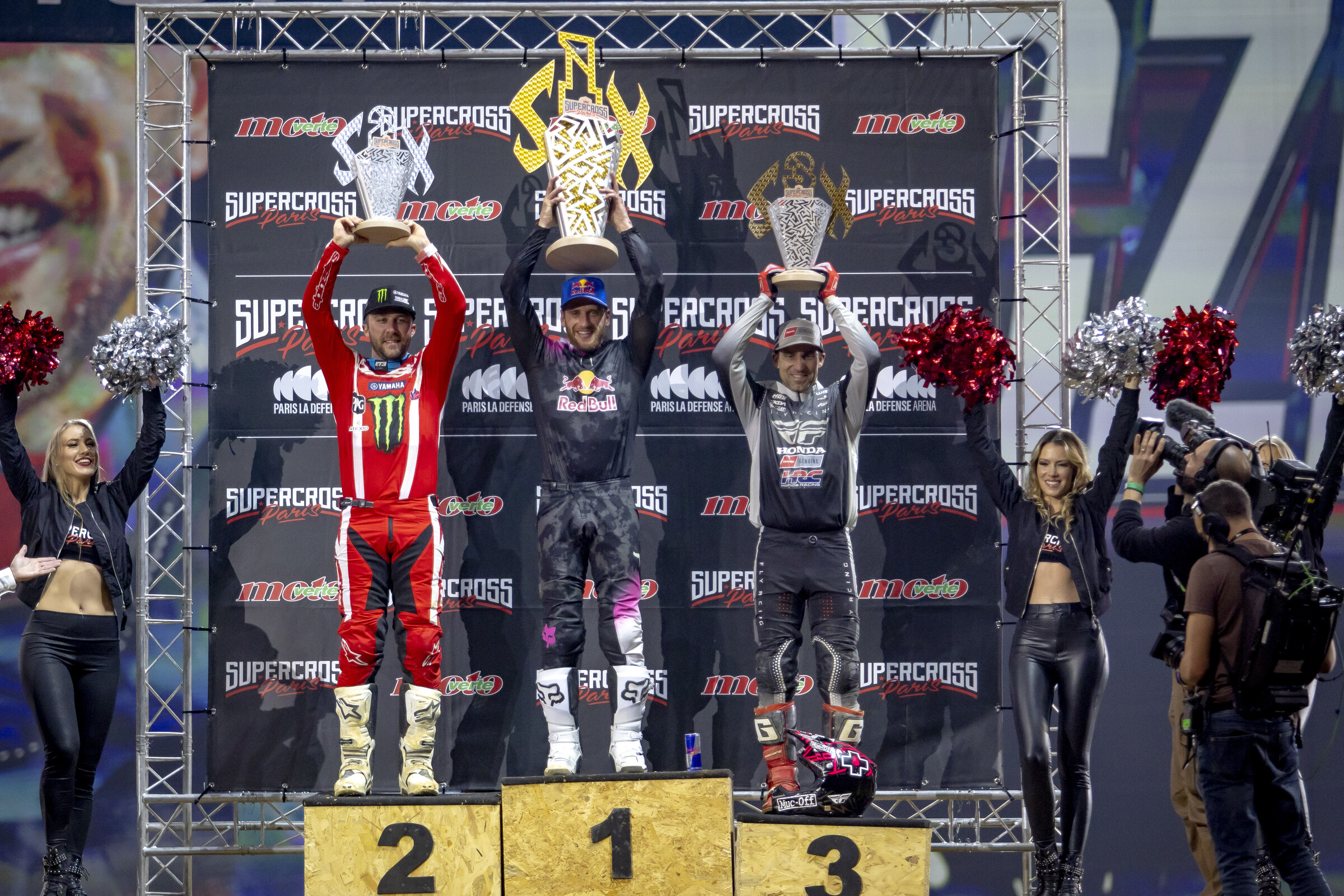 When everybody in the main event is doing the same rhythm, I'm out. I want to see the elite guys do elite things, and that's what I think is really awesome about our sport. That's what we had here tonight.
That quad tonight, the transition was really soft. You saw Eli case it. [Cedric] Soubeyras crashed on it in practice. So, the main events, especially the first one, there was a line that was really soft. So, if you hit that, it would really suck you up. So, that was good. It got really rutty. Super challenging track. Very, very realistic. Some of the toughest whoops I've ridden in Paris, and that says something. They usually build them pretty good here.
Coop just said you were maybe riding the best he has ever seen you ride. I'm not quite there yet, but he's pretty impressed.
Yeah, that was fun racing with Coop. Obviously, known him for a long, long time and been a fan of his. It was funny. We were just chatting before the race about different Iines and stuff. You would never do that in America. But, it was fun. I don't know if I'm riding the best ever, but to be fastest in practice yesterday by half a second, I even impressed myself on that one.