Southwick, MA
Southwick
AMA Pro Motocross Championship
Lars Lindstrom was appointed as Team Honda's race team manager after the 2021 season. Appointed to succeed Eric Kehoe, and with his riders leading both series, Lindstrom has seemingly reset the efforts of "Big Red" in a radical way. We spoke to Lars after the Southwick National, where his riders continued to lead the points in both the 250 and 450 classes.
Lindstrom has the unique distinction of being the first second generation factory team manager—as his father Gunnar ran Team Honda during the late 1970s. Lindstrom's background is uniquely qualified for this position—he is not only a talented rider himself, but he has held literally every position within the Factory Honda race program over a 20-year period.
Racer X: Team Honda is having an amazing season so far, and it is also your first season as team manager. Your riders are leading both championships, and all four factory riders are running up front. It seems like you came into the existing program, pressed a few buttons, and boom—you are running a winning program. What did you do?
Lars Lindstrom: I'd like to tell you I had some secret ingredient that we were missing from before, but the only thing I've tried to do is—and it's something that we've always tried to do; but just try to keep a good vibe on the team, good energy and try to have fun—but also be serious. We've always done whatever we can to try to be better with the bike. We've been criticized for probably testing too much and doing too much of what the riders say and not saying enough "no." That might be true to a certain extent, but we still try to make our riders just as happy as possible. So, we haven't changed anything there. I think for me, I try to get on a little bit of the riders' level, so I feel like they can talk to me. I feel like because I've done all these jobs, I can relate to all the different positions on the team, so I can kind of empathize with all the guys, the mechanics and even the drivers, all these guys that have difficult jobs that probably don't get recognized enough or appreciated enough. So, I'm trying to work on the team spirit just being a little bit better and everybody just having a good vibe. We do our dinners on Friday nights and we play corn hole. I just try to make sure that everybody feels comfortable and is having a good time.
You seem like you're a pretty cool, pretty chill guy. Give me a quick run-through of your career. You've been around a while as a wrench, and done some really cool things over the years, right?
I started at Honda in the summer of 2000. I did the bottom-of-the-barrel stuff. I was a shop guy, sweeping floors and taking apart bikes and just kind of being a gopher. Kind of doing whatever they needed me to do. That moved on to a test mechanic, which moved on to doing some race mechanic stuff with [Jeremy] McGrath, who was doing a part time gig. Then I got to be a race mechanic for Kevin Windham, and that started my time as a full-time wrench. That led on to all these years of learning all these things, and shop stuff, too. Machining and everything that goes into making a bike better behind the scenes. When Chad Reed started his team, I moved over with him and left Honda, but we were still on factory Honda equipment. I learned a bunch there with things I hadn't been exposed to before. We only had a few guys on the team, so I had a kind of thrown into the fire deal where I had to learn a lot of things. I probably matured a lot at that time, too, and just grew up a bit. I was lucky enough that when that program went away, I got to come back to Honda and do engines and do some suspension work. So, I did all these different things and tried to learn as much as I could. Then I got promoted from special projects, which I was doing after engines, to crew chief for the 450. We then took on the 250 team and then when Erik left, they offered me the team manager position. And here we are today!
So, with your mechanical background, what would you say your strength is? Suspension, motors? What do you prefer the most to focus on?
I don't prefer suspension. I can tell you that. That drives me nuts. I do like engines. I like building engines. I like being able to put it on a dyno and you know right away if it's better or not. No guessing. Then I guess the bike as a whole. I like tinkering on stuff. I like trying to make it better. I really like electrical, trying to make the electrical system fit really nice and make the bike really clean and easy to work on. That's probably my favorite. Data acquisition and stuff like that. I like all those things.
On the off weekend for Pro Motocross, you went to Mammoth and worked as Trey Canard's mechanic for the weekend. I thought that was really cool, the fact that your primary riders were leading the national championship in both classes, and on your first weekend off, you decided to go to the races again.
Mammoth has always been pretty close to my heart. I used to go there with Jeremy McGrath, and I would be the test ride guy. We would go do that. We would test some things for the Colorado national, and at the same time have a great time. Jeremy always treated me really well. So, we'd go there and do that and have a good time. He was always really good there, even this year in the classes that he rode. So, I always had this love for Mammoth. It all kind of started because we were going there with Chance Hymas. When we have testing with Trey and all these things, I know that Trey wants to race but he just doesn't want to go do a national because it's gnarly. Then it's a lot of preparation, a lot of pressure, maybe not a lot of fun. So, I suggested to him a while ago, maybe even more than a year or so ago, that it would be fun to go do Mammoth with him and do the whole deal. Then that way we could get that bug out for him, get his racing bug out of the way. We could test some things for the elevation, and we could test some other parts that we might have. While at the same time hopefully teaching Chance Hymas a few lessons and just racing with a real pro like Trey and bouncing ideas. Trey is really good with the riders and giving them advice, especially in Chance's position. We accomplished all of those things. Chance won races. Trey won some races and some overalls. But most of all, we went there. Honda dominated both weekends because we helped Josh Grant and Cole Martinez. We just represented Honda really well up there. We had a great time doing it, too. Like I said, low pressure and high fun. It was cool.
You talked to me a little bit about being a second-generation team Honda manager. I think that's a first in the sport, at least at the factory level.
Maybe. I haven't thought about it, honestly. I think both my dad and I… He went on to do so many other great things. I'm not sure that it's something that I really think about so much. It's cool. I think it's pretty interesting that he was 40 years ago doing the same thing that I'm doing. He gave me a book of all these notes from race reports that he had hand-written. Looking through it, it's so funny because all of the things are the same. The things they tested and the riders' comments, and all these other things. Now it's all computer and everything. Even then, he had some really good things in there that were things you could probably learn from. Half in Swedish. It's cool that that happened at Honda that long ago, and I'm at Honda now and now we're having this really good success, especially at that first race with the old-school look. It's cool. Obviously, we're having a lot of success and I'm doing my best to do my part, but really I got handed a team with four awesome riders by Erik Kehoe and Brandon Wilson. Brandon Wilson probably deserves a lot of credit for assembling the team, and Erik does too. They basically gave me this turnkey deal, and I'm kind of riding on the coattails of them.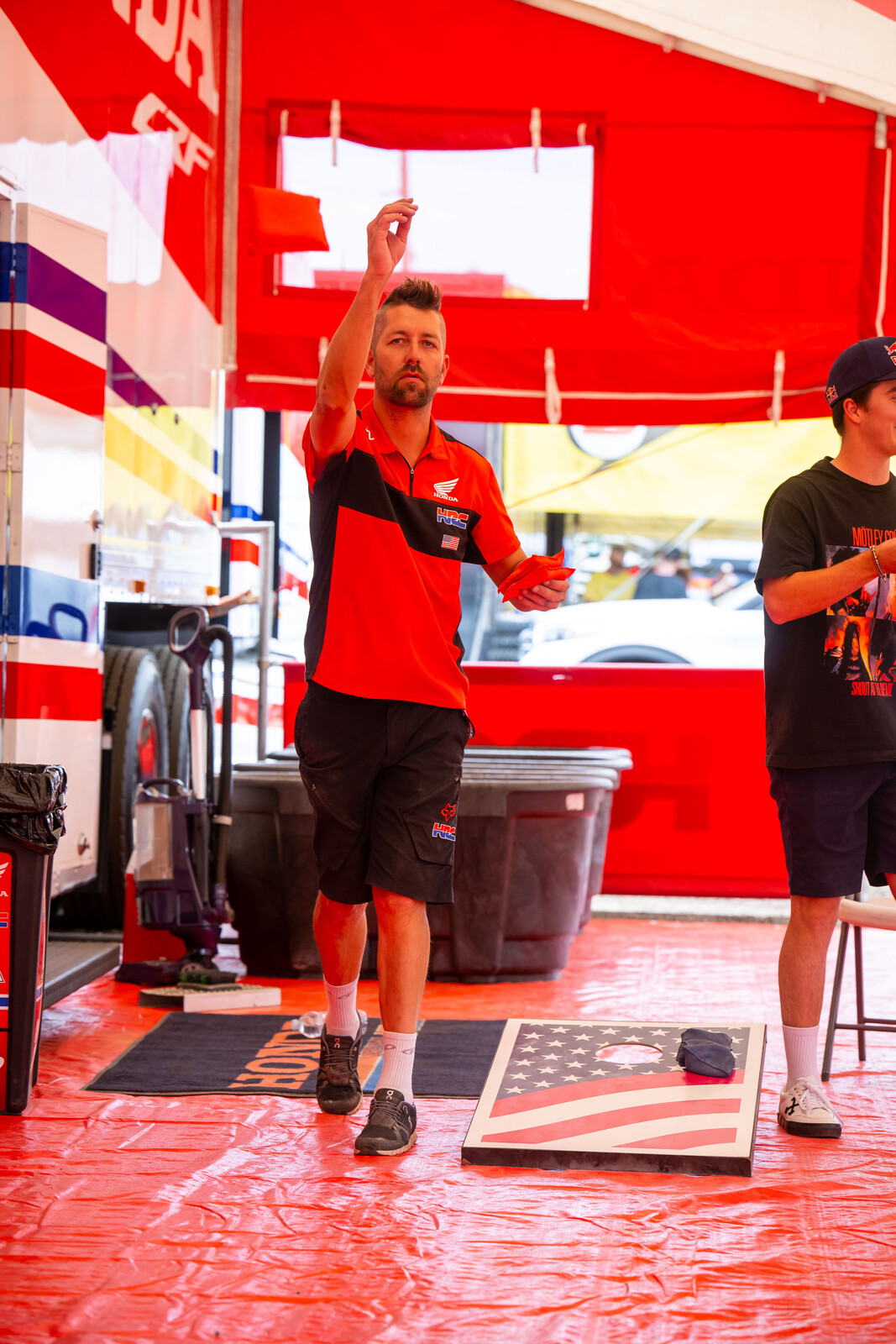 Well, you look like a hero!
Exactly. That's why it's like, a lot of people have said, "Congratulations," and I can't take all the credit. For one, the team has been doing a great job. Two, I just got handed the team. So, I'm doing my best to keep it all intact and motivate people that we need to, and to have some fun.
Well, I guess we could say that if your biggest change that you're working on in the team is the vibe, then it sounds like the foundation, as well as the roof and the walls were in pretty good shape.
Yeah. We already had a decent vibe. They're always trying to improve. As far as getting the correct people in place and all those things, I think we're doing that and it's constantly evolving. Right now, we're coming into our own with some of the riders and some of the team. Everybody seems to be gelling really well together. So, it's kind of a lot of different pieces coming together.