Houston, TX
Houston 1 (East)
Monster Energy AMA Supercross Championship
If you're a fan of privateers, then you've got to love Ronnie Stewart. The friendly veteran has been at this game for well over a decade and is showing no signs of slowing down. In fact, he's currently on his way to Texas right now in order to get settled and be ready for the start of the 2021 season of Monster Energy AMA Supercross. We rang up the hard-working privateer while he was on the road to get his thoughts on his new GasGas, 2021, and becoming a new dad.
Racer X: Ronnie, good morning! How are you man? On the way to Houston?
Ronnie Stewart: I'm good, just plugging away. On the way to Houston, yep. I just got on I-10 just west of Jacksonville. I came from Tampa, now I'm on 10, which will take me through the panhandle, Alabama, Mississippi, Louisiana, and into Texas. I was planning on leaving earlier but when I was pulling out, I had a little mechanical issue that set me back a few hours.
Oh no. What happened?
On the truck there are air brakes, and the seat is also an air ride seat. Just from it sitting, all the air got let out and the seat was all the way compressed. When I went to jump in, it pinched one of the air lines and put a hole in it. As I was pulling out of the driveway I hear this, pssssssssssss! When something happens with the rig automatically your first thought is, "This is bad, this is going to be a whole thing." The only way I could get it to stop leaking was to take the air out and that wouldn't work because the brakes need air. I finally realized it was simple after calling the trucking place that'd worked on the rig in the past. I went to some auto parts stores and finally found a fitting that ended up working but it ended up taking me like three hours.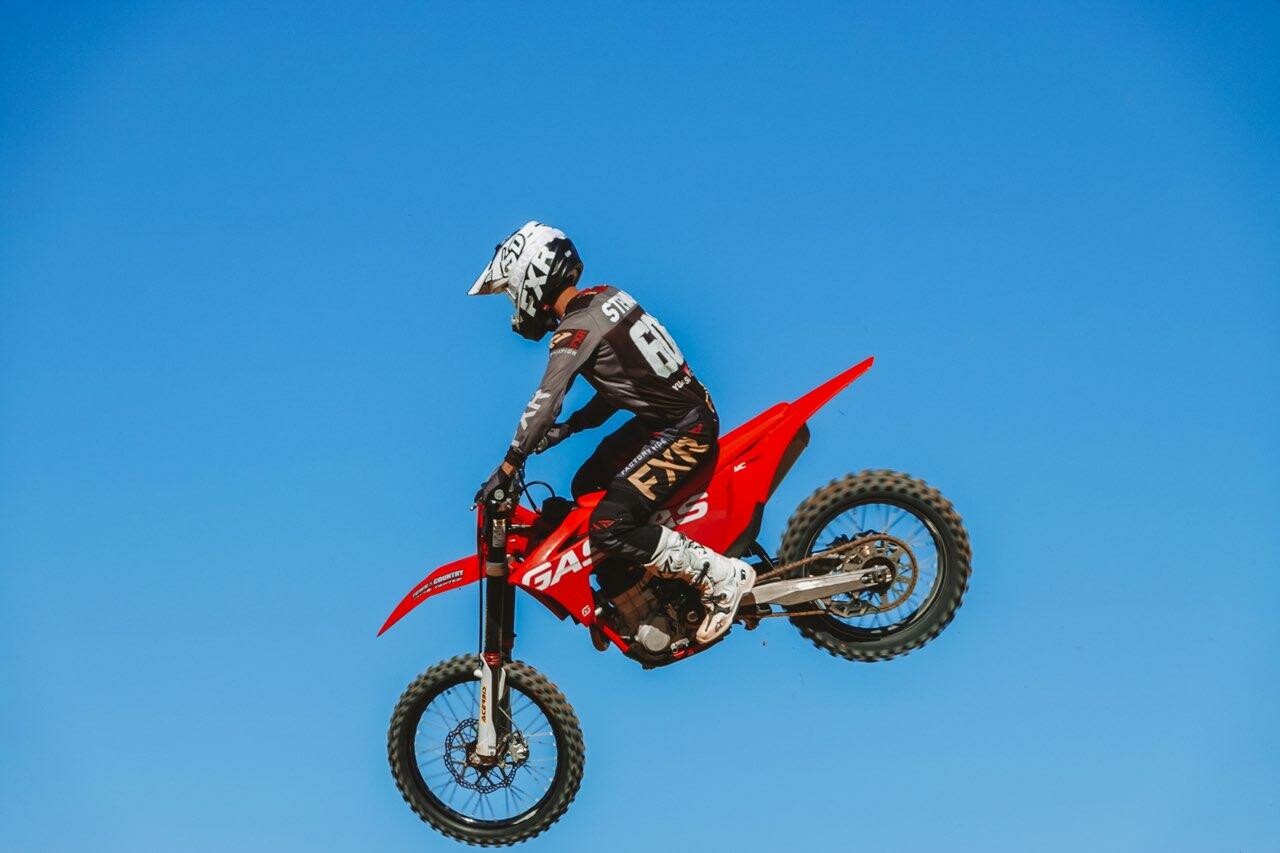 So, you're not sitting on a stack of phone books then?
No, but we'll keep our fingers crossed.
Privateer life, baby!
Oh yeah!
Well, you're back at it for another season. Other than fixing air lines in your rig, what've you been doing?
Yeah, I've been doing it a long time. I had the opportunity to continue our relationship with Yuasa, which started last year, and also collaborate with Legends and Heroes. We're really excited for 2021. I'm also a new dad—we welcomed Easton John Stewart into the world on August six. That was really cool. My wife and I started dating in Easton, PA, and we've always liked that name. And John is my father's name.
Congratulations man, that's really cool. How're things going on the dirt bike side of things for you?
I switched to GasGas a couple weeks ago, I'm on red now. That had me nervous at first because a couple years ago I tried red, I tried Honda, and it didn't go well at all! So when I looked down and saw a red front fender I said, "Okay, c'mon baby, let's make amends with this color. Let's do this." It's a KTM, it's a Husky, some people say it's a red KTM, which it is, and it feels great. I'm really happy with it. A couple people have asked me why I would switch so soon, but really, there are minor differences. It's pretty close to what I've been running the past two years with Husky.
Yeah, it's not like it's all new to you.
It's not. For me, the subframe is different, so it has a KTM setup. The tank and the seat are a little different, and there's an update in the linkage system too, which is a notable change for me. The stock triple clamps, the bar mounts are higher, and I ended up putting on the Husky triple clamps, which are a little better for me. But all in all it's a great bike. Husky is great, GasGas is great, KTM is great. I enjoy the chassis.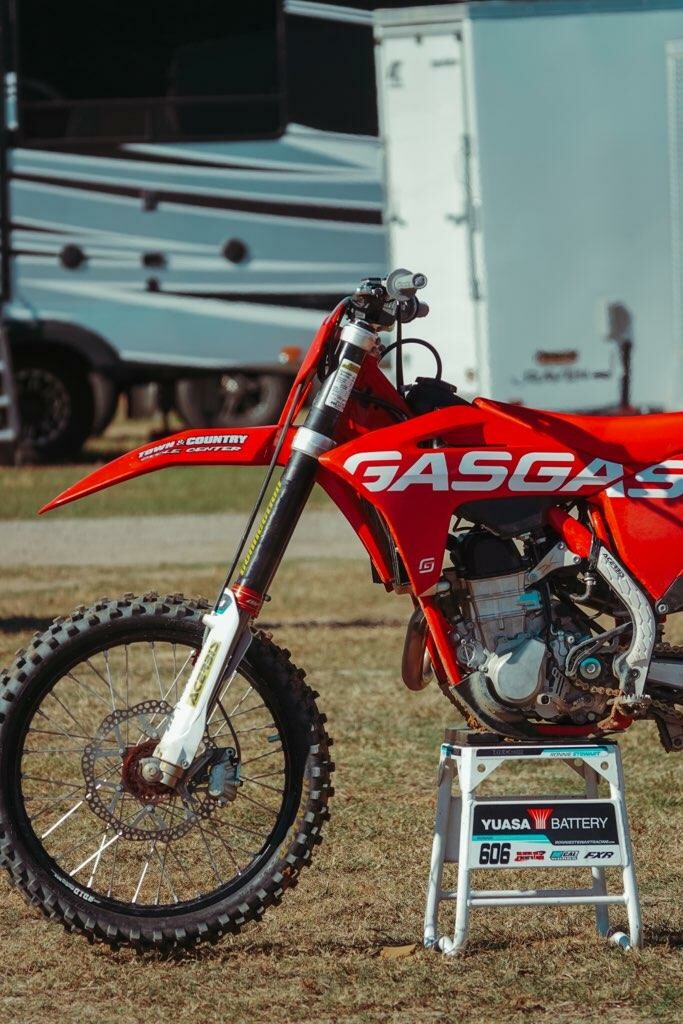 Talk about the relationship with Legends and Heroes.
Legends and Heroes, they were looking last year to potentially collaborate with a team or a rider so they can have a presence on the track. We've had conversations the last few years about doing something together, and this year the Legends and Hero's tour is technically not going on the road, which is unfortunate, but we're looking to get them back going next year. They're all about preserving the history of the sport. It's a whole experience. We have a lot of similar objectives. Yuasa is our title sponsor and we're going to have our pits set up with one side being a DeCal Works, and the other side will be a Legends and Heroes easy-up with a vintage Bultaco branded with Legends and Heroes and Dunlop. We're trying to stay in the space until we can get the tour back up and running, hopefully in 2022. What really worked against us this year is the 25 percent capacity, but we're doing everything we can to keep it going.
Yeah, it's a bummer for sure, but at least we're going racing, right?
Yeah, absolutely! I think Feld [Entertainment] is doing a great job. It's going to be an adjustment with the protocol, but I think it's put together well. We need to go racing for the sport. It's positive, and it's a step in the right direction. Let's all just be hopeful it goes back to 100 percent capacity in 2022.
Going back to becoming a father, what kind of effect has that had on your outlook on racing?
Nothing has changed too much. I've always had a burning passion for the sport, I've always put 100 percent into it. That's not going to change. It's cool my son will be able to be there, although he won't necessarily remember, but it'll be cool to demonstrate to him working hard to do something you really enjoy and love. You do think a little about the risk. You want to make sure you stay healthy so you can take care of your son, but it's still my passion. I don't want to live my life fear-based. There's always a risk, whether you're driving down the road or practicing on a Wednesday. I'm always going to be that guy who's out there racing. I love it. It's not something to where I'm going to stop because I have kids, I'm going to continue racing and enjoying the sport.
It definitely puts things into perspective about not sweating the small stuff. For a couple years I tried to make my racing perfect. We were well-funded for a few years and I always tried to make it as if I were a factory rider. The travel, the bikes, the training, the recovery, everything I tried to make perfect to get to another level. Now I'm happy to just be in the space. I realize it's not going to be perfect, and when he looks at me and smiles, that's the coolest thing. It puts things in perspective. If you're healthy and your kids are healthy, and you're doing what you love, that's just so awesome. Like today, being three or four hours behind schedule, so what? Big deal. Okay, I might have to drive a little later and maybe I won't be as rested, but you know what? The good stuff that I have to be thankful for is there. I'm not sweating the small stuff.
That stuff can really clutter up your mind.
It for sure does. I also work as well, and I spent a lot of my summer working seven days a week, and now I'm working two jobs. I enjoy it, I love to challenge myself, and I feel really good about racing. My program isn't as well-funded as it has been in years past, but I feel great about my program now going into the new year. I'm happy and it's cool.
What do you do for your other job?
I'm working as a subcontractor as an insurance adjuster for building inspectors. We're basically the eyes and ears for the insurance company. We take pictures and inspect the scope of the loss and get everything the insurance company needs to decide the coverage and build an estimate to repair damage.
What are your goals coming into supercross?
I want to be in the mix and have fun. I want to exceed my sponsors' expectations, and I want to race with the good guys. I want to get good starts, be up front, and make main events. I want to continue to work hard and enjoy it, and with backing from Yuasa Battery Inc., ISC Racers Tape, FXR Racing, Decal Works, Town and Country Cycle Center, NNNMAN.COM, 50 Yardline Sports Bar, Factory Connection, Dunlop motorcycle tires, Sunstar Sprockets, Acerbis , Hinson Clutch Components, 6D Helmets, Square One Building , Worldwide Bearings, Asterisk Braces, MotoStuff, Wossner, Works Connection, Engine Ice, Spectro Oils, and Thundercross Associates, I know I can.
---
Images courtesy of Seder Martin