The Benefits of Forged Pistons for Your Dirt Bike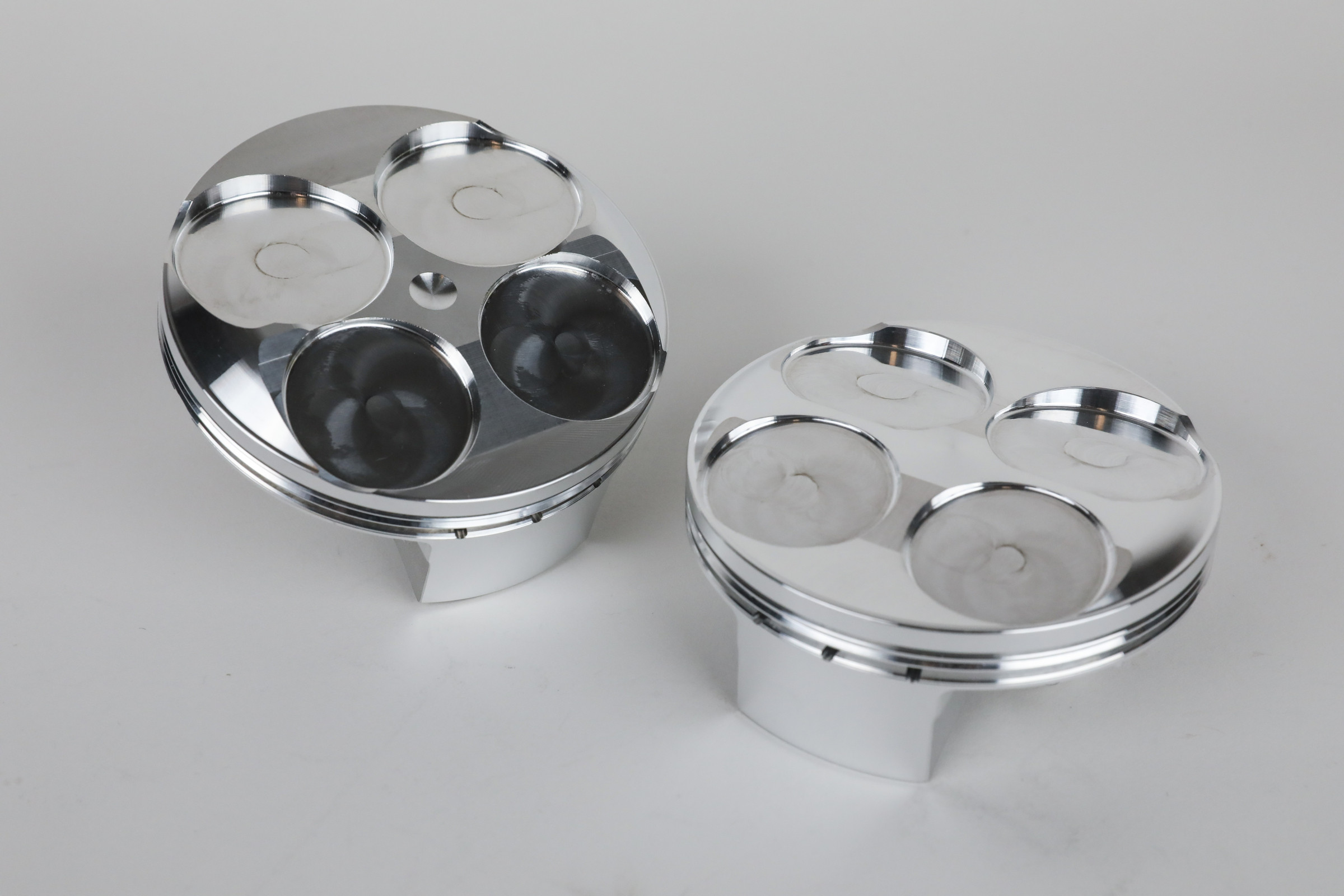 The job of a motorcycle engine's piston is wrought with danger at every revolution. This statement held especially true in the early years of modern day four-stroke engine development, when OEM/stock piston skirts cracked with regularity and rings wore out faster than uncle Eddie's welcome at your family reunion.
Fortunately for professional race teams like Monster Energy/Pro Circuit Kawasaki and JGRMX/Yoshimura/Suzuki Factory Racing, JE Pistons have been at the forefront of four-stroke advancements. A key example of that is JE Pistons' Pro Series line, which has undergone several major iterations since its inception in 2007. As four-strokes have evolved, JE has been progressive in their approach to piston durability and achieving performance gains.
JE has been working with Pro Circuit since they implemented four-strokes and have been working with other elite teams like JGRMX for seasons.
Dating back to the older style Yamaha YZ250F engine design, JE's engineers developed a piston under-crown configuration with enough relief to suit the five-valve layout. However, when Yamaha switched to a more conventional four-valve setup in 2014, the piston forging needed to be completely redesigned. As engine configurations, valves and domes change, JE has continually changed the forgings to better fit newer designs. All of this is done with an eye on maintaining strength and weight ratios.
JE's pistons all start with the forging design. Different forging designs must be made to accommodate different piston styles while maintaining key features.
The Pro Series line from JE Pistons is the gold standard for motocross pistons. Feature-rich and performance driven, every Pro Series kit contains a variety of enhancements geared toward avid racers. These key benefits are explained in detail below and can provide advantages for a wide range of bikes, from early-era four-strokes up to the 2020 KTM, Husqvarna, Honda, Kawasaki, Yamaha, and Suzuki models. Even 2021 parts are in the works as you read this.
FIND JE PRO SERIES OPTIONS FOR YOUR BIKE HERE.
Forged Side Relief
Newer model motocross bikes and higher horsepower applications get the added benefit of JE's forged side relief design. This process is actually done at the forging stage. Material remains on the vital areas of the piston skirt (essentially on the intake and exhaust sides of the cylinder) while material is left off the non-critical areas of the piston.
One of JE Pistons' application design engineering representatives explains further, "The area around the outside of the pin tower is done as a forged surface, as opposed to machining out the side relief. The benefit of doing this at the forging stage allows us to remove more material and have that outside surface go all the way down into the under-crown of the piston, kind of like a cast piston. Getting that accomplished in the forging stage, rather than milling material out, makes for a stronger and lighter part."
Have questions or need help finding exactly what you're looking for? Drop JE Pistons a line at 714-898-9763 or jemc@jepistons.com.
Benefits of Accumulator Groove
An accumulator groove is a feature you will find on all Pro Series pistons. This groove is located below the top ring land. Its job is to relieve pressure build-up during the combustion process. The accumulator groove gives the gases somewhere to go so that they don't push back up on the bottom of the top ring, causing ring flutter, which can cause a loss in ring seal. JE Pistons has developed variations and different sizes of their accumulator groove, depending on the application.
Determining Accumulator Groove Shape and Size
Obviously, the accumulator groove plays a serious role in the effectiveness of an engine's performance while the piston is shooting up and down 200 times per second. Determining the shape and size of the groove requires meticulous calculations. JE's engineers shed light on the secrets of the accumulator groove.
"We figured out a set ratio based on the actual width of the ring land and the size of the ring grooves. Regardless of the application and ring land thickness, the accumulator groove always goes on the ring land below the top compression ring. It's driven off the width of that ring land. Sometimes the groove can get really small if you don't have a whole lot of room between the pin and the top of the piston. We've come up with some different shapes to get the same amount of volume. For example, using an asymmetrical shape, as opposed to a 'V' type shape, has proven beneficial. That way we can get the same amount of volume without cutting too much of the land away and weakening the actual ring land itself."
Diamond-Like Coating
Diamonds aren't just for wedding rings and Hollywood actresses to show off while walking down the red carpet. Diamond-Like Carbon (DLC) coating has long been used in applications where abrasion and adhesion are problematic. While most JE Pro Series piston kits don't come standard with a DLC pin, upgrading to a DLC pin is as simple as calling up the experts at JE and letting them know.
Not only does the DLC coating help cut down friction and wear of the pin bore in the piston, but it also helps wear in the small end of the connecting rod. Additionally, a piston's pin bore can start to deform under firing load conditions, and the DLC coating keeps the wrist pin from scuffing and picking up material inside the pin bore.
Compression
Pro Series pistons are built for high-performance off-road motorcycles. While many of these modern motorcycles are starting to come standard with higher and higher compression ratios, serious racers and teams are still commonly bumping up the compression to improve power. JE offers Pro Series in both standard and high compression for most applications. High compression options usually include anything from half a point higher to as much as 1.5 points higher, depending on the application.
CLICK HERE FOR A FULL EXPLANATION ON HIGH-COMPRESSION FOR MOTORCYCLES.
Standard Series vs. Pro Series Pistons
The feature-rich Pro Series line contains all the latest and greatest technologies needed for a serious racer. From internal and external bracing to dedicated embossed forgings for weight reduction, and specialized processes such as internal milling the internal struts, the Pro Series is full of benefits. There's also the dedicated accumulator groove and forged side relief. That's not all.
JE stays ahead of the curve with added features like internal and external bracing and internal milling. Notice the window milled out of the internal brace in the second photo. This helps reduce weight while maintaining strength qualities.
JE's engineers elaborate, "We are constantly looking at ways to throw everything we can at the Pro Series to make it the very best it can be. If we find hot spots or peaks in a piston design, we'll add extra machining operations to smooth those out for even better performance. There are usually additional pin bore features for some pin oiling. It all depends on the application. Different forgings allow us to do different things. We look at each application and figure out which of our features will be beneficial to that specific piston design."
For price conscious riders looking for added performance without all the bells and whistles, JE Pistons also offers their Standard Series line. Forged out of the same 2618 aluminum material as the Pro Series, the Standard Series are stronger and lighter than OEM/stock pistons. Different compressions and bore sizes are available. There are also various two-ring applications to choose from, whereas an OEM/stock configuration may have a three-ring design. Reducing an extra ring saves weight and drag due to friction. While the Standard Series doesn't have the benefits of bracing, dedicated embossed forgings and specialized milling, it does typically come with the accumulator groove.
At the end of the day, the Pro Series line is geared toward serious racers who demand the very best performance out of their engines. JE Pistons accomplished this by keeping the strength of the piston while reducing weight. As for the Standard Series option, it's an excellent choice for casual riders looking for increased performance, as well as longer service intervals.