2020 Fox Raceway Entry Lists Released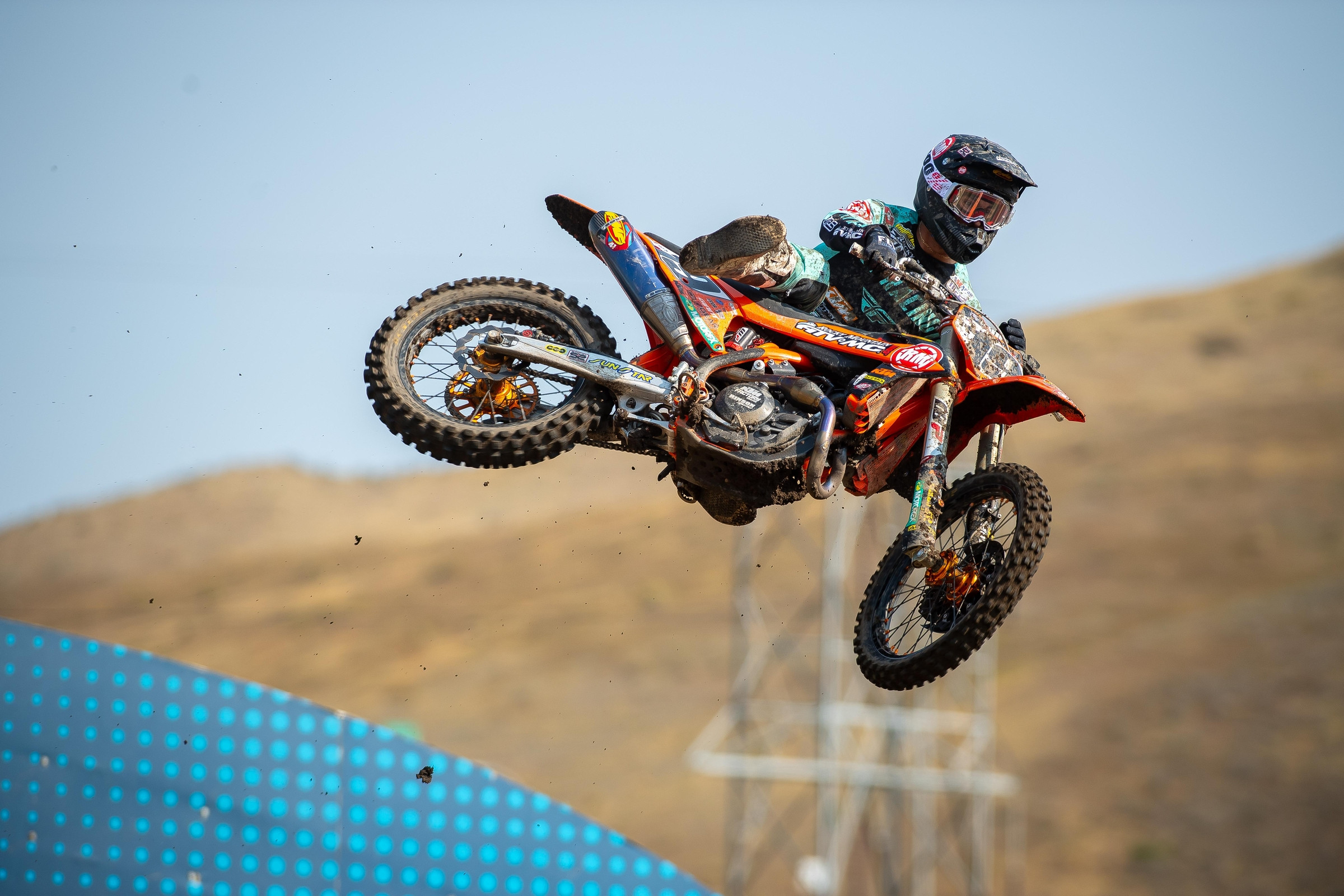 Pala, CA
Fox Raceway
Lucas Oil AMA Pro Motocross Championship
The American Motorcyclist Association (AMA) has released the entry lists for the final round of the 2020 Lucas Oil AMA Pro Motocross Championship at Fox Raceway at Pala in Pala, California.
You can view the entry list for the 450 and 250 classes below.
Below are the entry lists provided by the AMA as of Thursday, October 8, at 9:50 a.m. ET.
250 Class
| | | | | | |
| --- | --- | --- | --- | --- | --- |
| Racing # | First Name | Last Name | Birth Place | Brand | Team Name |
| 6 | Jeremy | Martin | Millville, MN | Honda | GEICO Honda Factory Connection |
| 12 | Shane | McElrath | Canton, NC | Yamaha | Monster Energy Star Racing Yamaha |
| 14 | Dylan | Ferrandis | France | Yamaha | Monster Energy Star Racing Yamaha |
| 26 | Alex | Martin | Millville, MN | Suzuki | JGR Yoshimura Suzuki Factory Racing |
| 30 | Brandon | Hartranft | Brick, NJ | KTM | Troy Lee Designs Red Bull KTM |
| 32 | Justin | Cooper | Cold Spring Harbor, NY | Yamaha | Monster Energy Star Racing Yamaha |
| 35 | Hunter | Lawrence | Australia | Honda | GEICO Honda Factory Connection |
| 41 | Ty | Masterpool | Paradise, TX | Yamaha | Monster Energy Yamalube Star Yamaha Racing |
| 60 | Mitchell | Falk | Costa Mesa, CA | Yamaha | MFalk60 Racing |
| 67 | Jerry | Robin | Hamel, MN | Husqvarna | FCC Motosports Signation Canvas MX |
| 68 | Nick | Gaines | Ringgold, GA | Yamaha | 3D Racing Yamaha |
| 74 | Mitchell | Harrison | Brighton, MI | Kawasaki | Monster Energy Pro Circuit Kawasaki |
| 77 | Kevin | Moranz | Topeka, KS | KTM | TPJ Racing |
| 83 | Jett | Lawrence | Australia | Honda | GEICO Honda Factory Connection |
| 84 | Jo | Shimoda | Japan | Honda | GEICO Honda Factory Connection |
| 113 | Braden | Spangle | Spokane, WA | Honda | Freewheel Designs | Legacy Racewear | The Man Shop |
| 134 | Jarrett | Frye | Mechanicsville, MD | Yamaha | Monster Energy Star Racing Yamaha |
| 158 | Tre | Fierro | El Paso, TX | KTM | Factory KTM of Mexico |
| 168 | Cale | Kuchnicki | Alanson, MI | KTM | Highland Trails Racing |
| 188 | Gage | Schehr | San Clemente, CA | Husqvarna | Grindstone Compound 5th street Lending |
| 203 | Andrew | Boccarossa | Redding, CT | Yamaha | Boccarossa Insurance Racing |
| 204 | Kyle | Greeson | Knightsen, CA | KTM | |
| 220 | Carson | Mumford | Simi Valley, CA | Honda | GEICO Honda Factory Connection |
| 227 | Derek | Kelley | Riverside, CA | Husqvarna | JMC Motorsports, LLC |
| 239 | Mason | Gonzales | Fortwalton Beach, FL | Yamaha | |
| 245 | Andrew | Barros | Lincoln, CA | Kawasaki | |
| 286 | Brandon | Sussman | Mission Viejo, CA | Yamaha | |
| 289 | Otto | Berton | Canyon Lake, CA | KTM | |
| 301 | Jordan | Jarvis | Clayton, NC | Kawasaki | SGB Racing Maxxis Babbitt's Kawasaki |
| 310 | Kai | Aiello | Temecula, CA | Husqvarna | AEO Husqvarna |
| 335 | Jeremy | McCool | Twentynine Palms, CA | Honda | Honda Yamaha of Redlands |
| 354 | Jason | Lutton | Warren, OH | Kawasaki | Motosport.com Fasthouse Viral Brand |
| 355 | Joey | Crown | Metamora, MI | Yamaha | ROCK RIVER RACING |
| 364 | Chad | Saultz | Batavia, IL | Yamaha | Rock River Racing |
| 374 | Dilan | Schwartz | Alpine, CA | Suzuki | Barx Chaparral Factory Suzuki |
| 380 | Preston | Kilroy | Afton, WY | Suzuki | BarX Suzuki Factory Racing |
| 387 | Joshua | Varize | Perris, CA | KTM | KTM Orangebrigade |
| 488 | Nathanael | Thrasher | Livingston, CA | Yamaha | Monster Energy Star Racing Yamaha |
| 494 | Luc | Santos | Oakley, UT | Husqvarna | 3PMX AEO Powersports |
| 495 | Blake | Ashley | Conyers, GA | Yamaha | Backyard Designs A1 Racing Fasthouse |
| 667 | Jesse | Flock | Claremore, OK | Husqvarna | Privateer |
| 670 | Tyler | Ducray | Galt, CA | KTM | Nor-Cal Motorsports Crew |
| 726 | Gared | Steinke | Woodland, CA | Kawasaki | Lonesome Camel Farms |
| 737 | Zachary | Butkiewicz | Sussex, NJ | KTM | Inclusive Excursions |
| 767 | Mason | Wharton | Brush Prairie, WA | Kawasaki | TPJ | Fly Racing |
| 815 | Colton | Eigenmann | Titusville, FL | Suzuki | Suzuki Gizmo Mods Klim |
| 901 | Brayden | Lessler | Ramona, CA | KTM | |
| 910 | Jeremy | Ryan | Santa Nella, CA | KTM | |
| 924 | Gage | Hulsey | Park Hills, MO | Yamaha | Hulsey Racing |
| 981 | Curren | Thurman | Alvin, TX | KTM | Team Allsouth |
450 Class
| | | | | | |
| --- | --- | --- | --- | --- | --- |
| Racing # | First Name | Last Name | Birth Place | Brand | Team Name |
| 1 | Eli | Tomac | Cortez, CO | Kawasaki | Monster Energy Kawasaki |
| 9 | Adam | Cianciarulo | Clermont FL | Kawasaki | Monster Energy Kawasaki |
| 16 | Zachary | Osborne | Abingdon, VA | Husqvarna | Rockstar Energy Husqvarna Factory Racing |
| 17 | Joseph | Savatgy | Tallahassee, FL | Suzuki | JGR Yoshimura Suzuki Factory Racing |
| 19 | Justin | Bogle | Cushing, OK | KTM | TEAM Rocky Mountain, WPS,KTM |
| 20 | Broc | Tickle | Holly, MI | Yamaha | Monster Energy Yamaha Factory Racing |
| 23 | Chase | Sexton | La Moille, IL | Honda | Team Honda HRC |
| 31 | Fredrik | Noren | Sweden | Suzuki | JGR Yoshimura Suzuki Factory Racing |
| 34 | Tyler | Bowers | Danville, KY | Kawasaki | Triggr Tyler Bowers Racing |
| 43 | John | Short | Pilot Point, TX | Honda | Manluk Racing |
| 51 | Justin | Barcia | Greenville, FL | Yamaha | Monster Energy Yamaha Factory Racing |
| 61 | Alex | Ray | Atwood, TN | Kawasaki | SGB Racing Maxxis Babbitt's Kawasaki |
| 62 | Christian | Craig | Temecula, CA | Honda | Team Honda HRC |
| 69 | Carlen | Gardner | Paso Robles, CA | Honda | MX Athletics BWR Engines LTEC SSI Decals |
| 72 | Robbie | Wageman | Newhall, CA | Yamaha | Fasthouse Gasper Racing |
| 75 | Coty | Schock | Dover, DE | Honda | FXR Chaparral Honda |
| 78 | Jake | Masterpool | Paradise, TX | Husqvarna | Invictus Speed Crew |
| 79 | Isaac | Teasdale | Robbinsville, NC | Suzuki | JGR Yoshimura Suzuki Factory Racing |
| 103 | Max | Anstie | Great Britain | Suzuki | Twisted Tea Suzuki |
| 114 | Nick | Schmidt | Seattle, WA | Husqvarna | Team Allsouth |
| 130 | Austin | Root | Chester, SC | Husqvarna | Root Racing |
| 141 | Richard | Taylor | Woodland Hills, CA | Yamaha | Rock River Racing |
| 169 | Dylan | Kappeler | Redwood City, CA | Husqvarna | Kappeler Construction, Inc. Chilton Auto Body Webcor Builders |
| 182 | Mason | Olson | Sparks, NV | KTM | |
| 206 | Griffin | Dexter | Temecula, CA | Husqvarna | |
| 254 | Cody | Briner | Sierra Vista, AZ | Kawasaki | Briner Racing |
| 258 | Justin | Rodbell | Prince Frederick, MD | Kawasaki | SGB Racing Maxxis Babbitt's Kawasaki |
| 259 | Corbin | Hayes | Folsom, CA | Husqvarna | TPJ Fly Racing |
| 280 | Cade | Clason | Tucson, AZ | Kawasaki | PRMX Kawasaki |
| 292 | Kolton | Dean | West Jordan, UT | Yamaha | Fly Racing | Pro Taper |
| 309 | Jeremy | Smith | Marmora, NJ | Kawasaki | SGB Racing Maxxis Babbitt's Kawasaki |
| 326 | Rafael | Chao | Mexico | Yamaha | AvoOlio |
| 402 | Samuel | Greenawalt | Jacksonville, FL | Yamaha | GMXR Worldwide |
| 441 | Scott | Meshey | Zephyrhills, FL | Husqvarna | Xtreme Powersports Husqvarna |
| 450 | Brad | Burkhart | Elk Grove, CA | Yamaha | Forever Two Wheels Pacific Coast Construction Redneck Rippers |
| 458 | Brent | Burkhart | Elk Grove, CA | Kawasaki | |
| 503 | McClellan | Hile | Atascadero, CA | KTM | |
| 528 | Ryan | Peters | Mandan, ND | Kawasaki | |
| 550 | John | Citrola | Grand Junction, CO | Honda | Perri's Powersports | Defy Graphics |
| 553 | Brent | Rouse | Torrance, CA | Honda | Patch Master Racing Mid Cities Honda |
| 565 | Dominic | DeSimone | Las Vegas, NV | Honda | we1 Racing |
| 588 | Kurt | Thomas | Las Vegas, NV | Honda | TFR |
| 600 | Connor | Olson | Littleton, CO | Husqvarna | Two Tire Take Over |
| 639 | Rene | Garcia | Perris, CA | KTM | |
| 647 | Matthew | Hubert | Riverside, CA | Kawasaki | TPJ Racing |
| 672 | Brandon | Pederson | Los Fresnos, TX | Husqvarna | |
| 700 | Justin | Hoeft | Castaic, CA | Husqvarna | Team Maguas JGL Husqvarna |
| 703 | Justin | Rando | East Lyme, CT | Yamaha | 3D Racing |
| 711 | Tristan | Lane | Deland, FL | KTM | Silver Back Racing |
| 719 | Joshua | Berchem | West Greenwich, RI | KTM | Facrory Connection KTM |
| 722 | Adam | Enticknap | Lompoc, CA | Suzuki | Twisted Tea Suzuki |
| 730 | Grant | Smith | Fenton, MI | Yamaha | Mid Michigan Crushing & Recycling Lasco Ford Answer Racing |
| 774 | Bradley | Denton | Simi Valley, CA | Yamaha | The Racers Edge Pasha Racing Fasthouse |
| 819 | Blake | Hoag | Kennard, NE | KTM | Corrosion Specialties RaceTech Shift |
| 824 | Carter | Stephenson | Rolla, MO | Yamaha | Rock River Racing |
| 837 | Bryson | Gardner | Paso Robles, CA | Honda | Team BWR L-TECH SSI Decals |
| 842 | Joseph | Gerrior | Lincoln, CA | Honda | Back Pocket Racing |
| 909 | Jacob | Smith | Rescue, CA | Suzuki | Lugsnugs |
| 917 | Drew | Thomas | Ione, CA | Yamaha | Roseville Yamaha Haeseker Racing |
| 995 | Christopher | Prebula | Petersburg, MI | KTM | Team Imperial |