Salt Lake City, UT
Salt Lake City 7
Monster Energy AMA Supercross Championship
Well he did it. Monster Energy Kawasaki's Eli Tomac fulfilled a lifelong dream by winning the 2020 450SX championship at the just completed seven rounds of Salt Lake City Supercross. Crazy to think it's taken this long but this year, finally, everything went his way and he smashed through the barrier of "fastest man to never win a 450SX title" with ease, almost clinching the title one race early.
As a VIP on the Monster Energy Kawasaki team told me one time, "the outdoor titles are nice but we're paid to win supercross" and they've done it. Tomac's 2020 season was pretty remarkable, but we've got to get past the recency bias of the last seven races in SLC. Remember, he held a precarious three-point lead after ten rounds of the series, and that was with a late race pass of Honda HRC's Ken Roczen at Daytona before the 85-day shutdown.
When we picked back up in SLC, Tomac really shined and from rounds 11-16, almost racked up a 26-point lead. Think about that juxtaposed against the ten earlier rounds when he was able to just get a three-point lead.
Whether it was the familiar elevation, what he did during the time off, the type of dirt in Utah-or just Roczen's struggles, whatever it was, Eli Tomac grabbed this series by the gonads once we started back up.
Eli, his mechanic Brian Kranz and the entire team deserves a pat on the back for getting this done. What a year!
With some ginormous help from PulpMX's Clinton Fowler (@3lapsdown on Instagram and Twitter), let's take a look back at the seven rounds in Utah and all that happened there, yeah?
Looking at this, it's easy to see that Tomac, Red Bull KTM's Cooper Webb and Rockstar Energy Husqvarna's Zach Osborne rose above the rest of the field with six wins and twenty top fives in the seven races. There were 21 spots on the podium in the seven races and these three took 16 of them. Tomac really emerged right from the first race where lot of riders struggled with the temperature and elevation, and Webb was right there as well. As the two-days-a-week series carried on, Osborne started rising up. Leading laps, getting podiums at multiple races (both firsts for him in his 450SX career) and finally, at round 17, winning his first 450SX race. Unfortunately with no fans, with it being the final round and with Tomac's clinching his first SX title, Zach's win might be overshadowed a bit but make no mistake about it, Osborne completely turned his season around at these races. As far as Webb, well he was all healed up and ready to go and it showed as the defending champion did his best (outside of a super weird last round) to hang onto the number one plate.
Lookee here, Osborne and Webb led an incredible 54 percent of laps made in SLC! Webb almost led more laps himself in the seven races than all other racers not named Osborne or Tomac. We always know this sport is pretty incredible when it comes to confidence and it's a frustrating thing for us media guys to track and talk about but it is real and we see it here. With the races packed so tightly, the riders that got on a roll early just started gaining more of that magic stuff and emerged from the pack.
Eli Tomac's crappy starts at several of the seven races definitely made things interesting. He won two mains and only led laps in two mains so you can do the math with that one. Look at the passing stats here though! ET didn't lose ONE POSITION in seven races which is gnarly and impressive right? Of course he'd probably not like to hear about that because it mostly means he started near the back. Also, we didn't hear much from Monster Energy Yamaha's Aaron Plessinger as he and Justin Barcia struggled at these race but check it out, AP gained the second most spots in the seven races which is awesome. Then again, starts are a part of the race and being bad at them isn't much of a way to have success in the sport. Unless your name is Eli Tomac.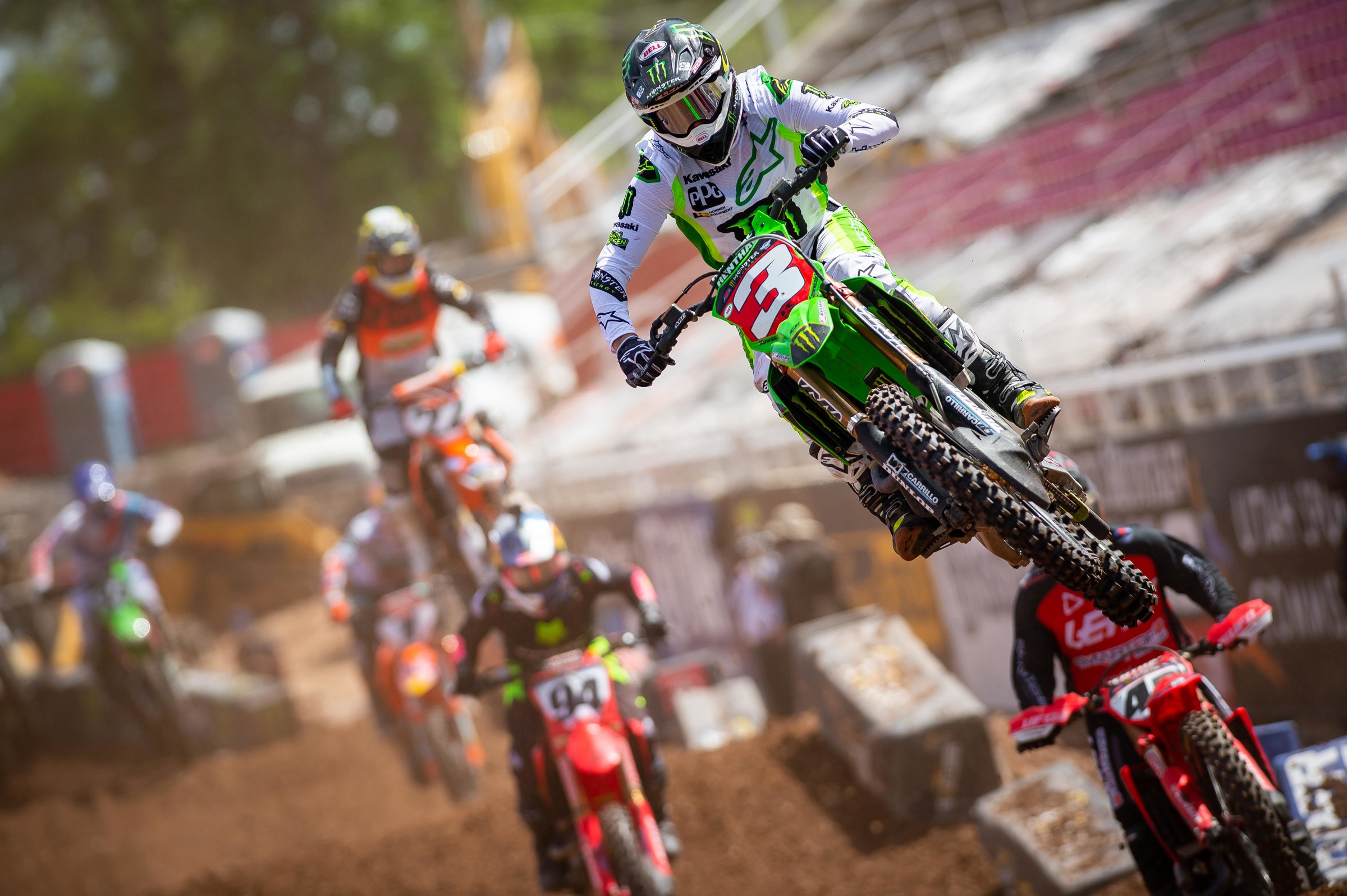 On the other end of the spectrum, we have Vince Friese with -50 spots in the seven races and I suspect Vince would lead this category in the "regular" SX series as well. He's got elite start skills but is not quite good enough to get top five's in the races. Vince fights like hell out the gates for his spots and I know it frustrates some of the elite dudes but hey, starts count! Second most spots lost was his teammate Justin Hill who never really once looked like the guy he did at the first ten rounds.
Also shout out to Chiz (Kyle Chisholm) for just being Chiz in that he made every main event and gained just three spots in seven races from where he started. Chiz is gonna Chiz…always and forever.
Wow. I mean, I'm a tad hesitant to call Ken Roczen's SLC SX series a total bust because he did win a race but losing 27 points in seven races is a lot. We know he dealt with asthma, shingles, a virus of some sort, and maybe even Lupus (I may or may not have made that last one up) and I've got to think the elevation (although he denied it) might have gotten to him. Years from now, the 2020 450SX series will be looked upon as a good one for Roczen as he won races for the first time since his crash but for now, he wasn't as great as usual in these final seven, and that cost him.
But Justin Barcia? Oooooh boy, what went on with him? A spectacular crash and DNF in one race and other than that, not much happened. Watching him, he definitely LOOKED like he was trying very hard out there but his starts and speed were gone. I know he was very frustrated with the bike set-up at elevation. On the hard pack the bike was almost too fast, then they took some power away from it but he couldn't get anywhere near the start he needed to. He seemed very frustrated in the one post race podcast I did with him and all in all, he probably takes the title of "Biggest bust of the SLC SX series." Remember, Barcia was still borderline in the championship fight before these Salt Lake City races. Note: Barcia (195) was only two points behind Webb (197); 28 behind Roczen (223); and 31 behind Tomac (226) after the Daytona Supercross main event.
Here's a graphic from the first ten rounds and the final seven SLC races.
If Cooper Webb had been in Ken Roczen's position after Daytona, he would be your 2020 450SX champion but then again, Tomac cruised in the SLC 7 main event and could've made a push if he had wanted to. Then again, Webb cruised in the last main event as well so he also could've made a push if he wanted to. Yeah, yeah—stats aren't everything nerds.
For example, remember when Zach Osborne was having an up and down SX season? Yeah, forgot about that! Look at his gain in points and positions just from these seven races! What a comeback! [Editor's Note: Osborne would have missed a significant chunk of the races this year because of an injury. He missed Atlanta and Daytona and on March 12 (a few days after Daytona Supercross), Osborne announced he would miss the remainder of supercross and would attempt to recover for the start of the Lucas Oil AMA Pro Motocross Championship. Not only did Osborne return to racing but he returned to racing AND improved his year significantly.]
Meanwhile, look at Chiz…Same position in points, about the same amount of points earned per race…ALL HAIL CHIZ.
You know who else was good in Salt Lake City? Malcom Stewart was, that's who. Unfortunately he DNFed one race when his footpeg broke so that messed him up from a statistical standpoint. The eye test, though. The Stews are always good for the eye test!
Oh and it was awesome how Chad Reed ended his 450SX career with a season best finish of a top ten. It's fitting right? What a legend but Im' saying here that we see Chad race 450SX again in 2021 so let's hold off on all that talk about it being his final, final race.
Thanks for reading, we're almost ready for the start of the great outdoors people…wrap your heads around that everyone. Email me at matthes@racerxonline.com if you want to chat about this or anything else.