Salt Lake City, UT
Salt Lake City 7
Monster Energy AMA Supercross Championship
Monster Energy Kawasaki's Eli Tomac can breathe a sigh of relief today. The 27-year-old finally accomplished what he considered to be the final "big thing on my list of goals to accomplish"—a 450SX AMA Supercross title. With a fifth-place finish on Sunday (Father's Day), Tomac clinched the title in Salt Lake City, Utah, at the final round of the seven-race Utah stint to close out the 2020 Monster Energy AMA Supercross Championship.
Tomac spoke with the media in a Zoom press conference call after the race, hosted by NBC Sports' Daniel Blair.
Daniel Blair: Eli, 19[th place]. So, you knew the math was on your side. You didn't have to do anything crazy today, but just still, what was it like today just knowing that you had to get through it, everything had to go smooth? This morning you were a couple hours away from being a champion, something that you've been chasing for a long time.
Eli Tomac: The worst part was Wednesday to Sunday. That was the worst. I was so mad. It was like, it was this close on Wednesday. You sit around Thursday, Friday, and Saturday, and then finally Sunday is here. You try to go do your thing. When it's the final day and it's there, the weight is heavy. I feel like the whole day I carried it really well that way. It's nice when you have 19 points [Editor's Note: Tomac had a 22-point advantage on Webb entering the day]. You feel like you've got a lot of wiggle room. Just so cool. I think back to those other seasons where I was so close and basically just gave it away at the end or it was kind of a lousy start. It's so cool to put it all together.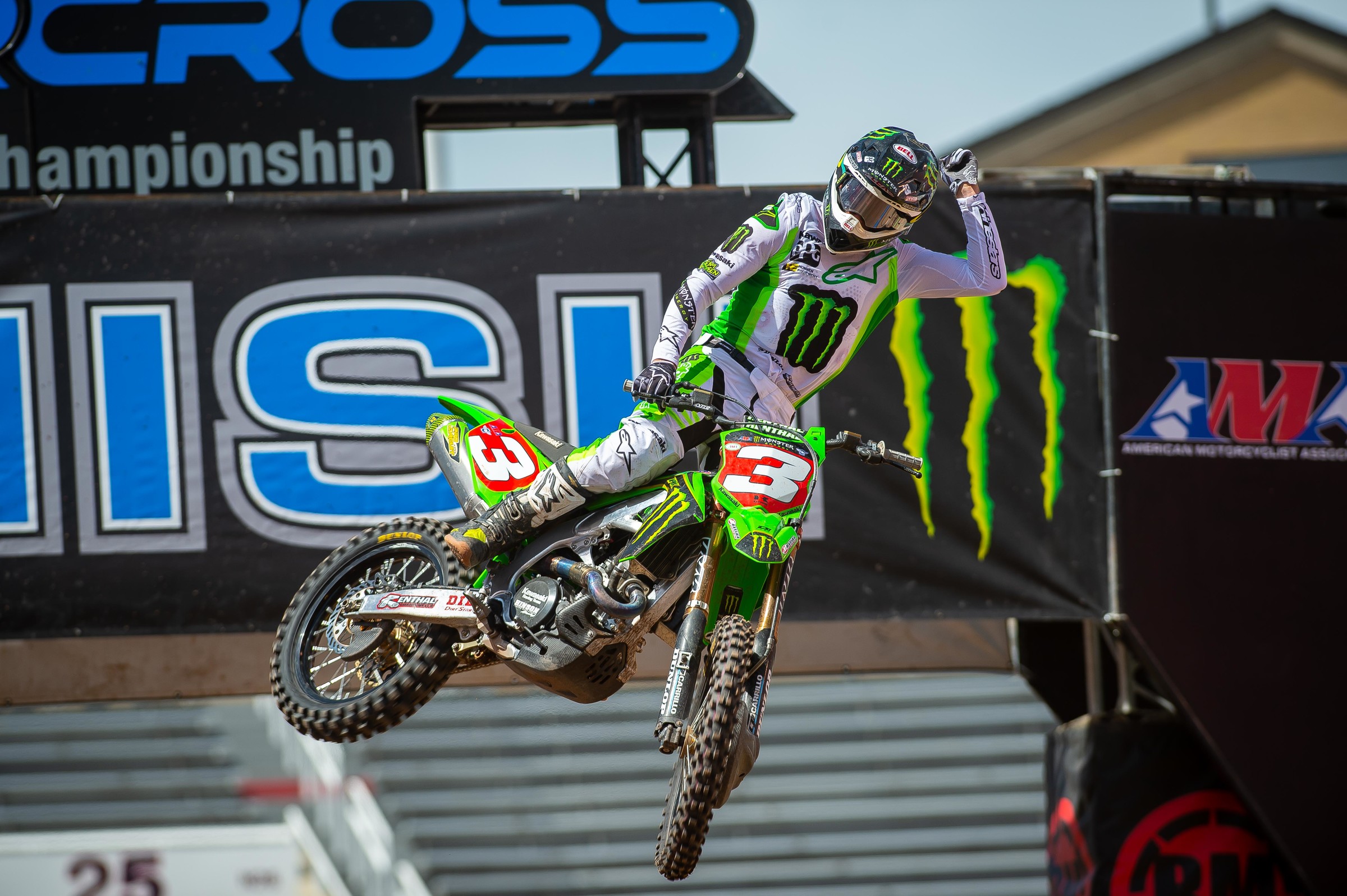 It's one thing for you to have to hear the narrative from the outside about the mistakes and the repetition with that, but when you were on that final lap just rolling it in there in the last corner, what was that feeling like just to get that weight off? Knowing that narrative is going to go away now? You're a champion now. What was that feeling the last ten seconds? Whoops section, corner, finish line?
For me, it was about halfway I was like, "Man, this thing's going to be long." The good thing is Cooper [Webb] and Kenny [Roczen] were behind me, and they weren't catching me. So, I was super comfortable. I was kind of just cruising around. It's just like, "And it's over." You get to the finish line and it's done. It's kind of weird. It really, really is a bummer that the crowd isn't there and the people and the fans. There's nothing we can do about it. Lifelong achievement. Just so cool.
Eli, it's been a long time coming, 450 supercross champion. What is your motivation? What has gotten you from the little kid on Suzuki 85s that I grew up watching on moto movies as an amateur all the way to this point? And then to get so close multiple times and to keep pushing forward. When you get to that main event, the track is so sketchy. It's blue groove, dusty, and just brutal. What was your motivation to get to this point, to push through all the tough times? What was it like to ride that brutal track? Were you worried or were you just kind of soaking it in?
The motivation is to get this title. It's been so nagging since 2017. I feel like it's been right there—not right there every time, but especially 2017. That one was just so close. It's literally…my dream was 450 supercross championship. That's what you chase. That's why you get up in the morning. You get up out of bed with motivation. I still totally love riding my dirt bike. I love racing. I just love being competitive. It gives me the motivation to wake up. Today it was heavy, but it wasn't terrible. Because of the points gap, the 19 points, and the way I've felt all year, it's just been steady Eddy and solid. I wasn't totally freaked out on that start line.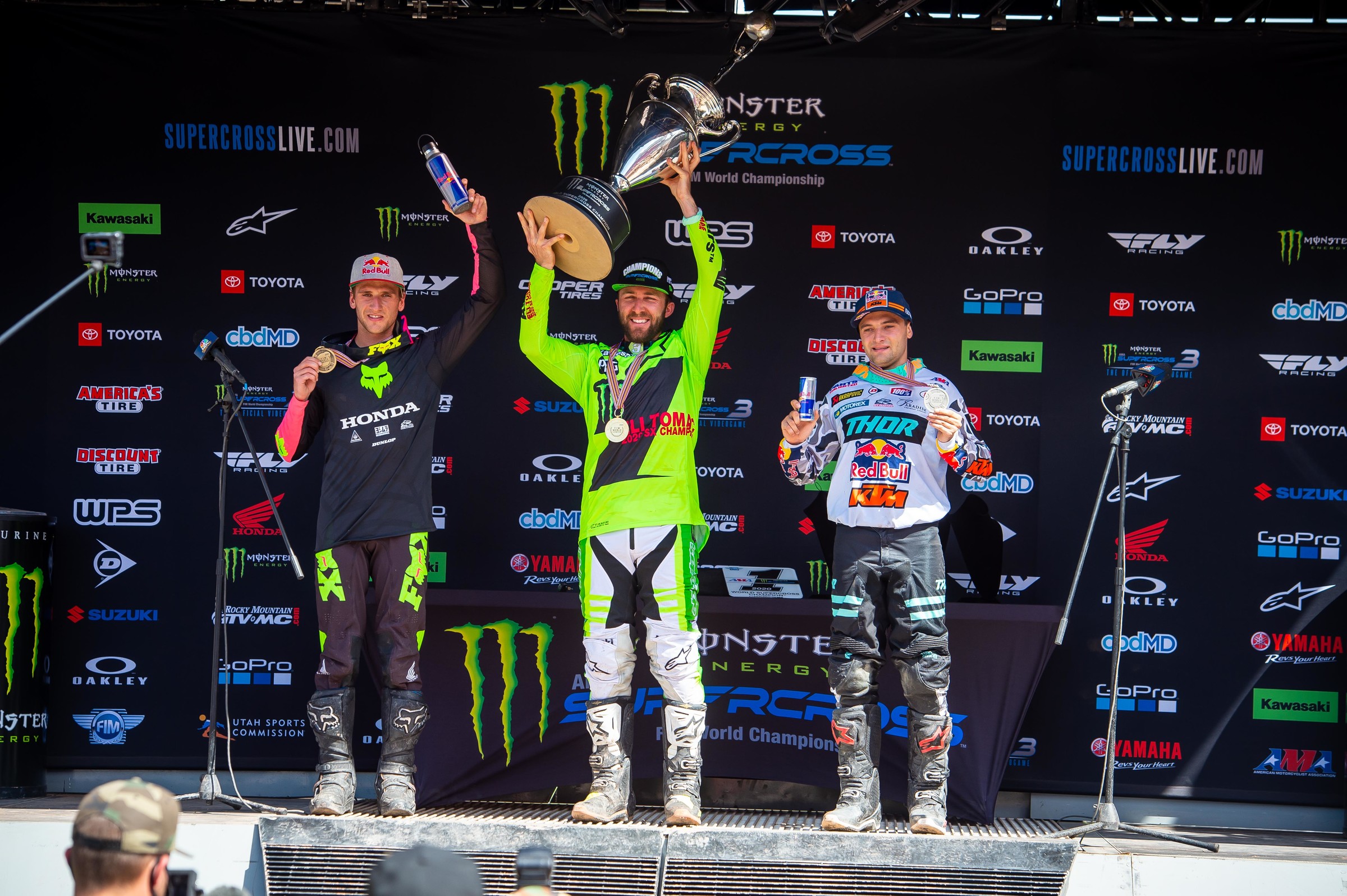 We all talked about it. Obviously, this isn't the way we all envisioned it. It's not the way you envisioned it. But now that you've won on Father's Day, how important is that to you being that your dad is such a big part of your program? Also, you've become a father recently yourself, so how big is it to take that win on today?
Really cool that we've been able to stay together with myself and my dad. A lot of times that's not the case. Everyone's got their own deal, but we've both been chasing this for so long, to get to this highest level and to get the supercross championship. It was a bummer he couldn't be right there at the podium. That actually totally sucked. Super cool for Jess [my girlfriend] and Lev [my baby daughter] to come down there, too. We at least got to the finish line and we did a little photo. Just a pretty rad day.
Can you talk a little bit about how it feels? There's nothing that you haven't won now. You've won everything in both classes. So, can you talk about how that feels to complete that, as you called it, a nagging hole that's now filled?
It's obviously done and dusted now, but I'm really going to wake up tomorrow and I think I'll really feel it. I've said it a couple times now. I really thought I was getting to maybe be running out of time. I don't know. When you just look at the past… The past is past, so you don't want to base everything off that, but I'm 27 now. I'm not sure if I'm the oldest guy to win the first time. I think I might be. I don't know. I'm 27 and there's some people that doubt you that way, especially when you look at my past series. I have blown it a few times. So being able to fix that inconsistency, it was a huge relief that way.
Another team and another set of trainers have won this title year after year after year. Was there a little motivation to prove your team, your trainer who is your dad, your whole crew, and yourself to finally end that? Because they had been winning a lot for a long time.
Yeah. When you look at those guys, that whole program there, they've won it like you said so many times in the years past. Really, it's preparation and being ready from the get-go round one. You've got to be ready from the get-go. Yeah, you can make up throughout the season, but that was the difference this year, too. We were ready from round one. I didn't really have to dink around much, finding comfort with the bike and getting through those 20 minutes. By round two I was back to my old self, I felt like. We were just firing, ready to go. I never felt like I had been at a disadvantage that way for my program. It was just those inconsistent races where I'd just blow those points. Got rid of that.
With your dad being your trainer and being there the whole time, the reputation most trainers have is they're trying to get the rider to do stuff he doesn't want to do. They're arguing back and forth, but they're pushing each other. Does that actually happen between you and your dad? Do you agree on everything, or are there times where you're, "I don't want to do this," and he wants you to do that? How does that dynamic actually work? I don't feel like we hear that side of it from you guys.
There's days where we disagree on things. Like, "Hey, you need to go out there and do this section one more time or get this time." That's there. It's not whatever, wildflowers every day out there. But we've been able to keep a good relationship that way. I don't live at the property anymore, so there's good space there. I think just the way our mentality is, we're kind of the same dudes a little more mellow that way. So, we make it work.
You mentioned a bunch of times that it sort of was getting to feel like this thing might get away from you. Time might run out for you to win the championship. On a day in, day out basis, how do you mentally overcome that? That seed of doubt could easily have just changed things.
I've been able to stay competitive for the win, so that's what has really kept me in it. I can still go out there and win races. That's probably the thing that's kept me going, knowing I still have the winning capability. I've been so close so many times that I never wanted to settle.
The mental side of sports is what fascinates me, whether it's ball-and-stick sports or motorcycle racing. The disappointment that you've overcome in the last several years, arguably being the fastest rider and not being able to complete a title. How do you internalize that? Do you use that as motivation, or do you try to block it out? How does that mentally inside your head go?
For me, I almost feel like I've just had to put ice in my veins. Not care about what other people say or think and try to just improve on those weaknesses and emotionally, like I said, just have ice in our veins. You've got to block everyone out, kind of all the negative comments or thoughts and that's it. You got to just be cold, but then just steady.
Has that affected your relationship with maybe how the fans perceive you because of the media and the onslaught of the keyboard warriors? Have you felt like you put this wall up to protect yourself?
Somewhat. I'm not the most outgoing, say for my everyday lifestyle in that way. But my emotions have changed for racing. I feel like I've just matured more in my racing mindset when I'm on that starting gate and on the track. That's changed for me even say from 2017, 2018 and there. I feel like I'm in a different state of mind while riding.
After the race you talked a little bit about the strategy going into the season. Can you elaborate on that just a little bit more? And as well as your strategy for the day and the race. What would you have done if Cooper was right behind at that point? Just kind of talk us through the strategies of both.
So, strategy the beginning of the season, it was just being more in it right away. I felt like I've kind of been a little slow through rounds four or five, and that's where I think my bad finish was Anaheim 1. I felt like I was just kind of hanging in whatever it was, sixth or fifth. Then today I really didn't know what to expect from those guys. I didn't know if someone was going to be out to get me or not or what. You never know on these days. There's a lot on the line. Even the first couple laps, I was looking around. I was looking for Cooper. I'm like, "Where is he?" Because I didn't see him at the front. I'm like, hopefully he's not right behind me. He's going to try something. You never know. You put those things through your head. It seems like everything kind of settled in. That track was really torn up that way. Then I finally saw those guys behind me. So that was it. I'm like, now I'm in a good spot. That was it. Kind of anti-climactic for the race, but that's just how it goes that last race sometimes.
With kind of what you guys were talking about with the keyboard warriors and all the talk about not being able to win a championship up to this point, would you say it was more relief or more elation when you got this title?
Really just relief. I'm up to 34 wins, so I'm like, I'd better get one of these things before I'm done. It was just relief. Really relief. Finally get one.
No more being considered the winningest guy without a title. Damon Bradshaw's got that again.
It just drove me crazy. It's been driving me up a wall, seriously.
The seven races in Salt Lake City have been great. What do you feel like was maybe your best moment? Was there one race win or maybe a charge from the back that you feel like, this was my best while we were here?
I would say the first three races. I felt like that was the time, and it was, to get ahead. I came here with plus three on Ken and I feel like it was big to make that first race statement. Then the mud race with Cooper, I rode my freaking heart out on that one. Really those two wins, and then being able to claw back from those couple. Those were important too, but the wins I felt like to stamp those were huge early on.
Similar question, for you looking back on the season, you've had seven wins, another great year, this time with the championship. So, looking back, is there any one moment that stands out to you, one win? What was the actual highlight for you, aside from obviously winning the title?
The Daytona win was nice. That was another big dig, just really grinding to the front. The ones that I was able to recover on, those were almost better for me because I think back to Atlanta… The crash with [Blake] Baggett, I kind of call it just a dumb mistake. Being rushed that way. Being down on the ground and getting back up and getting fourth. I look back to my other years where I had a crash in Dallas [Arlington] and I went back to, say, tenth. Really just those better moments when I was down in the dirt.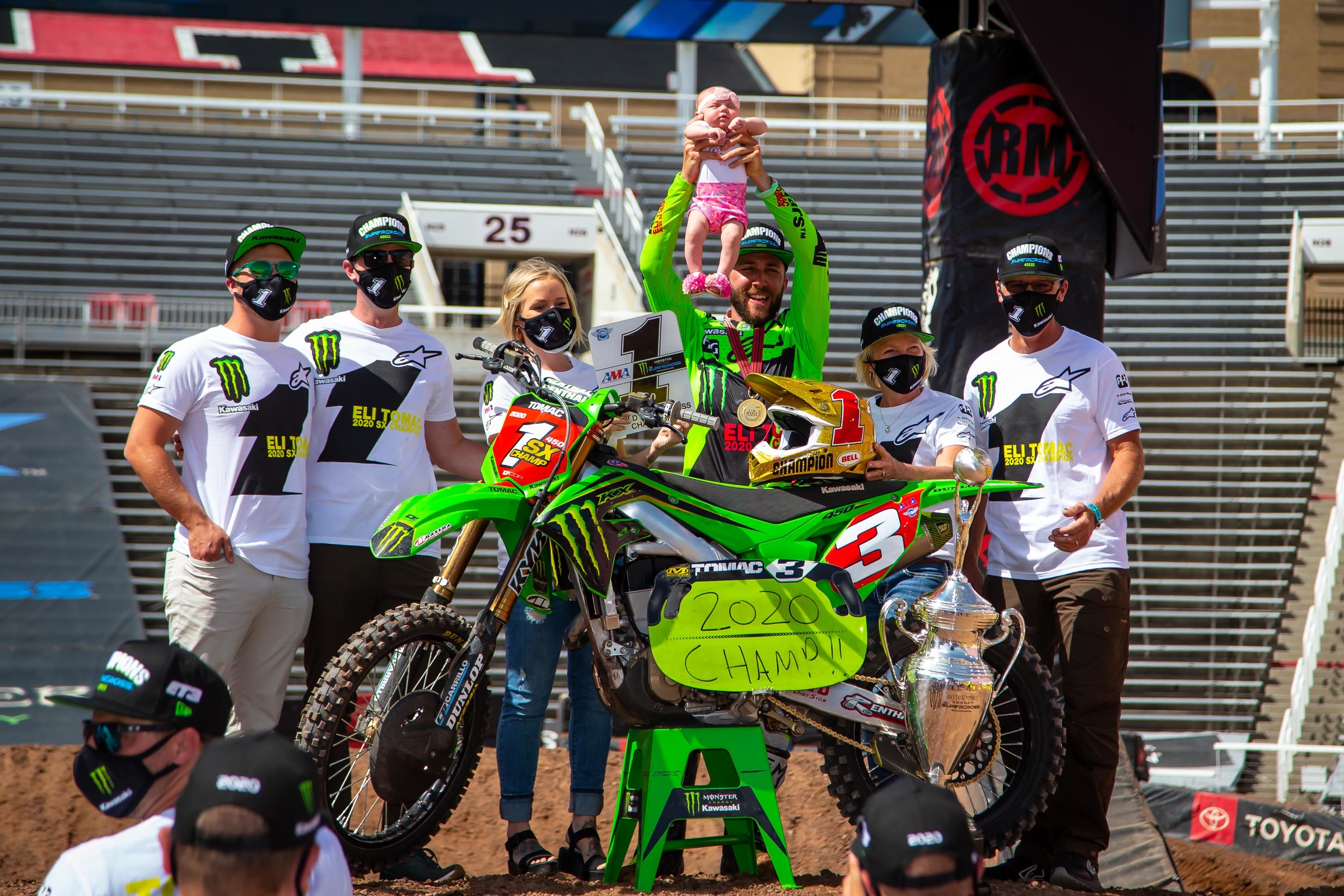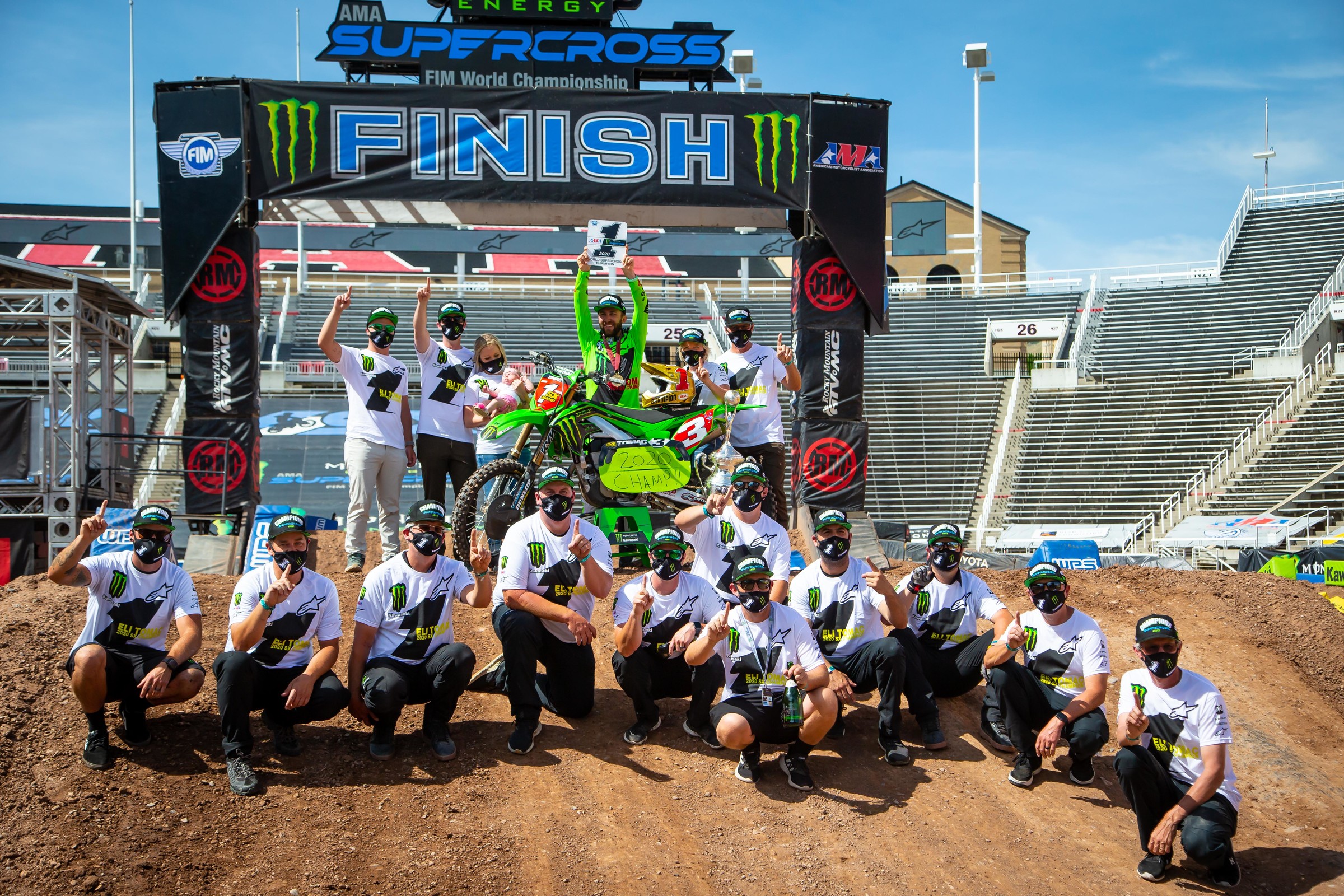 We all talked about this Salt Lake City supercross series, these seven rounds helping you out with the altitude, helping you out with maybe the type of dirt and everything. You came into it three up and you just really crushed it. Some of it due to Kenny not being quite as good either. What did you think of the whole process of coming here for yourself for these seven rounds?
When I first think of it all, you're so pumped that we can just finish this series. It would have been just terrible to end it at Daytona like that and just really no one be crowned or anything. Having them give us the opportunity to get these seven in, at least I feel like the first race and this last race it was kind of a dust bowl, hard packed. But we did have multiple surfaces and conditions, with the mud race and kind of stuff in the middle. One crazy late one. So, it seemed a little bit repetitive but at the same time it wasn't. We got all those different tracks in. So, I feel like for being stuck in one spot it all seemed like it worked out okay.
So, you just said how much you still love riding your dirt bike and how passionate you are about that. Obviously with your family's background in bicycling, that would have seemed like a logical career path for you. Is that literally what led you down here? You just loved riding dirt bikes more than anything else? Is that how come this is the career you chose?
When you're four or five years old, it must be something you love, right? You have to have the guidance from your parents to get you to a certain level. You have to have the support and the guidance. I really do enjoy riding my bike. I still don't feel like I'm burnt out that way. The one thing I get burnt out is travel. Still racing, I don't feel like I'm just here to be here, that kind of way. Maybe I come off that way a little bit with the way my emotions come off, but I really do enjoy riding my bike.
I'm not sure if you watch 250 races normally, but did you watch that carnage? Did that put you in a different mental space when you saw all that was going down on the 250s?
Yeah. When you look at that, that's the 250 class. We were like, "Man, this is going to be a barn burner no matter what went down." So, it's just your mindset. A lot of those guys are still pretty young. There are some guys that are a little bit older. They throw it in there. You look at turn two, those crashes, you're just going for it. You really don't have much fear at that age, and you're still learning too. That's just the 250 class. At this point when I watch those, I'm like, "I'm glad to be out of there."
If you prefer to watch the press conference, watch the archive below: