Salt Lake City, UT
Salt Lake City 5
Monster Energy AMA Supercross Championship
I don't even know what day it is today. Seriously, these seven Monster Energy AMA Supercross races here in Salt Lake City, Utah, have all started to blend together and that's even with me taking a quick trip home for a couple of days. I wasn't able to get re-tested before SLC 5 so I watched from my hotel room and wasn't able to experience it in person.
And honestly, this column is already late with my drive, the PulpMX Show, my other shows, e-biking as well—I kind of forget what happened in SLC 5 anyways, I know Baggett led for a while in the mud right? Wait, that was race one and three? Ah yeah, I remember now, red flag for the 250SX main while Sexton was seventh and McElrath was leading! What drama! Oh, that wasn't this last one? Yeah, I'm out bro.
So here are some random thoughts about random things here in SLC and I promise I'll pay more attention to SLC 6.
-Soooo, the Feld Entertainment guys told us on the PulpMX Show a couple of weeks ago that the series was 48 hours from having all seven rounds in St Louis. Nothing against the arch city but yeah, SLC has been way better than STL would have been. Everyone you talk to has been having a good time here with hiking, biking and cycling. The people here have been friendly and up at Park City where the riders are mostly staying, there's lots of fun to be had. Seriously, every rider or industry guy I talk to has had a good attitude about this forced stay. It's not ideal to just put your life on hold wherever you're from but if you gotta do it, do it in Utah and put on a happy face.
-Having said that, like I mentioned in the intro, there is a bit of Groundhog Day feel to being here. No one is quite sure what day it is, everyone's schedule is a bit off and the riders and teams have been just doing the same thing almost every day. The mechanics I talk to have just been racing, building bikes, day off and then repeat, never mind the guys that have been practicing during the week. It's a weird feeling, I will say that.
-Speaking of Park City, yeah the tax brackets here are noticeable. The people in the upper ones all up in Park City at Airbnbs that are, uhhh, MUCH nicer than us greasy media guys at the "undisclosed location." Like, I went to one rider's place that has to be a few million and has a barn from 1800s England as part of the house! It was crazy and if you're renting this out, can you imagine what your real house is? I did ask Weege if he could look into getting a place in Park City for a bunch of us and he came back saying it was too expensive, which made me realize now after Tyler Bowers told me that an Airbnb in PC was like $400 more than a stay in a dank hotel room that I asked the wrong guy to look into the price. We should be in Park City for sure, this hotel room with no windows that open is getting to me.
-The guys at Feld, working with the Utah State Health Department, put in some pretty good restrictions on what we as media can and can't do with the riders and teams. I have had some guys over to do podcast shows but I have 10-15 feet of space and a long-ass table between us so I feel like I've been practicing social distancing. But without being able to go into the trucks and talk to the riders before and after the race, it's just been weird. The guys at Feld have been helping with Zoom virtual press conferences but it's definitely not the same. We even had a media scandal as Donn Maeda got his press pass pulled for breaking the rules (great for street cred tho!) so that's kind of put us on alert. Anyways, the whole point of this is it's harder to do our job at the races.
-Jeff Bloss [Benny's dad] is a funny guy, when he was here it was awesome to hang out with him. I think Weege was scared of him.
-The SLC basecamp life has been great for media relations here. Not a lot of us were allowed to come but the ones that are here have been really bonding. Weege and I were out with the Swap Moto Live crew e-biking, and photographers Garth Milan and Ryan Swanberg joined us as well. I've gone out with the SX Chaplin Jake, Scott USA's Dave Ginolfi and it's been interesting to spend time with guys that you don't normally hang out with at the races.
- Seriously, you should try an e-bike. They're a lot of fun.
- Also, seriously, the protests here for the death of George Floyd were kind of gnarly.
Yeah okay, I do have a few thoughts on some riders as well:
The TwoTwo looks better on the KTM and has been up front in some heats more than he ever was on the Honda. Chad mentioned that KTM got him factory suspension for his bike after turning him down in the fall when he asked. Hence why he went to Honda…when I asked him why now did KTM part with the good stuff, he just shrugged.
Also, Weege and I took a turn on his 20K driving simulator machine he brought out here and Weege was way better than me. Weege likes to think that he's a NASCAR TV guy and says he's driven in a sim before like he's cool or something. That thing is sick though, I could totally see where it would get massively addicting.
I don't know how or why Ken Roczen won the last race after suffering through the previous three. I cannot help you there, I wish I could say it was the mountain bike ride that I did with him and Justin Brayton but I don't think so. I have no clue and sometimes as a media guy, this is what is so frustrating about covering the sport.
Justin Hill, Justin Barcia, and Justin Cooper all have first names that are the same. They also have in common that they don't look like the same guys we saw at Daytona (and San Diego for Cooper). Don't know what happened but it's been rough SLC's for these Justins so far.
Those are the guys that aren't killing it here but you know who is? Zach Osborne and Malcolm Stewart. Those two guys in particular have really raised their game on the downtime.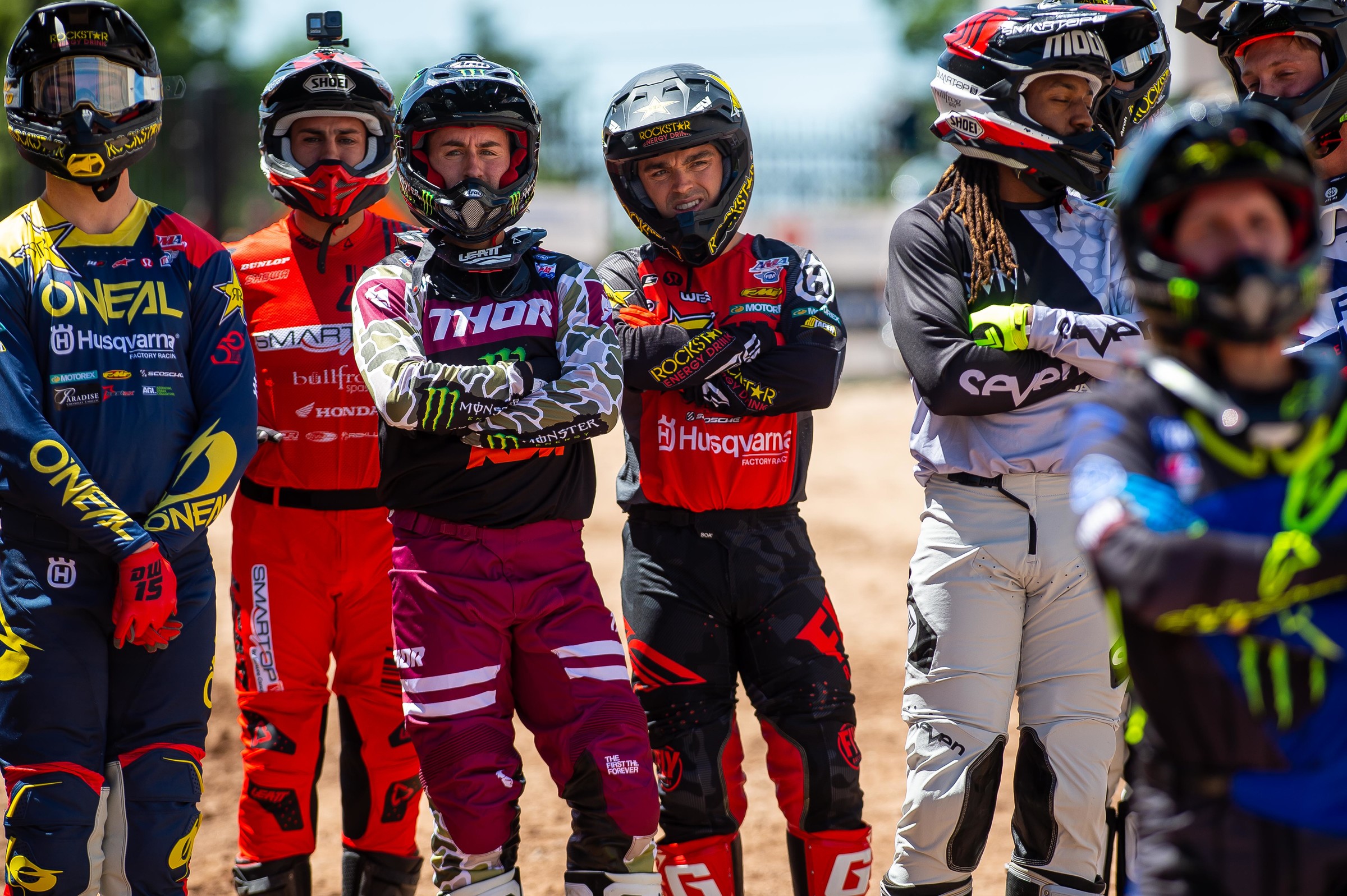 I want to love something, anything, as much as Ralph Sheheen loves the Lawrence brothers.
Both Garrett Marchbanks (before he got hurt) and Cameron Mcadoo seem to be on the Wacko and Mookie side of guys that stepped up in the 250SX class. Very impressive rides for both of them, RAM IT McAdoo is not scared AT ALL.
I don't know what's going to happen at the final 250SX East/West Showdown round but I do think we are going to see an upset of some sort. Both coasts are too close for something crazy to NOT go down. I can't wait.
Thanks for reading, email me at matthes@racerxonline.com if you want to chat about this or anything else.